Joyce Muthoni Njeru and Purity Kajuja Gitonga at the Grossglockner Berglauf (© Marco Gulberti)
Joyce Muthoni Njeru and Lengen Lolkurraru claimed a Kenyan double at the Grossglockner Berglauf, the second event in the 2021 World Mountain Running Association (WMRA) World Cup, in Heiligenblut, Austria, on Sunday (11).
Despite blue skies the day before, runners woke to rain and chilly temperatures for the uphill-only race of 13km with 1265m of ascent.
The first kilometre is flat along the river, so the early pace is always fast, and then the route begins its long, relentless ascent towards the finish at the Kaiser-Franz-Josefs hut. In the final kilometre, the route gets steeper still, so this tough mountain race gives athletes little respite along the way.
In the women's race, Purity Kajuja Gitonga opened up a small early lead of around 20 seconds over 2017 world champion Lucy Murigi and Njeru. Around a minute behind was a group including Italy's Lorenzo Beccaria and Alice Gaggi, plus Susanna Saapunki of Finland.
In the next section of the race, Gitonga and Njeru went through the timing point neck and neck, with Murigi just behind. A gap had opened up back to Saapunki, Beccaria, Mojca Koligar and Gaggi.
Going into the deciding section of the race, with the cruel kick up to the finish line, Njeru managed to pull away from Gitonga and Murigi wasn't able to stay in touch. They achieved a Kenyan top three, with Njeru winning in 1:23:46 from Gitonga (1:24:10) and Murigi (1:28:00). Saapunki took fourth place (1:31:46) and Beccaria fifth (1:32:22).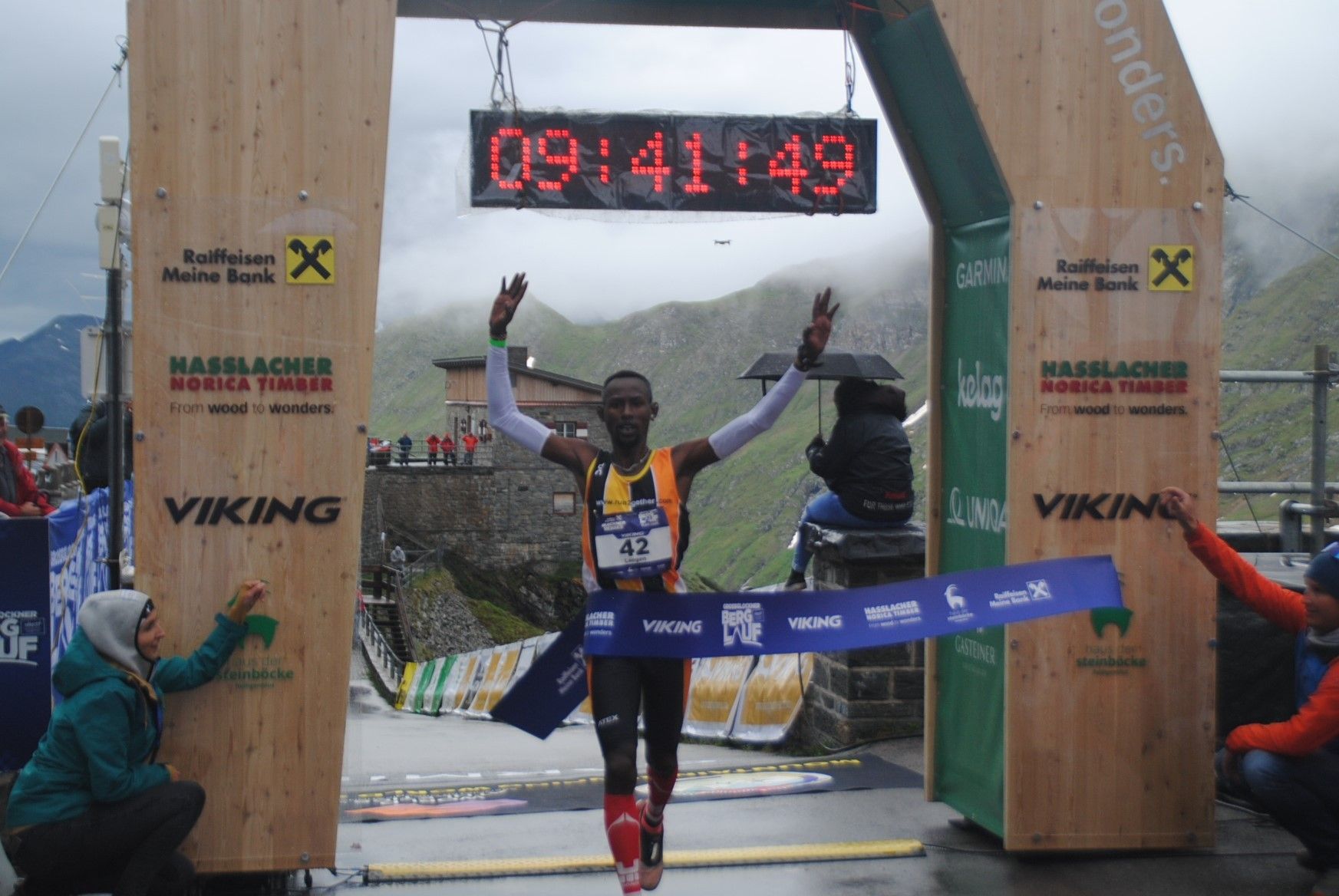 Lengen Lolkurraru wins the Grossglockner Berglauf (© Abel de Frutos)

The men's race was just as close. In the early stages Lolkurraru ran together in the lead with last year's winner, Germany's Filimon Abraham. Just behind them was Kenya's Geoffrey Gikuni Ndunga and a big group all within a few seconds of each other including Manuel Innerhofer of Austria, Italy's Cesare Maestri, Alex Baldaccini and Lorenzo Cagnati, Ireland's Zak Hanna and Timotej Becan of Slovenia.
In the next section Lolkurraru and Abraham were still neck and neck, but they had managed to open a small gap of around 45 seconds on Innerhofer, Maestri and Ndunga. A group of about six runners continued to chase them down.
By the finish Lolkurraru had managed to pull away from Abraham, winning in 1:11:48, with Abraham just behind in 1:12:34. In a sprint finish, Innerhofer took third place in 1:13:44, with Ndunga just three seconds behind. Maestri rounded out the top five in 1:14:17.
The next World Cup race is La Montee Du Nid d'Aigle in St Gervais, France, on Saturday (17).
Kirsty Reade (WMRA) for World Athletics