Charlotte Morgan wins the 2021 Tatra Race Run (© Marco Gulberti)
The hugely anticipated first race in the 2021 World Mountain Running Association (WMRA) World Cup took place on Sunday (27), with Britain's Charlotte Morgan and Poland's Marcin Kubica winning the Tatra Race Run in Zakopane, Poland.
The Tatra Mountains provided a stunning backdrop to the opening stage of the World Cup, classified as a long mountain race, at 24km, with around 1700m of ascent. A total of 307 runners started, with eight countries represented.
The women's race was close at the front, with Italy's Alice Gaggi and Morgan exchanging the lead. In the end it was 2018 world long distance mountain running champion Morgan who came out on top, winning in 2:46:03. Gaggi was a minute back (2:47:12), followed by Poland's Iwona Januszyk in third (2:50:51).
Italy's Lorenza Beccaria was close behind in 2:51:36, then there was a gap to fifth-placed Lucie Marsanova from the Czech Republic (3:06:56) and local runner from Zakopane Katarzyna Jakiela-Rzadkosz (3:07:35).
In the men's race, exciting young talent Kubica – who has taken part in three World Championships and two European Championships as a junior – led from the initial stages through to the finish, winning in 2:18:51. He was chased by his compatriot Piotr Lobodzinski, who is probably best known as a two-time world tower running champion. Piotr finished second in 2:20:21, with vertical kilometre champion Henry Aymonod third (2:21:40).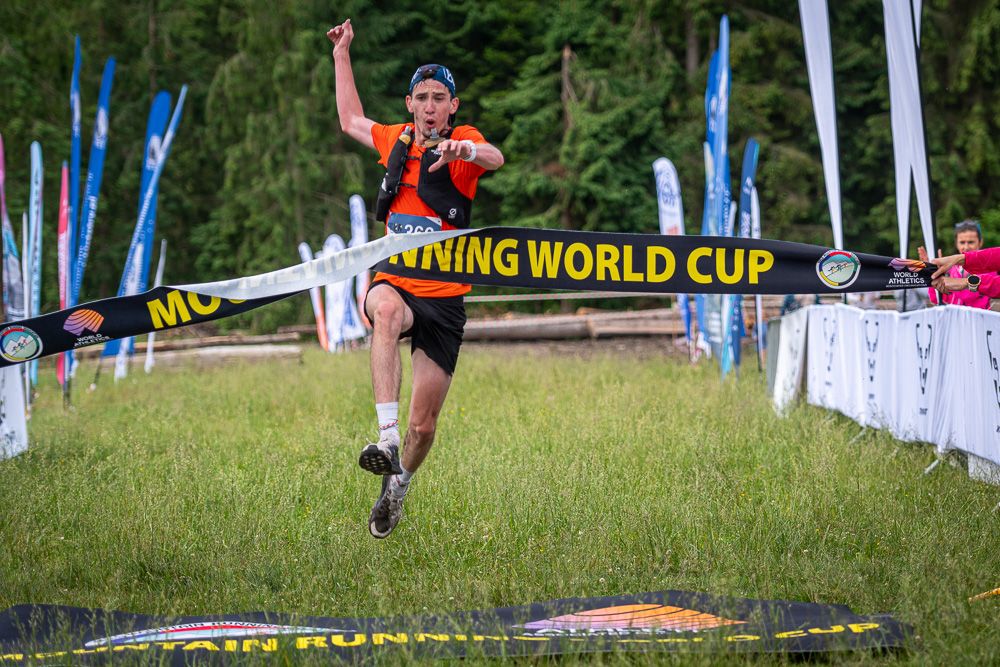 Marcin Kubica celebrates his win (© Marco Gulberti)

Italy's Martin and Bernard Dematteis finished in fourth and fifth respectively in 2:23:23 and 2:24:20, with Hungary's Sandor Szabo sixth in 2:25:34.
The race hub was at Zakopane, with runners transported to the start at Kuznice for a 6.30am start. The route then took them through the Kondracka Pass and Czerwone Wierchy to the Tomanowa Valley and the Hala Ornak, and then through the Iwaniacka Przełęcz, the Starorobociańska and Chochołowska Valley to the finish line at Siwa Polana.
The next World Cup event is Grossglockner in Heiligenblut, Austria, on 11 July.
Kirsty Reade (WMRA) for World Athletics