Triple jumper Jordan Alejandro Diaz Fortun (© Geoffroy Van der Hasselt for Diamond League AG)
Jordan Alejandro Diaz Fortun added 10cm to his world triple jump lead, leaping a 17.87m (1.2m/s) PB at the Spanish Championships on Sunday (26).
The 21-year-old, who previously competed for Cuba, managed his Spanish record mark in the first round of the competition before soaring to a wind-assisted 17.93m (2.5m/s) in the second round. The Ivan Pedroso-coached athlete then jumped 17.80m in the third round and 17.66m in the fourth, before passing his fifth attempt and recording 17.55m in the sixth round.
His PB performance moves him from 23rd to equal 13th on the world all-time list.


No digas nada. Solo RT 🔁

🆕 RÉCORD DE ESPAÑA DE JORDAN DÍAZ en su PRIMER SALTO en el #CEatletismo

🔥17.87 🔥 BRUUUTAL @diaz_fortun pic.twitter.com/8zdHhURlrL

— atletismoRFEA (@atletismoRFEA) June 26, 2022

The final day of competition in Nerja also saw Asier Martinez take the 110m hurdles title in a wind-assisted 13.15s (2.2m/s) and Oscar Husillos (45.45) and Eva Santidrian (52.39) win the 400m titles. Alvaro de Arriba kicked to victory in the men's 800m, setting a championship record of 1:45.82 to pip Adrian Ben (1:46.01) and Mariano Garcia (1:46.04).
Mario Garcia won the men's 1500m in 3:35.52 from Mohamed Katir (3:35.85), Ignacio Fontes (3:35.94) and Adel Mechaal (3:36.60). Katir and Mechaal were fresh from racing the 5000m the day before, with national record-holder Katir claiming the title after a tactical race, running 13:43.61 ahead of Olympic fifth-place finisher Mechaal with 13:44.10.
Also on Saturday, Sara Gallego set a national 400m hurdles record of 54.34, improving her previous best by more than half a second, while Aleix Porras won the men's race in 49.68. Maria Isabel Perez ran a PB and championship record of 11.07 (1.6m/s) in her 100m semifinal after 11.20 in her heat, but did not contest the final, with Jael Bestue going on to take the title in 11.26. The men's long jump was won by Eusebio Caceres with a 8.10m leap.
Mitton throws Canadian record in Langley
Sarah Mitton improved her own national shot put record on day four of the Canadian Championships on Saturday (25), throwing 20.33m to become the first Canadian woman to surpass 20 metres.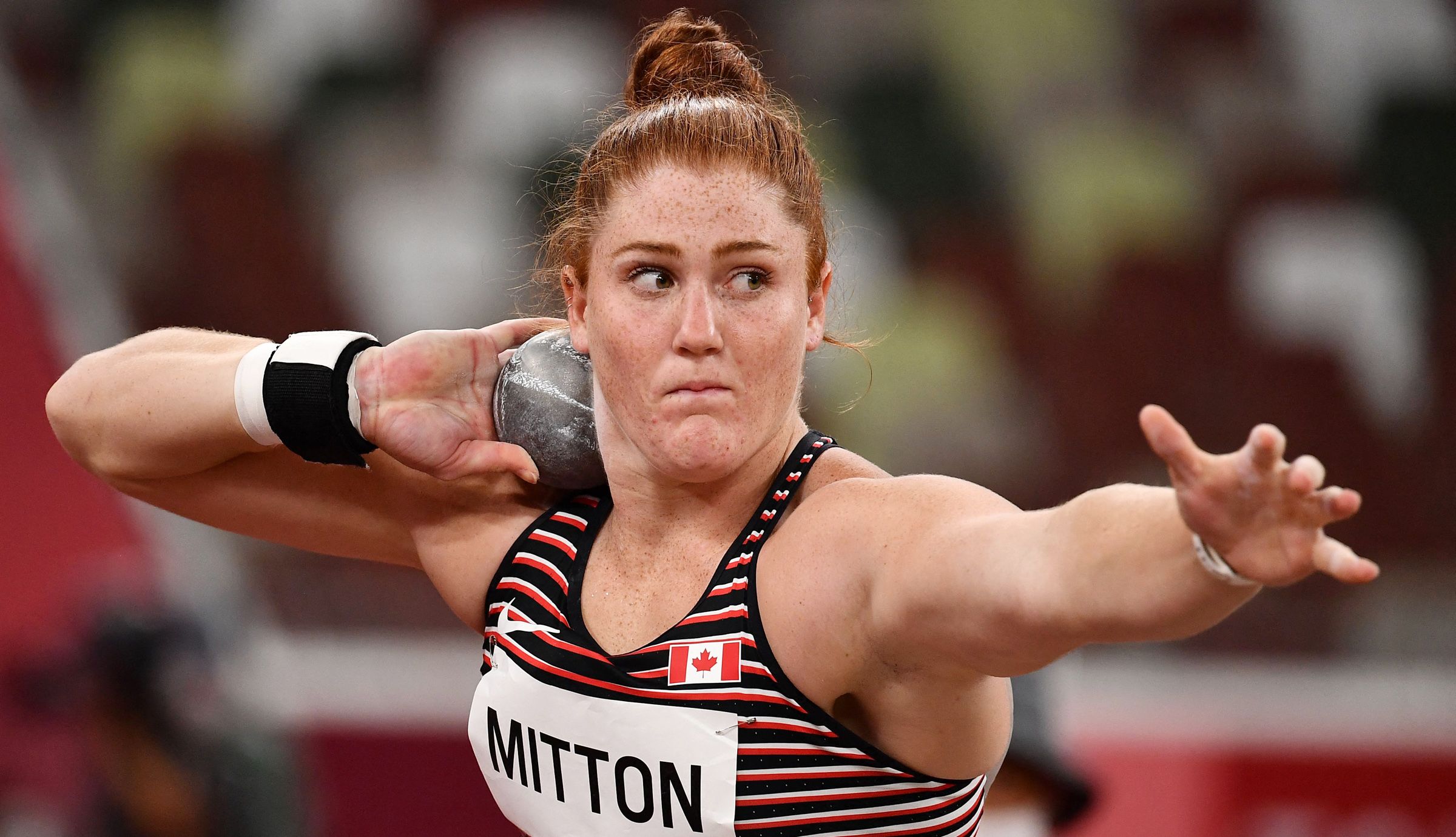 Canadian shot putter Sarah Mitton (© Getty Images)
The performance, which she achieved in the sixth and final round of the competition in Langley, puts Mitton third on this season's world top list behind USA's Chase Ealey with 20.51m and China's Song Jiayuan with 20.38m.
"My coach (Richard Parkinson) and I took a picture yesterday holding up 20 metres on the scoreboard," Mitton later explained. "He said, 'don't get too ahead of yourself', but I think that played into it: just believing that no matter what, I could do it."
Mitton also had two other throws over 19 metres, recording 19.13m in the first round and 19.29m in the second.
Another national record-holder in the throws, Camryn Rogers, asserted her dominance in the hammer. A couple of weeks after her 77.67m in Eugene, the NCAA champion and Olympic fifth-place finisher won the national title by two metres, throwing a best of 75.33m. Jillian Weir was second with 73.12m.
A men's 100m head-to-head between Aaron Brown and his training partner Jerome Blake ended in victory for Brown, the two-time Olympic relay medallist running 10.16 (-0.1m/s) to Blake's 10.19. They had earlier run respective semifinals of 10.07 and 10.00.
Aiyanna Stiverne won the women's 400m in a PB and World Championships qualifying time of 51.21, improving her best by almost half a second to triumph ahead of Lauren Gale by 0.40
Marco Arop sits second on the Canadian 800m all-time list with 1:43.26, just 0.06 behind national record-holder Brandon McBride, but it was Arop who won the national title battle. Arop clocked 1:44.39 to win as McBride secured second in a World Championships qualifying time of 1:45.15.
Topic equals world U18 best
Still aged just 16, Angelina Topic, who finished sixth at last year's World Athletics U20 Championships in Nairobi, improved her high jump PB to 1.96m to equal the world U18 best at the Serbian Championships on Sunday (26).
Topic, who is the daughter of 2009 world triple jump bronze medallist Biljana Topic and multiple high jump medallist Dragutin Topic, started the year with an outdoor high jump PB of 1.88m and improved to 1.93m in May and 1.95m at the start of June before adding another centimetre to that mark in Krusevac this weekend to win the national title.
Her fellow teenager Adriana Vilagos, the world U20 champion, won the javelin title with a 60.00m throw, while Armin Sinancevic won the shot put with 21.00m.
At the Lithuanian Championships on Saturday (25), 19-year-old Mykolas Alekna further improved his PB to 69.00m to win the discus title. No teenager has ever thrown further and his performance saw him win ahead of European champion Andrius Gudzius with 65.21m.
Alekna, who claimed the world U20 title in Nairobi last year, has progressed impressively this season. Starting the year with a PB of 63.52m, he threw 66.70m in March before improving to 67.68m in April, 68.73m in May and now 69.00m in June.
He now sits fifth on this season's world top list behind Daniel Stahl (71.47m), Kristjan Ceh (71.27m), Gudzius (69.39m) and Lukas Weisshaidinger (69.11m), and over at the Slovenian Championships on the same day Ceh threw 69.91m to win his national title.
Olympic and world indoor long jump champion Miltiadis Tentoglou was just 4cm off his season's best with a leap of 8.32m to win his fifth Greek outdoor title.
Vallortigara and

Jacobs reign in Rieti

Elena Vallortigara cleared 1.98m on her third attempt to move to joint second on this season's world top list in the high jump at the Italian Championships in Rieti on Sunday (26).

Only Yaroslava Mahuchikh, who cleared a world lead of 2.03m in Brno last week and 2.00m in Eugene in May, has gone higher this season.

"Clearing 1.98m gives me confidence before the World Championships in Eugene," said Vallortigara. "I aim to reach the final and then try to fight with the best jumpers in the world. I have worked all my life for this goal."

Olympic 100m champion Marcell Jacobs won his fifth consecutive Italian 100m title in 10.12 (-0.9 m/s) in his first race since 18 May, when he picked a muscle injury in Savona. Chituru Ali finished second in 10.16, missing his recently-set PB by just 0.01. Jacobs' fellow Olympic 4x100m gold medallist Filippo Tortu took third place in 10.24.

"Rieti is the best place for my comeback," said Jacobs, who will compete at the Wanda Diamond League meeting in Stockholm next week. "I always want to honour the Italian Championships. It was very important to compete again after a minor injury, to find the competitive feeling."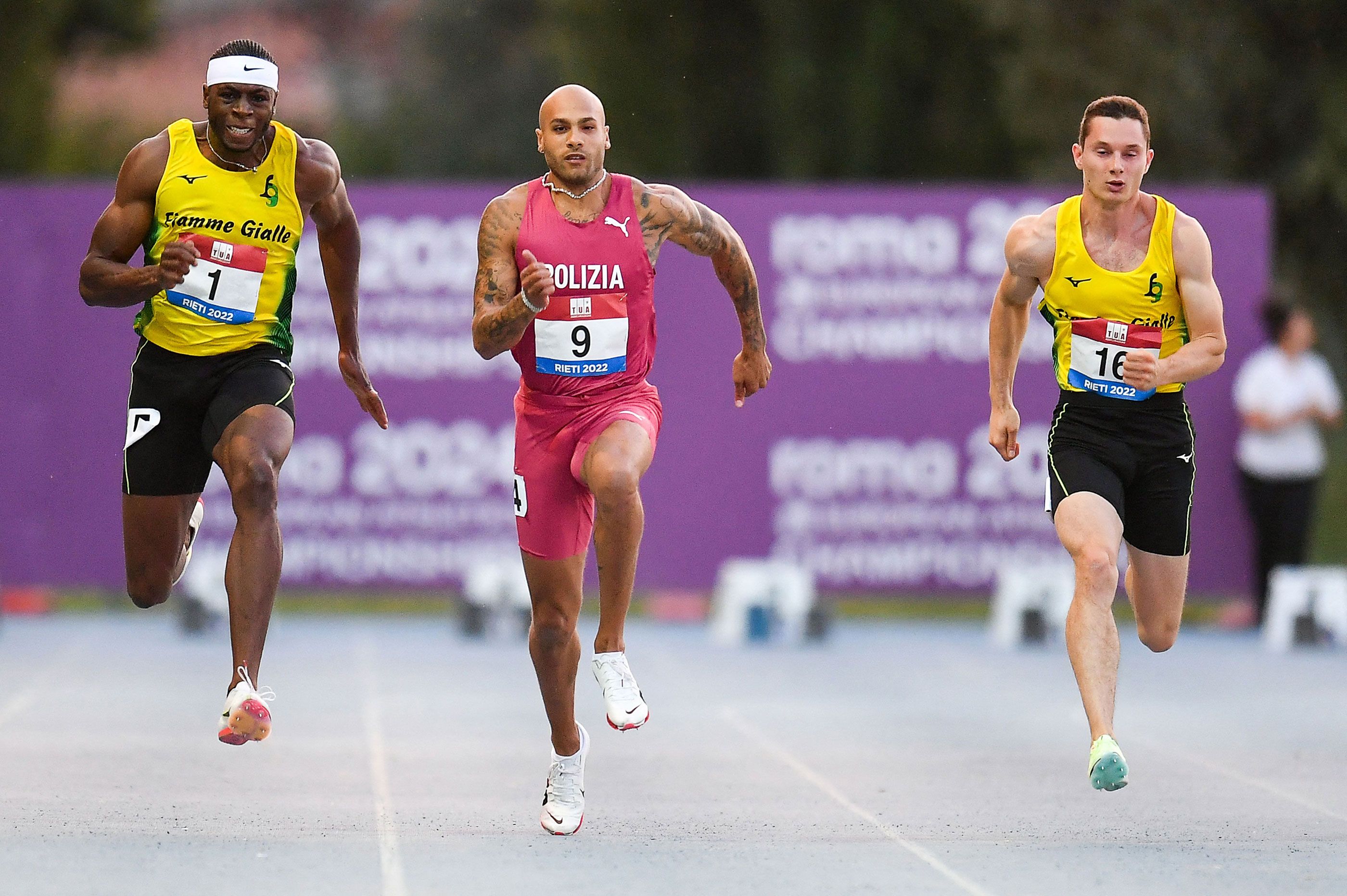 Marcell Jacobs on his way to winning the Italian 100m title (© AFP / Getty Images)
Australian guest Brandon Starc won the men's high jump with 2.26m. In the battle for the Italian title, Olympic champion Gianmarco Tamberi and Marco Fassinotti had a clean sheet until 2.23m, before failing all three attempts at 2.26m. It went to the wire in a jump off, when Tamberi eventually won his fifth Italian outdoor title by clearing 2.26m.
Andy Diaz, who was competing as a guest, set the second-best men's triple jump mark of the season, soaring 17.68m in the first round. The Cuban athlete, coached by 2012 Olympic bronze medallist Fabrizio Donato, improved his recent PB set in Paris last week by 3cm.
European U23 champion Andrea Dallavalle won the Italian title with 17.28m, while last year's Italian champion Tobia Bocchi improved his season's best to 16.86m, beating this year's NCAA runner-up Emmanuel Ihemeje (16.81m).
"I jumped with a full run-up for the first time this season," explained Dallavalle. "It was important to confirm my recent 17.25m in Grosseto."
Roberta Bruni cleared 4.55m to win the women's pole vault on her home track. Bruni recently finished second in the Rome Diamond League with 4.60m on the same day that she graduated in agricultural sciences from the university, and broke the Italian record of 4.71m in Barletta a few days later.
Nick Ponzio won his third national title (two outdoors and one indoors) in the men's shot put with 21.34m, breaking Paolo Dal Soglio's stadium record. Olympic finalist and Italian record-holder Daisy Osakue won her second consecutive national title in the women's discus, achieving the second best performance of her career with 63.24m. Sara Fantini won an 11th consecutive Italian hammer title with 71.57m. Fantini, the daughter of former Olympic shot put finalist Corrado Fantini, recently improved the national record with 75.77m in Madrid.
Ayomide Folorunso claimed the women's 400m hurdles title with a PB of 54.60, the second-fastest Italian performance in history and just 0.06 off the Italian record. Italian indoor record-holder Zaynab Dosso won her third consecutive national 100m title in 11.30, edging out 2019 European U20 champion Vittoria Fontana (11.34). European U23 champion Dalia Kaddari retained her 200m title in 22.88.
Catalin Tecuceanu pulled away from the rest of the field in the final 200m to win the men's 800m in 1:46.62. Yeman Crippa won his first Italian 5000m title in 13:26.11. Edoardo Scotti (45.70) and Alice Mangione (51.65) won the 400m titles, while Elisa Di Lazzaro won the women's 100m hurdles in 13.01, missing her PB by 0.01. Larissa Iapichino retained her national long jump title with a season's best of 6.64m.
Diego Sampaolo for World Athletics
Lamote runs championship record
Multiple European medallist Renelle Lamote won the 800m in a championship record of 1:58.71 on the final day of the French Championships on Sunday (26).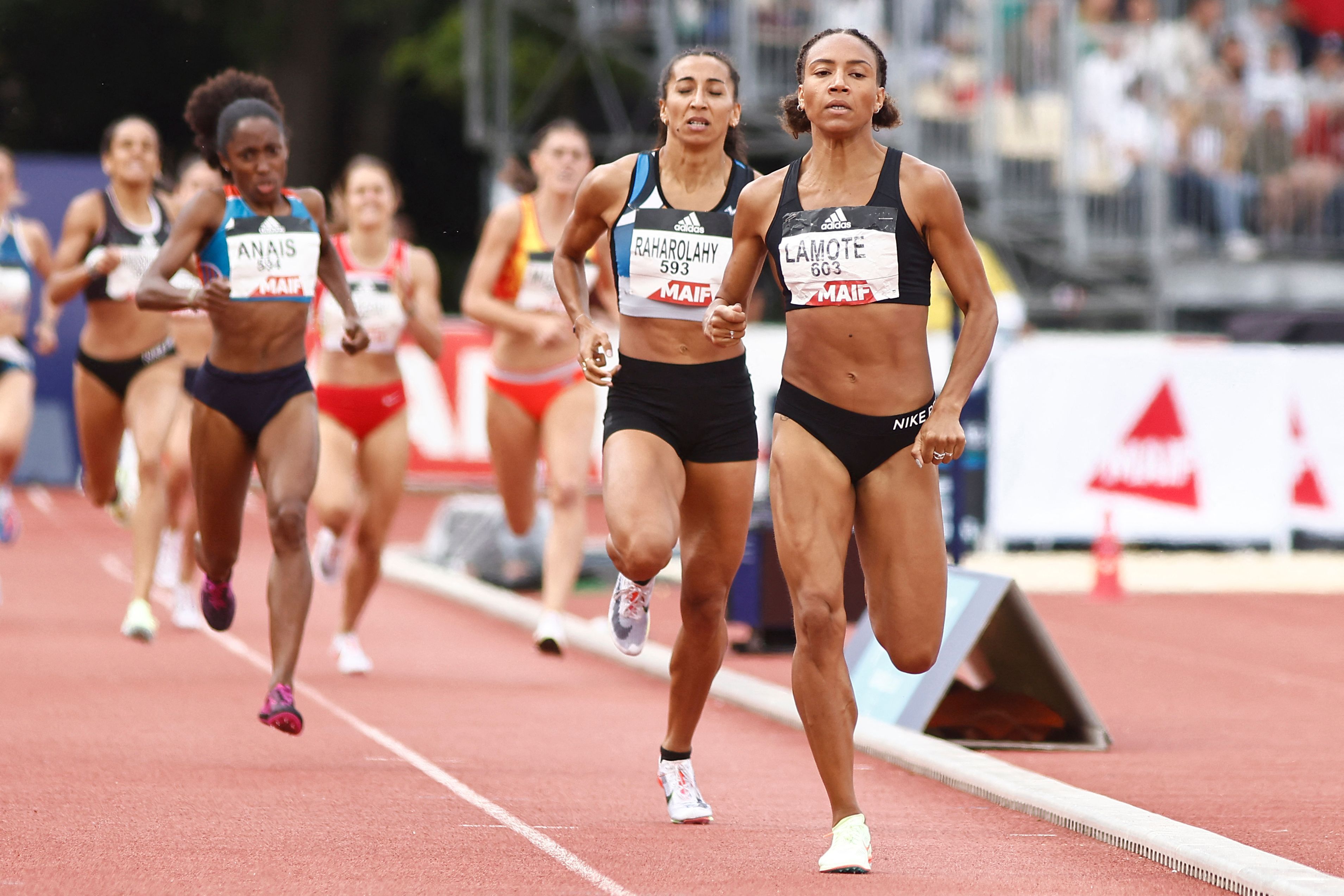 Renelle Lamote wins the 800m at the French Championships (© AFP / Getty Images)
Moving into the lead with around 300m to go, Lamote led former 400m specialist Agnes Raharolahy under two minutes, the multiple European 4x400m medallist getting the runner-up spot in a PB of 1:59.59.
Hurdler Shana Grebo decided to double up in the 200m and 400m and it paid off as she won medals in two events. After clocking 52.42 for 400m silver behind Amandine Brossier with 52.02 on Saturday, she won the 200m in a PB of 22.98 on Sunday.
Also on Saturday, world U20 champion and record-holder Sasha Zhoya marked his 20th birthday with a win in the 110m hurdles in a PB of 13.17 (-0.5m/s) ahead of Aurel Manga with 13.41, while Wilfried Happio won the 400m hurdles in 48.57. Laura Valette claimed the 100m hurdles title in 12.99 (1.1m/s).
Benjamin Robert triumphed in the men's 800m, clocking 1:48.58 ahead of Gabriel Tual (1:48.89) and Pierre-Ambroise Bosse (1:49.17).
European U23 bronze medallist Thibaut Collet cleared 5.75m to win the men's pole vault on countback ahead of 2012 Olympic champion Renaud Lavillenie, while European U20 champion Anthony Ammirati was third with 5.70m. Mélina Robert-Michon won the discus with a throw of 58.82m for her 36th national title.
At the German Championships, Olympic, world and European champion Malaika Mihambo won the long jump with a 6.85m (0.9m/s) leap and Olympic silver medallist Kristin Pudenz threw a PB of 67.10m to win the discus title ahead of Shanice Craft (64.64m) and Julia Harting (64.34m). Bo Kanda Lita Baehre was also in PB form and cleared 5.90m to take the pole vault title, while Tobias Potye and Mateusz Przybylko both cleared 2.30m in the men's high jump and shared the win. Julian Weber was top in the javelin with 86.61m.
On the track, the 100m titles were won by Gina Luckenkemper in 10.99 (0.8m/s) and Owen Ansah in 10.09 (0.1m/s), while Rebekka Haase won the women's 200m in 23.02 (0.8m/s) and Ansah completed a sprint double in 20.41 (0.6m/s). Marvin Schlegel took the men's 400m title and Corinna Schwab the women's in respective times of 45.77 and 51.61. Alina Reh claimed the women's 5000m title in 15:21.11.
Neita nets sprint double, Mitchell-Blake breaks record
Olympic finalist Daryll Neita completed a sprint double, while Nethaneel Mitchell-Blake and Max Burgin were in record-breaking form on the final day of British Championships action on Sunday (26).
Saturday had seen Neita and European U23 champion Jeremiah Azu capture wind-assisted – and somewhat surprising – victories over 100m. Neita, carried by a 3.8m/s tailwind, charged to a 10.80 triumph to finish ahead of world 200m champion Dina Asher-Smith (10.87). Fellow Olympic 4x100m bronze medal-winning teammates Imani Lansiquot and Asha Philip placed third and fourth respectively in 11.03 and 11.09.
Azu, meanwhile, got off to a superb start in the men's 100m final and held off Reece Prescod's trademark strong finish, crossing the line in 9.90 (2.5m/s). Prescod was second in 9.94 and Zharnel Hughes third in 9.97.
The following day Neita became the first woman since Laura Turner in 2010 to achieve a 100m and 200m double at the British Championships, running a wind-assisted 22.34 (3.5m/s) in the half-lap event. The 2018 national title winner Beth Dobbin secured her British team place for the World Championships in Oregon as she clocked 22.49 ahead of Lansiquot, who clocked 22.70 to claim her second bronze of the championships.
"Double British sprint champion sounds good, doesn't it!" said Neita. "Obviously, the wind means I don't have the (200m) qualification standard for the World Championships, but I can't ask for any more than the win."
With her 100m team place secured, she added: "I really think I can go to Eugene and perform. I don't look at others, just me. I am a great fan of the sport and I watch others, but I don't measure myself against others. I am here to stay now."
The men's 200m title was won by 2017 world 4x100m gold medallist Mitchell-Blake, who took advantage of the wind-legal 2.0m/s conditions to run a 20.05 championship record and book his Oregon team place. Joe Ferguson also dipped under the qualifying standard with a 20.23 PB for the runner-up spot.
Burgin's record run came in the 800m as he followed his 1:43.52 in Ostrava with a 1:44.64 stadium record in Manchester. In a competitive final, he beat Daniel Rowden (1:45.58) and Kyle Langford (1:46.34). In a tactical and competitive men's 1500m final, Jake Wightman emerged victorious in 3:40.26 from world finalist Neil Gourley (3:40.38) and Olympic bronze medallist Josh Kerr (3:40.63). Olympic finalist Jake Heyward was just 0.03 shy of a podium place in fourth.
The women's event was far more clear-cut as Olympic silver medallist Laura Muir won by almost five seconds in 4:12.91. Her training partner Jemma Reekie, continuing her comeback after being ill with glandular fever, won the 800m in 2:06.03.
World indoor 3000m bronze medallist Marc Scott claimed his third national 5000m title in 13:42.82 and Olympic bronze medallist Holly Bradshaw achieved her ninth national outdoor pole vault victory with first-time clearance at a 4.50m, winning on countback ahead of Molly Caudery.
Tade Ojora successfully defended his 110m hurdles title in a wind-assisted 13.27 (3.8m/s), beating Josh Zeller (13.31), David King (13.38) and Andrew Pozzi (13.44). Jessie Knight won the 400m hurdles in 55.08, while Cindy Sember achieved a wind-assisted 12.56 (5.4m/s) 100m hurdles victory.
Elsewhere, there were victories for Matt Hudson-Smith in the 400m (44.92) and Lorraine Ugen in the long jump with a wind-assisted 6.79m (3.9m/s).
National 100m records for Kambundji and Ogando, Richards runs 19.83
World indoor champion Mujinga Kambundji powered to a 10.89 clocking to win the Swiss 100m title in Zurich on Friday (24).
The world 200m bronze medallist got into her running by the half-way mark and then pulled away from her domestic rivals – including Olympic finalist Ajla del Ponte – to win by 0.37 in a national record of 10.89, taking 0.01 off the mark that had been set by Del Ponte last year.
Olympic mixed 4x400m silver medallist Alexander Ogando stepped down in distance to the 100m at the Dominican Republic Championships and set his second national record within a week.
The 400m specialist, who clocked a national record of 20.03 over 200m at the Wanda Diamond League meeting in Paris last Saturday, went into the national championships with a 100m PB of 10.33. He smashed that in the final, though, winning in 10.09 to take 0.05 off the previous national record that had stood since 2015.
Along with his national 100m and 200m records, 22-year-old Ogando has this season reduced his PB to 44.68 in the 400m. Up until now, the longer sprint has been Ogando's preferred distance, but his newfound versatility may mean he could contest more than one event at the World Athletics Championships Oregon22.
At the Trinidad and Tobago Championships, world indoor 400m champion Jereem Richards set a PB and championship record of 19.83 (0.3m/s) to win the 200m in very wet conditions. It improves on the 2017 world 200m bronze medallist's previous best of 19.97 set five years ago and puts him joint fifth on this season's top list.
Olympic 400m champions Shaunae Miller-Uibo and Steven Gardiner won the Bahamian one-lap titles, clocking respective times of 52.62 and 45.22, and Miller-Uibo returned to win the 200m in 22.32 (-0.2m/s) ahead of Anthonique Strachan with 22.59. World indoor 60m hurdles silver medallist Devynne Charlton ran a national record to win the 100m hurdles title, her 12.60 (2.0m/s) putting her ahead of Haiti's Mulern Jean with 12.99.
NCAA runner-up Favour Ashe dipped below 10 seconds for the first time at the Nigerian Championships, running 9.99 (0.1m/s) to take the 100m title. Tobi Amusan set a 12.54 championships record in the 100m hurdles.