Fred Kerley wins the 200m at the Continental Tour Gold meeting at Mt SAC (© Kirby Lee)
Fast times – some with the help of a breeze – and one speedy turnaround highlighted the USATF Golden Games at Mt SAC's Hilmer Lodge Stadium in Walnut, California on Saturday (16).
However, the second stop in the World Athletics Continental Tour Gold series wasn't as blustery as the first in Bermuda last weekend. In the final race of the meeting, Fred Kerley had a legal tailwind to prevail in the highly anticipated men's 200m.
With the wind gauge reading 1.6m/s, Kerley, the Olympic 100m runner-up, chased down compatriot Michael Norman and clocked a world-leading time of 19.80 to eclipse his previous best this season of 20.04.
Norman, who had an excellent start, was second in 19.83 followed by Olympic 400m hurdles silver medallist Rai Benjamin in 20.01.
"I came in pretty confident," said Kerley, who has also clocked times of 44.47 for 400m and 9.99 in the 100m so far this year. "The race felt good and I finished strong. I got the 'W'."
Kerley, whose time was four-hundredths off his lifetime best, said he has only one goal leading into the rest of the season: "Win."
"The whole part of track is competing and that's what I love to do," he added.
Norman, a gold medallist in the 4x400m in Tokyo, said he understood what he did wrong in the race. "I kind of got excited and let the race plan leave my mind," Norman said. "I didn't run a great race, but it was a good opener so I just need to make the adjustments."
Gabby Thomas won the women's 200m a mere 24 minutes after placing third in the 100m.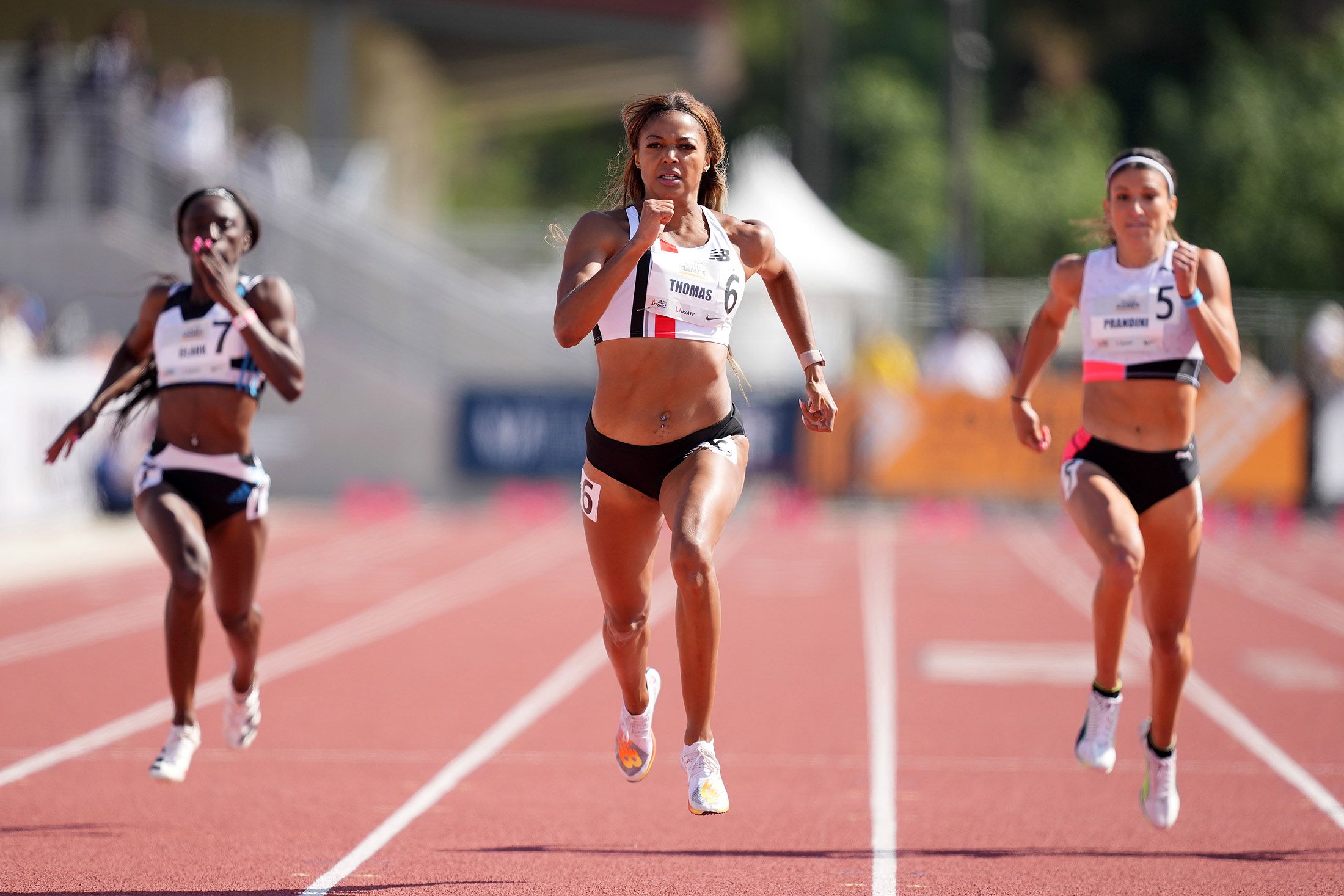 Gabby Thomas on her way to winning the 200m at the Continental Tour Gold meeting at Mt SAC (© Kirby Lee)

Thomas, the Olympic bronze medallist from Tokyo, ran 22.02 (1.9m/s), just off the world-leading mark of 21.96 run by Favour Ofili a day earlier in Florida. In the 100m, Thomas ran a wind-aided 10.86 (3.3m/s) to finish behind Twanisha Terry at 10.77 and Aleia Hobbs in 10.80.
"I didn't expect (the turnaround) to be that quick," said Thomas, who had been chatting animatedly in the gap between events. "I think I just got a little distracted with the media and talking to my coach and my agents, but it was a good warmup for the 200m and good preparation mentally."
Thomas also competed in Bermuda and said she was feeling fatigued after a tough week of travel. How much faster could she have gone if the 200m had been her only race instead of her third of the day? "Oh gosh, hard to say," Thomas said. "I would have liked to have dipped under 22, but you get what you get."
Olympic 100m and 200m champion Elaine Thompson-Herah ran the preliminary race of the 100m with a world-leading time of 10.89, then opted not to run the final.
Terry was content to claim that win with her fastest 100m, to beat her previous wind-aided time of 10.79 at the US Olympic Trials last year.
"At least it was at my back this time!" Terry said of the wind, which was in her face when she ran in the 200m in Bermuda, placing seventh. "I told myself to stay patient and everything else would fall into place."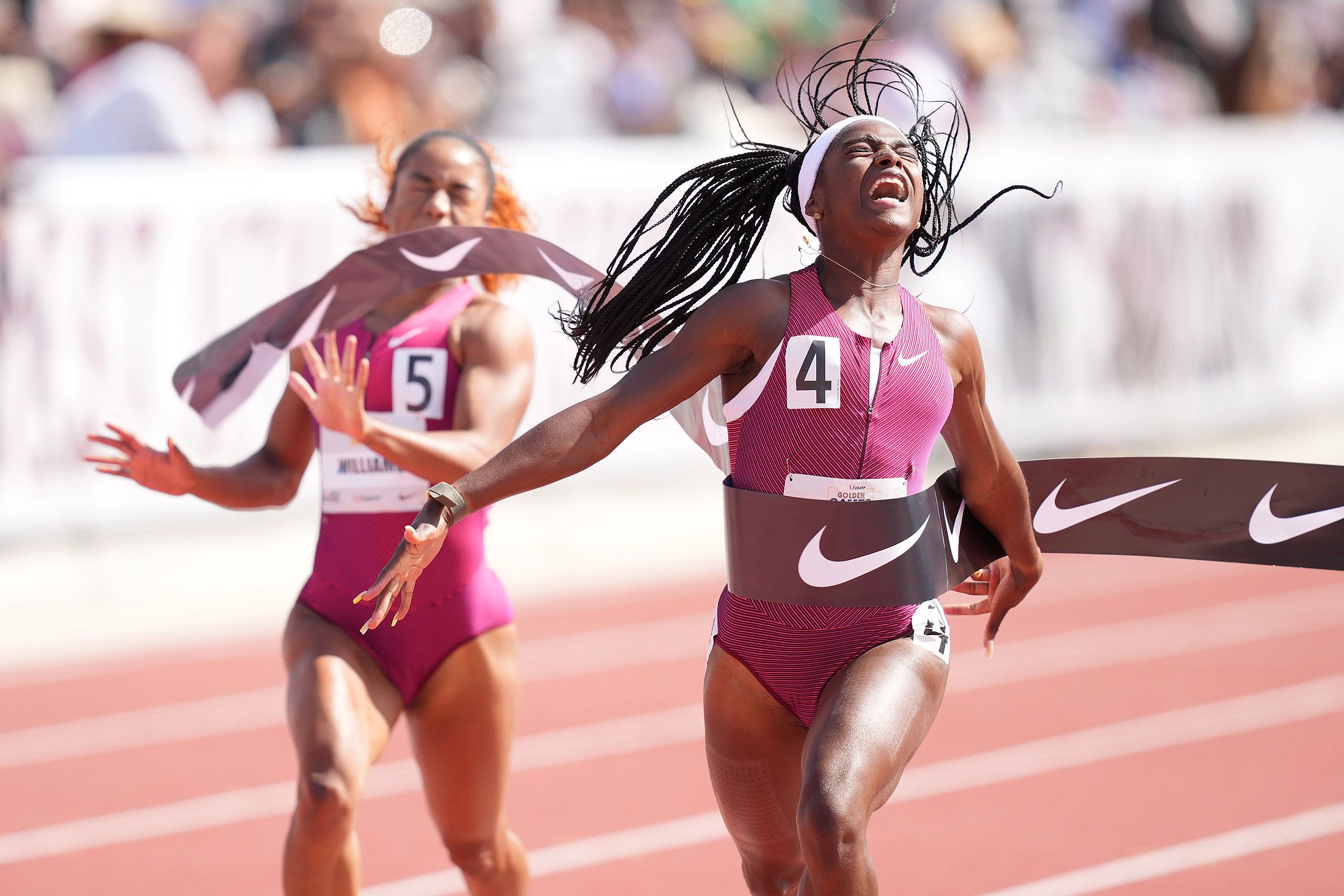 Twanisha Terry wins the 100m at the Continental Tour Gold meeting at Mt SAC (© Kirby Lee)

Micah Williams of the University of Oregon – who hopes to star at the World Championships on his home track later this summer in Eugene – won the men's 100m with a wind-aided time of 9.83 (2.5m/s), with Brandon Carnes second in 9.93.
Michael Cherry powered to victory in the men's 400m, posting a world-leading time of 44.28. Alison Dos Santos, the Olympic 400m hurdles bronze medallist, was second in a big PB of 44.54 with Bryce Deadmon third (45.13) and Kenny Bednarek, the Olympic 200m runner-up, taking fourth (45.37).
"I've been training super hard, so I'm glad I can come out and show it off today," Cherry said. "Just to see that I know the sky's the limit the rest of the season. When you have confidence, it's so hard to knock it down. I just believe in myself."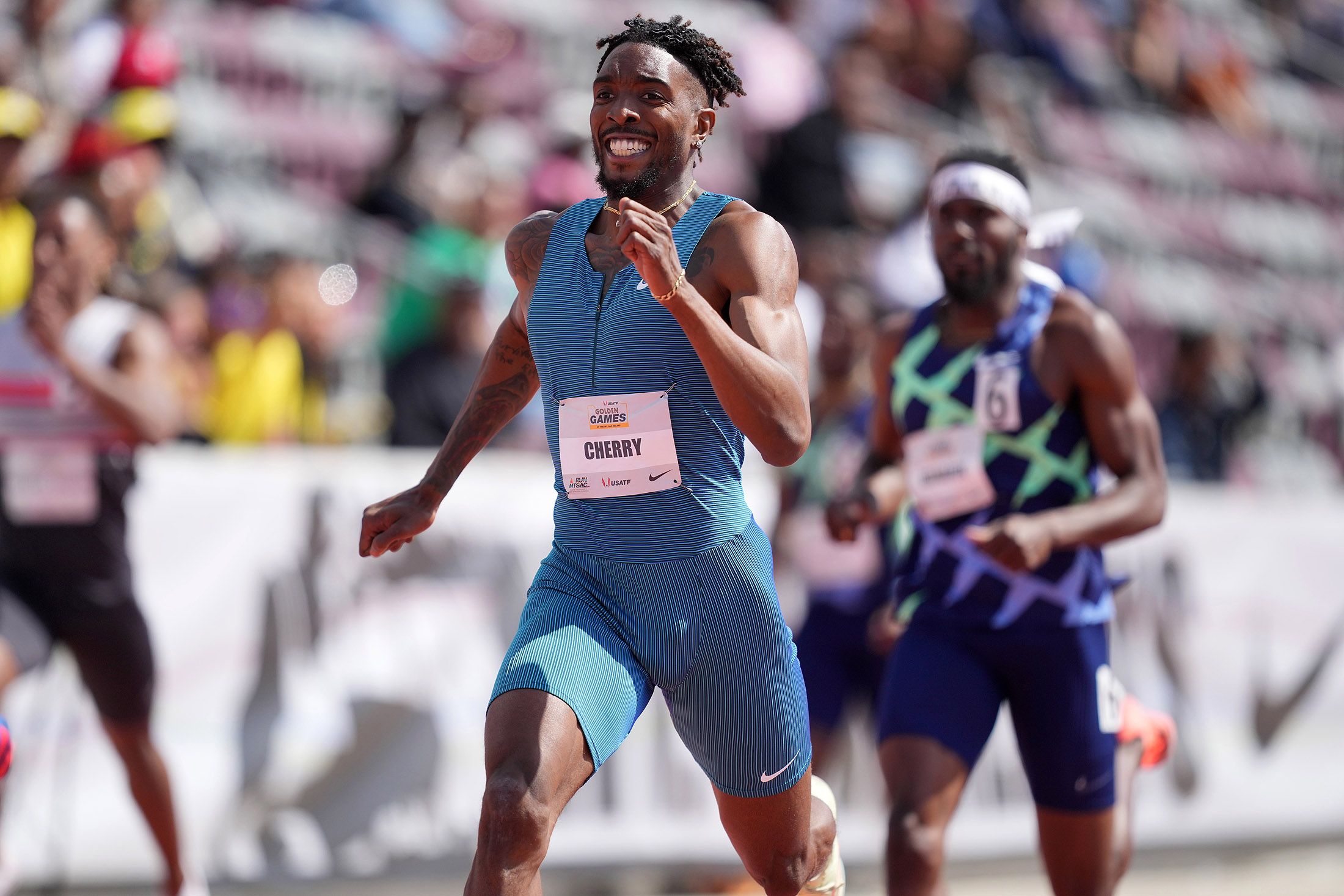 Michael Cherry wins the 400m at the Continental Tour Gold meeting at Mt SAC (© Kirby Lee)

Cherry said that he opened with 45.9 seconds last year and finished at 44.03. "This year it's 44.2," he said with a grin, "so hopefully I'll finish at 43.2."
Valarie Allman had an impressive series in the women's discus, topped by a best of 69.46m – exactly two metres shy of the continental record she set last week. Jorinde Van Klinken led the rest of the field at 62.91m.
Allman said she was happy to be part of the "incredibly rich history at Mt SAC," where she was making her first appearance. But she said that after training in calm conditions in Texas, she didn't adjust as well to the wind as she would have liked to get the lift she needed.
"We're chasing that big one," Allman said. "It's one thing to want it; it's another thing to know it's in you and I think I'm kind of starting to get to that spot of figuring out, 'How do I reach my potential in the moment?' It's a journey, but I'm hoping one of these days I can find it when I'm in the ring."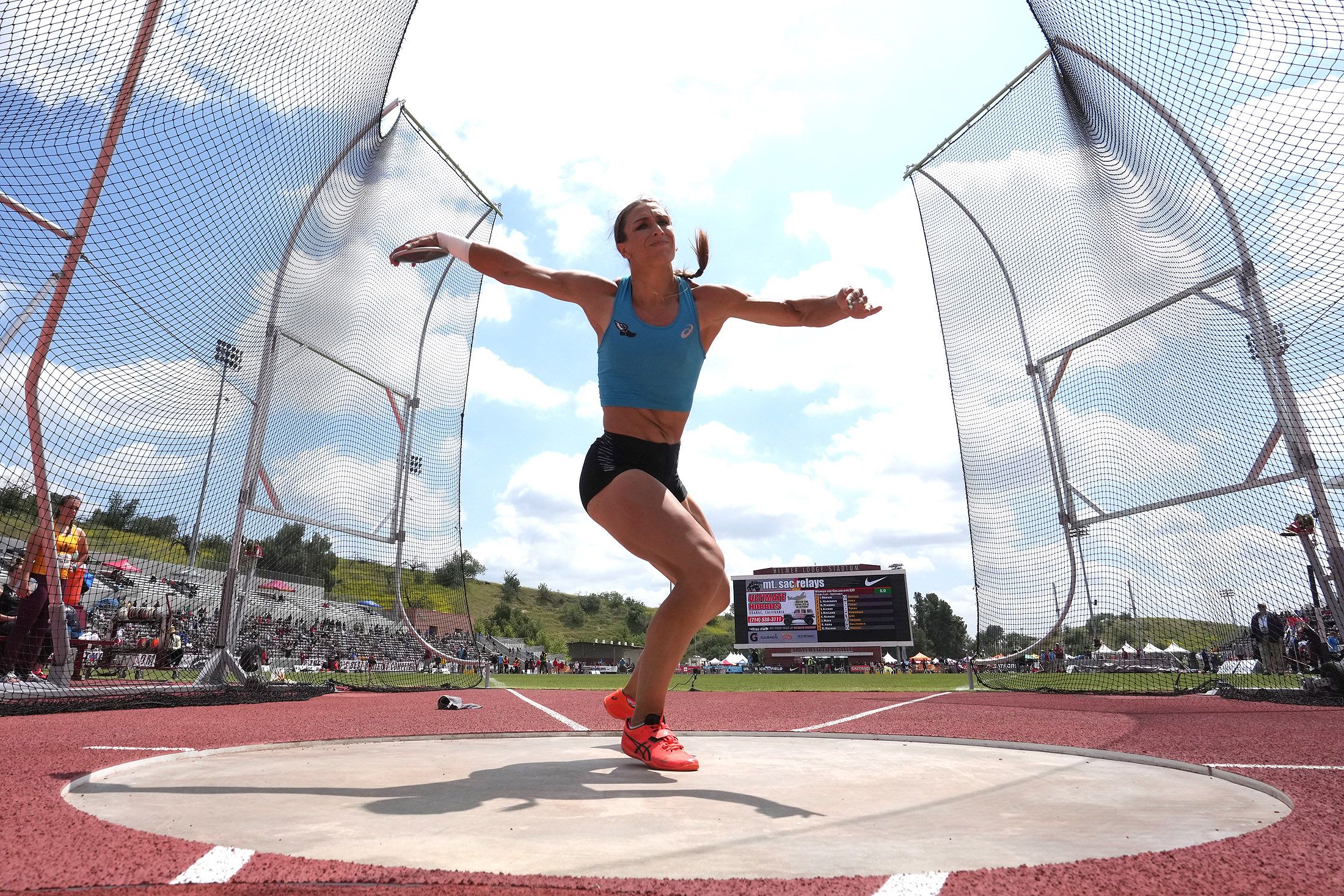 Valarie Allman, winner of the discus at the Continental Tour Gold meeting at Mt SAC (© Kirby Lee)

In the men's discus, world and Olympic champion Daniel Stahl threw 67.65m, the second-best performance of the year behind his own 69.11m.
Tonea Marshall won the 100m hurdles in 12.46 with world record-holder Kendra Harrison second at 12.56. Tia Jones was third (12.59), followed by Tobi Amusan (12.61) and Cindy Sember (12.63).
"You have legends in this race," Marshall said, "but I'm just glad that I was able to come out on top and do what I do best, which is focus on me."
Brooke Andersen produced a final-round effort of 76.76m to win the women's hammer, overtaking Camryn Rogers who moved into the lead in round five when equalling the Canadian record of 75.73m.
Elsewhere in the field events, Vashti Cunningham easily won the women's high jump by clearing 1.96m to share the world lead, while Keturah Orji took the women's triple jump with a wind-aided 14.53m (2.6m/s).
World 800m silver medallist Raevyn Rogers opened her season with a winning run of 1:58.77, much faster than her previous openers. "I felt free, I felt loose," said Rogers, who broke the collegiate record at Mt SAC in 2017 while racing for Oregon. "I feel like I ran my best races by running free and running natural."
She also ran with a blue tint to her hair. "I think it'll be my signature," Rogers said. "I feel like also this is a year of me stepping into how I feel like I am. My mom's like, 'Oh, maybe it's a phase'. I'm like 'no, I don't think I can go back to brown or blonde'. I feel like the blue is me."
Two-time Olympian Devon Allen won the 110m hurdles in 13.35 after running the first round in the men's 100m and clocking a PB of 10.12. He opted not to contest the 100m final, but Allen is pulling out all the stops this season since it will be his last on the track before joining the Philadelphia Eagles professional football team.
"I was hoping to go under 10 seconds in the 100m," said Allen. He said he's been working on his start and it wasn't very good in the hurdles. "I thought I wasn't going to be as tired as I was from the 100m to that race, but it's OK. It's the first race of the season and I've got plenty of time to get my fitness up."
In the men's pole vault, Clayton Fritsch and Jacob Wooten claimed the early top spot on the world list at 5.80m, with Fritsch winning on fewer misses. He cleared 5.70m on his first attempt while Wooten needed two tries.
Darrell Hill threw 21.68m to win the men's shot put, while Danniel Thomas-Dodd won the women's shot with 18.92m.
Laquan Nairn leaped 8.22m in the last round of the men's long jump to win with a PB. Some other excitement in the event came when a discus thrown by Laulauga Tausaga landed in the pit. Luckily, the men were between jumps.
Karen Rosen for World Athletics