Gina Luckenkemper wins the 100m title at the European Championships in Munich (© AFP / Getty Images)
If the remaining five days of the European Championships are anything like the second, then there will be nowhere else to look for the rest of this week, such was the electrifying intensity produced on both track and field – and in the stands – at Munich's Olympic Stadium on Tuesday (16).
The atmosphere was already raucous in this 50-year-old arena long before Niklas Kaul sealed gold for the hosts in the decathlon and before Gina Luckenkemper edged victory in a thrilling women's 100m, but those victories caused this historic old place to rock in truly astonishing fashion.
Few objective observers would have predicted this from Luckenkemper, who had dipped below 11 seconds only once this season, clocking 10.99 to win the German title. After Britain's Daryll Neita coasted to victory in 10.95 in the semifinals, with Luckenkemper well behind her in 11.11, it seemed even more unlikely.
But cometh the hour of the 100m final, cometh the German star, the 25-year-old coming from behind and clocking 10.99 (0.1m/s) to edge world indoor champion Mujinga Kambundji of Switzerland, who also clocked 10.99, just five thousandths of a second separating them. Bronze went to Neita in 11.00, with reigning champion Dina Asher-Smith of Britain pulling up injured midway through the race.
The cheers, if anything, were even louder for the climax of the decathlon shortly before, where Kaul added the European senior title to previous continental titles at U20 and U23 level, the 2019 senior world champion getting back to winning ways with a tally of 8545 points. In second, rising star Simon Ehammer set a Swiss record of 8468, while in third Estonia's Janek Oiglane took bronze with 8346.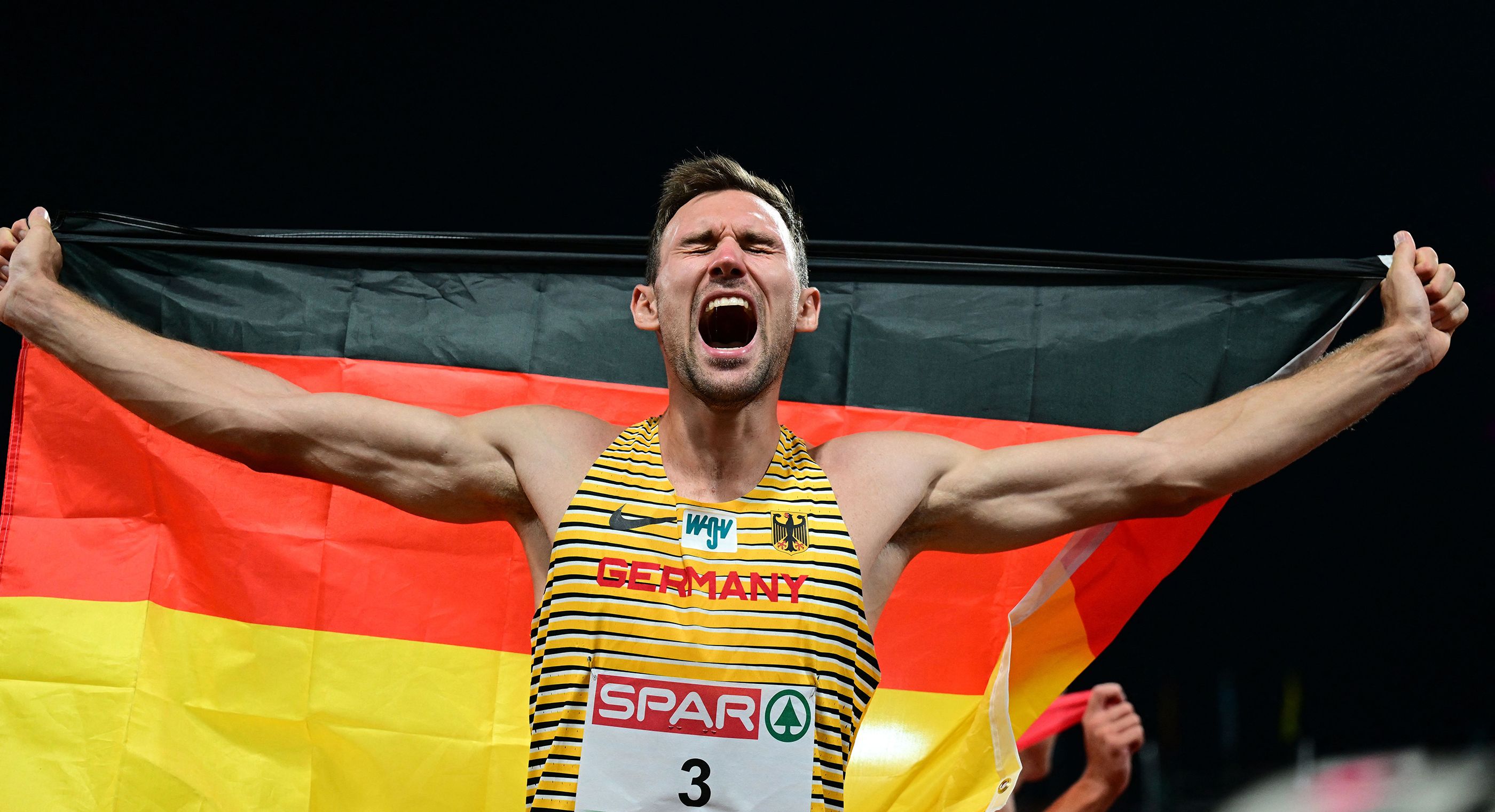 Germany's Niklas Kaul celebrates his decathlon win at the European Championships in Munich (© AFP / Getty Images)
Kaul had trailed Ehammer by a whopping 520 points after eight events, which heaped the pressure on him in the javelin, where he delivered a magnificent 76.05m with his third attempt to roar back into gold medal contention. With Ehammer managing 52.46m, it meant Kaul trailed the Swiss athlete by 178 points going into the 1500m. Given Ehammer's PB was 4:42.54, and Kaul's 4:13.81, the stage was set for a stunning finale.
And so it proved, with the crowd creating a deafening noise as Kaul soloed his way around the track, clocking a big PB of 4:10.04, with Ehammer emptying what little energy remained after an exhausting two days – in which he set PBs in the high jump (2.08m) and pole vault (5.20m) – clocking 4:48.72.
"The Olympic Stadium will have a special place in my life and in my heart, this is craziness," said Kaul. "We will never in our lives forget what we have lived here tonight. My ears nearly fell off, they were so loud. Today's emotional title is worth more than the world title I won three years ago. It is so beautiful to enjoy the atmosphere and the support from the crowd."
In the men's 5000m, Norway's Jakob Ingebrigtsen won the first of what just about everyone expects could be two gold medals this week, the world champion biding his time even longer than usual before really turning on the pace.
Ingebrigtsen swept to the front with a kilometre to run and slowly shifted through the gears, and he had only Spain's Mohamed Katir for company by the time he powered into the last bend. Only once he turned for home though did he switch on the afterburners, blasting clear and clocking 13:21.13, with Katir second in 13:22.98 and Italy's Yemaneberhan Crippa taking bronze in 13:24.83.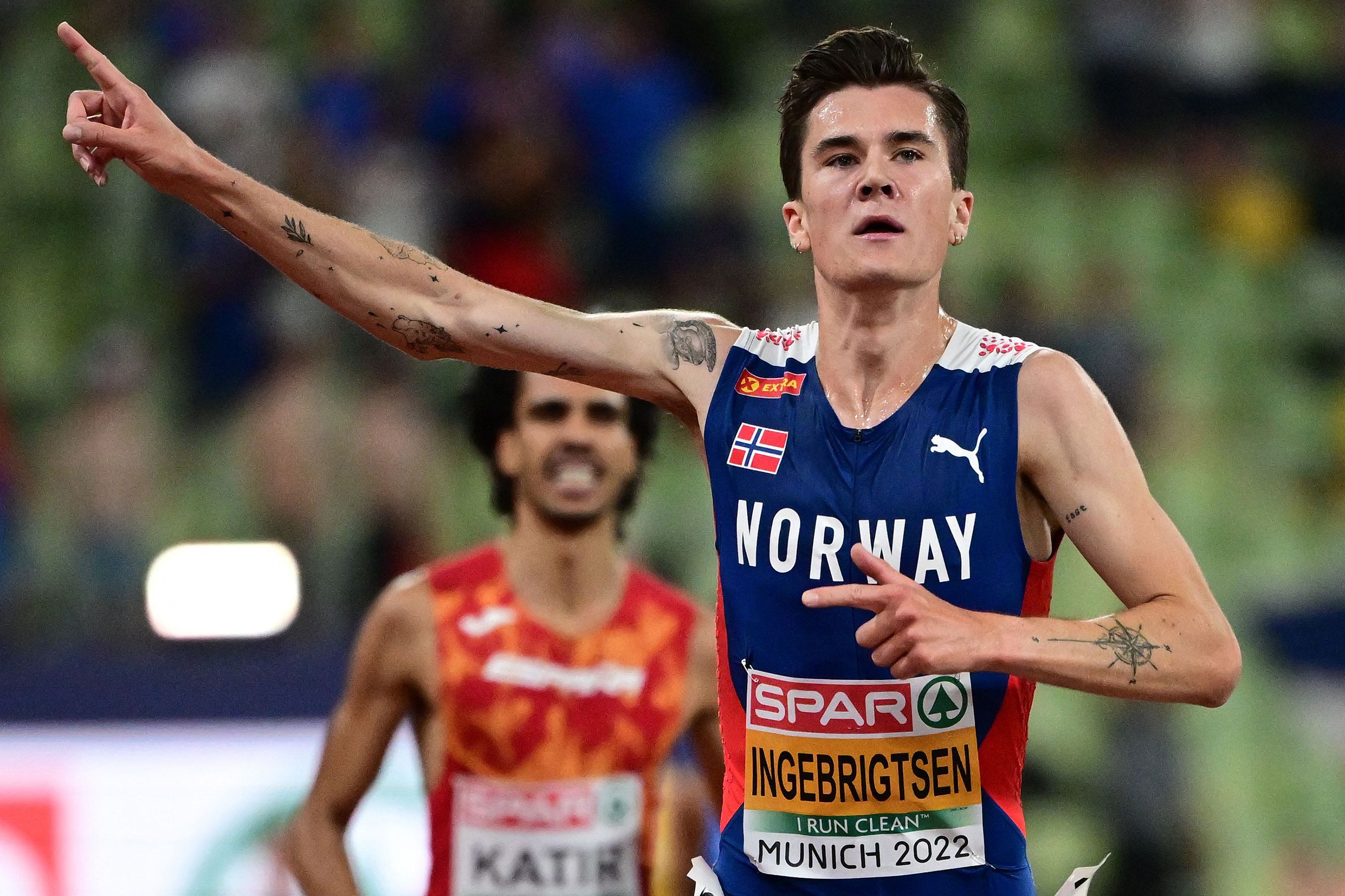 Jakob Ingebrigtsen retains his European 5000m title in Munich (© AFP / Getty Images)
"Everybody has the expectations, and you have to learn how to deal with it," said Ingebrigtsen. "I always have got something to prove. I believe in myself and I believe in the things I have done before."
In the men's 100m, Olympic champion Marcell Jacobs of Italy roared back to form by taking victory in a championship record of 9.95 (0.1m/s), with British duo Zharnel Hughes (9.99) and Jeremiah Azu (10.13) taking the minor medals.
"This was a difficult season with problems, with injury, but my leg is good now," said Jacobs, who withdrew from the world 100m semifinals last month. "I am not happy about how the race went technically, there were some problems, but I am over the moon with the gold medal. After Olympic gold, now I've got the European gold. I've got to get the World Championship gold now."
Sandra Perkovic denied the crowd their dream night by edging victory in the women's discus just ahead of Germany's Kristin Pudenz, but few in the arena could so anything but salute the Croatian's ability to produce clutch performances when it matters. Perkovic became the first athlete to ever win six individual titles at the European Championships with a throw of 67.95m, which came in the fifth round. Pudenz took silver with a PB of 67.87m, while her teammate Claudine Vita rounded out the podium with 65.20m.
"I am sorry for them that I destroyed their party but I just won my sixth European title here at this beautiful stadium, in front of these amazing crowds, so I am so happy and proud," said Perkovic.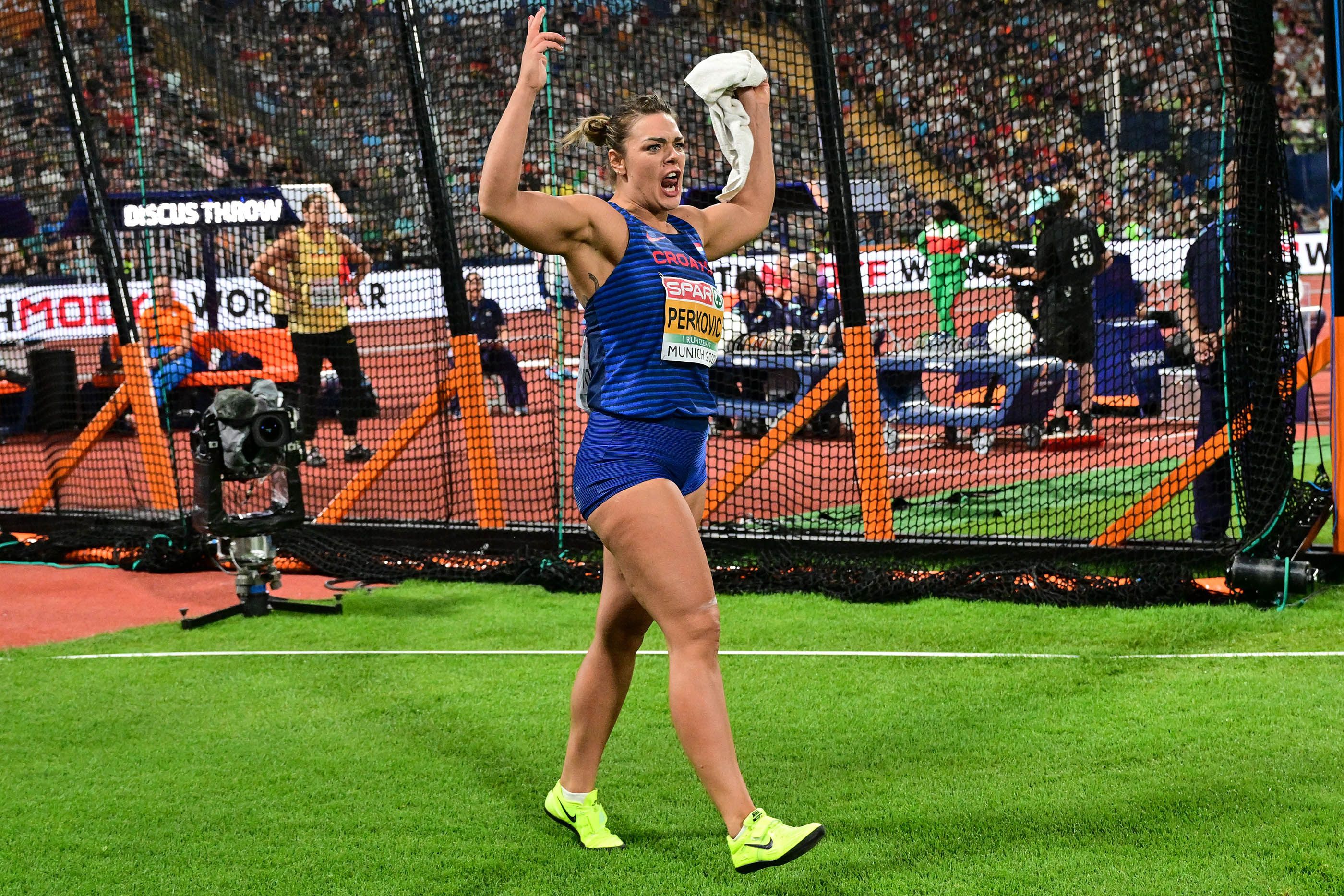 Sandra Perkovic celebrates her sixth European discus title win in Munich (© AFP / Getty Images)
There was another commanding performance in the men's long jump by Miltiadis Tentoglou, who retained his European title with a championship record of 8.52m, which came in the fourth round. Sweden's Thobias Montler was second with 8.06m while France's Jules Pommery took bronze with 8.06m.
"I was ready and prepared for something big and finally, I proved I can do it," said Tentoglou. "I put everything together and it just worked well."
In the women's 35km race walk, Greece's Antigoni Ntrismpioti took gold in commanding fashion in 2:47:00 ahead of Spain's Raquel Gonzalez (2:49:10) and Hungary's Viktoria Madarasz (2:49:58). The men's 35km race walk title went to Spain's Miguel Angel Lopez in 2:26:49, with Germany's Christopher Linke second in 2:29:30 and Italy's Matteo Giupponi third in 2:30:34.
On Monday (15), Turkey's Yasemin Can reclaimed the European 10,000m title she won back in 2016 with a commanding performance in the 25-lap event, surging clear with seven laps to run and coming home a distant winner in 30:32.57, with Britain's Eilish McColgan claiming silver in 30:41.05, while Israel's Lonah Chemtai Salpeter took bronze in a national record of 30:46.37.
"It is a very important result because I did not start at the World Athletics Championships so I felt hungry for competing," said Can, who will try to add the 5000m title later in the week.
The shot put titles were both decided on Monday, with Jessica Schilder of the Netherlands taking the women's gold with her 11th national record of the year, 20.24m. Auriol Dongmo of Portugal took silver with 19.82m while Schilder's Dutch teammate Jorinde van Klinken took bronze with 18.94m. Croatia's Filip Mihaljevic won the men's shot put with a best of 21.88m. Serbia's Armin Sinancevic took silver with 21.53m and Tomas Stanek of Czech Republic won bronze with 21.26m.
Schilder said the victory was "like a dream", while Mihaljevic said he had "been working hard all year and it paid off."
There was a huge upset in the women's marathon on Monday morning as Poland's Aleksandra Lisowska took gold in 2:28:36, with Croatia's Matea Parlov Kostro winning silver in 2:28:42 and race favourite Nienke Brinkman edging a photo finish for third in 2:28:52. Germany took team gold.
The men's race was even closer, with a raucous atmosphere at the finish at Odeonsplatz in the city centre as Germany's Richard Ringer came from behind to sprint past Israel's Maru Teferi just before the line, clocking 2:10:21 to Teferi's 2:10:23. Bronze went to Israel's Gashau Ayale in 2:10:29, with Israel also taking team gold.
Cathal Dennehy for World Athletics