Mondo Duplantis competes at the Wanda Diamond League meeting in Paris (© AFP / Getty Images)
Three Olympic champions beaten in Thursday's meeting at Lausanne – Mondo Duplantis, Elaine Thompson-Herah and Hansle Parchment – re-asserted themselves with emphatic victories as the Wanda Diamond League moved on to Paris on Saturday (28).
There was a buoyant atmosphere within a Charlety Stadium close to being full with spectators in conditions far milder and calmer than there had been in Lausanne.
Sweden's 21-year-old pole vault luminary Duplantis saw off the strong challenge of Ernest Obiena of the Philippines and Tokyo silver medallist Chris Nilsen of the United States to win with a first-time clearance at 5.96m before clearing a meeting record 6.01m and having three efforts at improving his world record to 6.19m.
As he rose from the landing bed following the decisive 5.96m success he pointed a wagging finger of gratitude back down the runway at his unofficial coach in the absence of his father Greg – 34-year-old home vaulter Renaud Lavillenie, his predecessor as world record-holder, who is still suffering from ankle trouble and went out early on 5.45m.
Obiena, who had only managed to clear 5.81m at his third attempt and had passed at 5.86m, rose superbly to the challenge of 5.91m, clearing it at his first attempt and setting a national record in the process.
He also took the lead as Nilsen and then Duplantis failed with their first attempts, with both then passing to 5.96m.
But then the 21-year-old world record-holder made his class tell, and it proved too much. After two failures, Obiena threw the dice once more by passing to 6.01m, but failure there confirmed a hugely honourable second place.
Nilsen, meanwhile, placed third after two unsuccessful attempts at 5.96m.
But as the afternoon sunshine grew stronger, Duplantis, victorious, felt free to offer a bit extra for the appreciative crowd, and flipped over 6.01m like it was nothing.
Up went the bar to the world record height of 6.19m. After two attempts, there was a pause as Duplantis and Lavillenie conferred at length. The last attempt, roared on by a respectably full arena, was close. Another day…
Double Olympic women's 100m champion Elaine Thompson-Herah, making her third Diamond League appearance in the space of a week, showed no significant sign of fatigue as she won in a meeting record of 10.72.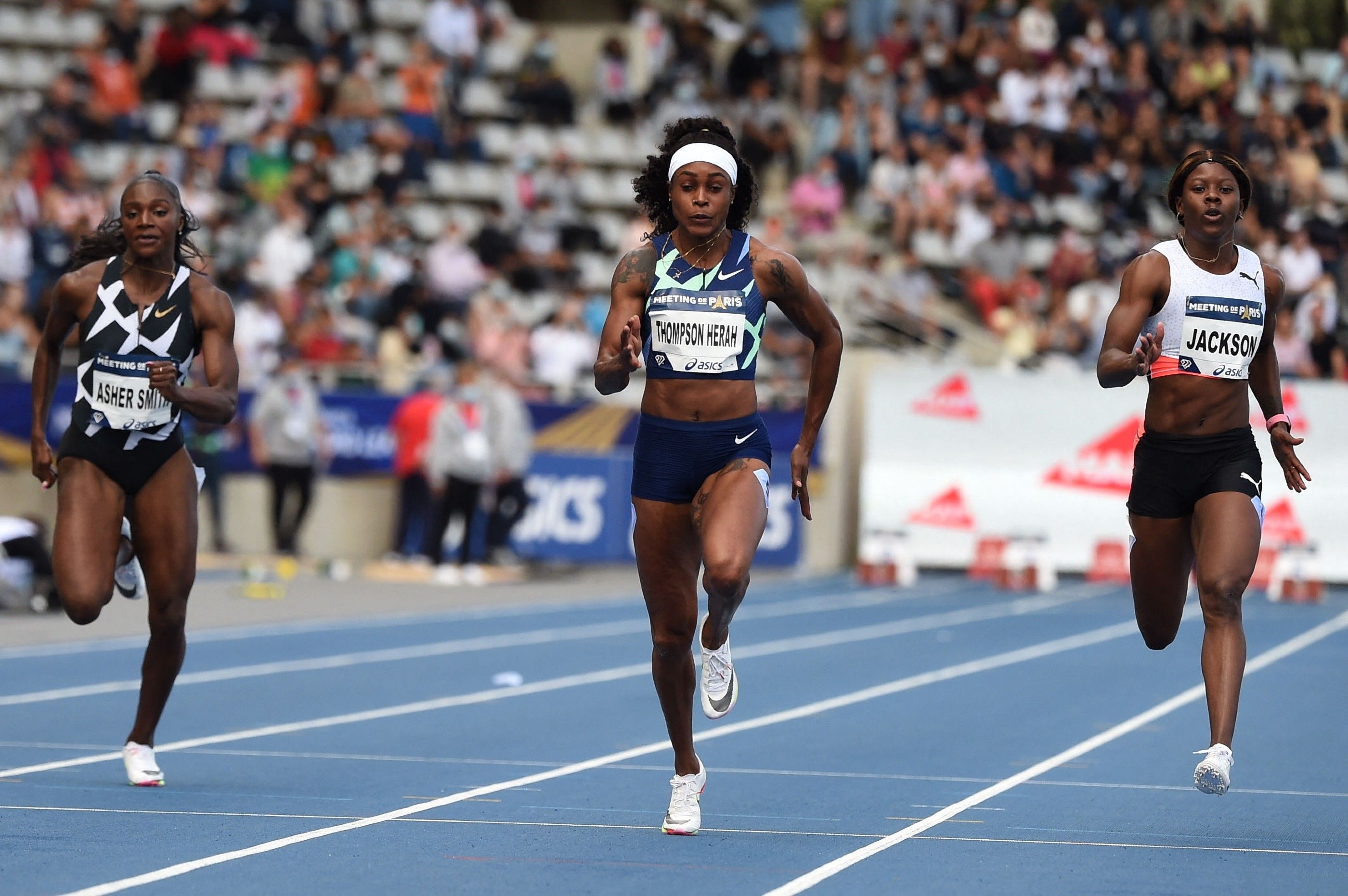 The 29-year-old Jamaican – who had been due for a third consecutive contest with compatriot and fellow double Olympic champion in this event, Shelly-Ann Fraser-Pryce, until the latter pulled out the day before because of fatigue – floated away from a top class field over the final 40 metres.
She was followed home by Jamaica's Olympic bronze medallist Shericka Jackson, who clocked 10.97, with third place, in 11.06, going to Britain's world 200m champion Dina Asher-Smith, who won 4x100m bronze in Tokyo but had to miss contesting the longer sprint after recovering from a serious hamstring injury.
"I am thankful I crossed the line healthy," Thompson-Herah said. "I am already in the books so I am happy for that.
"I know everybody is thinking I am targeting the world record, but ... I know it is close but for this season I am already super-happy. Whatever I come close to this record, I am super-happy for that at the end of the season. The time is good for me."
Last Saturday in Eugene, Thompson-Herah clocked 10.54, the second-fastest time in history; in Lausanne on Thursday night she ran 10.64 but had to give best to Fraser-Pryce, who ran the third-fastest ever time, 10.60.
With this performance she completed a monumental sequence of performances – and there will be more to come this season. As her flag-waving fans in the main stand stood and cheered, she stopped, grinned, posed with one finger up, and then did a little jig of joy.
Parchment powered to victory in the men's 110m hurdles in a season's best of 13.03.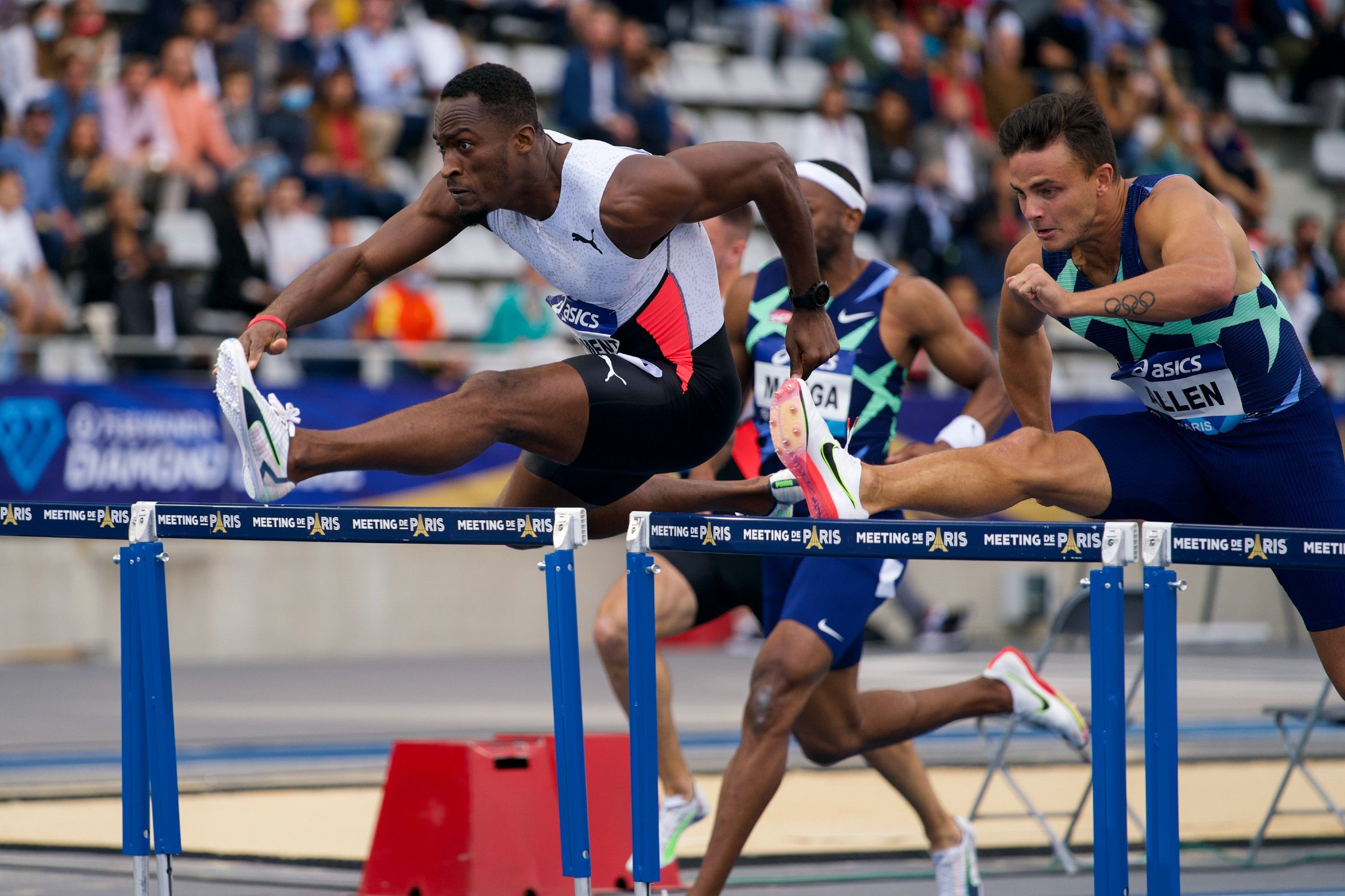 (© Matthew Quine / Diamond League AG)

Thursday night's winner, Devon Allen of the United States, was second in a season's best of 13.08, with his compatriot Daniel Roberts third in 13.16.
Home runner Pascal Martinot-Lagarde, who finished fifth in Tokyo, was well in contention until appearing to feel something amiss at the seventh hurdle and starting to decelerate at that point.
Australia's Tokyo 2020 silver medallist Nicola McDermott earned victory over a women's high jump field that included Olympic champion Mariya Lasitskene in dominant, and tactical fashion.
McDermott, who set an Oceania record of 2.02m in Tokyo, played it cool throughout the competition, coming in at 1.89m, clearing first time and then passing at 1.92m before clearing 1.95m first time to move into the lead.
She was joined at that height by four others, with Lasitskene, in second place with one failure at 1.92m, and Gerashchenko, who had cleared 1.92m at her third attempt, one place behind.
Another first-time clearance of 1.98m, marked with a clenching of both fists, maintained McDermott's momentum, and one by one three of her rivals fell away at the height.
Only one moved through with her to 2.01m – Lasitskene – who progressed with her third attempt, just as she did on 1.96m in the Olympic final before moving up to take over the lead from her Australian rival.
This time, however, the authorised neutral athlete was unable to go any higher, and while McDermott had also failed at 2.01m she was a clear winner on countback.
"I have been second and third so many times this season so I am glad that it is finally the win," McDermott said. "I just left my heart for these people in the crowd today. I love to see the full stadiums and I love when the people have the chance to enjoy the athletics."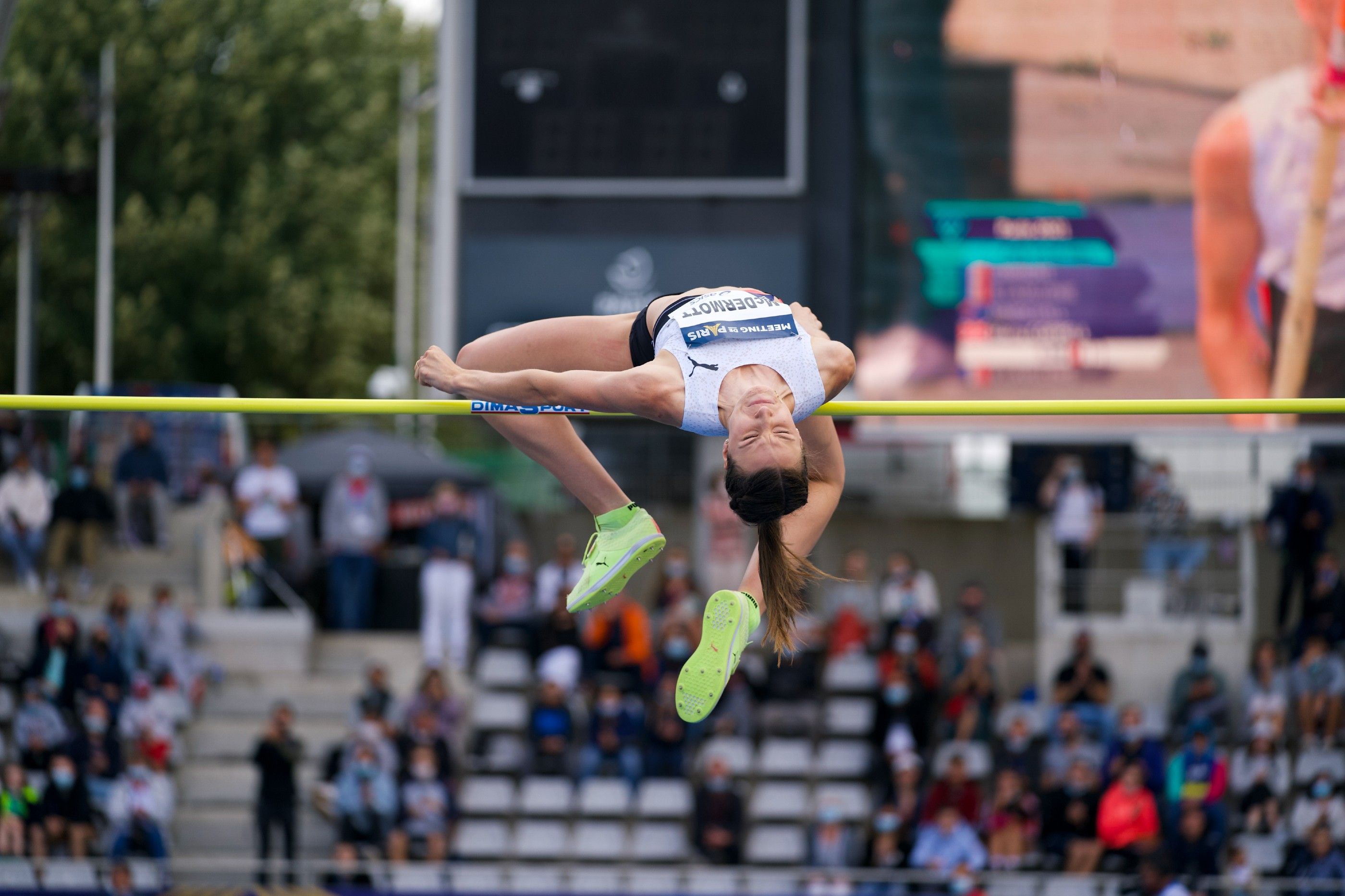 (© Matthew Quine / Diamond League AG)

Francine Niyonsaba of Burundi, whose celebrations at reaching the women's 5000m final in Tokyo were stilled when she was disqualified for stepping inside the kerb, earned a measure of recompense with a commanding victory in the women's 3000m in a national and meeting record of 8:19.08.
As the long-time leader came round the final bend it seemed for a moment as if she would be passed by Ejgayehu Taye but she responded to the challenge to finish a couple of metres clear, with the Ethiopian clocking a national record of 8:19.52 in second place.
Four others set personal bests – third-placed Margaret Kipkemboi in 8:21.53, fourth-placed Elise Cranny of the United States in 8:30.30, fifth-placed Fantu Worku of Ethiopia in 8:30.76 and, one place behind Britain's Eilish McColgan, Karoline Grovdal of Norway, who clocked 8:33.47.
Sandra Perkovic, who missed a Tokyo 2020 women's discus medal by one place having won the two previous Olympic titles, returned to winning form as she showed the nerve of a true champion against a field that included all three competitors who made the Tokyo podium.
Her second-round effort of 66.08m was the best of the day and earned her one of the Final 3 places.
After the Olympic champion, Valarie Allman of the United States, had thrown 64.51m, Cuba's Yaime Perez produced her best effort of 65.31m to put the pressure on the 31-year-old Croatian as she stepped up for the last throw of the event.
Perkovic was already exulting as the disc flew. She knew. It landed at 65.68m and she made two fulsome, triumphant, ceremonial bows to the appreciative crowd.
"With the new formula – a final for three girls to decide the victory – I knew I had to keep something for the last attempt," Perkovic said. "But I was ready for that. I'm a competitor. I throw each attempt as it would be the last one."
Olympic 100m silver medallist Fred Kerley, beaten by his United States compatriot Kenny Bednarek two days earlier, reversed the result here as he recorded a legal-wind personal best of 19.79.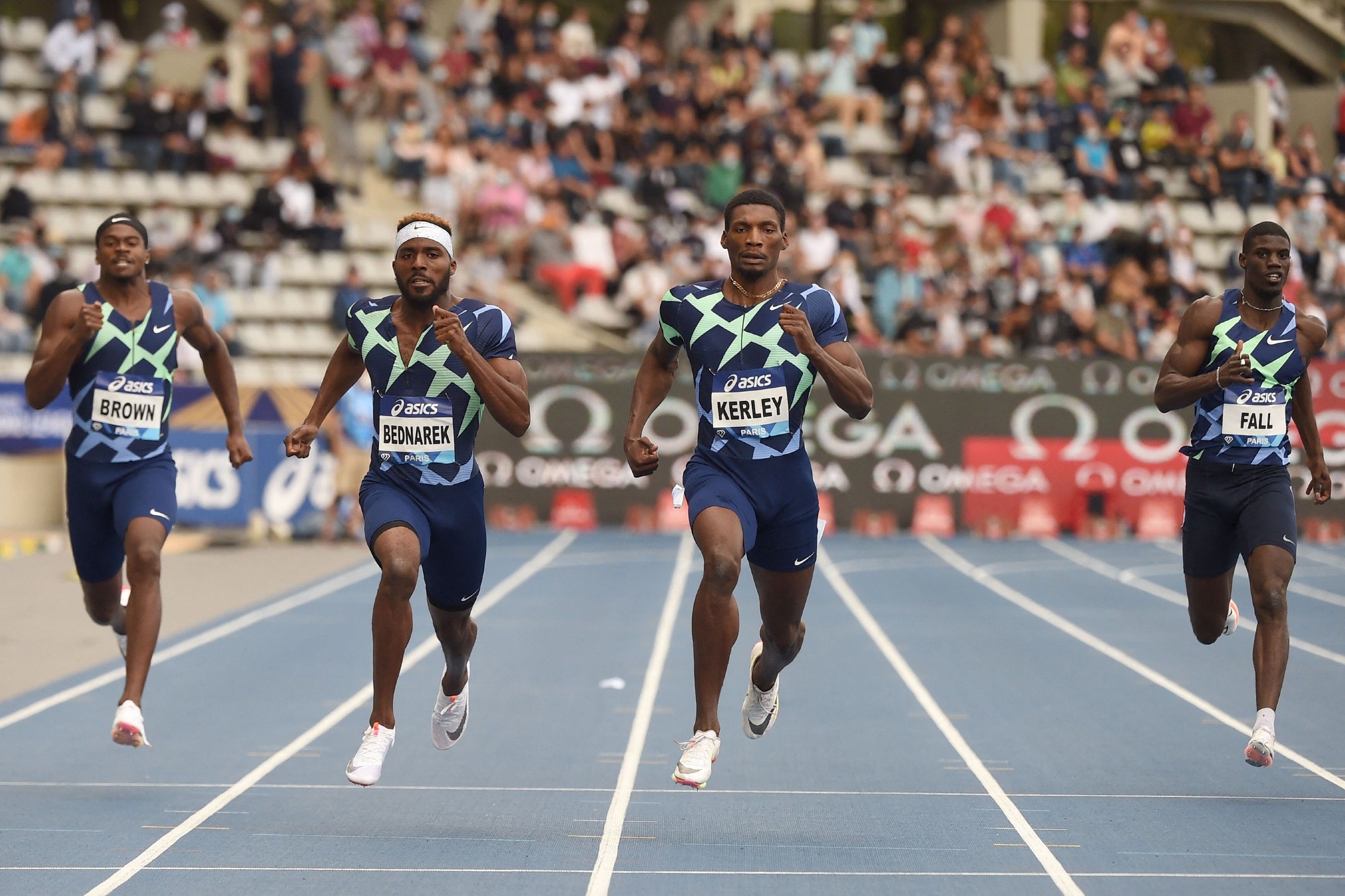 His rival – who took silver in this event at the Tokyo 2020 Games – clocked the same time but was five thousandths of a second slower, with third place going to Aaron Brown of Canada in 20.20.
"It's a nice PB – but I still have a lot to do," said Kerley, who ran 19.77 behind Bednarek's 19.65 with a following wind of 3.2m/s at their backs in Lausanne, making the efforts illegal for record purposes.
One of the biggest cheers of the afternoon arrived when the field for the women's 400m was announced and the camera arrived in front of the 35-year-old United States athlete who has 11 Olympic medals, more than any other female track athlete – Allyson Felix.
Felix, who won individual 400m bronze in Tokyo, flew through the opening 200m in 24 seconds, but as the field came into the straight the powerful figure of Tokyo silver medallist Marileidy Paulino of the Dominican Republic moved past her to win in 50.12, with Sada Williams of Barbados taking second place in 50.30 and Felix finishing third in 50.47.
Hugues Fabrice Zango, Burkina Faso's Olympic triple jump bronze medallist, earned victory with a Final 3 effort of 16.97m in a competition where the best effort of the day, 17.16m, came from newcomer Yasser Triki of Algeria, who placed fifth in the Tokyo final with a national record of 17.43m.
Triki had to settle for second place after recording 16.71m with his final effort, with Tiago Pereira of Portugal, who had a best of 16.66m, placing third.
There was the familiar sight of a Kenyan clean sweep in the men's 3000m steeplechase as Benjamin Kigen finished 20 metres clear of his compatriot Abraham Kibiwott to clock a 2021 world-leading mark of 8:07.12, with the latter clocking 8:09.35.
Leonard Bett took third place in 8:10.21.
For the two most illustrious names in the field, however, there was disappointment. Morocco's Olympic champion Soufiane El Bakkali collided with the first barrier and failed to finish, as did the world and Rio 2016 champion Conseslus Kipruto, who limped away clutching at his left leg.
Grenada's world men's javelin champion Anderson Peters proved triumphant on the day with a Final 3 effort of 84.84m that proved sufficient to push Germany's 2017 world champion Johannes Vetter, second on the all-time list, into second place.
Vetter, who had produced the best effort of the competition, 87.20m, could only manage 80.23m with his last throw, with Andrian Mardare of Moldova taking third place with 79.91m, having thrown 85.43m earlier on.
Canada's Marco Arop looked ready to replicate his men's 800m victory in Lausanne as he took the lead in the finishing straight, but he was passed by Kenya's Wyclife Kinyamal, who won in 1:43.94.
Kinyamal's compatriot Ferguson Rotich, the Olympic silver medallist, moved through for second place in 1:44.45, with Arop finishing third in 1:44.74.
The women's 400m hurdles was won from lane seven by the fast-finishing Gianna Woodruff, Panama's Olympic finalist, who clocked 54.44 ahead of Ukraine's Anna Ryzhykova, who recorded 54.59, and Janieve Russell of Jamaica, who finished in 54.75.
The expected challenge from 2015 world silver medallist Shamier Little never arrived – she appeared to falter in the back straight and came home last in 57.18.
The women's 100m hurdles was won by Jamaica's 2015 world champion and 2019 world bronze medallist Danielle Williams in a season's best of 12.50 from Nadine Visser of the Netherlands, who clocked a national record of 12.58, and the second Jamaican in the field, Megan Tapper, who recorded 12.66.
Mike Rowbottom for World Athletics