Kristjan Ceh competes in the discus at the Doha Diamond League (© Matthew Quine / Diamond League AG)
The first attempt in the first discipline of the first Wanda Diamond League meeting of 2023 set the tone for the rest of the evening.
World champion Kristjan Ceh's discus went soaring out to 70.89m with his opening throw at the Seashore Group Doha Meeting on Friday (5). It was one of three meeting records set in the Qatari capital as the premier circuit of one-day meetings got under way.
Ceh's monster effort remained the best throw of the day, though the Slovenian got close to the mark again in round five, throwing 70.70m. Olympic champion Daniel Stahl, whose meeting record Ceh broke by 33 centimetres, threw a best of 67.14m in round three to finish second, while USA's Sam Mattis took third place with 64.69m.
"This means a lot to me," said Ceh. "I just started my season and it was good. I'm aiming to raise my average."
The men's 3000m had been billed as one of the biggest clashes of the night and it did not disappoint.
Ethiopia's Lamecha Girma was racing for the first time since breaking the world indoor record at the distance, but he was taking on a field that included global champions at 1500m, 10,000m, steeplechase and cross country.
The pacemakers did exactly what was required, leading the field through 1000m in 2:30.01 and 2000m in 4:58.91. Ethiopia's world cross-country silver medallist Berihu Aregawi was in pole position when the final pacemaker dropped out, but Girma, world and Olympic steeplechase champion Soufiane El Bakkali, Olympic 10,000m champion Selemon Barega, Ethiopia's Getnet Wale and 2019 world 1500m champion Timothy Cheruiyot were close behind.
In the final kilometre, Girma moved closer to Aregawi, while Barega moved past El Bakkali into third, forming a trio of Ethiopians out in front. With 500 metres to go, Girma edged ahead of Aregawi, followed by Barega, but there was no catching the world indoor record-holder.
Girma, who before this year was primarily a steeplechase specialist, charged clear to win in an outdoor PB of 7:26.18, taking more than a second off the meeting record and moving to eighth on the world all-time list.
Barega finished second in a PB of 7:27.16 and Aregawi placed third in 7:27.61. It's just the second time in history that three men have finished inside 7:28 – the other time also happening in Doha back in 2011.
The other meeting record of the night came in the women's 100m, which was won by Sha'Carri Richardson.
The US sprinter trailed world 200m champion Shericka Jackson and Britain's Dina Asher-Smith at half way, but powered through in the closing stages to win in a world-leading 10.76, taking 0.04 off the meeting record set in 2016 by Tori Bowie, who died earlier this week.
Jackson finished second in 10.85 and Asher-Smith was third in 10.98.
There was another blistering sprint finish just half an hour later as world 100m champion Fred Kerley came through strong to claim the men's 200m in 19.92.
US teammate Kenny Bednarek, the Olympic silver medallist, led coming off the bend and did his best to hold off Kerley, but the versatile sprinter edged in front with 10 metres to go to win with a season's best.
Bednarek was second (20.11) and Canada's Aaron Brown was third (20.20). World 400m champion Michael Norman crossed the line in eighth place (20.65).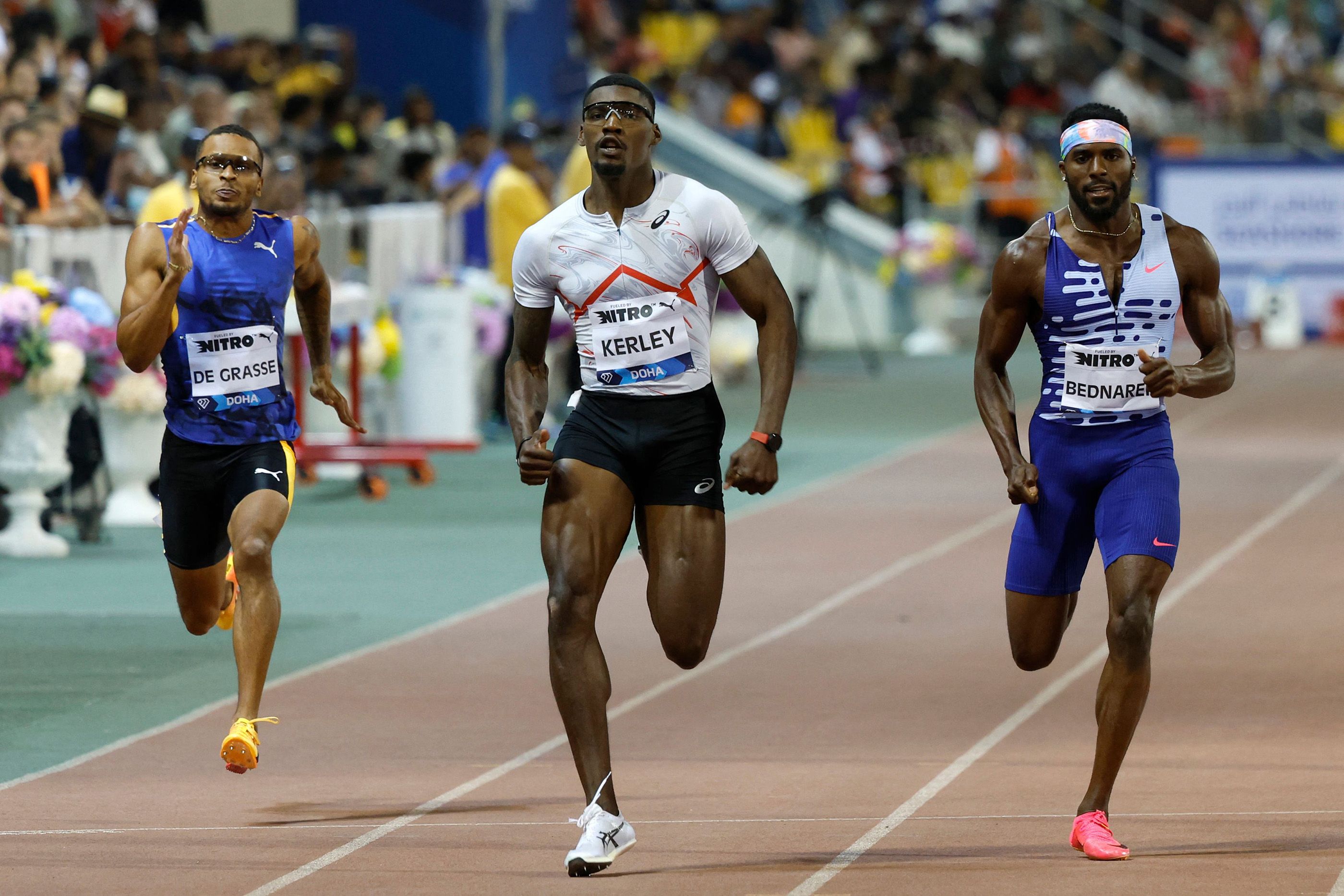 Fred Kerley on his way to 200m triumph at the Doha Diamond League (© AFP / Getty Images)
Olympic champions on top form
Overall, it was a good night for the gold medallists from the Tokyo Olympic Games, with three of them setting world-leading marks.
Like the discus, the men's triple jump – which also got under way before the main track action started – got off to a stunning start with Pedro Pablo Pichardo bounding out to 17.65m with his opening leap.
The world and Olympic champion from Portugal improved to a marginally wind-assisted 17.91m (2.1m/s) in round two, but he couldn't rest on his laurels as Cuba's Andy Diaz followed him with a windy 17.80m (2.6m/s), then world indoor champion Lazaro Martinez went out to 17.71m (3.4m/s).
In the next round, world indoor record-holder Hugues Fabrice Zango jumped a wind-legal 17.78m (1.8m/s), which was a world lead for the jumper from Burkina Faso but only enough for third place at the half-way stage of this competition.
Pichardo and Diaz didn't improve in the final round, but Zango went out to 17.81m (1.5m/s) to improve on his own world lead and climb up one place, but it wasn't quite enough to catch his Portuguese rival.
Never before have three men jumped beyond 17.70m in the same triple jump competition in any conditions, but today four men surpassed that mark.
Faith Kipyegon looked to use the women's 1500m as a training exercise, but still came away as a convincing winner in a world-leading time.
The world and Olympic champion didn't make too much of an effort to make a break from the rest of the pack on the first two-and-a-half laps. But she moved up a gear with one lap to go and won by almost a full second in 3:58.57.
Ethiopia's Diribe Welteji was second in 3:59.34 with Freweyni Hailu taking third in 4:00.29.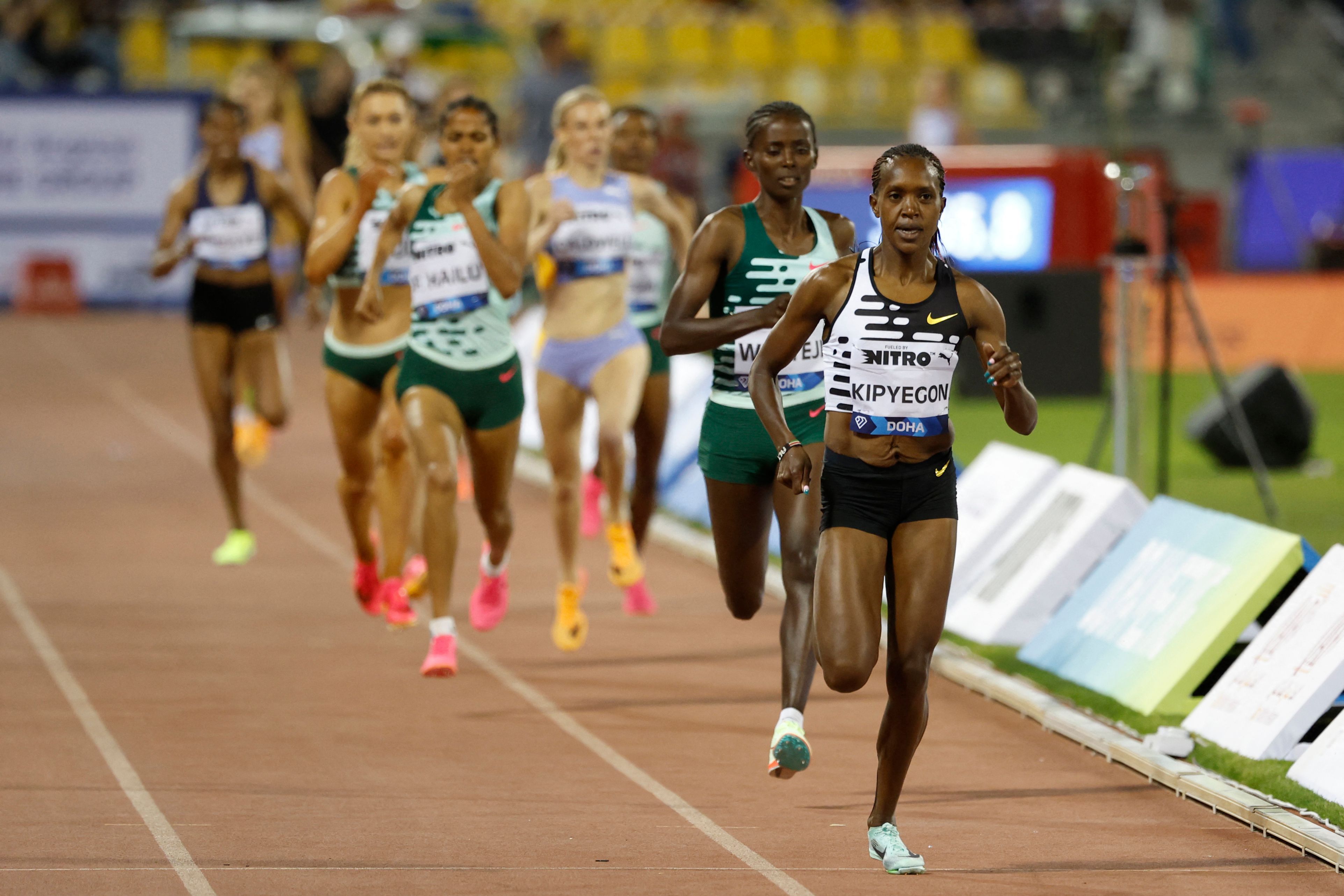 Faith Kipyegon leads the 1500m at the Doha Diamond League (© AFP / Getty Images)
"It was an exciting race, but a little bit windy, so I decided to not push too much and just focus on winning," said Kipyegon, who covered the final lap in 58.77 seconds.
For the second year in a row, the men's javelin produced a thriller of a contest.
Neeraj Chopra, who was a last-minute withdrawal last year, made amends with his opening throw of the competition, sending his spear out to a world-leading 88.67m. Two-time world champion Anderson Peters responded with 85.88m, which remained his best of the night, while world and Olympic medallist Jakub Vadlejch came within four centimetres of Chopra's lead with 88.63m in round three.
But the Indian's first effort stood up as the best of the night, and he was delighted to win against a strong field.
World and Olympic champion Katie Moon claimed a back-to-back pole vault victory in Doha.
The US vaulter trailed compatriot and former training partner Sandi Morris for most of the competition, with the two-time world indoor champion recording a clean card up to and including 4.71m.
But Moon took the lead with a first-time clearance at 4.76m, while Morris was unable to go any higher. Slovenia's Tina Sutej got over 4.71m on her third try and then equalled her own outdoor national record with a second-time clearance at 4.76m.
Moon was the only vaulter to go clear at 4.81m, doing so on her second try to wrap up the competition. She decided against going any higher as she had been dealing with a bit of tendonitis leading into tonight.
Olympic champion Jasmine Camacho-Quinn of Puerto Rico took the women's 100m hurdles in 12.48 from US duo Alaysha Johnson (12.66) and Nia Ali (12.69).
But not all Olympic champions were victorious tonight. Home star Mutaz Barshim finished third with 2.24m in a high jump competition won by JuVaughn Harrison.
The talented US jumper had a clean card up to and including 2.32m, at which point his last remaining rival – world indoor champion Woo Sanghyeok – bowed out of the competition. Harrison took one attempt at 2.35m, which was unsuccessful, and then called it a night, more than satisfied with his win.
One-lap triumphs for global silver medallists
Rai Benjamin and Marileidy Paulino, the world and Olympic silver medallists in their respective specialist disciplines, enjoyed moments of glory on the Qatar Sports Club track.
Benjamin, who finished second here last year, was this time victorious in the men's 400m hurdles. He had to contend with a strong challenge from US compatriot CJ Allen, who drew level with Benjamin at the final hurdle. But the US record-holder edged ahead in the closing stages to take victory in 47.78 from Allen's 47.91 PB, his first sub-48-second clocking.
Dominican Republic's Paulino, meanwhile, won the women's 400m in Doha for the second year in a row, clocking 50.50 to hold off the in-form hurdles specialist Shamier Little.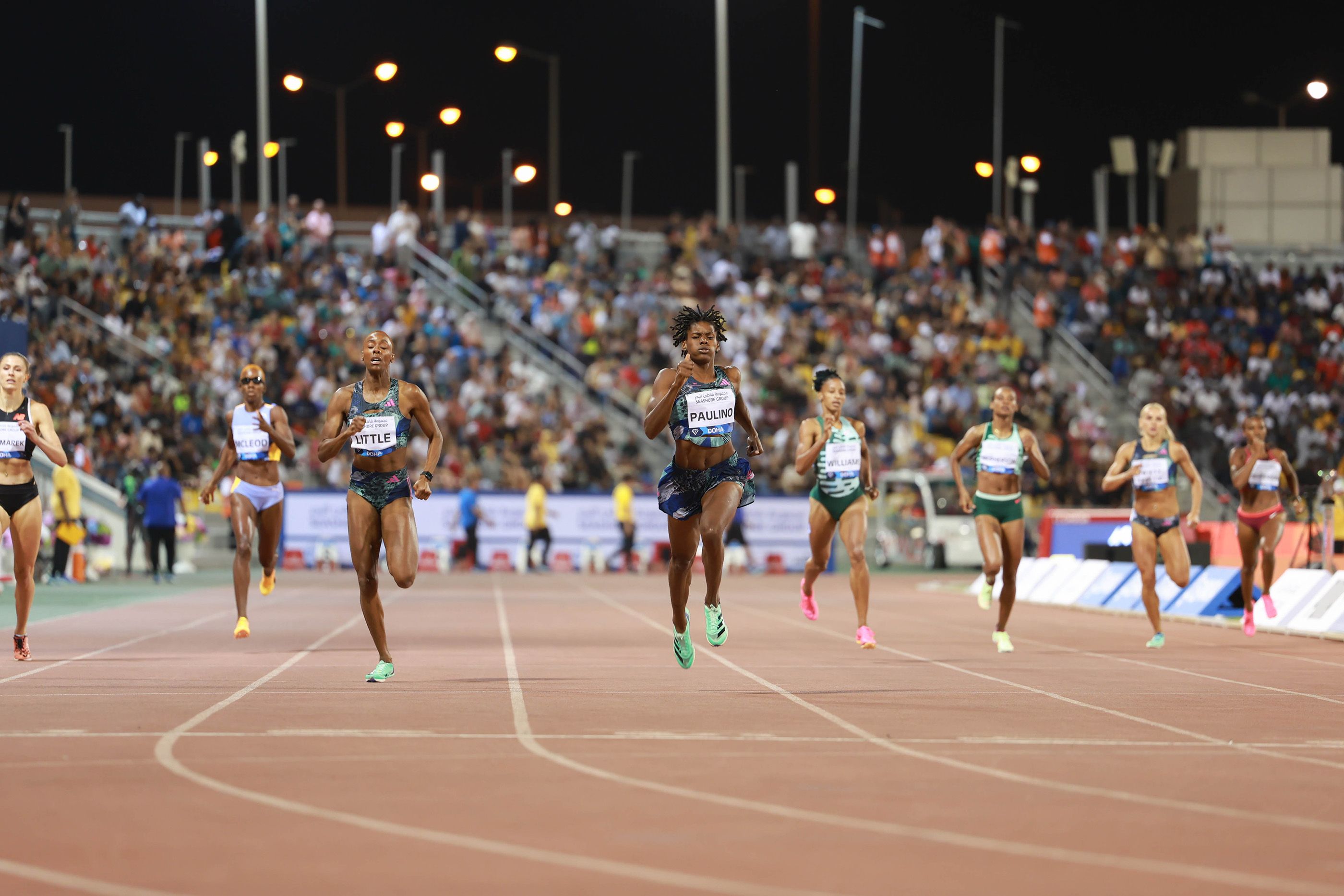 Marileidy Paulino on her way to 400m victory at the Doha Diamond League (© Marise Nassour / Diamond League AG)
Bahrain's Winfred Yavi got the better of a loaded field to win the women's steeplechase in a world-leading 9:04.38.
World record-holder Beatrice Chepkoech took command of the race at half way, once the pacemaker had dropped out, but the Kenyan had compatriot Faith Cherotich, Yavi and Ethiopian teenager Sembo Almayew for company.
Yavi moved to the front with one lap to go and was followed by Almayew, but the Bahraini could not be caught in the closing stages and she forged ahead to win in 9:04.38. Almayew finished second in a PB of 9:05.83, with Cherotich claiming third in 9:06.43 from Chepkoech's 9:06.90 – her fastest time for two years.
The men's 800m may not have been the fastest of races, but it certainly didn't lack excitement. Kenya's Wycliffe Kinyamal made a big move on the back straight on the final lap and quickly built up a comfortable lead. But Algerian duo Slimane Moula and world silver medallist Djamel Sedjati set off in pursuit of him.
Moula fared best on the final straight, unleashing a burst of speed to overtake Kinyamal and claim victory in 1:46.06.
Jon Mulkeen for World Athletics