Mondo Duplantis, Ryan Crouser, Jasmine Camacho-Quinn and Valarie Allman in the Continental Tour Gold (© David Balogh, Zagreb Meeting, Bermuda Grand Prix, Errol Anderson)
In the sixth World Athletics Continental Tour Gold meeting of this season, the field truly represents the gold standard.
Some of the biggest talents in athletics are set to showcase their fitness under the California sun during the USATF Los Angeles Grand Prix, which spans Friday (26) and Saturday (27). The event will be held at Drake Stadium on the University of California, Los Angeles campus.
With the World Athletics Championships Budapest 23 drawing closer, champions will battle with their rising and returning competition in a thrilling range of events including the pole vault, where Mondo Duplantis and Katie Moon continue their reign; the 100m and 200m, where stars like Sha'Carri Richardson, Marie-Josee Ta Lou, Marvin Bracy-Williams and Aaron Brown chase each perfect second; and throwing disciplines including the hammer throw and shot put, where powerhouses Brooke Andersen, Chase Ealey and Ryan Crouser test their limits.
Pole vault domination
Los Angeles' line up of global pole vault talent is generating a swell of excitement. Sweden's world champion and world record-holder Duplantis is expected to attempt yet another show-stopping improvement on the record.
If he tops his current best height of 6.22m, it will mark his seventh world record-breaking vault.
Duplantis won't be alone in showcasing internationally-recognised pole vault talent – two-time world champion Sam Kendricks of the USA returns after recovering from a knee surgery that put him out of competition last season, and world silver medallist Chris Nilsen, also of the USA, is going to put up a challenge.
An exciting neck-and-neck matchup will take place in the women's pole vault between world champion Moon and world silver medallist Sandi Morris. The training partners from the USA competed in Doha during the recent Wanda Diamond League meeting. Morris, who finished in third (4.71m), will be looking to improve in Los Angeles and chase Moon's world-leading height of 4.81m.
The pair will be joined by Canada's top pole vaulter, Alysha Newman, and Gabriela Leon from the USA.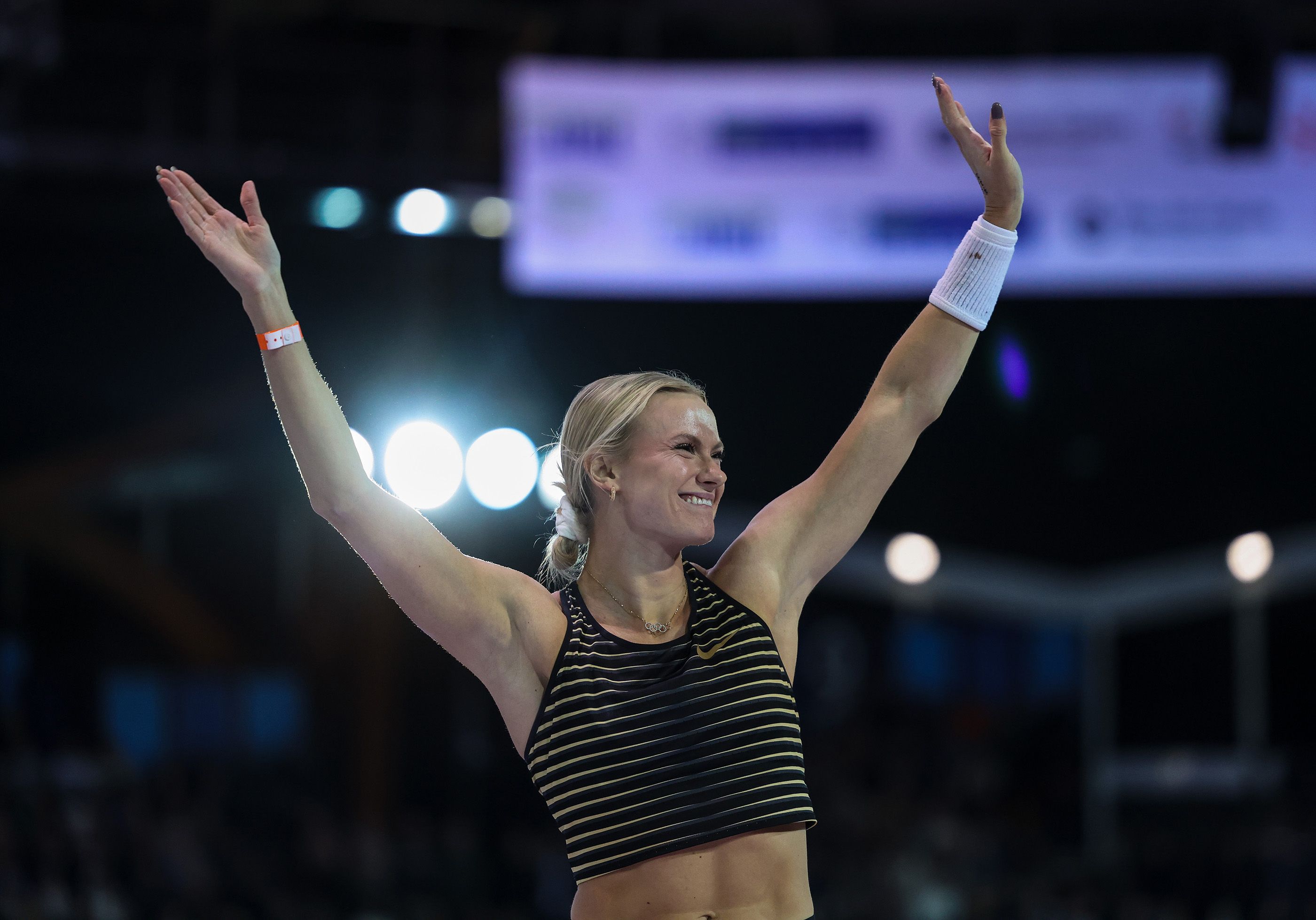 Katie Moon (© Dan Vernon)
Faceoff between sprint world leads
The women's sprints are bound to stir up some fierce competition. Eyes are on Richardson in the 100m after her big win in Doha – she set the best time so far this season (10.76) and beat 200m world medallists Shericka Jackson and Dina Asher-Smith in the process.
Richardson will be pushed by world silver medallist Ta Lou, who holds the second-best time in the world this season (10.78). Ta Lou represents Cote d'Ivoire and took bronze in Oregon last July.
Also in the mix is USA's Aleia Hobbs, who continues her outdoor season following a remarkable – and national record-setting – 60m (6.94) indoor performance in February.
Christian Coleman is prepared to bring a show to the men's 100m after he ran a wind-assisted 9.78 in Bermuda last weekend. The 2019 world champion is joined by Bracy-Williams, the world silver medallist, and Jamaica's Ackeem Blake.
In the 100m hurdles, world champion and world record-holder (12.12) Tobi Amusan lines up against Jasmine Camacho-Quinn, the Olympic champion and world bronze medallist. Camacho-Quinn clocked a wind-aided 12.17 at the Bermuda Grand Prix – also a World Athletics Continental Tour Gold meeting – last week, which is the third-best performance of all time in all conditions.
The line up also includes the USA's Tia Jones, who beat Amusan at the Drake Relays in April, and former world record-holder Kendra Harrison.
The men's 200m features Canadian Olympian Brown against Jereem Richards, the world indoor 400m champion for Trinidad and Tobago. Most recently, Brown showed out in April at the Botswana Golden Grand Prix, with a 20.00 performance to take the runner-up spot.
Brown and Richards are joined by world finalist Alexander Ogando and Josephus Lyles.
World silver medallist Marileidy Paulino of the Dominican Republic and world bronze medallist Sada Williams of Barbados gear up for a 400m rematch, while Olympic bronze medallist Gabby Thomas prepares to take on her compatriot Jenna Prandini in the women's 200m.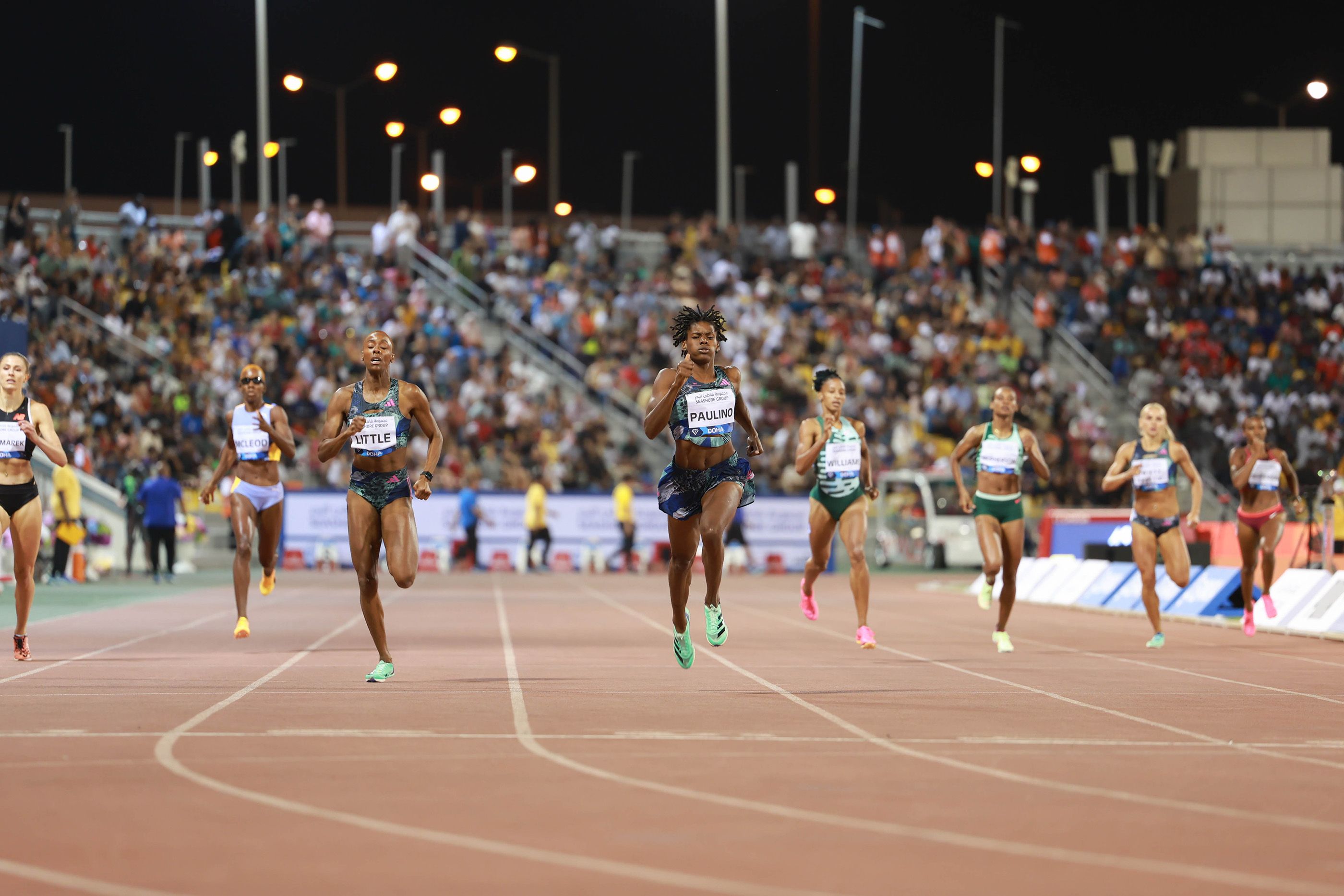 Marileidy Paulino on her way to 400m victory at the Doha Diamond League (© Marise Nassour / Diamond League AG)
Three-time Olympic medallist Kirani James from Grenada is one to watch in the men's 400m. He opened his outdoor season in Botswana and took second place in 44.76. He'll be aiming to improve his most recent world championships medal from silver to gold this season.
World bronze medallist Trevor Bassitt takes on a close competition against Khallifah Rosser, also a finalist in Oregon, in the men's 400m hurdles. They'll be up against Kyron McMaster, who boasts the fastest personal best for the event – and a national record for the British Virgin Islands – with his 47.08 from the Olympics in Tokyo.
Middle distance matchups
In the 800m, USA's world indoor bronze medallist Bryce Hoppel is likely to be a leader, as is 2016 Olympic bronze medallist Clayton Murphy. And Ajee Wilson, the world indoor champion, should be at the front of the women's 800m if she isn't outrun by Uganda's Halimah Nakaayi, whose season's best is the closest to 2 minutes flat compared to the rest of the field.
Diribe Welteji of Ethiopia, who was fourth in the world 800m final in Oregon last year, is expected to bring her incredible strength to the 1500m, in which she has a personal best of 3:56.91. Emma Coburn, the 2017 world champion in the 3000m steeplechase, is refining her speed in the flat event alongside USA distance specialists like Elise Cranny.
Kenya's 2019 world champion Timothy Cheruiyot has the time-tested abilities to lead the men's 1500m. But the medal-laden Matthew Centrowitz – the 2016 Olympic champion in the event – returns to competition after an injury sidelined him for all of the 2022 season.
Other standout names in the event include Kenya's Reynold Kipkorir Cheruiyot, the world U20 champion, and US champion Cooper Teare.
Abundance of riches from Andersen, Crouser
Get ready for action in the throws this weekend, particularly from the USA's world champion Andersen, who recently broke 80.00m (80.17m) in the hammer throw at the USATF Throws Festival, a World Athletics Continental Tour Silver meeting. With her throw, Andersen became the third woman of all time to surpass 80 metres.
The timing could not be better, as Los Angeles will bring Andersen up against the second woman of all time to surpass 80 metres – the 2019 world champion and US record-holder (80.31m) DeAnna Price. Price seems to be making a strong return to the event this season after building back from injuries over the last two years – she recently set a world best in the weight throw, becoming the first woman to throw over 26 meters at the USATF Indoor Championships in February.
The USA's Rudy Winkler will challenge Wojciech Nowicki of Poland, the Olympic champion and world silver medallist, in the men's hammer throw.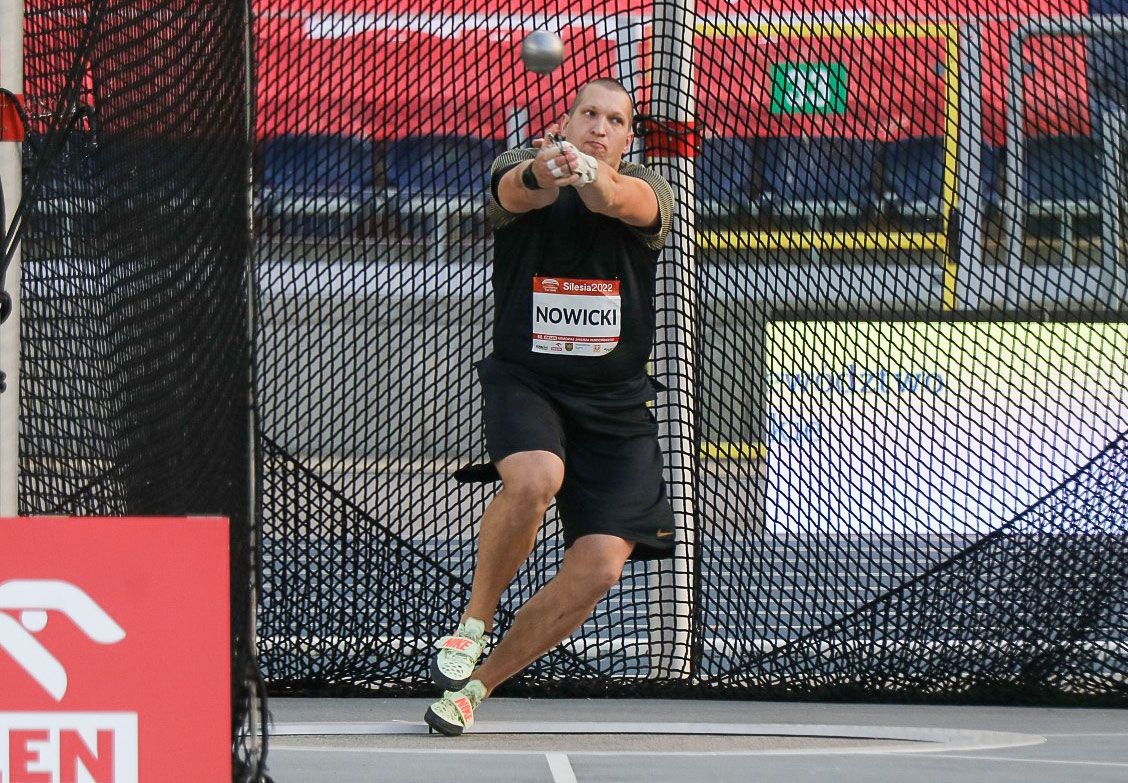 Wojciech Nowicki in the hammer in Silesia (© Marta Gorczynska)
The women's discus features Olympic champion Valarie Allman alongside Yaime Perez, the 2019 world champion. The 2019 world silver medallist Fredrick Dacres from Jamaica will be joined by his compatriot and national champion Traves Smikle, who has yet to break 70m, as well as the in-form Alex Rose of Samoa, who improved the area record to 70.39m in April.
In the shot put, men from last year's World Championships podium get a reprise as world champion Crouser and world bronze medallist Josh Awotunde face off once again. Crouser's world record (23.37m) may be under threat, despite – or due to – adjustments to his technique this season.
USA's world champion Ealey is a strong favourite for the women's shot put after throwing the world-leading distance of 20.06m on 20 May in Halle, Germany. Jamaica's Danniel Thomas-Dodd and New Zealand's Maddison-Lee Wesche will join her, although neither has cracked the 20-metre mark yet.
Back-to-back world champion Anderson Peters of Grenada brings his powerful 90-metre throws form to the men's javelin competition on Saturday, while the women's javelin features the USA's back-to-back national champion Maggie Malone.
Madeline Ryan for World Athletics