Dani Stevens competes at the Tokyo 2020 Olympic Games (© Getty Images)
Australia's Dani Stevens has announced her retirement from competitive athletics after a career which saw her win a world discus title and compete at four Olympic Games.
One of the world's leading discus throwers for more than a decade, Stevens' impressive resume also boasts three Commonwealth Games medals including two gold, a world silver, a world U20 title and a world U18 title. As well as her four Olympic and three Commonwealth Games appearances, she competed at six World Athletics Championships.
The Oceania and Commonwealth record-holder also won 14 Australian titles; the most by any athlete in a single event.
"I had always said that as long as my mind and body were able to, I would keep going, keep training and keep competing internationally," said Stevens, who achieved selection to 15 senior teams over an 18-year international career.
"I took the time a few years ago and decided that I wanted to compete at the Tokyo Olympics for my fourth Games, and I've been doing things so meticulously – from training to nutrition and sleep. I've got to the point where I am really content and happy with everything that I've achieved in my athletics career and feel that now is the right time to step away.
"As an athlete, it's often easy to underestimate the work that goes into that commitment, physically and mentally. I've had my blinkers on for more than a decade so when I came to the decision to retire, I felt weight lift off my shoulders and I realised that I'm ready for a new chapter, new experiences and a new phase of life."
Now 33, Stevens began her discus career at the age of 10 at Greystanes Little Athletics Club in Sydney. She went on to become one of only nine athletes to win world titles at U18, U20 and senior level in athletics and her 2009 world gold medal win saw her become the youngest ever senior world discus champion. Her singlet and bib from Berlin is now displayed in the Museum of World Athletics™ – the world's first 3D virtual sports museum.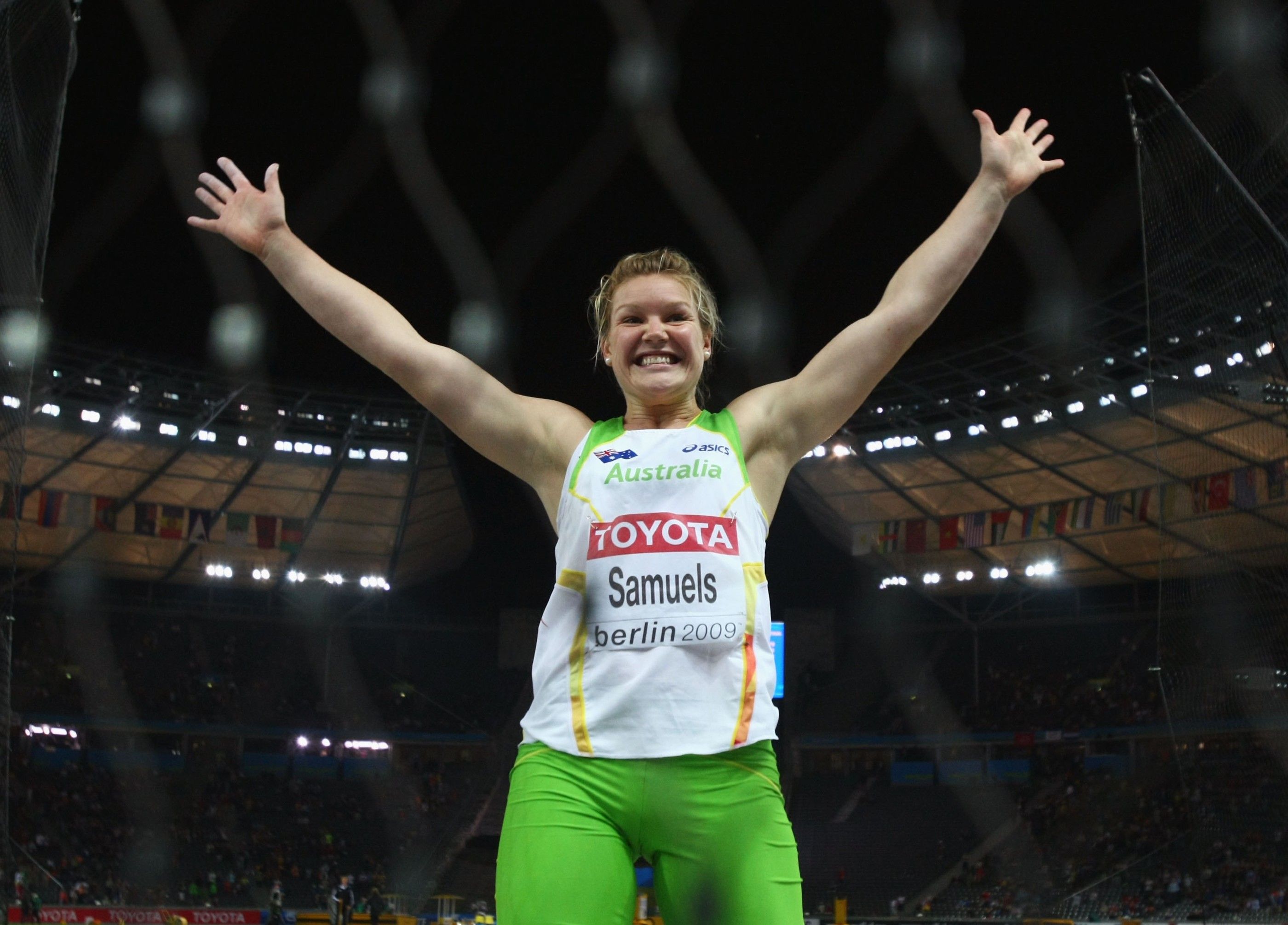 Dani Stevens, competing under her maiden name of Samuels, celebrates her 2009 world title win

Following her history-making title, Stevens went on to finish fourth at the Rio 2016 Olympic Games and climbed back on the podium at the London 2017 World Championships where she unleashed a throw of 69.64m to secure silver and improve her personal best by 1.65m.
The following year she won her second Commonwealth Games title on home soil, but injury followed, with Stevens undergoing spinal surgery after an incident in the gym saw her shatter a disk in her neck. Despite being told she may never get full function back, she returned to competition after 14 months of rehabilitation to secure her place at her fourth and final Olympic Games, where she co-captained the Australian athletics team.
"When I think of my life, I think about how athletics is linked to everything in some way," added Stevens, who also paid tribute to her coach Denis Knowles, who guided her throughout her whole career. "My earliest memories are of my mum, my dad and sister going to Little Athletics on a Friday night and Saturday morning. In primary school, I made the U13 team for Nationals where I met my best friends. I didn't know it at the time, but my husband (former Australian international shot putter Joe Stevens) was on the Queensland team.
"It's hard to pick a favourite moment in my career. Winning my world title was an incredible feeling but there are ones where I didn't win, but the feeling was just the same. I think about achieving PBs on the world stage and it was that elicited joy, that feeling of happiness that I can't explain. Another two moments that stand out to me were two Australian Commonwealth Games teams that I was on. In 2006, I threw a PB on my last throw with my family and friends watching from the front row of the MCG, and then fast forward to 2018, I won in front of my family and friends on the Gold Coast. Being able to do that lap of honour in front of my family, Joe's family and all of our friends. They are all highlights for different reasons but they were so fulfilling and joyful because they were moments I could share with the people that mean the most to me.
"I've always said that any medal I won, I wish I could break into 10 different pieces and hand them out to the people around me. That inner circle of mine has sacrificed so much and they are the result of what we set out to achieve as a team."
Athletics Australia for World Athletics