Bryce Hoppel in the 800m heats at the World Athletics Championships Doha 2019 (© Getty Images)
Career paths for the vast majority of athletes rarely take a constantly upward trajectory. Injury, loss of form and a multitude of other factors contribute to setbacks, often frequently so.
Yet one athlete who so far appears to have bucked this trend is emerging 800m star Bryce Hoppel, who has seemingly made serene progress in his journey to the top.
Since switching from the soccer field to the track at the age of 16, the American has improved his 800m PB each and every year of his career.
Medals have been snared with regularity at high school and college level and since turning pro in 2019 he has made a rapid impact, highlighted by a fourth-place finish at the World Athletics Championships in Doha and a US indoor 1000m record in February.
To the outsider it would appear a near perfect ride and it has been a journey with precious few regrets for the affable Hoppel, who exudes a positivity and passion for his sport few can outwardly match.
"Throughout my entire career everything has happened so quickly," explains Hoppel.
"It doesn't seem long ago since I was just a kid at high school. But since then, my career has just taken off. It has been incredible."
The early days
Born and raised in Midland, Texas, Hoppel enjoyed what he describes as a "classic small town American childhood." Sport was a prominent part of his everyday life. His father worked, and still does, as general manager of the Minor League baseball team the Midland RockHounds, while his two elder sisters also come from a strong sporting stock led by Kelsey, a former NCAA Div II championship basketball champion with Lubbock Christian University.
"I took inspiration from watching my two older sisters accomplishing things and I grew up always chasing that," adds Hoppel.
His first sporting love was soccer and it was while doing cross-country workouts for soccer training that he first realised he possessed an ability to run.
Encouraged to try out for the track team, he took the plunge in his sophomore year at Midland High School and under the coaching of Hilberto Ochoa and Tony De La Rosa he quickly formed a passion for the sport.
Featuring in a successful high school cross-country team that reached the regional championships, the sport and the camaraderie he forged with teammates opened up a whole new world for Hoppel.
"I made a great set of friends on the team and through them and my coaches, I started to love and appreciate the sport more and more," he says.
"Coach De La Rosa got me interested in watching the pros run and I vividly remember watching the like of Clayton Murphy, Matt Centrowitz and Mo Farah compete at the 2016 Rio Olympics. To think today that I'm racing against Clayton is pretty crazy."
During his debut season he competed over 1500m at the 2014 Junior Olympics but after his coach identified impressive speed in the fledgling runner, he wisely steered Hoppel into the 800m.
It proved an inspired switch and the following year he claimed the 2015 Junior Olympics 800m title in a lifetime best of 1:52.97 and in his senior year in high school he enjoyed an unbeaten season – climaxed by a PB and first sub-1:50 clocking of 1:49.58 in Waco.
Small in stature but fleet of foot, in 2016 he took up the offer of a scholarship at the University of Kansas – the alma mater of the American middle-distance great and former world mile record-holder Jim Ryun.
While Hoppel was aware of the Ryun connection, another big factor in committing to KU was that he came under the coaching guidance of Mike Whittlesey and the mentoring of head coach Stanley Redwine, a former US 800m representative and 1:44.87 athlete.
Describing Whittlesey as a coaching "mastermind", there is little doubting the positive impact 'coach Whit' has played on Hoppel's career.
"I owe so much of my success to coach Whit," he adds. "He's always been there for me, like a calming presence. He knows me well enough to know what to say and how to get me in the right mindset for a race. I have total trust in him. He is so knowledgeable; I never have to second-guess him. This is why I call him a mastermind."
View this post on Instagram

Starting his freshman year at "the bottom of the totem pole", Hoppel adopted a typically positive approach. Thriving in his status as a college rookie with no expectation, he treated the year as a learning experience and managed to whittle down his PB to 1:48.52.
Just missing out on NCAA qualification by an agonising 0.06 and hungry for more his career took a giant leap forward in his sophomore year. Setting six 800m PBs during 2018 (three indoor and three outdoor) he placed eighth in the NCAA indoor 800m final and lopped almost three seconds from his outdoor best, recording 1:45.67 to place fourth in the NCAA outdoor final behind Isaiah Harris.
"I was at a loss to explain everything (that happened in 2018) because it happened so quickly," he explains. "I would achieve one goal and then I'd be suddenly pushed on to the next one. But a big factor in my success was the self-realisation at each stage of my career development that I belonged at that level and that I could compete against the best. That is something I've taken with me throughout my career."
Full focus
If 2018 was seen as significant progression, the following year was "like an explosion", according to the American middle-distance star.
He earned NCAA indoor and outdoor titles, qualified for the US World Championships team for Doha, turned pro and then placed fourth at the Pan American Championships before concluding a dizzying 10 month-long campaign by finishing one spot outside the medal podium at the World Athletics Championships in Doha.
Taking on the year with a typically positive mindset, in March he secured gold at the NCAA Indoor Championships in Birmingham, Alabama, in a PB of 1:46.46 and quickly the realisation dawned on Hoppel of what he could potentially achieve in the sport.
"2019 was the year I started to put my full focus and energy into being the best athlete I could be," he explains.
"I suddenly became conscious of eating the correct foods. Will skipping a workout because I need a rest be a good thing, or will it set me back? My expectation was to do my best for all those around me who supported my dreams."
By the time he claimed the NCAA outdoor victory in 1:44.41 he had been unbeaten during the college season across 18 races (including heats and finals) and with his confidence rising he moved on to the US Championships in Des Moines hopeful of securing a top three spot to make the World Championships team.
That he duly delivered by placing third should have been no great surprise to those monitoring his progression. However, the direction of his career was to take an unexpected twist the next day following a meeting with Whittlesey and Redwine.
"My coaches had made me the athlete I was and I wanted to give everything back to them in my fourth and final year at KU. But they sat me down and said: 'Bryce, as much as we'd like to have you here at KU, it is time for you to go and chase your dreams in the professional world.' It was cool that my coaches at college were a big part in my move to becoming a professional."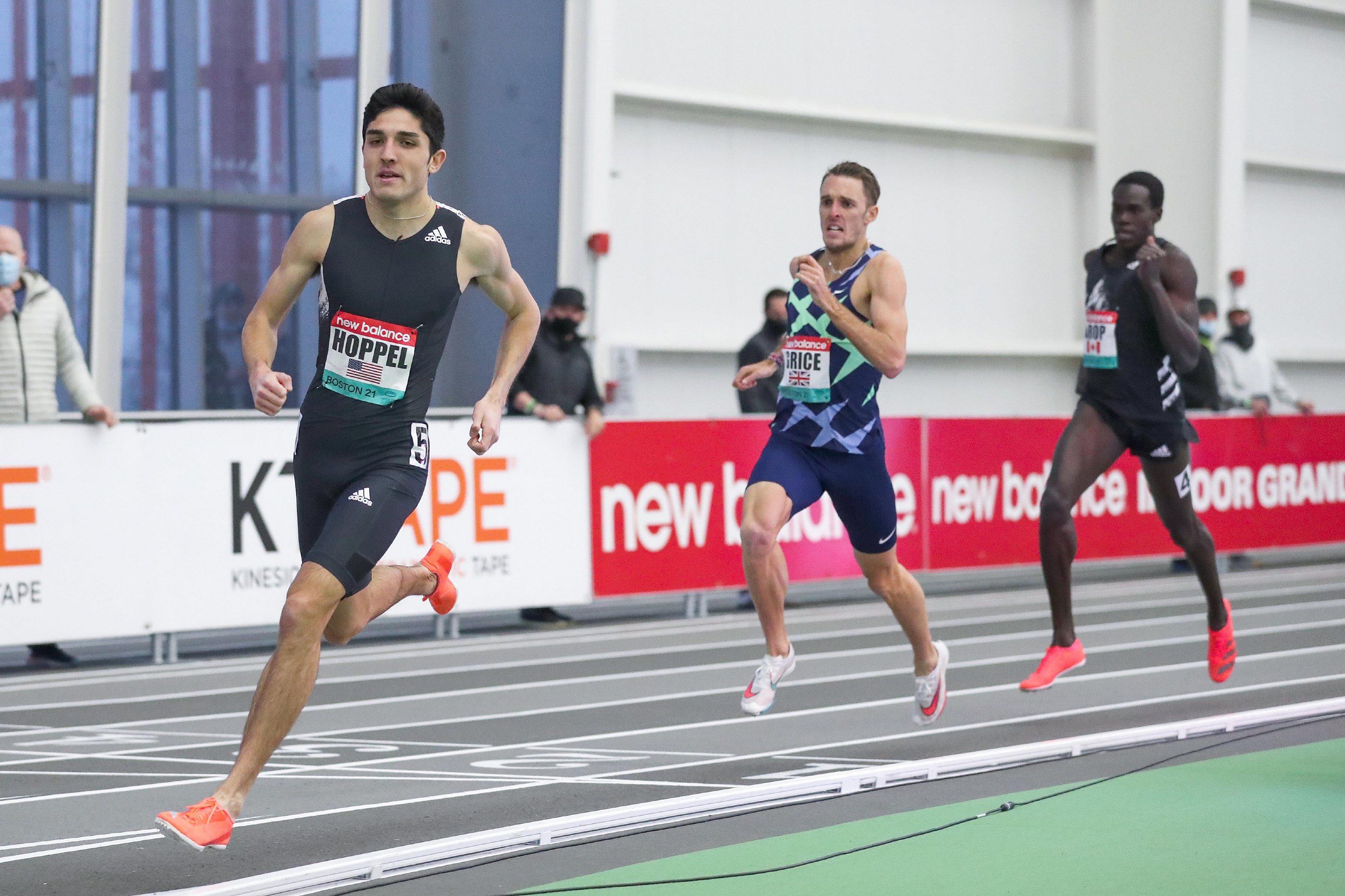 Bryce Hoppel en route to his 1000m win at the 2021 New Balance Indoor Grand Prix (© Victah Sailer)
Competing in his first overseas competition, he was a little disappointed to finish fourth at the Pan American Games in Lima in 1:47.48.
But learning from the experience, he moved on to the World Championships keen to garner more knowledge and excelled to place fourth in a PB of 1:44.25 with his trademark blistering kick finish seeing him rapidly close on bronze medallist Ferguson Cheruiyot in the final.
"That world final was obviously a little scary but it was honestly so much fun," Hoppel explains. "I was completely happy with how it went, although always with hindsight you wonder 'could I have gone (started his sprint for home) a little earlier?'"
Possessing good natural speed and a ferocious kick finish are huge weapons in Hoppel's arsenal and while endurance does not come as naturally to the American, he has worked hard on improving in this area which he believes has contributed to further success.
After winning the US indoor 800m title in Albuquerque in February last year, he was then fortunate that his training hardly "skipped a beat" during lockdown as he used the gym of his father's baseball team and his contacts allowed him regular track access in Midland Texas.
Believing the postponed Tokyo Olympics might give him the benefit of an extra year of preparation, he was nonetheless determined in 2020 to experience the European circuit for the first time and was delighted to set a PB of 1:43.23 in Monaco, finishing just 0.08 behind world champion Donavan Brazier.
"I was super happy with it because I was coming from a place where I didn't know what shape I was in," he explains of competing in his first race for six months. "This was a turning point, as it proved to me that I didn't need to have races as a benchmark to warm up to run fast."
Continuing to study Business Finance at KU, Hoppel has re-emerged in 2021 stronger than ever. In a brief but successful indoor campaign he claimed a blistering victory in 1:44.27 in Fayetteville – to move to No.2 on the US all-time and seventh on the all-time indoors lists – before lowering the US 1000m record to 2:16.27 in New York.
"We accomplished what we wanted to," he explains. "The purpose of going to New York was to approach the race with the right mindset to chase the record, which is what we managed to achieve. Indoors I set a new bar and I want to continue to chase records and become a great runner."
His main focus now is the Olympic Trials and he would also love to experience a full Wanda Diamond League season, should Covid allow.
It has been a rapid rise to the top but one which Hoppel has thoroughly enjoyed and embraced every step of the way.
"I found a family through the sport at high school and that continued at KU," he explains. "Track is such a diverse sport and so inclusive and it has brought so many great people into my life."
Steve Landells for World Athletics