Luxembourg's Bob Bertemes (© AFP / Getty Images)
With one Olympic medallist and no World Championships finalists, Luxembourg is hardly known for its rich heritage of athletics prowess on the biggest stages of the sport. It was Josy Barthel, the men's 1500m champion, who provided the nation's single moment of Olympic glory in Helsinki in 1952.
With a population a little over 640,000 within its 2590km² land mass – 10 times smaller than its neighbouring Belgium – Luxembourg faces a constant struggle to be competitive. Yet, there are increasing signs that the small European nation has a few athletes now ready to challenge.
At the European Indoor Championships in Istanbul in March, there were five Luxembourgers flying the flag for the country.
Bob Bertemes was fifth in the men's shot put, repeating his feat from the 2015 and 2019 editions of the championships.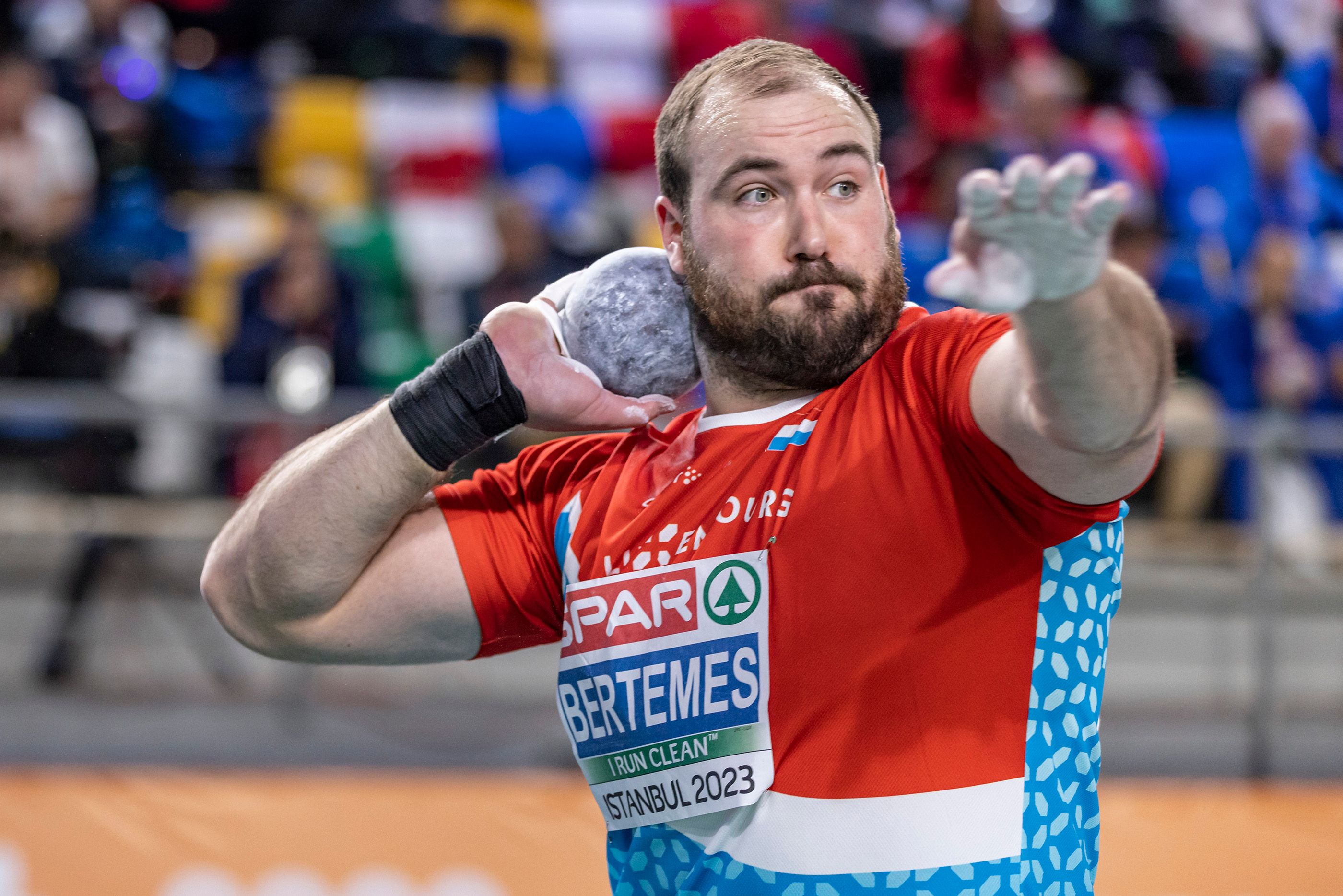 Bob Bertemes at the 2023 European Indoor Championships (© Christel Saneh)
In the distance races, Charles Grethen also placed fifth in the men's 3000m final and Vera Hoffman was eighth in the women's 1500m final. Patrizia van der Weken reached the women's 60m semifinals, just missing the final by 0.03, and women's 60m hurdler Victoria Rausch placed 25th overall in her event.
So, for some, Luxembourg athletes are now within a stone's throw of international podiums. Or in the case of shot putter Bertemes, the single heave of a 7.26kg metal sphere away.
The amiable Bertemes has been a presence on the international stage for just over a decade now and he sees the progress the nation is making.
"In Istanbul, we had athletes who got to the final. It's a huge thing for us, a tiny country," he says. "So, maybe in Paris, if we could get three or four athletes (to the Olympics), it would be a big thing for us. We are getting there slow and steady."
He cites investment and the professional infrastructure now in place as the reason for the progress.
"The development we have in sport from Government is huge," he explains. "More money and infrastructure and a lot more people with a lot of knowledge – like a biomechanics lab this winter. So, we did a lot of testing and that was pretty nice.
Bob Bertemes carrying out sport specific testing at LIHPS in Luxembourg 🇱🇺 pic.twitter.com/aVcBnY7fcI

— Throwers Universe (@ThrowersUni) February 23, 2023
"The whole all-round structure is better, with mental coaching, nutritionists and a whole lot of others. Before that we didn't have a lot of people. We are catching up to the rest of the world a bit."
Bertemes has also been playing catch-up in the men's shot put, an event which has progressed rapidly in recent years.
He first announced himself as a real contender on the European stage in 2015 when he finished fifth at the European Indoor Championships in Prague and took silver at the European U23 Championships in Tallin.
He also made his debut at the World Athletics Championships in Beijing, where he fell just 7cm short of qualifying for the final, placing 14th in qualification despite an outdoor national record of 19.87m.
Yet, the next two years brought frustration for the upwardly mobile Bertemes. He failed to qualify for the Rio Olympic Games and he finished 31st in qualification at the 2017 World Athletics Championships in London with 19.10m.
As Bertemes' progress stalled, the likes of Ryan Crouser, Joe Kovacs and Tom Walsh were taking the event to a new level, making 22 metres and more the standard required to challenge.
Something new was needed and Bertemes made some big changes. At the end of 2017 he left his homeland to change training groups to Mannheim, Germany, to come under the tutelage of Khalid Alqawati. He also changed technique, shifting from being a glider to a rotational thrower.
The switch began to bear fruit and he extended his national record to 21.00m in placing sixth at the 2018 European Championships in Berlin. A year later he finished fifth again in the European Indoor Championships in Glasgow with 20.97m and broke through the 22-metre barrier, setting a national record of 22.22m.
It was balm to the wounds of another disappointing World Championships in Doha, where he placed 26th with 19.89m. Bertemes is still to produce his best at a global championships, with the Tokyo Olympics ending with a 20.16m throw for 11th in his qualification group.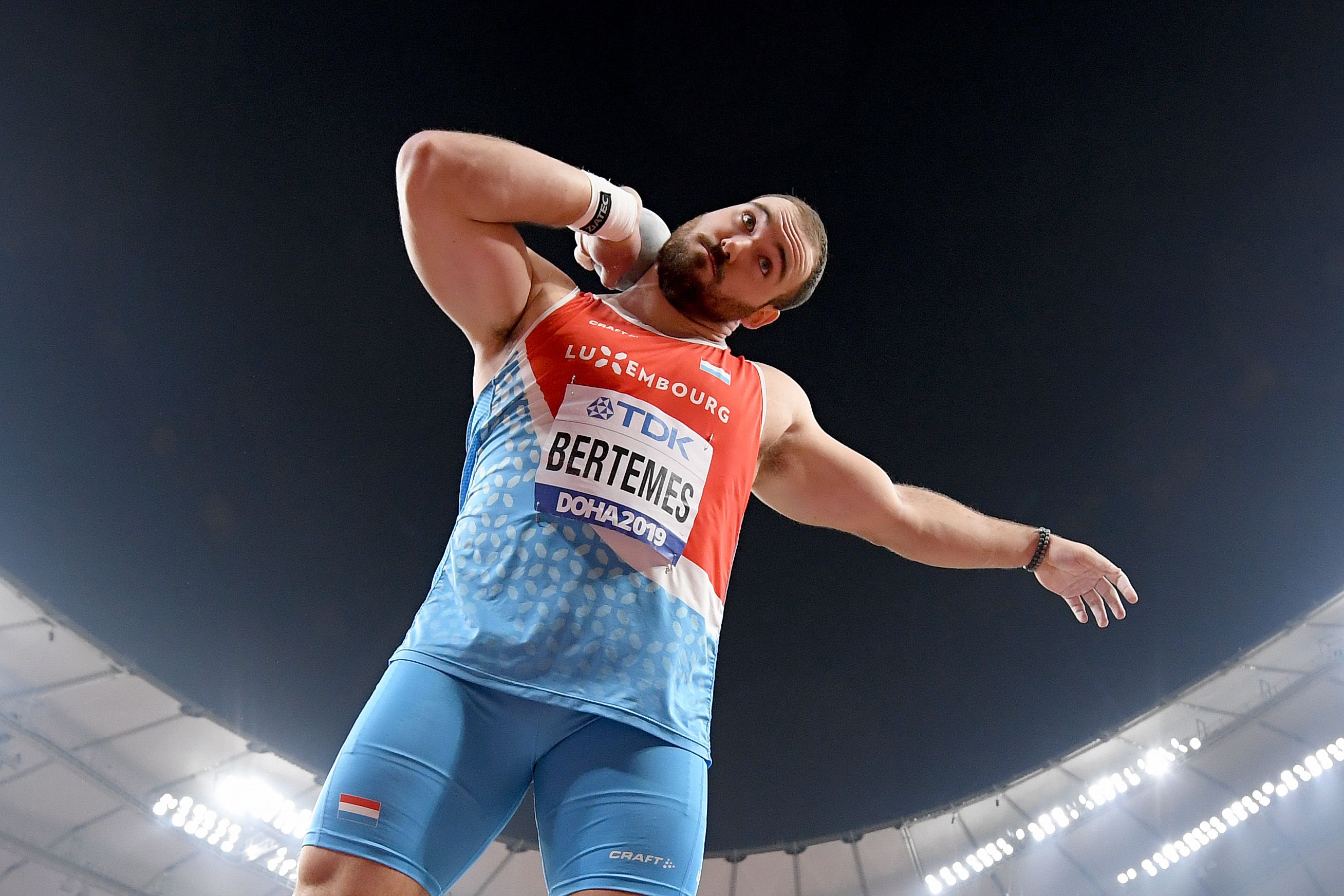 Shot putter Bob Bertemes competes at the 2019 World Athletics Championships in Doha (© Getty Images)
"To get to my first Olympics was pretty awesome, but I threw pretty bad. So that sucked a bit," he reflects.
"After that it was a good lesson learned, getting things back in order. After the Olympics, I had a little break and rescheduled things, getting back into shape, and I think that's paying off. We are getting a bit more competitive throwing in big competitions."
This indoor season Bertemes has shown signs of greater consistency. As well as placing fifth at the European Indoor Championships with 21.00m, he landed a mighty 21.93m to win at the Luxembourg lndoor Championships and closed out by winning silver at the European Winter Throwing Cup in Leiria with 21.21m.
The latter result saw him finish behind European indoor bronze medallist Roman Kokoshko of Ukraine, but ahead of Italy's European indoor gold medallist Zane Weir, and Bertemes ranked it among his better results on the international stage. "It was good getting over 21 metres again for the last competition of the winter," he says.
"There were lots of good guys, including a bunch of people in Europe who are throwing pretty far right now, so to get a medal, I rate it pretty high."
Bertemes has wintered well, but he also recognises the huge challenge ahead in the men's shot put on the global stage and the era-defining athletes he is likely to face at this year's World Athletics Championships in Budapest and next year's Paris Olympic Games. None more so that world record-holder Crouser, who has tweaked his technique, but to no less effect this indoor season.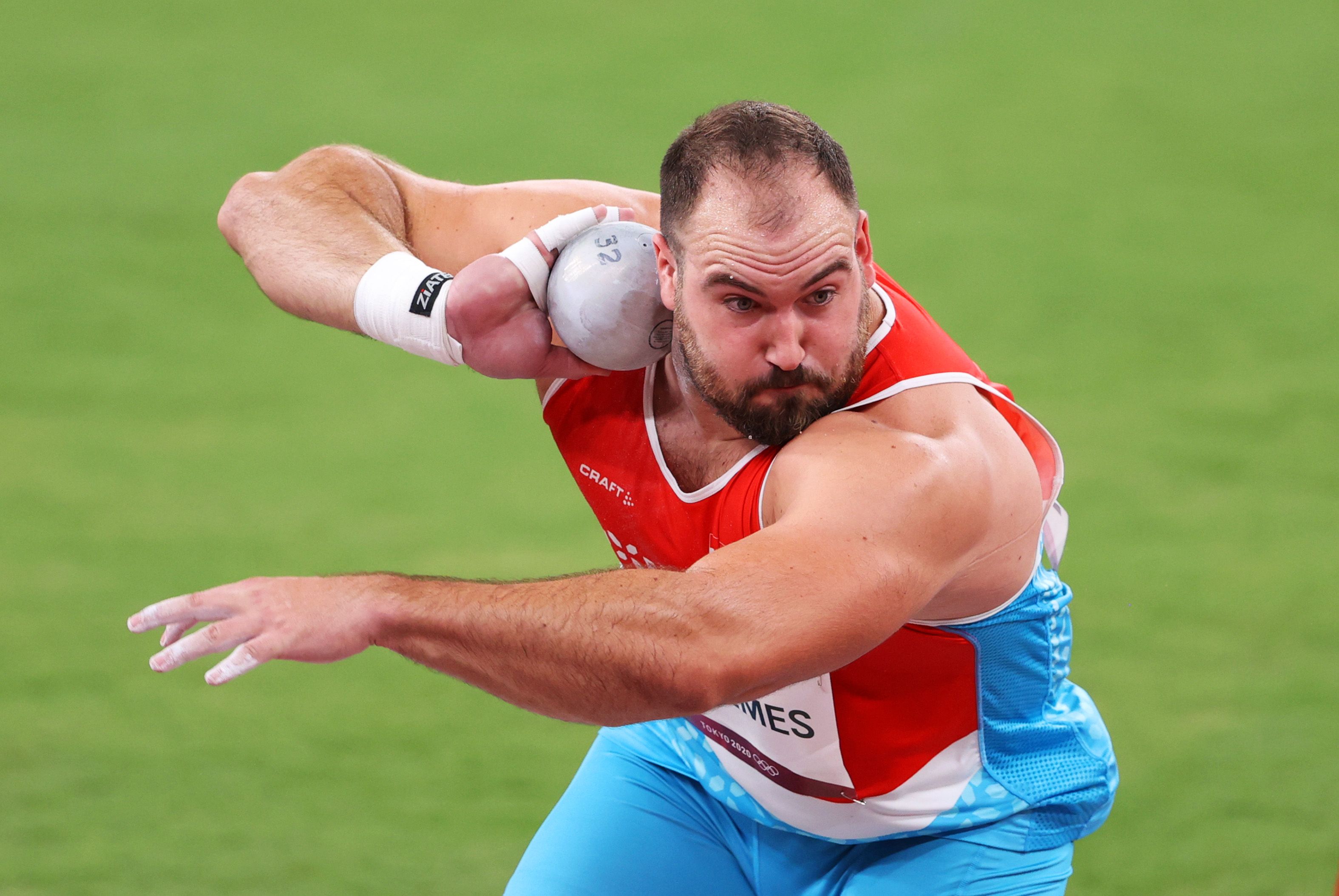 Luxembourg's Bob Bertemes at the Olympic Games in Tokyo (© Getty Images)
"Things are working out a bit more the way we want them," Bertemes says. "But still people are throwing really far, so it's going to be tough.
"Especially Crouser, who almost seems to be playing with the shot put, saying: 'I am going to add a new 'Ryan Crouser' step to it.' It's kind of crazy. It's a crazy time to be a male shot putter. But on the other hand, it adds much more value to it.
"We get a little more attention due to good American guys throwing really far. It's exciting. It's helps get you more hyped in training."
It has not always been the case for the gentle giant who is candid enough to admit a tendency to be a little too relaxed in his approach early in his career, when he first concentrated on the throws.
"I was a little lazy. I wasn't too hyped on a javelin run up and discus was a bit too technical, so I said I am going to stick with shot put," he explains. "Then you get a bit more invested when you start throwing further. You have a bit more hype and you start getting into it."
Turning 30 this year, Bertemes still has time on his side and if he can maintain his consistency, he could yet make the final at the World Athletics Championships Budapest 23. That achievement would be something well worth the hype.
Chris Broadbent for World Athletics