Aleia Hobbs at the 2019 World Athletics Relays in Yokohama (© Getty Images)
Aleia Hobbs has an instant response when asked for the message she would give her younger self: "Keep going".
The 27-year-old has been sprinting for almost two decades and despite being hit with some setbacks between her many successes, she refused to give up. The signs have always been there, and now – happy and healthy – she's in the form of her life.
"Ever since I went pro, I had some kind of injury. I couldn't have a complete fall (off-season)," says Hobbs, who sprinted for Louisiana State University (LSU) – her home state – before turning professional in 2018. "Before last year I had a first full fall, which gave me a PR, and before this year I had a good fall and another PR, so that was the main thing – staying healthy.
"I came to the point where I was like, 'am I ever going to run as fast as I ran in college?' Because it had been so long. Then again, you've got to keep on doing it. I kept telling myself: 'if I can get healthy, I can run fast'. I had moments where I was really doubting it, which is frustrating because I knew I could, but I kept getting hurt."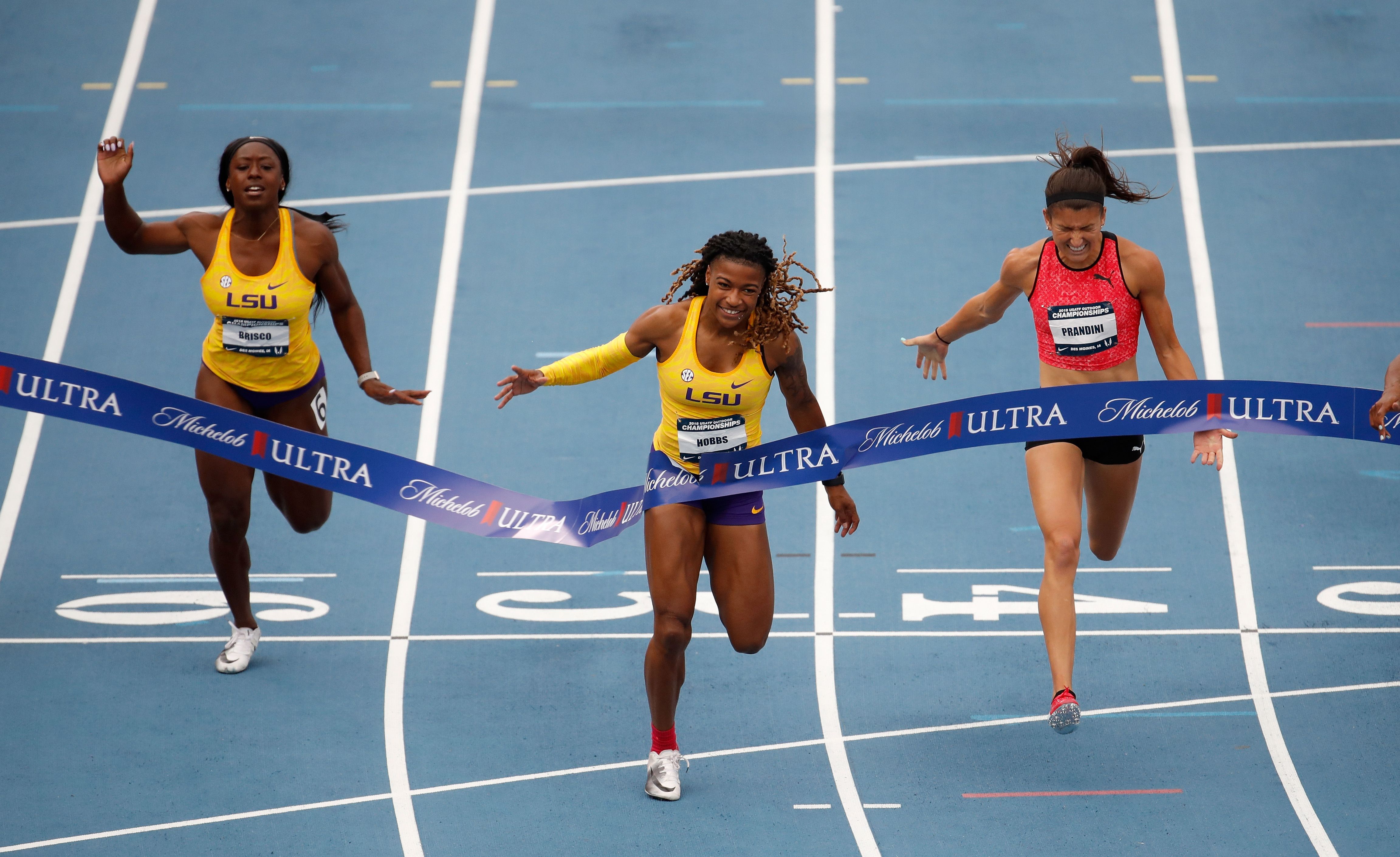 Aleia Hobbs wins the US 100m title in 2018 (© Getty Images)
Hobbs started running at the age of eight, after she demonstrated her speed while sprinting – terrified – from a dog near her home in New Orleans.
"I was running for my life!" she laughs now. "I was running as fast as I could run. People kept saying: 'you need to run track'. I went to the playground in my neighbourhood and started running, and I've been running literally ever since."
Her early career included a second-place finish at the US U20 Championships in 2015 and she claimed silver at the Pan American Junior Championships in Edmonton, during a season that featured a 100m PB of 11.13 for the teenager. But then, in the August, she required surgery on her left knee. Hobbs made a comeback the following year and in 2017 she stormed under 11 seconds for the first time, clocking 10.85 for a 100m PB that would remain her best until 2022.
In 2018 she went sub-11 in 10 of her 12 races, including heats and semifinals, and she won at the US Championships and NCAA Championships, where she added 100m gold to the 60m crown she had claimed indoors three months prior to close her collegiate career in style. But then injury struck again and Hobbs needed the same surgery as in 2015, this time on her right knee.
Again, she worked her way back, and major senior team places were just around the corner.
Hobbs competed at her first senior international event in 2019, anchoring the victorious US 4x100m quartet at the World Athletics Relays in Yokohama, and she made her Olympic debut in Tokyo, again running the final leg in the heats of the 4x100m. She then finished sixth in the 100m final at the World Athletics Championships Oregon22, having improved her five-year-old PB to 10.83 in New York and then 10.81 during the semifinals of the US Championships where she claimed silver to secure her World Championships team place.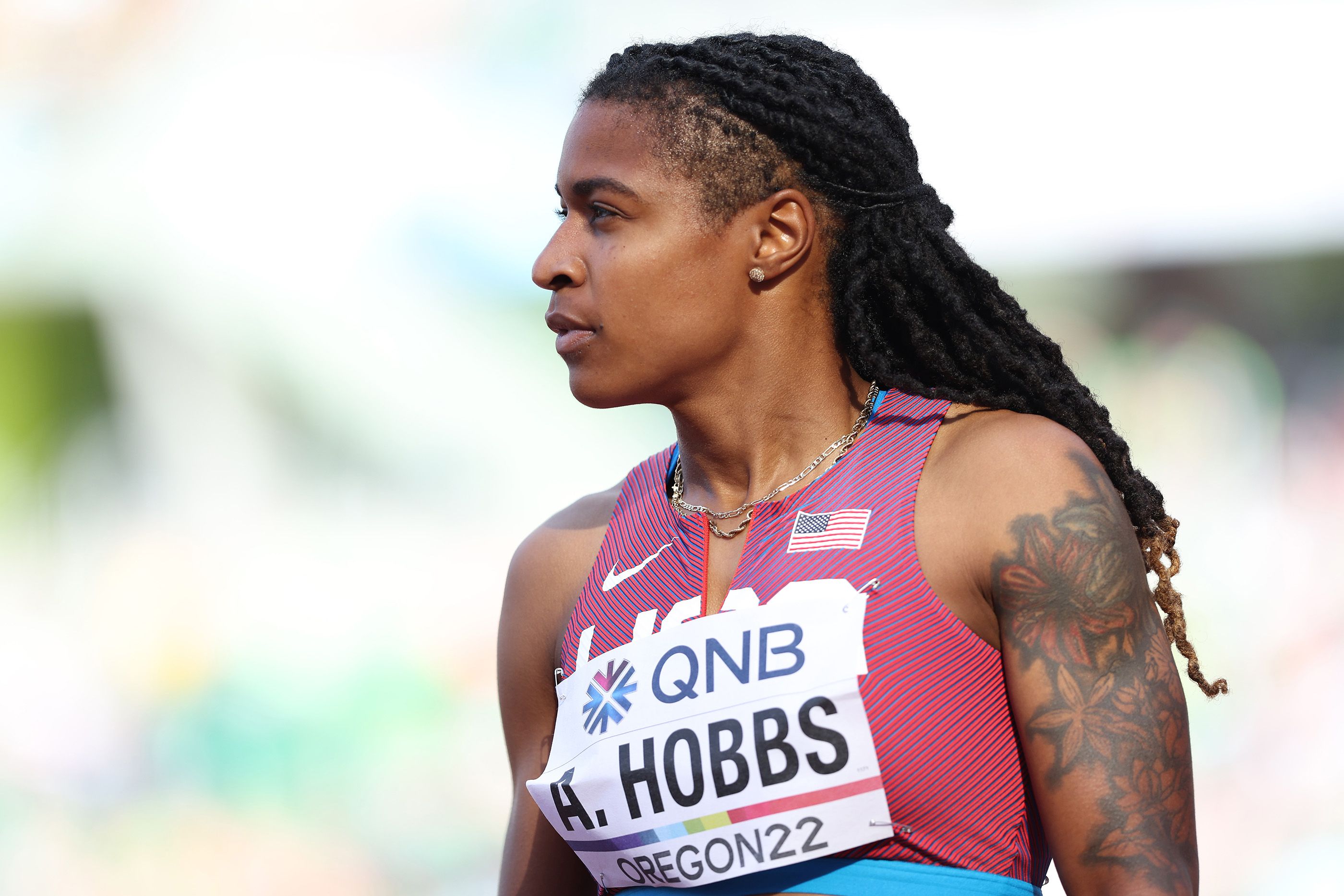 Aleia Hobbs at the World Athletics Championships Oregon22 (© Getty Images)
Then came that second consecutive healthy off-season.
Hobbs opened her 2023 campaign at the LSU Purple Tiger meeting on 13 January and two weeks later she blazed to a 6.98 win at the Razorback Invitational, dipping under seven seconds for the first time to move to equal ninth on the world indoor 60m all-time list.
"A couple of days before we left, my coach said: 'you're going to run fast'," she explained after the race. "I was like, 'okay, he's probably just telling me that!' I felt good, healthy. I literally just went out there and ran. It was the easiest race I've ever ran and my coach always says: 'when the race feels easiest, that's when you know you're fastest'. And that's exactly what it felt like."
It felt similar in Boston and New York. And Albuquerque.
Hobbs clocked 7.02 at the New Balance Indoor Grand Prix in Boston, and 7.04 at the Millrose Games in New York one week later. Those performances helped her to win the 2023 World Athletics Indoor Tour, the prizes for which include the offer of a wild card place at next year's World Indoor Championships in Glasgow.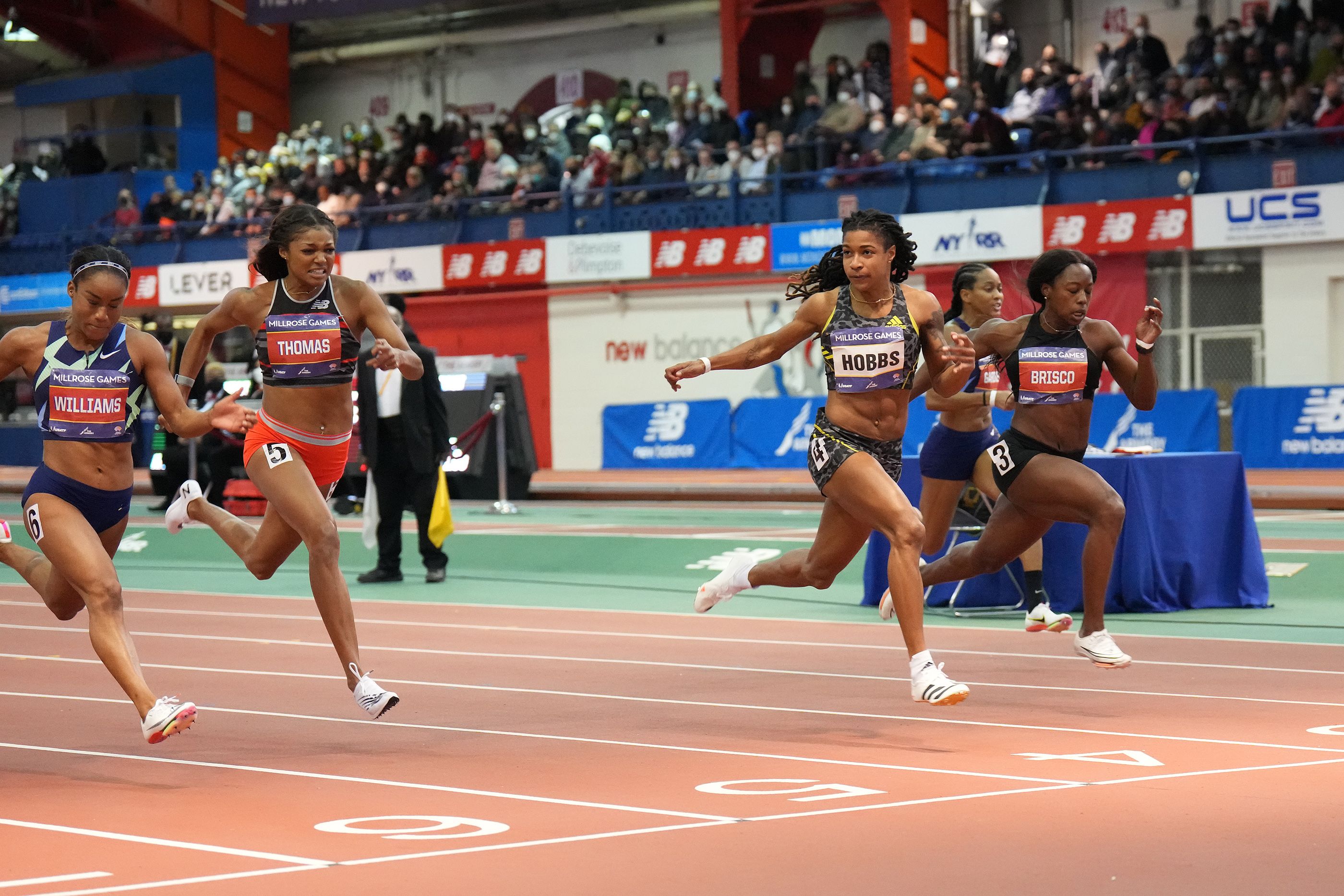 Aleia Hobbs wins the 60m at the Millrose Games (© Kirby Lee)
But the best was yet to come. At the US Indoor Championships in Albuquerque, Hobbs ran 6.94 – a national indoor record and a time that moved her up to second on the world all-time list, just 0.02 shy of the world record.


Women's world indoor 60m all-time list

6.92 Irina Privalova (RUS) Madrid 11 Feb 1993
6.94 Aleia Hobbs (USA) Albuquerque 18 Feb 2023
6.94 Julien Alfred (LCA) Albuquerque 11 Mar 2023
6.95 Gail Devers (USA) Toronto 12 Mar 1993
6.95 Marion Jones (USA) Maebashi 7 Mar 1998
6.96 Merlene Ottey (JAM) Madrid 14 Feb 1992
6.96 Katerina Thanou (GRE) Maebashi 7 Mar 1999
6.96 Mujinga Kambundji (SUI) Belgrade 18 Mar 2022
6.97 LaVerne Jones-Ferrette (ISV) Stuttgart 6 Feb 2010
6.97 Murielle Ahoure (CIV) Birmingham 2 Mar 2018
6.98 Shelly-Ann Fraser-Pryce (JAM) Sopot 9 Mar 2014
6.98 Elaine Thompson-Herah (JAM) Birmingham 18 Feb 2017
6.99 Ewa Swoboda (POL) Torun 5 Mar 2022
6.99 Mikiah Brisco (USA) Belgrade 18 Mar 2022

Hobbs puts part of her development down to being able to do more weight training, including squats - something she had to avoid previously because of the problems with her knees. As it was, she was again unable to do a full weight programme, nor block starts, in between her 2023 indoor and outdoor seasons, as she broke a bone in her hand in a fall after her sensational 60m in Albuquerque.
But with the hard work already banked, Hobbs wasn't going to let it stop her. She did what she could and prepared for her outdoor campaign, making her season debut at the Lloyd Wills Invitational on her home track in Baton Rouge.
She won the 100m in 10.87 – her joint fourth-fastest ever time.
"From breaking the American record to breaking a bone my hand. From not being able to do all my weights or block starts in over a month. So thankful for my fastest 100m opener and meet record," she later wrote in a social media post.
It wasn't just the weight programme and training consistency that led to that remarkable breakthrough, however. Life had changed for Hobbs off the track, too, as she and her partner adopted their son, Amir, last year. He's now 10 months old.
A smile fills Hobbs' face.
"Me going to training and knowing I'm not just doing this for myself, but for my family at home. 'This is for you, too. I'm 110% every day," she beams.
"It's not easy to balance life. For one, the sleep schedule. Amir was sick, he got RSV (respiratory syncytial virus) when he was about five months, so that was bad. I didn't know what sleep was.
"I wasn't sleeping but I knew I still had to go out and do this – I'm not doing it just for me."
Amir has already been trackside to watch Hobbs race.
"He came to LSU," she says. "As soon as I finished, I cooled down and then I went up and got him and brought him down to everybody and coach Shaver - his pawpaw."
View this post on Instagram
Family is hugely important to Hobbs, at home and on the track. She has been guided by LSU coach Dennis Shaver since she joined the university in 2014 and her training group currently includes world indoor 60m silver medallist Mikiah Brisco, who Hobbs has been running with since the age of 10 or 11, plus two-time world indoor 60m hurdles champion Lolo Jones and 2016 world U20 100m gold medallist Candace Hill.
The support from both families and fans – it's key.
"It's the support system I have and the fans, they really keep me going," Hobbs says. "People DM (direct message) me and say: 'hey, just wanted to let you know you're inspiring my daughter so much', or people are like: 'I've got hurt so many times, but I know your story, you keep me going'. And that keeps me going, knowing that people are really looking up to me."
So, what to do, other than keep on going? Especially when there's another World Athletics Championships and Olympic Games taking place within the next 16 months. Hobbs also shared a short message written on a shoe in a photo posted to social media before the outdoor season: '10.7 or bust'.
"The focus is 100% there because I have still not reached my full potential," says Hobbs, the smile still there but behind it, a look of steely determination. "I've not got an individual medal at the World Championships or anything yet, so I've got to keep it going."
Jess Whittington for World Athletics