Aleia Hobbs and her son Amir (© Aleia Hobbs)
by Aleia Hobbs
The call came last June. It was my partner's mom, who knew of a woman who'd just given birth to a child she didn't want to keep, a child she couldn't care for.
Hey, there's a baby in the hospital. He doesn't have a mother, would y'all want him? I know you guys have been wanting a baby.
My partner and I sat down and talked about it, thinking it over. Then we came to a decision.
Yeah, we do want him.
The baby's mother had left him in the hospital. Didn't sign the birth certificate or nothing. He was two months early, and was in the NICU, or neonatal intensive care unit, for about four weeks. I had to leave during that time as the track season was getting started, and he finally made it home last July, right before I had to leave for Europe.
The whole time, I couldn't wait to get back to him.
One of the first things we had to do was to give him a name. I thought about Legend, or something like that, but in the end I wanted something close to Aleia. We settled on Amir.
Amir King Hobbs. My son.
I always wanted to become a mother. A big reason? I'm childish, too. I like to mess around, and this is somebody else I can be a child with. We can play all day together. That's the fun part. But there's a lot more to it: it's teaching me patience, generosity.
Ever since he arrived, my life has been completely different. I'm actually taking care of someone else, not just myself.
The adoption process is stressful – having to do classes, home checks, background checks, wellness checks. There's a lot of paperwork, but it's worth it. No doubt.
To start with, we had to become foster parents so he'd actually have a home to go to, and then we went through the adoption process. It was a headache at times, but we just kept thinking of the bigger picture, the fact we were giving him a home. He was in the hospital, all by himself. No name. Nothing. Literally nothing.
The fact we were able to take him in as our own is a blessing.
Still, being a parent isn't easy. At first, when he was young, he was only sleeping three hours, sometimes two, at a time, so I wasn't really sleeping much and then would go to practice tired. But I didn't let it become an excuse.
My coach was like: Are you ready for practice?
I'd be like: Yep, let's get going.
We train at 11am, and I'd be up since 5, but I'd just drink a cup of coffee and get on with it. When I sleep, I sleep hard, so after a while my partner and I came to an agreement: she'd do the night shift, then when I finished practice I'd take up the day shift.
Recently he started going to day care and that made everything a little easier. He sleeps through the night now, about six hours, and that's helps me function as a fast athlete during the day.
The biggest change when you become a parent is not physical. It's mental. Having him around make me go so much harder when I get on the track. I've got a child to feed now, and I can't wait 'til he gets older and sees what's going on in my career.
He could definitely be an athlete. When the doctor tries to move him, he holds his arms and is like: This is a strong baby.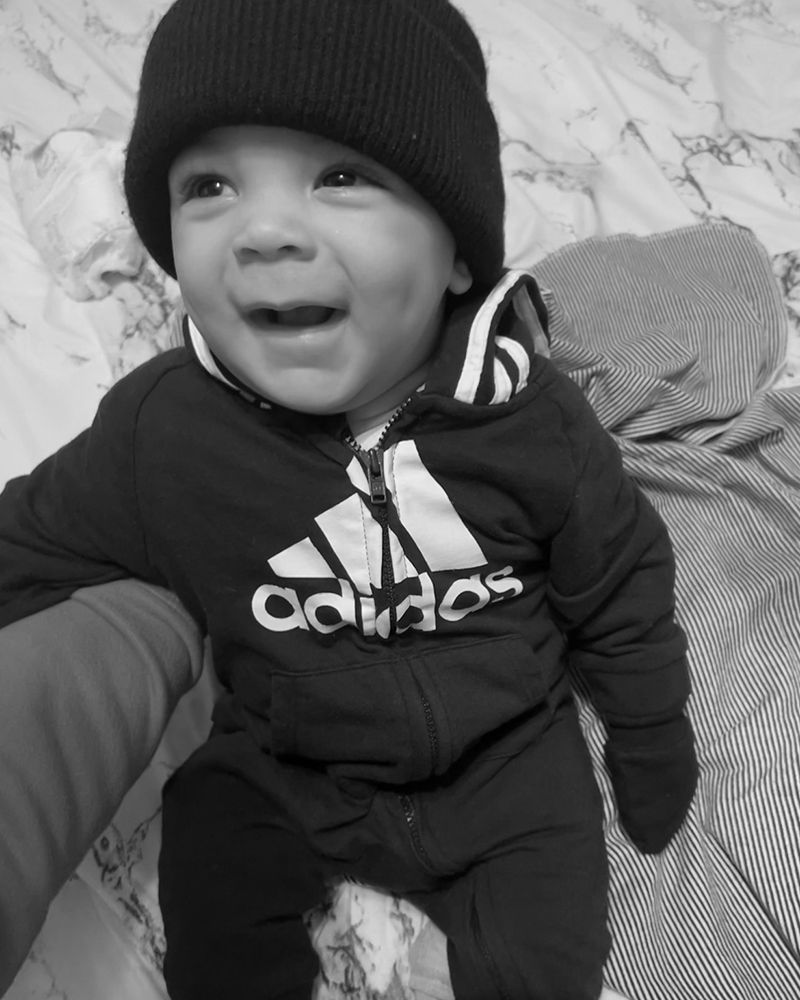 He might not be my biological son, but when I look at him, I feel like I birthed him. The love is just so unconditional. I'll sit there, watching him sleep and just think: Awwww.
I always wanted a son, and having a child of my own has given me a new level of respect for my mom. There were five kids in our house and we were all two years apart. I think my Mama was doing literally everything and, these days, I understand so much better exactly what it took.
I've been getting lots of good advice from her and from my sisters who have kids. Amir is about to be eight months but, development-wise, he's six months, so he's not getting wild just yet. Everybody's like: Just wait 'til he starts moving around.
There's so much to look forward to this year – on and off the track.
Last season was my best yet, and that gave me motivation because the past couple of years, I was getting kind of iffy.
Can I PR again? Can I run fast again?
But I showed last summer, and this indoor season, that I can. My support system and my fans, they've been going hard for me. Kids have been DM'ing me saying how much motivation I've given them. One girl was like: I was injured and kind of losing hope, but then I saw your story that you were hurt and came back.
That stuff motivates me. I want to help anybody I can, and the fact I can do that on the track keeps me going.
I was always motivated, but when I step on the track these days, I'm not just running for me and my family at home.
I'm running for him. It's different.
I'm about to go hard these next couple of years and, before long, he's going to be at the meets to watch me do it. And I can't wait for that.