Kibiwott Kandie wins the Valencia Half Marathon (© Organisers)
Kenyan's world half marathon silver medallist Kibiwott Kandie and Germany's Konstanze Klosterhalfen captured the victories at the Valencia Half Marathon Trinidad Alfonso EDP – a World Athletics Elite Label road race – on Sunday (23).
Kandie, who broke the world record here two years ago, effectively ended the race in the 14th kilometre to finish like a train in 58:10, while half marathon debutante Klosterhalfen made her move in the last kilometre, winning in 1:05:41.
Likely due to the unseasonably high temperature (17C) and 75% humidity, the men's race kicked off slower than expected. Led by pacemakers, the leading group went through the opening 5km in 13:56, right on schedule for a 58:40 finishing time with all the main favourites such as Kandie, Sabastian Sawe, last year's third-placed Daniel Mateiko, Rodgers Kwemoi, Ethiopia's two-time world indoor 3000m champion Yomif Kejelcha and his compatriot Tadese Worku, who was making his debut over the distance.
Ten men remained in the lead group by the 10km checkpoint, which was reached in 27:51 to virtually rule out a sub-58-minute final clocking.
The key movement came shortly after the 13th kilometre when Kandie broke away with incredible ease to gradually open a sizeable gap over Mateiko, Kejelcha and Worku. After a swift 14th kilometre of 2:39, the 26-year-old Kenyan maintained his speed to reach 15km in 41:17, having covered the previous 5km segment in 13:26. By then he had built a ten-second margin over the chasing trio.
Despite a decrease in pace in the closing stages, Kandie continued to increase his lead and he had a 23-second margin by 20km. He romped home unopposed in a season's best of 58:10, the third fastest time in the world this year. Taking advantage of his track pedigree and speed, Kejelcha managed to finish ahead of Mateiko to grab the runner-up spot in 58:32 and fulfil his pre-race target of breaking the Ethiopian record. Mateiko completed the podium eight seconds behind Kejelcha while debutant Worku finished in 58:47.
"I have been preparing so hard for this race over the last two months and that effort has paid off today," said Kandie. "Despite the humidity, I felt great throughout and decided to increase the pace after midway, I'm quite satisfied with my performance."
The women's race was of a similar high standard with the first three athletes finishing in 66 minutes or quicker.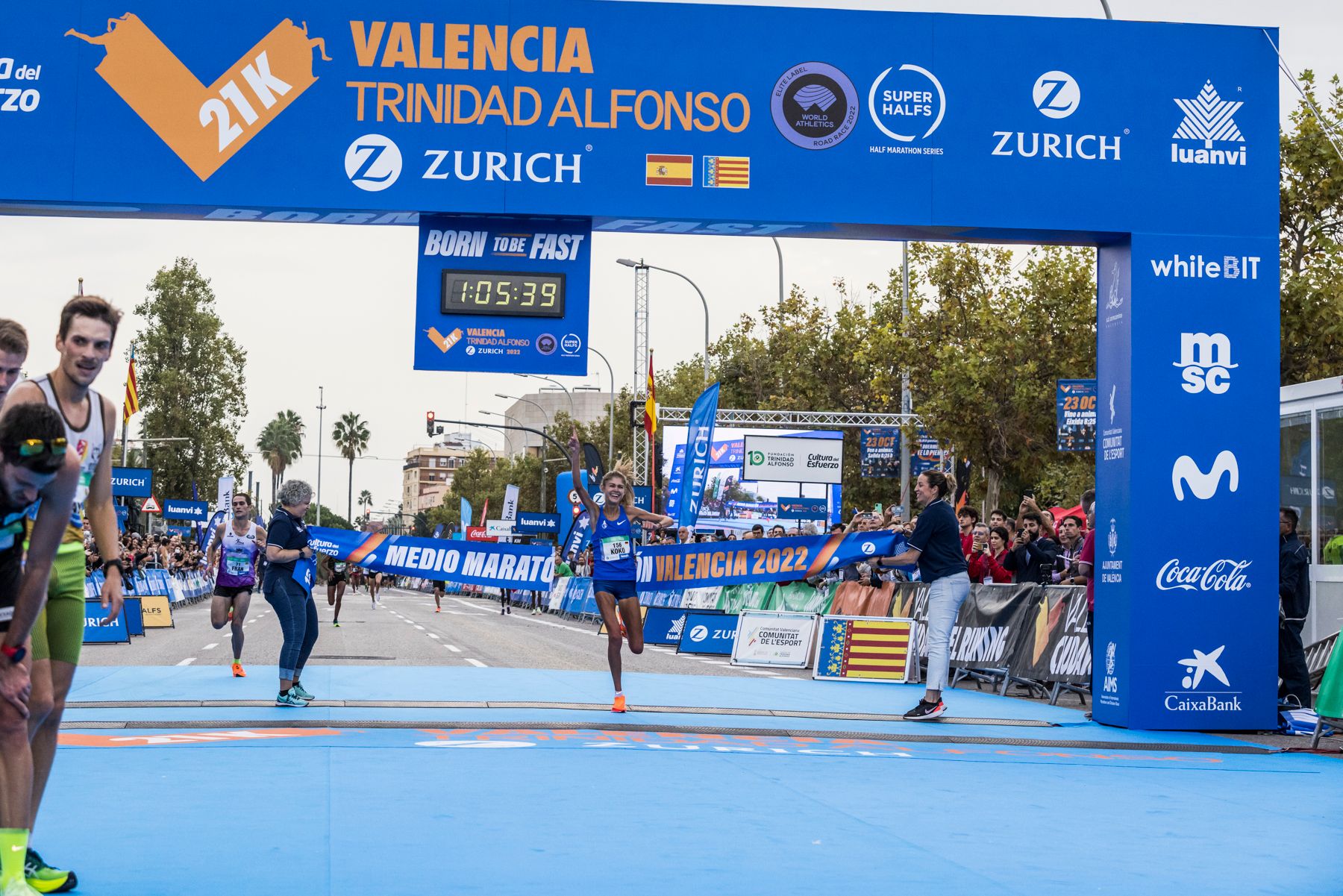 Konstanze Klosterhalfen wins the Valencia Half Marathon (© Organisers)

Perfectly paced by Kenya's Jeremiah Cheserek, the main group went through the opening 5km and 10km checkpoints in 15:29 and 31:08 respectively, slightly inside 1:05 finishing pace. The eight-woman lead pack included Klosterhalfen, Kenya's world 10,000m bronze medallist Margaret Chelimo Kipkemboi, Vicoty Chepngeno, Agnes Ngolo and Ethiopia's Hawi Feysa and Tsigie Gebreselama.
There were no major changes over the following 5km section, which was covered in 15:35, but with two kilometres remaining, only Klosterhalfen, Feysa and Gebreselama were left at the front. In the closing stages, the 25-year-old German managed to open up a gap on her rivals to win in 1:05:41 while Gebreselama set a PB four seconds in arrears and Feysa came third in 1:06:00.
"I'm both surprised and delighted with what I've managed today and definitely I'll try to improve on my time next time and hopefully break the German record," said Klosterhalfen, the European champion and 2019 world bronze medallist over 5000m. "I chose Valencia because of the fast times set over the previous years and my decision proved to be right today."
Emeterio Valiente for World Athletics
Leading results
Women
1 Konstanze Klosterhalfen (GER) 1:05:41
2 Tsigie Gebreselama (ETH) 1:05:45
3 Hawi Feysa (ETH) 1:06:00
4 Agnes Ngolo (KEN) 1:06:38
5 Margaret Chelimo (KEN) 1:06:50
6 Magdalena Sahuri (KEN) 1:07:07
7 Irine Kimais (KEN) 1:07:10
8 Purity Komen (KEN) 1:07:27
9 Yasemin Can (TUR) 1:07:45
10 Vicoty Chepngeno (KEN) 1:07:54
Men
1 Kibiwott Kandie (KEN) 58:10
2 Yomif Kejelcha (ETH) 58:32
3 Daniel Mateiko (KEN) 58:40
4 Tadese Worku (ETH) 58:47
5 Kennedy Kimutai (KEN) 59:04
6 Sabastian Sawe (KEN) 59:23
7 Ronald Kirui (KEN) 1:00:10
8 Isaac Kipkemboi (KEN) 1:00:11
9 Edward Cheserek (KEN) 1:00:13
10 Weldon Langat (KEN) 1:00:28