Jimmy Gressier wins the MonacoRun 5km in a European record (© Quinten Lafort)
Abdisa Tola and Dera Dida achieved an Ethiopian double at the Dubai Marathon, a World Athletics Gold Label road race, on Sunday (12).
Making his marathon debut, 22-year-old Tola clocked 2:05:42 to win the men's race by nine seconds, while Dida, the 2019 world cross country silver medallist, ran a PB of 2:21:11 for the first marathon victory of her career.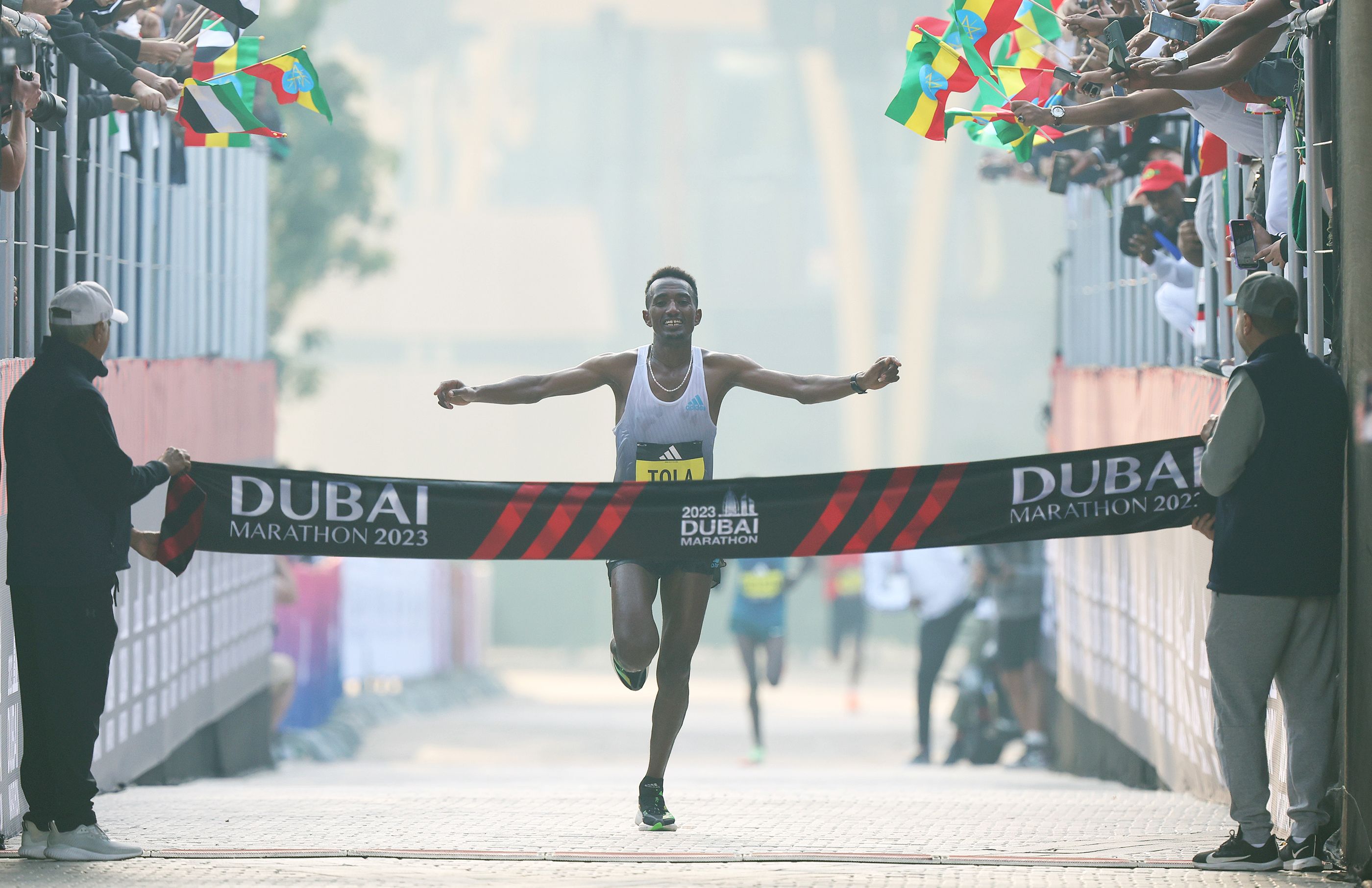 Abdisa Tola wins the Dubai Marathon (© Getty Images)
The men's race saw Tola, who is the brother of world marathon champion Tamirat Tola, pull away with around 2km remaining after briefly going off course at 39km. Having regained the lead, he went on to claim a clear win and led an Ethiopian top 11.
He was followed over the finish by Deresa Geleta, who clocked 2:05:51, and Haymanot Alew, who also dipped under 2:06 with 2:05:57.
Little over 15 minutes later, Dida completed a rare family triumph in a major marathon. The sister-in-law of Abdisa Tola, as she is married to world champion Tamirat, stormed to her biggest career win.
Dera Dida celebrates her Dubai Marathon victory (© Getty Images)
In fine weather conditions, the 26-year-old Dida claimed a 13-second victory ahead of her compatriots Ruti Aga and Siranesh Yirga, who clocked respective times of 2:21:24 and 2:21:59, as Ethiopian athletes secured the top 10 places.
Organisers for World Athletics
At Sunday's Standard Chartered Hong Kong Marathon, also a World Athletics Gold Label road race, Kenya's Philimon Kiptoo Kipchumba claimed victory in the men's race, while the women's title was won by Ethiopia's Fantu Jimma.
Kipchumba ran 2:10:47 for the second marathon win of his career after his success in Munich last October.
Jimma's win in 2:27:50 comes after a fourth-place finish at the Ooredoo Doha Marathon in 2:23:21 last month.
Gressier runs 13:12 in Monaco
Jimmy Gressier ran 13:12 to regain the European 5km record at the MonacoRun, a World Athletics Label event, in Monaco on Sunday (12).
The French 25-year-old had gone into the event targeting the area record of 13:14 that had been set by Italy's Yemaneberhan Crippa in Herzogenaurach last April, that mark having taken four seconds off the continental record that Gressier had set in Monaco in 2020.
Pacing his run to perfection, the European 10,000m fourth-place finisher managed to take two seconds off the European record and won by 12 seconds ahead of South Sudan's Dominic Lokinyomo Lobalu. Uganda's world 5000m bronze medallist Oscar Chelimo finished third in 13:32.
"It was a controlled race. My pacers did a great job and the goal beforehand was to run close to 13:10," said Gressier. "I came back from a great training camp in Kenya and I could feel my shape was getting better and better this week."
Gressier will continue to race on the roads over the next few weeks, competing over 10km and the half marathon in Castellon and Paris, before focusing on the 1500m and 5000m on the track during the outdoor season.
The women's 5km was won by Kenya's Mirriam Chebet in 15:40.
Chebet proved her form by finishing third at the Campaccio Cross Country Tour Gold meeting in San Giorgio su Legnano last month and in Monaco she secured a dominant victory, winning by 44 seconds ahead of Norway's Ine Bakken. Jenipher Contois of France was third in 16:28.