Leaders in the elite women's race at the Abu Dhabi Marathon (© Organisers)
Kenya's Timothy Kiplagat Ronoh went from pacemaker to winner while Bahrain's Eunice Chumba secured success on her fourth attempt at the ADNOC Abu Dhabi Marathon, a World Athletics Elite Label road race, on Saturday (17).
Leading the elite field, Ronoh decided to push on when his pacemaking duties were done and eventually crossed the finish line in 2:05:20, winning by more than four minutes ahead of his compatrtiot Felix Kimutai (2:09:32). Ethiopia's Adeledelew Mamo was third, a further 10 seconds back.
Ronoh took the lead group through 10km in 29:34 and passed the half way point in 1:02:48 and 25km in 1:14:30. By 30km he led by more than a minute and continued untroubled to claim the biggest win of his career so far, improving on his previous PB of 2:07:01 that had been set when he finished third last year in Eindhoven.
"This is my first time in Abu Dhabi, so to win the race on my debut makes it extra special," said a tired but ecstatic Ronoh. "Everything just felt great, we've been looked after, the course was really good, and the place is really beautiful. This is a great victory for me."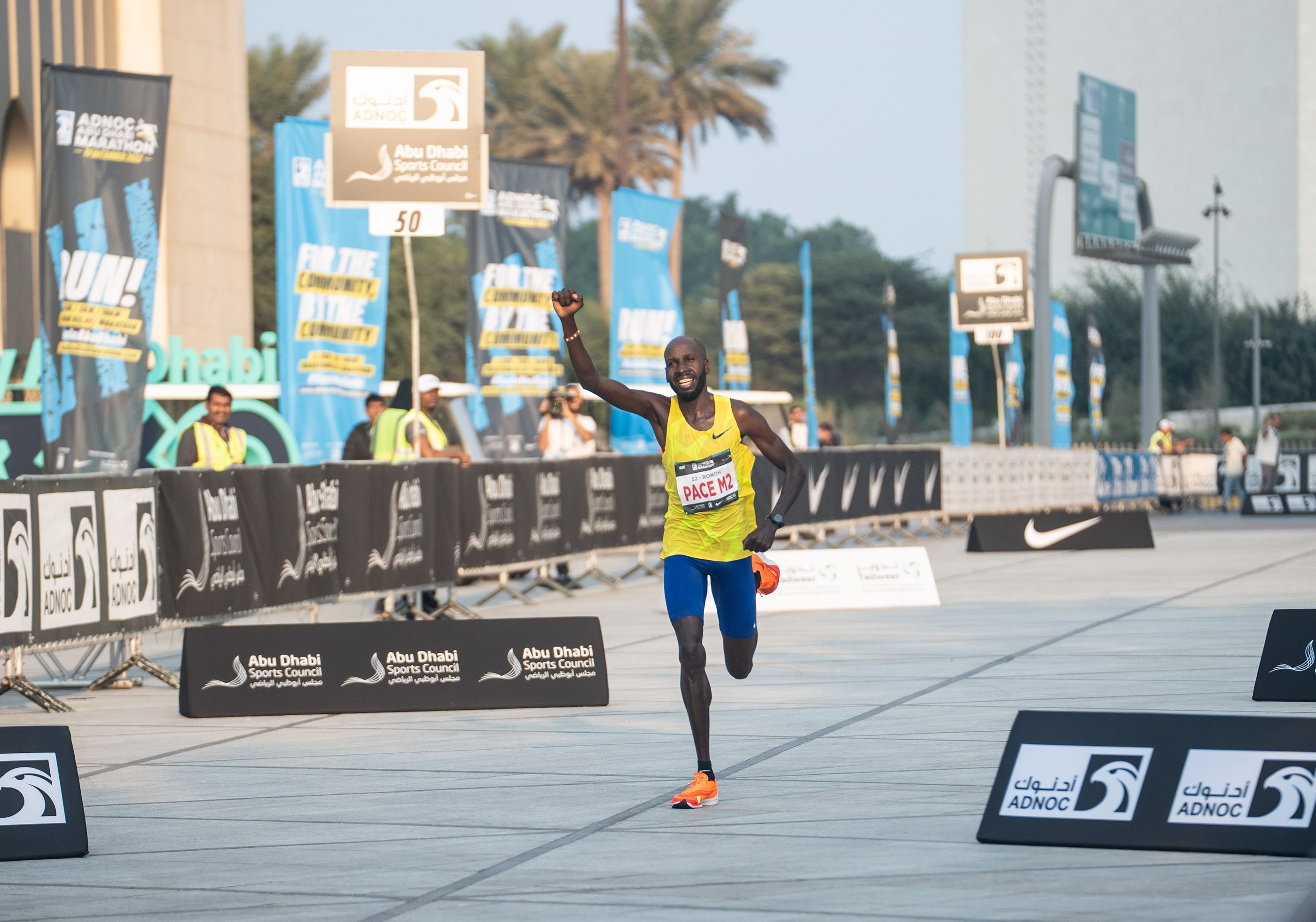 Timothy Kiplagat Ronoh wins the 2022 Abu Dhabi Marathon (© Organisers)
Chumba, the Tokyo Olympics seventh-place finisher, prevailed in a closer women's race. Holding off Kenya's Angela Tanui, who placed sixth in the World Championships marathon in Oregon and won last year's Amsterdam Marathon in 2:17:57, and Ethiopia's 2015 world marathon champion Mare Dibaba, Chumba got the win she had been seeking after finishing second in Abu Dhabi in 2021 and 2018, as well as fourth in 2019.
Running as part of the lead pack that passed 10km in 33:12, Chumba was to the fore as the leaders reached half way in 1:10:15. She had Tanui and Dibaba for company as 30km was passed in 1:39:44, and made her move in the latter stages, eventually winning by 31 seconds ahead of Tanui (2:21:12).
Dibaba was third in 2:21:25, while Rebecca Cheptegei set a Ugandan record of 2:22:47 to finish fourth.
"I'm so happy for this wonderful day. I really wanted to try my best to win this race," said Chumba, who set her PB of 2:20:02 when finishing third in Seoul in April. "Last year I was second, today I am the winner. This is my first time to taste victory in this event, on my fourth attempt.
"The course was very good, flat and fast. The weather was great, the fans were wonderful. I'm happy I could win for them."


Leading results
Women
1 Eunice Chumba (BRN) 2:20:41
2 Angela Tanui (KEN) 2:21:12
3 Mare Dibaba (ETH) 2:21:25
4 Rebecca Cheptegei (UGA) 2:22:47
5 Meseret Dinke (ETH) 2:22:52
Men
1 Timothy Kiplagat Ronoh (KEN) 2:05:20
2 Felix Kimutai (KEN) 2:09:32
3 Adeledelew Mamo (ETH) 2:09:42
4 Zelalem Bacha (BRN) 2:12:29
5 Titus Kipjumba Mbishei (KEN) 2:12:53
Barsoton and Jisa set course records at Kolkata 25K
Kenya's Leonard Barsoton and Bahrain's Desi Jisa ran course records to win the Tata Steel Kolkata 25K, a World Athletics Elite Label road race, on Sunday (18).
Barsoton, the 2017 world cross country silver medallist, retained his title with a time of 1:12:49, bettering the course record of 1:13:05 he set in 2019.
It was a tactical race. In the mix right from the start but not the leader of the pack, Barsoton was in fourth place behind Alfred Ngeno, Abdisa Tola and Birhanu Legese. He picked up the pace after the 20km mark and never looked back.
Having run in Kolkata before, he knew the course would include a bridge and then take a circuitous route around Babu in Kolkata Ghat along the banks of the Hooghly river.
While Tola of Ethiopia led the race from around the 15km mark, Commonwealth Games marathon champion Victor Kiplangat of Uganda soon set the pace. By the time the pack reached 23km, Barsoton was well ahead, increasing the gap between him and Legese in second place (1:12:54). Kiplangat appeared to have run out of gas and finished third in 1:12:56.
"I know the course and I knew exactly when to pick up the pace," said Barsoton. "I had been preparing for the last two months. I had some niggles, but despite that, I am happy to have won here and with a course record. It was a very competitive race, and the others in the field gave me a tough fight."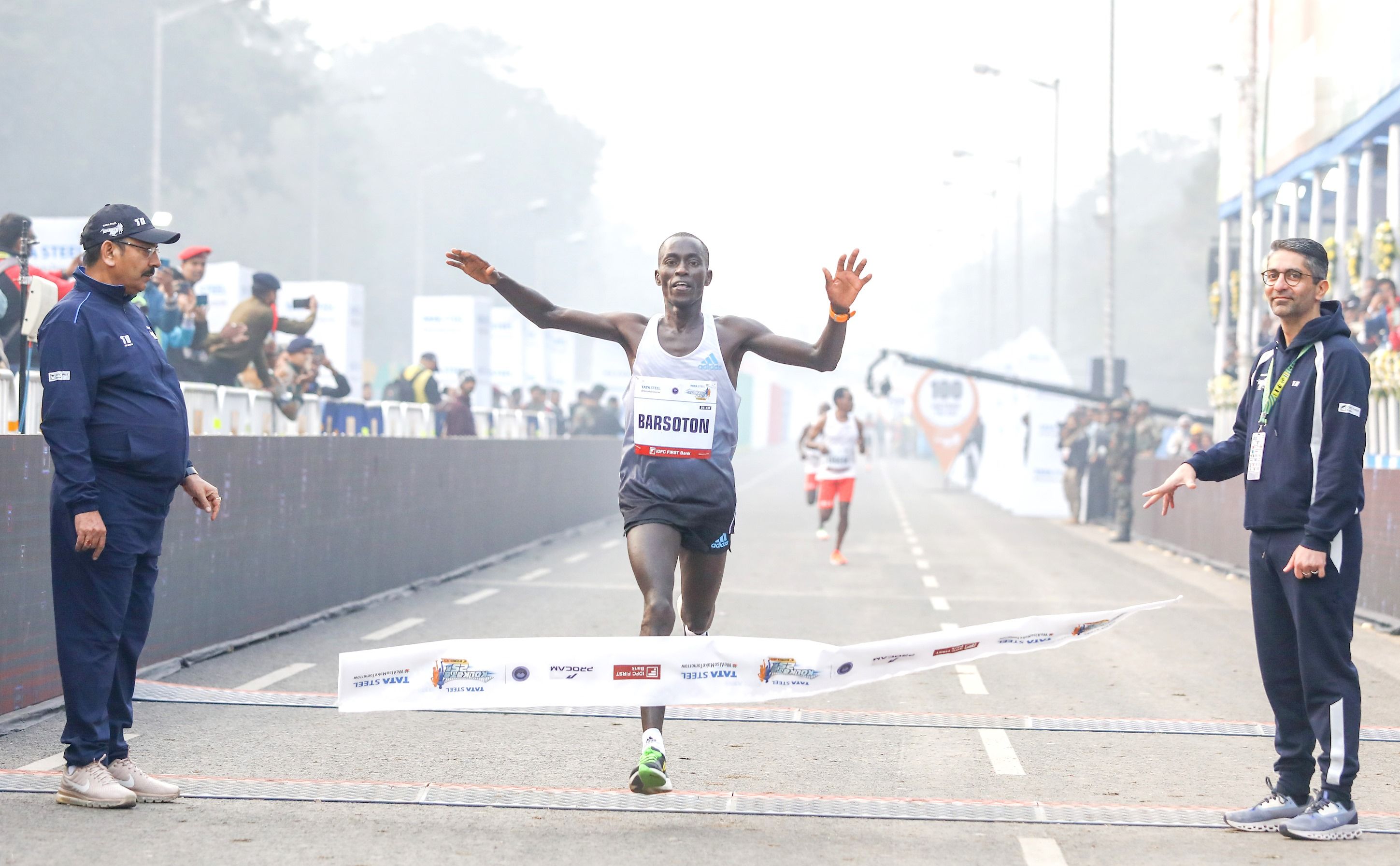 Leonard Barsoton wins the 2022 Tata Steel Kolkata 25K (© Procam International)
In the women's event, Jisa took almost a minute off the previous course record set by Ethiopian Gutemi Shone, clocking 1:21:04 to eclipse the mark of 1:22:09 set in 2019.
Leading the group, Jisa slowed her pace in the 5km stretch between 15-20km, which looked like a tactical move to save her energy for a strong finish. With 5km left, she took complete control.
Ethiopia's Zeineba Yimer (1:21:18) finished second and Uganda's Mercyline Chelangat (1:21:31) third.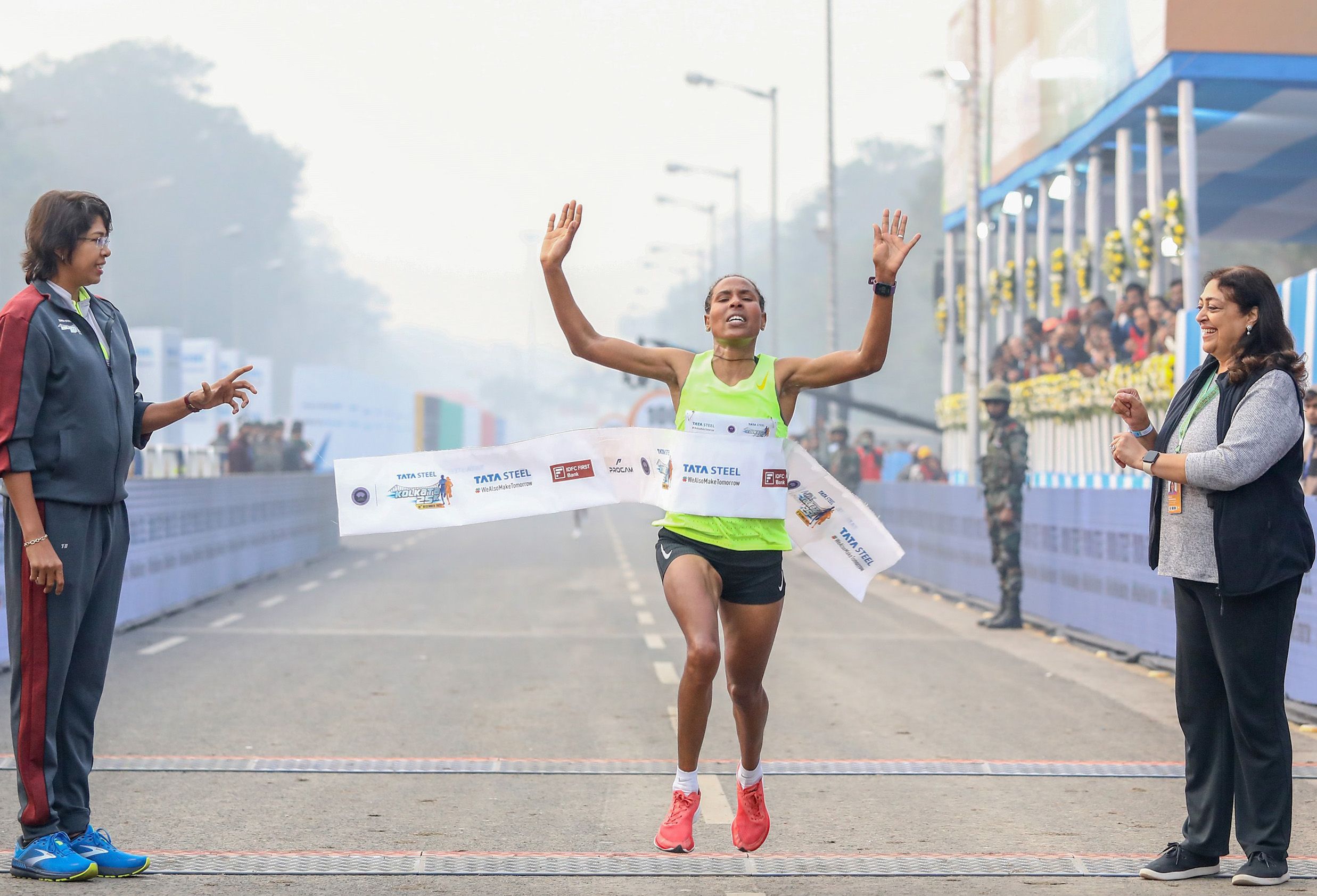 Desi Jisa wins the 2022 Tata Steel Kolkata 25K (© Procam International)
"I thank Kolkata for such a warm welcome," said Jisa, runner up at the event in 2019. "I wanted to win the race and am thrilled to have done it with a course record. Now my target will be to participate in Paris (2024 Olympics), a dream for all."
The top three in both races all finished under the previous course records.
Organisers for World Athletics

Leading results
Women
1 Desi Jisa (BRN) 1:21:04
2 Zeineba Yimer (ETH) 1:21:18
3 Mercyline Chelangat (UGA) 1:21:31
4 Obse Abdeta (ETH) 1:21:43
5 Ashete Bekere (ETH) 1:22:12
Men
1 Leonard Barsoton (KEN) 1:12:49
2 Birhanu Legese (ETH) 1:12:54
3 Victor Kiplangat (UGA) 1:12:56
4 Alfred Ngeno (KEN) 1:13:15
5 Abdisa Tola (ETH) 1:14:27