Irine Jepchumba Kimais wins the Barcelona Half Marathon in 1:04:37 (© Organisers)
Irine Jepchumba Kimais and Joyciline Jepkosgei both dipped under 65 minutes with two of the fastest women's half marathon performances of all time, while Charles Kipkurui Langat completed a Kenyan double at the Edreams Mitja Zurich Marato Barcelona, a World Athletics Gold Label road race, on Sunday (19).
Both relatively unheralded victors set course records, Langat winning the men's race in 58:53 and Kimais beating Jepkosgei, 1:04:37 to 1:04:46.
The women's event was billed as a thrilling encounter between Kenya's former world record-holder Jepkosgei and Ethiopia's world 1500m record-holder Genzebe Dibaba, with the common goal of breaking Florence Kiplagat's course record of 1:05:09, which was a world record when it was set in 2015, in their preparations for their next marathons in Boston and London, respectively.
The pacemaker set a steady 3:04/km tempo to lead a quintet featuring Kimais and Jepkosgei together with their Kenyan compatriots Catherine Relin and Gladys Chepkurui plus Dibaba, passing 5km in 15:19.
The rhythm remained brisk over the second 5km section and the leading group went through the 10km mark in 30:37, although Dibaba seemed to be in trouble and travelled some metres behind. Once the pacemaker stepped off, it was Kimais, a 1:06:03 specialist, who took charge of the race to leave Chepkurui and Dibaba behind by the 15km point. The trio reached that point in 45:58, but Relin also lost ground over the following kilometre and the race became a two-horse battle between Kimais and Jepkosgei.
Finally, Kimais' relentless pace paid off and she dropped Jepkosgei just before the 20km point. By then, Kimais had built a three-second margin on Jepkosgei and she extended her lead over the final kilometre to romp home in a massive career best and course record of 1:04:37. Jepkosgei was second in 1:04:46, a PB that improves her previous best of 1:04:51 that was a world record when she achieved it in Valencia in 2017. Those performances put Kimais and Jepkosgei eighth and ninth respectively on the world all-time list.
Relin and Chepkurui completed a Kenyan top four, clocking 1:05:39 and 1:05:46, respectively. Dibaba had to settle for fifth place, recording the same time as Chepkurui.
"When I was given the chance to compete in Barcelona I didn't hesitate, as I knew it was a very quick circuit," said Kimais. "For me, it's incredible to beat my compatriot Florence Kiplagat's course record, which has stood unbeaten for many years."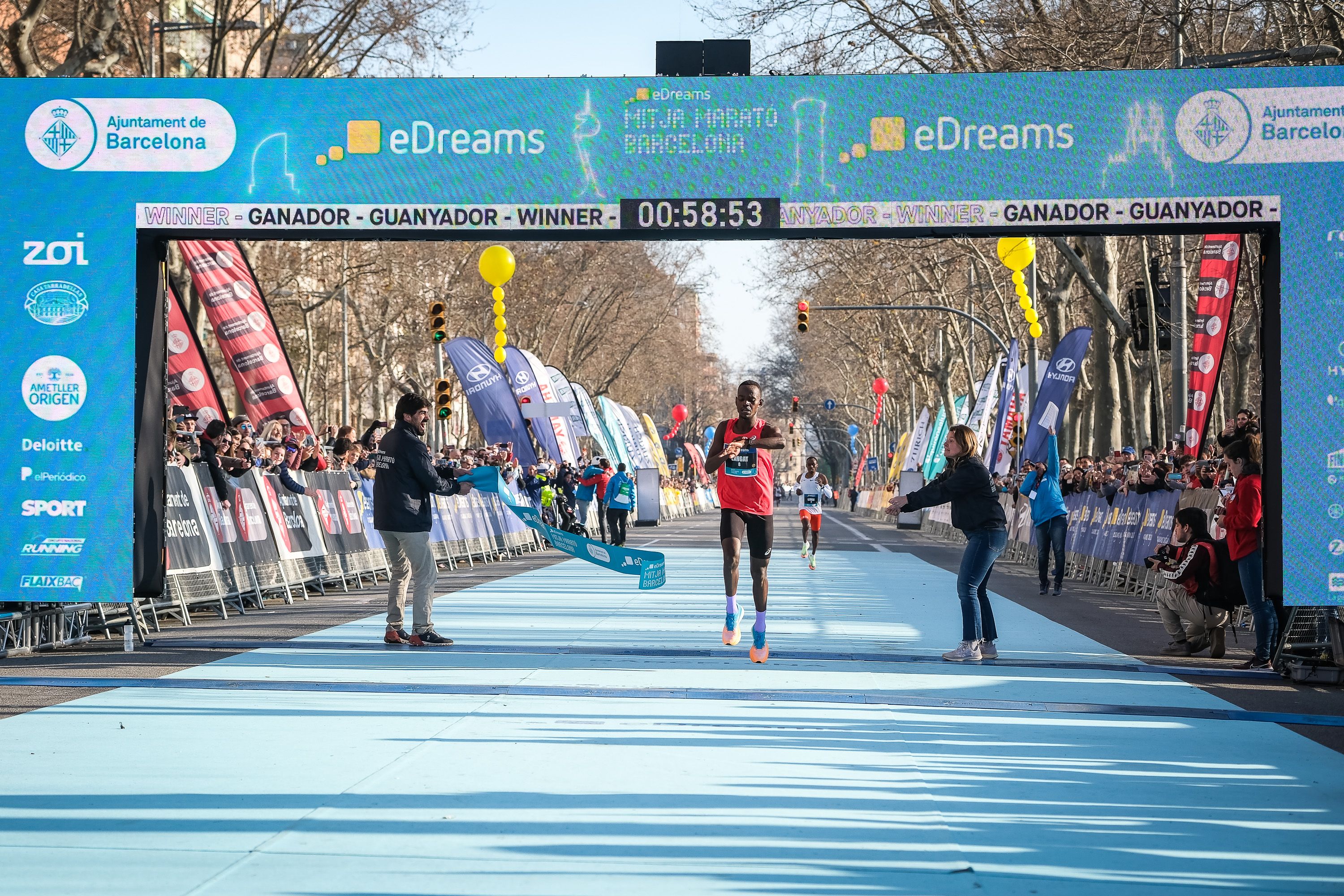 Charles Kipkurui Langat wins the Barcelona Half Marathon (© Organisers)
The men's event kicked off at a frantic rhythm as the opening kilometre was covered in 2:43. The pacemaker slowed his speed over the following kilometres and the still large 15-strong leading group reached the 5km checkpoint in 14:03 with all the main favourites in close attendance, Ethiopia's 2:02:48 marathon runner Birhanu Legese, his compatriot and defending champion Haftu Teklu and Olympic marathon silver medallist Abdi Nageeye of the Netherlands among them.
Surprisingly, Nageeye and then Teklu began to lose ground a short while later and the lead group had whittled down to five by the 10km point. Langat was joined by his Kenyan compatriots Solomon Kirwa Yego and Josphat Boit plus the Ethiopian pair of Legese and Gebrie Erikhun. That quartet timed 27:53 at that stage, right on schedule to break Teklu's course record of 59:06 set last year.
Once the pacemaker dropped out of the race around the 12th kilometre, the athletes at the helm took turns at pacing duty to keep the speed alive. That pace proved to be too fast for Boit and Erikhun, who began to falter some 37 minutes into the race before the lead trio went through the 15km mark in 41:51.
Another thrilling Kenya versus Ethiopia battle was on the cards, with Langat and Legese pushing hard and Yego tucked in behind. The latter lost contact before reaching 20km and the race became a fascinating clash between Langat and Legese.
Once inside the closing kilometre, the 26-year-old Langat unleashed a powerful change of speed to break away from his more illustrious rival. At the tape, the Kenyan clocked a course record of 58:53, bettering his lifetime best by almost two minutes, while Legese also dipped under the 59-minute barrier for the first time thanks to a 58:59 clocking.
Yego completed the podium in 59:29 and finishing behind Boit and Erikhun was Germany's European marathon champion Richard Ringer who ran 1:01:09 for sixth, one second ahead of Nageeye.
"It's my first time here," said Langat. "Honestly, I didn't expect to break my PB by that much and dipping under 59 minutes has been a nice surprise for me."
Emeterio Valiente for World Athletics

Leading results
Women
1 Irine Jepchumba Kimais (KEN) 1:04:37
2 Joyciline Jepkosgei (KEN) 1:04:46
3 Catherine Relin (KEN) 1:05:39
4 Gladys Chepkurui (KEN) 1:05:46
5 Genzebe Dibaba (ETH) 1:05:46
Men
1 Charles Kipkurui Langat (KEN) 58:53
2 Birhanu Legese (ETH) 58:59
3 Solomon Kirwa Yego (KEN) 59:29
4 Josphat Boit (KEN) 59:51
5 Gebrie Erikhun (ETH) 1:00:41
Obiri and Kibet win Ras Al Khaimah Half Marathon
Hellen Obiri and Benard Kibet Koech achieved a Kenyan double at the Ras Al Khaimah Half Marathon, a World Athletics Gold Label road race, on Saturday (18).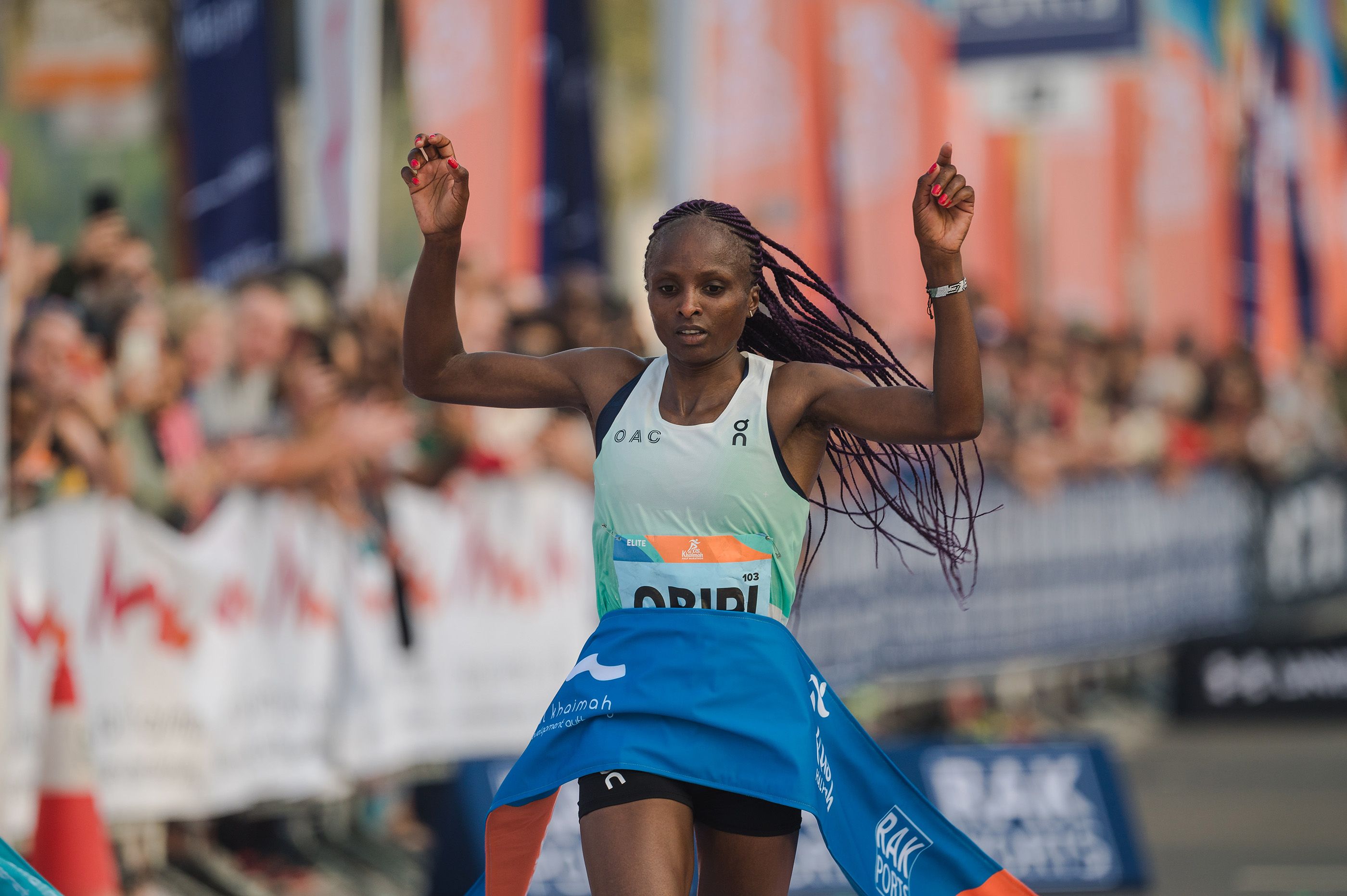 Hellen Obiri wins the Ras Al Khaimah Half Marathon (© Organisers)
Two-time world 5000m champion Obiri went one better than her runner-up spot in Ras Al Khaimah last year, clocking 1:05:05 to triumph by 44 seconds in the women's race ahead of Ethiopia's world marathon champion Gotytom Gebreslase.
The men's race was closer, but Kibet still claimed a clear win as he kicked away to beat his Kenyan compatriot Daniel Mateiko by four seconds - 58:45 to 58:49.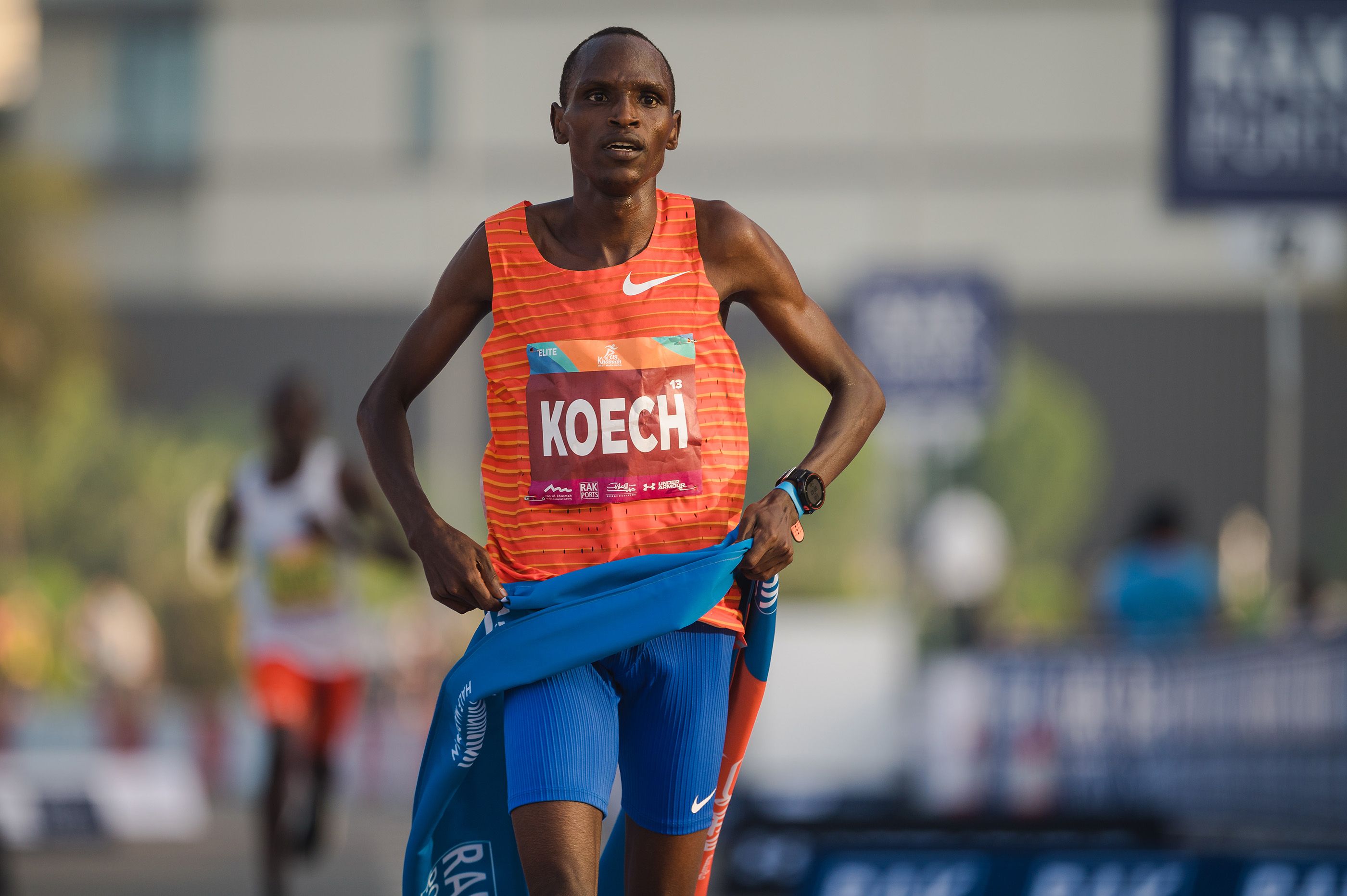 Benard Kibet Koech wins the Ras Al Khaimah Half Marathon (© Organisers)
Obiri and Gebreslase were part of a pack that passed through 5km in 15:10. By 10km they had broken away from their competition, clocking 30:28 at that point, just ahead of Kenya's Olympic marathon silver medallist Brigid Kosgei (30:31).
Obiri started to make a move and was 25 seconds ahead at 15km, following her pacemaker through that mark in 45:39. Her lead only grew and she eventually crossed the finish line 44 seconds clear, Gebreslase claiming the runner-up spot in 1:05:51.
Running a well-judged race, Ethiopia's Ftaw Zeray finished third in a PB of 1:06:04, half a minute ahead of Kosgei.
In the men's race, Kibet and Mateiko featured in the lead group that passed the 10km mark in 27:33. Breaking away along with their compatriot Richard Yator, the trio were together through 15km in 41:30 before Yator was dropped.
Kibet kicked and Mateiko couldn't match his rival's finishing strength, as Kibet took more than a minute off his PB with his winning performance.
Yator followed them over the finish line in 59:37, while Ethiopia's Gemechu Dida finished fourth in 59:53.
A record number of more than 5500 participants took part in the programme of events in Ras Al Khaimah, which also included a half marathon relay, 5km race and 1 mile events.
Leading results
Women
1 Hellen Obiri (KEN) 1:05:05
2 Gotytom Gebreslase (ETH) 1:05:51
3 Ftaw Zeray (ETH) 1:06:04
4 Brigid Kosgei (KEN) 1:06:34
Men
1 Benard Kibet Koech (KEN)
2 Daniel Mateiko (KEN)
3 Richard Yator (KEN)
4 Gemechu Dida (ETH) 59:53

Chelal and Shumie take the spoils in Seville
Kenya's Jackline Chelal and Ethiopia's Gadisa Shumie claimed victory at the Zurich Maraton de Sevilla, a World Athletics Elite Label road race, held on Sunday (19) over one of the flattest circuits in the world. Clocking 2:20:29 and 2:04:59, respectively, they both ran big PBs and the men's race featured good depth as six men dipped under 2:06:00.
Right from the start in the women's race, the trio of Chelal and Ethiopia's Ayana Mulisa and Urge Diro broke away from the rest of the field, their rivals unable to maintain the 3:15/km pace. The leaders went through the opening 5km in 16:15 and 10km in 32:39. The halfway point was reached in 1:09:11, well on schedule to duck under the 2:18:51 course record set last year.
At around the 24km mark, Diro, a 2:27:13 performer, began to falter, leaving Chelal (2:29:13) and Mulisa (2:28:02) fighting for the win.
However, the speed slowed significantly over the second half, putting the course record assault in jeopardy. It was around the 33th kilometre when 29-year-old Mulisa dropped her pace dramatically to lose any chance of winning, as Chelal was timed at 1:55:18 by the 30km point, 38 seconds clear of the fading Ethiopian whose runner-up spot was never at risk.
Despite averaging 3:30 for the final seven kilometres, Chelal increased her advantage on Mulisa throughout and crossed the finish line in 2:20:29, head and shoulders clear of Mulisa (2:21:54), while Diro completed the podium in 2:23:05. The top three all improved their career bests, as did Mexico's Citlali Cristian Moscote who finished fourth thanks to a 2:24:51 clocking.
Like a Swiss clock, Kenyan pacemaker Tarus Kiprono opened the men's race at a 2:57/km rhythm, a large pack going through the 5km and 10km chekpoints in 14:47 and 29:28, respectively. That group included France's Nicolas Navarro and Ethiopians Shumie, Kabede Wami and the 2020 victor in 2:04:46 Mekuant Ayenew, plus Israel's Gashau Ayale and Kenyans Bethwel Kibet and Enock Onchari, among others. The midway mark was reached in 1:02:32, 10 seconds outside schedule for the 2:04:43 record set last year.
The leading group began to lose athletes progressively over the second half and by the time the pacemaker dropped out some 30km into the race only four men remained in the pack: Shumie, Wami, Ayenew and Onchari. Shumie, whose lifetime best was 2:09:25, pushed hard with kilometre splits always in the 2:56-2:58 range and first Ayenew, then Onchari and finally Wami with the clock reading 1:51 just could not follow the brisk speed. They had to settle for fighting for the minor places on the podium.
The unopposed Shumie tried to accelerate over the closing two kilometres to break the course record and while the 30-year-old was unsuccessful, he still managed a performance just under 2:05 to cross the finish line 20 seconds clear of Wami and 25 seconds ahead of Ayenew, who completed a sweep of the podium places for Ethiopia.
Navarro came eighth in a career best of 2:06:45, while Peru's Christian Pacheco and Bolivia's Hector Garibay managed to break their own national records thanks to respective times of 2:07:38 and 2:07:44.
Emeterio Valiente for World Athletics
Leading results
Women
1 Jackline Chelal (KEN) 2:20:29
2 Ayana Mulisa (ETH) 2:21:54
3 Urge Diro (ETH) 2:23:05
4 Citlali Cristian Moscote (MEX) 2:24:53
5 Deborah Schoneborn (GER) 2:25:52
Men
1 Gadisa Shumie (ETH) 2:04:59
2 Kabede Wami (ETH) 2:05:19
3 Mekuant Ayenew (ETH) 2:05:24
4 Gashau Ayale (ISR) 2:05:33
5 Bethwel Kibet (KEN) 2:05:42