Cybrian Kotut wins the Asics Firenze Marathon (© Organisers)
Kenya's Cybrian Kotut and Ethiopia's Tsehay Alemu Maru took the honours at the 37th edition of the Asics Firenze Marathon, a World Athletics Label road race, on Sunday (28).
Kotut crossed the finish line in 2:08:59, recording the second fastest time in the history of the Florence Marathon. The 29-year-old missed James Kutto's course record by 17 seconds. Samuel Lomoi from Kenya finished second, improving his PB from 2:12:14 to 2:09:54. Olivier Irabaruta from Burundi completed the podium, taking third place in 2:10:13 ahead of former Eritrean record-holder Oqbe Kibrom Ruesom.
The leading pack – featuring Kotut, Salomon Soy, Lomoi, Irabaruta and Ruesom – set off at a conservative pace in the early stages of the men's race and went through 10km in 31:16, 15km in 46:27 and 21km in 1:05:09.
The race really started at 30km, when three runners – Lomoi, Kotut and Kibrom – remained in contention. The leading trio reached the 30km mark in 1:31:48.
Lomoi and Kotut made the decisive move at 35km and ran neck and neck until 40km. Kotut launched his final sprint with 2km to go to win by 55 seconds over Lomoi.
Kotut won the Paris Marathon in 2016 in 2:07:11 and finished third in Frankfurt in 2:07:28 in the same year. He also set a half-marathon PB of 59:12 in New Dehli in 2012.
In the women's race, Maru set the fourth fastest time in the history of the women's event in Florence with 2:27:17, beating her compatriot Megertu Ifa Geletu by four seconds. Kenya's Mercy Kwambai finished third in 2:27:32 ahead of Morocco's Souad Kabouchia (2:27:49).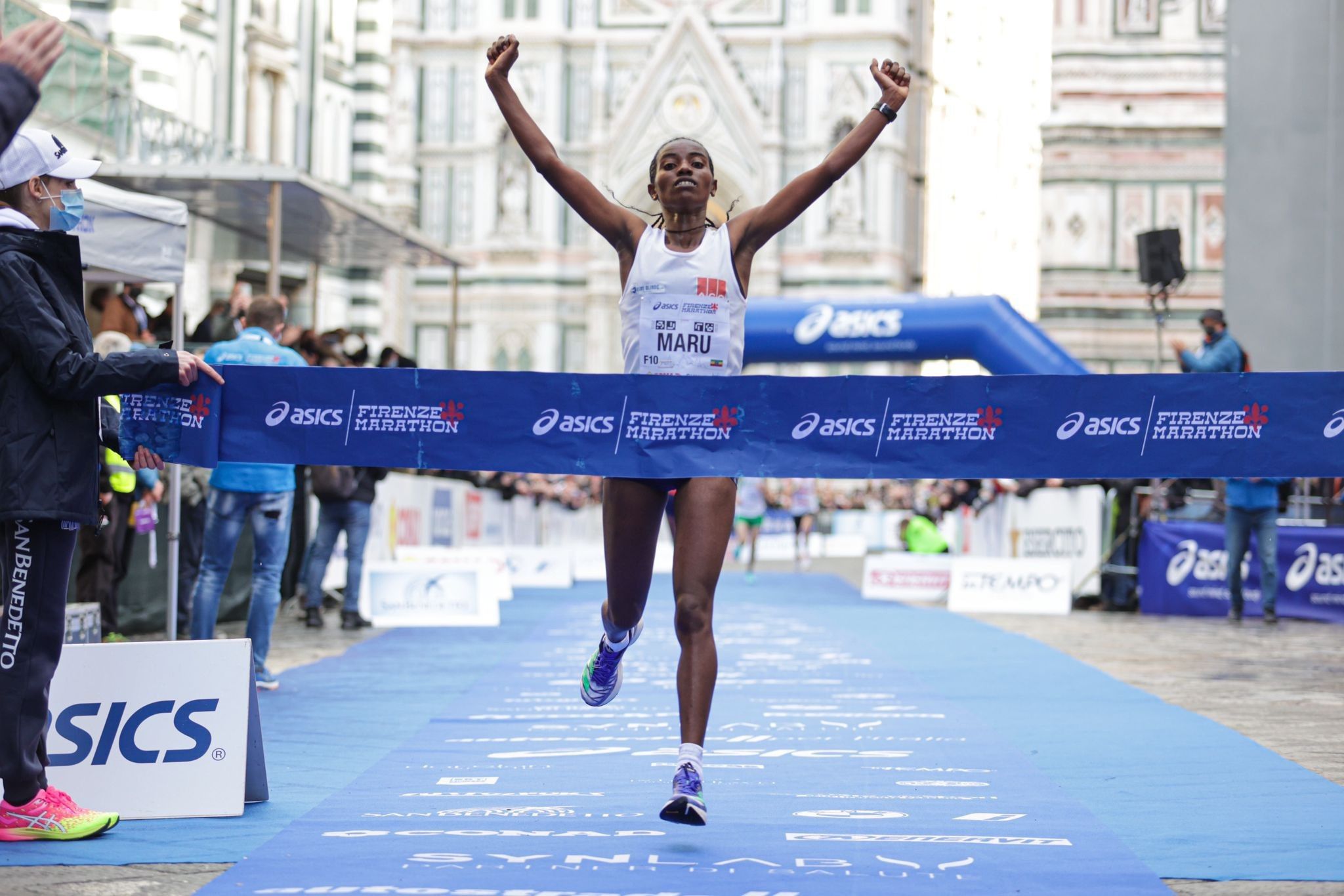 Six runners were still in contention until 35km: Naomi Tuei, Maru, Flomena Cheyech Daniel, Kwambai, Geletu and Obse Abdeta Deme. They went through 15km in 51:53, 21km in 1:13:14, 30km in 1:44:42 and 35km in 2:02:41, with four runners left in the leading group at 40km.
Maru and Geletu ran together over the final 2km in a close race, while Deme and Tuei dropped back. Alemu unleashed her kick in the final kilometre to win in 2:27:17, as four women dipped under 2:28 for the first time at the Florence Marathon. Geletu with 2:27:21 and Kwamboi with 2:27:32 joined Maru in setting personal best times.
Diego Sampaolo for World Athletics


Leading results
Women
1 Tsehay Alemu Maru (ETH) 2:27:17
2 Megertu Ifa Geletu (ETH) 2:27:21
3 Mercy Kwambau (KEN) 2:27:32
4 Souad Kabouchia (MAR) 2:27:49
5 Obse Abdeta Deme (ETH) 2:28:21
Men
1 Cybrian Kotut (KEN) 2:08:59
2 Samuel Lomoi (KEN) 2:09:54
3 Olivier Irabaruta (BDI) 2:10:13
4 Oqbe Kibrom Ruesom (Eritrea) 2:11:49
5 Salomon Soy (KEN) 2:15:42