Kelvin Kiptum and Sifan Hassan win the London Marathon (© TCS London Marathon)
Kenya's Kelvin Kiptum used incredible closing speed to become the second-fastest marathon runner of all time, breaking the course record with 2:01:25, while Dutch star Sifan Hassan used a superb sprint finish to hold off more experienced rivals and win on her debut at the TCS London Marathon, a World Athletics Platinum Label road race, on Sunday (23).
On a rainy morning in the UK capital, Kiptum stormed a 59:45 second half to win the men's race by almost three minutes ahead of his compatriot Geoffrey Kamworor (2:04:23), with Ethiopia's Tamirat Tola finishing third in 2:04:23. Only Eliud Kipchoge, with his world record of 2:01:09 set at the Berlin Marathon last September, has ever gone quicker than Kiptum's winning time.
Hassan, meanwhile, overcame a series of setbacks to win the women's race in 2:18:33. Contesting the first marathon of her already hugely successful career, the multiple track gold medallist beat Ethiopia's Alemu Megertu by four seconds (2:18:37), while Kenya's Olympic champion Peres Jepchirchir finished a further second back (2:18:38) in third.
Kiptum in control
Kiptum made his crucial move 30km into the men's race, blazing a 5km split of 13:49 between 30km and 35km, plus a 4:23 24th mile, to leave his rivals trailing in his wake.
The 23-year-old recorded the fastest marathon debut in history in Valencia in December, winning in 2:01:53 to enter the world all-time list at No.3 behind Kipchoge and Ethiopia's Kenenisa Bekele, who ran 2:01:41 in Berlin in 2019.
But in London, despite passing half way in 1:01:40, Kiptum went on to improve his marathon time by 28 seconds, taking more than a minute off the course record of 2:02:37 that had been set by Kipchoge in 2019.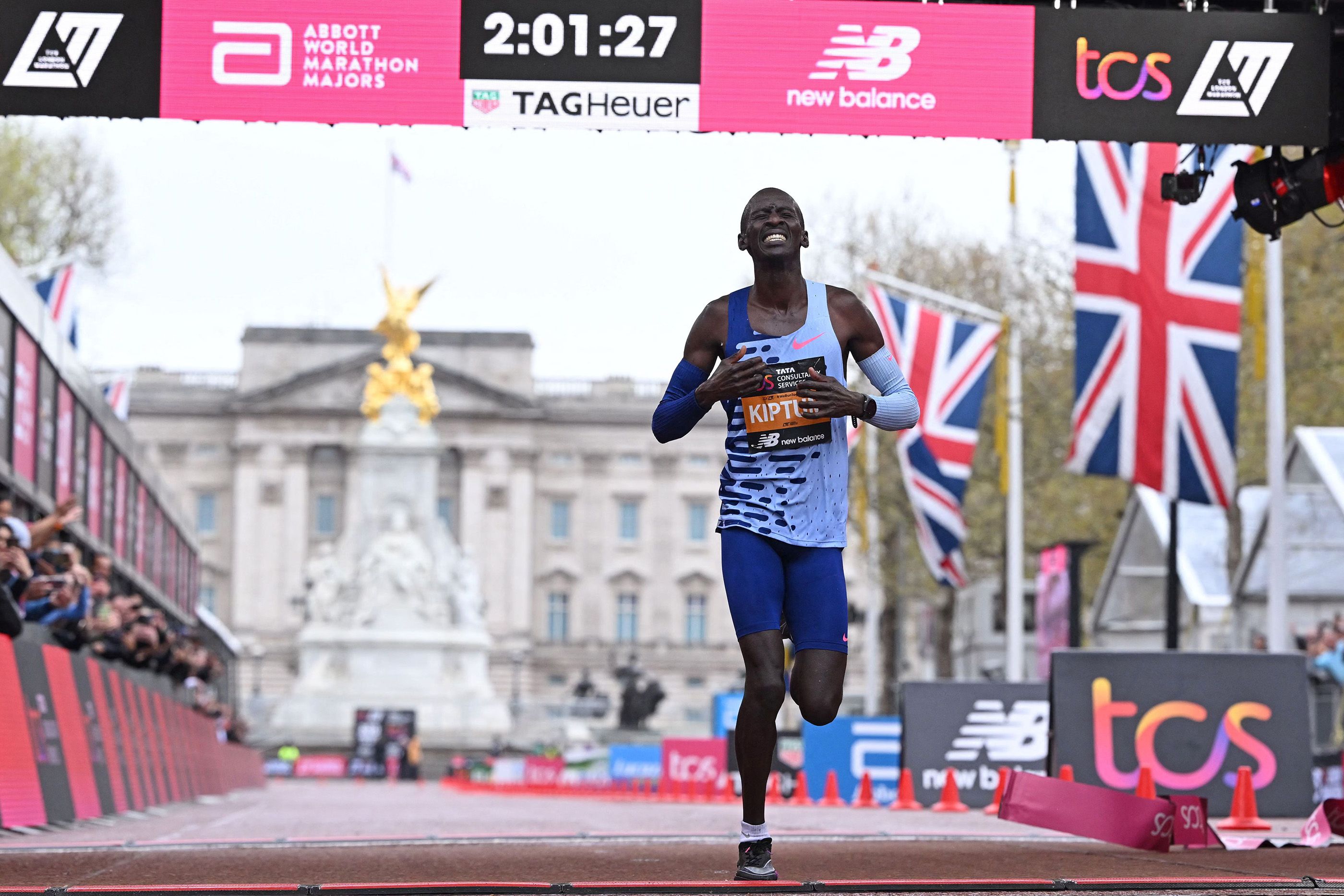 Kelvin Kiptum reacts after winning the London Marathon in 2:01:25 (© AFP / Getty Images)
"I don't know what to say. I'm so grateful," said Kiptum, who explained that despite coming so close to the world record, it hadn't initially been his aim.
"My plan was to run maybe 2:03 or 2:02, but I was not thinking about the world record. I was just focused on running a good time," he added. "I'll go back home, have a little rest and talk with my team. Maybe then we will think of the world record."
Kiptum had put himself right behind the three lead pacemakers in the early stages of the race, running alongside Kenya's defending champion Amos Kipruto and Ethiopia's two-time Tokyo Marathon winner Birhanu Legese as the first slightly downhill 5km of the course was covered in 14:30. Joining them in the lead pack were Bekele, world champion Tola, two-time New York Marathon winner Kamworor, Ethiopia's former Chicago Marathon winner Seifu Tura, Kinde Atanaw and Leul Gebresilase, runner-up in London last year.
The nine-strong lead group reached 10km in 29:12 and 15km in 43:51, a split that pointed to a finish time outside 2:03.
But Kiptum had other ideas. He was still to the fore as 20km was reached in 58:31 and he followed the pacemakers through half way in 1:01:40, part of a pack of eight. Bekele had been dropped, and did not finish the race.
Kiptum and Kipruto looked in control as they led through 25km in 1:12:53 and by 30km, Kiptum seemed ready to make his move. The pace was picking up and 30km was reached in 1:27:23 as Kiptum started to string out the field.
Despite missing his drink at the next water station and running with Kamworor right behind him, Kiptum showed little concern and unleashed a kick that proved impossible for his rivals to match. He ran a 4:33 19th mile, then the quickest of the race, to break away, and followed that with a 4:23 20th mile to put himself on course record schedule.
After that 13:49 5km split, Kiptum reached 35km in 1:41:12, 28 seconds ahead of Kamworor. Although the leader kept glancing over his shoulder, there was no threat. Miles of 4:31 and 4:32 followed before a 4:23 24th mile took him to 40km in 1:55:13, almost two minutes clear of his rivals.
With the finish line in sight, Kiptum gritted his teeth and came within 16 seconds of the world record. Kamworor was second in 2:04:23, Tola third in 2:04:23 and Gebresilase fourth in 2:05:45.
Tura finished fifth in 2:06:38, while Emile Cairess was the first British finisher, clocking 2:08:07 on his marathon debut. Australia's Oceanian record-holder Brett Robinson clocked 2:10:19 for seventh place, ahead of Phil Sesemann (2:10:23) and Mo Farah (2:10:28), racing his final elite marathon.
Hassan runs thrilling debut
Netherlands' Hassan added to her legend by winning the women's race – a major marathon victory to go on a CV that already includes world 1500m and 10,000m gold medals, Olympic 5000m and 10,000m titles, a world mile record and multiple European records – from 1500m to the half marathon.
Before the race the 30-year-old had spoken of her nerves. "To be honest, I am scared of the marathon," she said. "I don't know whether I will finish or not, but I'm also very curious."
It was that curiosity that helped to carry her to the finish.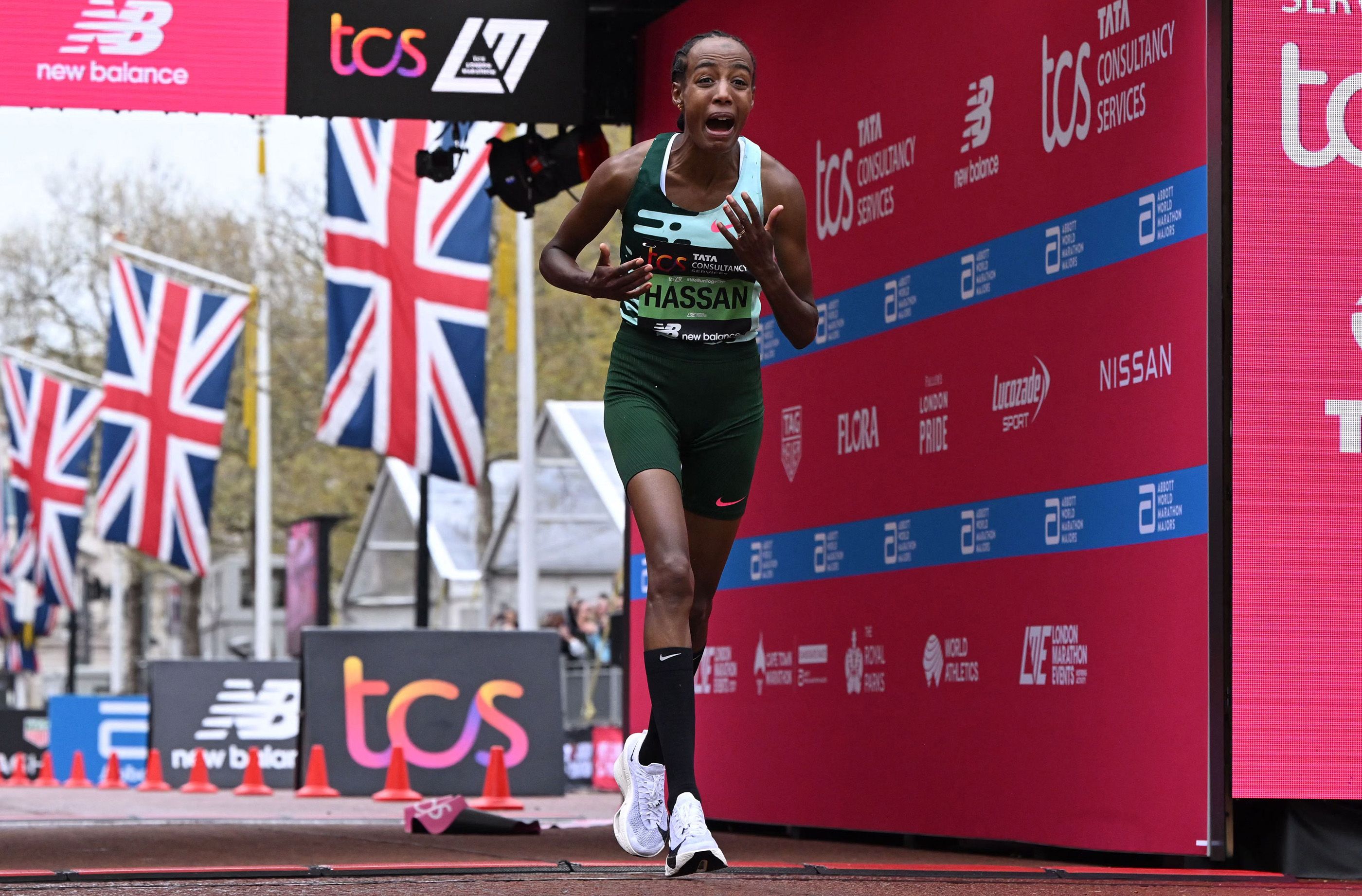 A delighted Sifan Hassan claims victory on her marathon debut in London (© AFP / Getty Images)
Despite forming part of one of the strongest ever fields – one featuring the Olympic champion, world record-holder, defending champion and a total of six women with sub-2:18 PBs – Hassan ran her own race and beat them all.
World record-holder Brigid Kosgei explained in the pre-event press conference how hamstring and knee issues had affected her build up and although she took to the start line, she dropped out few minutes into the race.
Jepchirchir, Ethiopia's world 1500m record-holder Genzebe Dibaba and Kenya's world silver medallist Judith Jeptum Korir moved straight up behind the four pacemakers, with defending champion Yalemzerf Yehualaw of Ethiopia happy to sit towards the back of the 10-strong leading pack and Hassan settling herself to the side of the group. That pack clocked 16:13 for the first 5km, inside the pace needed to target the women-only world record of 2:17:01 set by Mary Keitany in London in 2017.
Yehualaw then moved up on the heels of the pacemakers, alongside Jepchirchir and Dibaba, as 10km was reached in 32:37 and 15km passed in 48:43.
Hassan looked in some discomfort after an hour of running and she stopped to stretch a couple of times. The leaders continued to push on, maintaining 2:17 pace as they passed 20km in 1:04:58 (2:17:03), with Hassan 12 seconds back.
The front group reached halfway on women-only world record schedule, as Jepchirchir and Korir followed the pacemaker through that point in 1:08:29, with Dibaba and Sheila Chepkirui still up there with them.
As the rain continued to fall, the leaders continued to pick up the pace, passing 25km in 1:20:52.
But some 28 seconds behind them, Hassan – running alone – was closing the gap. As she passed Almaz Ayana, the Tokyo Olympic 5000m and 10,000m champion had the leaders in her sights. Splashing through the puddles, Jepchirchir and Yehualaw led the way and hit 30km in 1:37:20.
The race was on and a breakaway quartet formed, Jepchirchir and Chepkirui followed closely by Yehualaw and Megertu. Behind them, Hassan passed Korir, the eventual winner looking more comfortable and determined, fast in pursuit of the leaders.
Hassan was 14 seconds behind as Jepchirchir took the leaders through 35km in 1:53:40, but as the tempo dropped slightly, Hassan chased them down, rejoining the front group two hours into the race. As they entered the final few miles, Hassan almost missed the drink station but surged across the road to grab her bottle when she noticed her fellow competitors doing the same.
The pace dipped and it seemed to be a case of who was saving their kick. Megertu and Jepchirchir were side-by-side but Hassan was right on their heels, ready to put some of that track speed into action.
As the trio took the final turn into the home straight, Hassan was ready to pounce. With a look of disbelief on her face, she stormed past Megertu and Jepchirchir and across the finish line, winning by four seconds in 2:18:33.
Megertu held off Jepchirchir to finish one spot higher than in 2022, clocking 2:18:37 for the runner-up place, as Jepchirchir ran 2:18:38 for third.
Chepkirui was fourth in 2:18:51, Yehualaw fifth in 2:18:53 and Korir sixth in 2:20:41.
"It's amazing," said Hassan. "I never thought I would finish a marathon. Here I am, at one of my favourite marathons to watch. I finished it, and I won."
Rather than running to win, her aim had been to use the race to learn the event.
"I learned to be patient, and to run your own race," said Hassan, who will revert her attention to the track as she works towards the World Athletics Championships Budapest 23 in August. "Just keep going as much as possible and perhaps you will surprise yourself."
Hassan may now try to emulate Czech great Emil Zatopek by entering the 5000m, 10,000m and marathon at the 2024 Paris Olympics.
Hassan's coach, Tim Rowberry, told Dutch newspaper Algemeen Dagblad that she started talking about Zatopek's 1952 triple Olympic triumph after Sunday's race.
When asked whether she would now be focusing exclusively on the road, Hassan said: "I can't do that. I really enjoyed the marathon, I even enjoyed the journey, the leg and stretching things.
"I want to do marathons but I really want to stay on the track also. I love the track, this doesn't change that.
"I am someone who wants everything and wants to be everywhere."
Jess Whittington for World Athletics
Leading results
Women
1 Sifan Hassan (NED) 2:18:33
2 Alemu Megertu (ETH) 2:18:37
3 Peres Jepchirchir (KEN) 2:18:38
4 Sheila Chepkirui (KEN) 2:18:51
5 Yalemzerf Yehualaw (ETH) 2:18:53
6 Judith Jeptum Korir (KEN) 2:20:41
7 Almaz Ayana (ETH) 2:20:44
8 Tadu Teshome (ETH) 2:21:31
Men
1 Kelvin Kiptum (KEN) 2:01:25
2 Geoffrey Kamworor (KEN) 2:04:23
3 Tamirat Tola (ETH) 2:04:59
4 Leul Gebresilase (ETH) 2:05:45
5 Seifu Tura (ETH) 2:06:38
6 Emile Cairess (GBR) 2:08:07
7 Brett Robinson (AUS) 2:10:19
8 Phil Sesemann (GBR) 2:10:23