Ejgayehu Taye wins in Barcelona (© Xavi Ballart)
Ejgayehu Taye came within two seconds of the world 5km record she set two years ago at the Cursa dels Nassos, while Adisu Girma made it an Ethiopian double at the World Athletics Label road event in Barcelona on Saturday (31).
Paced by Latvia's Dmitrijs Serjogins, 22-year-old Ethiopian Taye went through the opening kilometre in a swift 2:49, well on schedule to challenge her own world record of 14:19 she set exactly one year ago at the same venue. By then, Taye had Germany's Konstanze Klosterhalfen for company as the newly-minted European cross country silver medallist was aiming to break the European record of 14:44.
Taye, the world indoor 3000m bronze medallist, maintained her pace over the second kilometre which was reached in 5:39 and shortly afterwards that cadence proved to be too fast for Klosterhalfen who began to lose ground. Running always at the pacemaker's shoulder, Taye was timed at 7:04 at halfway, well inside the world record pace, and 8:33 at 3km while Klosterhalfen was 10 seconds in arrears by then. Surprisingly, Norway's European cross-country champion Karoline Grovdal was never a factor and passed 3km a further eight seconds behind Klosterhalfen.
Taye, who was fifth over 5000m at the Olympic Games, slowed slightly during the fourth kilometre to clock 11:29 at 4km and then desperately tried to find another gear in the final kilometre to revise her own world record. She crossed the line in 14:21, the second-fastest 5km performance in history and just two seconds off her world record.
Klosterhalfen was a distant second, 31 seconds adrift in 14:52, eight seconds outside the European record but gaining revenge on third placed Groval, timed at 15:06.
"Maybe I went off too fast and I finally could not maintain the required pace to break the record but anyway I'm satisfied as it's a great performance," said Taye, who has a 5000m track PB of 14:12.98 and who finished sixth over 10,000m at the World Championships in Oregon. "I'll run next in the Valencia 10K in a couple of weeks' time."
World 5000m champion Jakob Ingebrigtsen had been due to compete in the men's race in what would have been his first race on Spanish soil, but the Olympic 1500m champion was forced to withdraw on the eve of the race due to illness.
In his absence, attention turned to Ethiopia's Adisu Girma, a 3:35.81 1500m specialist, Spain's Abdessamad Oukhelfen, a creditable 10th at the recent European Cross Country Championships, Switzerland's Jonas Raess, and Spain's 2016 European 5000m champion Ilias Fifa.
The leading group covered the opening two kilometres at 2:40/km pace, but the cadence decreased over the following couple of kilometres and the lead quartet reached 4km in 10:50. Fifa was the first to launch a serious finishing kick some 800 metres from home, but 23-year-old Ethiopian Girma responded with a devastating burst of speed to break away from the Spaniard with ease and cross the finish line in 13:25 to Fifa's 13:30 and Raess's 13:31.
Emeterio Valiente for World Athletics
Leading results
Women
1 Ejgayehu Taye (ETH) 14:21
2 Konstanze Klosterhalfen (GER) 14:52
3 Karoline Grovdal (NOR) 15:06
4 Miriam Chebet (KEN) 15:36
5 Agate Caune (LAT) 15:44
Men
1 Adisu Girma (ETH) 13:25
2 Ilias Fifa (ESP) 13:30
3 Jonas Raess (SWI) 13:31
4 Andessadam Oukhelfen (ESP) 13:37
5 Mohamed Al Garni (QAT) 13:41


---
Cheptegei and Chesang reign in Madrid
Two-time world 10,000m champion Joshua Cheptegei and Ugandan compatriot Prisca Chesang were victorious at the San Silvestre Vallecana, a World Athletics Elite Label road race, in ideal conditions in Madrid on Saturday (31).
The men's 10km race had been billed as a thrilling encounter between world 10,000m record-holder Cheptegei and Spain's world 1500m bronze medallist Mohamed Katir. The Ugandan star, who hadn't competed since the World Championships in Oregon, took command of the pacing duties right from the start and his swift early pace could only be followed by Katir, his compatriot Jesús Ramos and Italy's Ilias Aouani.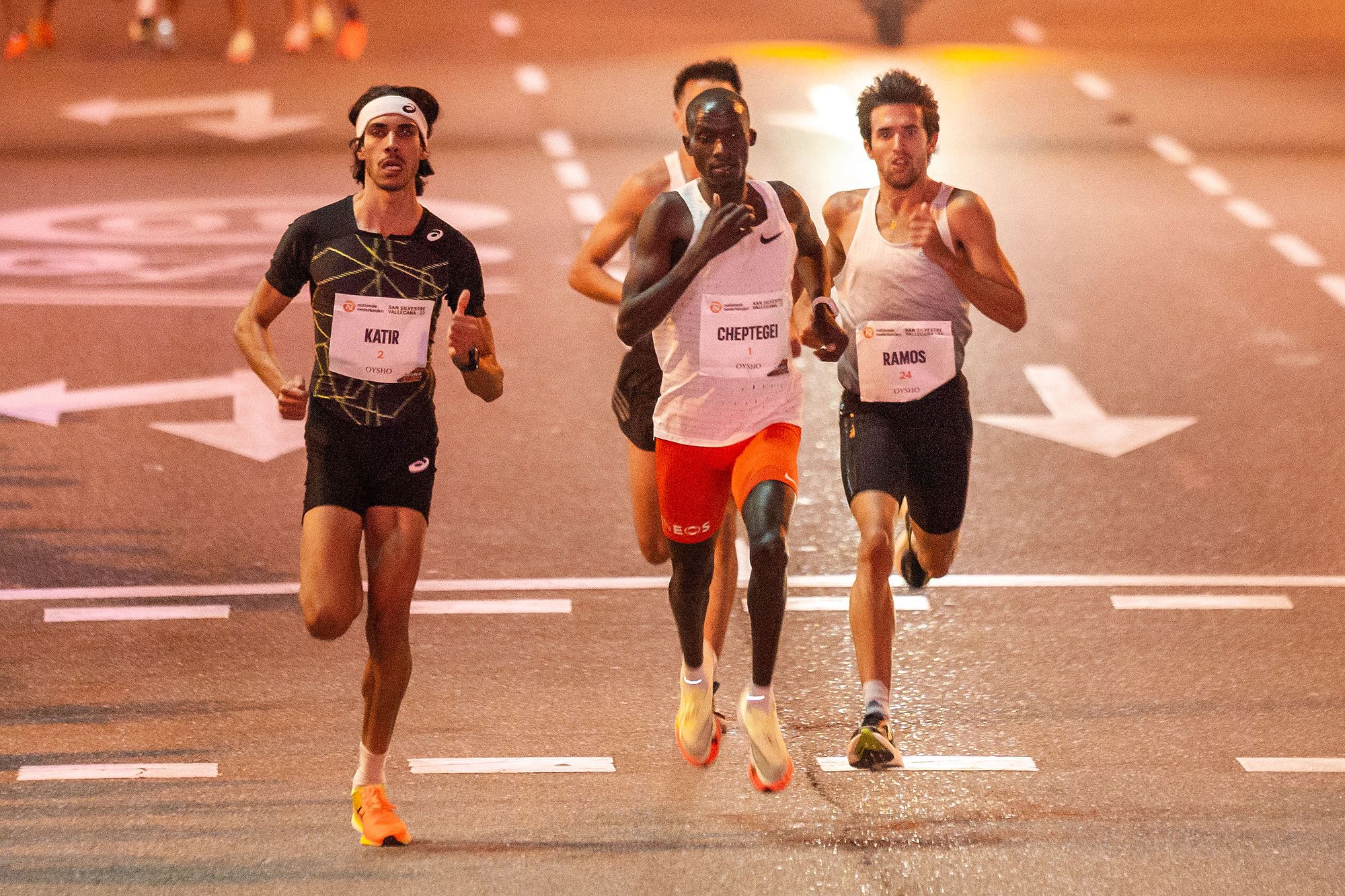 Joshua Cheptegei on his way to winning the San Silvestre Vallecana (© Organisers)
The first kilometre, which includes an uphill section of about 350 metres, was covered by the lead quartet in 2:41. The speed then increased over the second kilometre, covered in 2:36 for a 5:17 2km split, with Cheptegei always at the helm. During the third kilometre the two Spaniards briefly took the lead to reach 3km in 8:00, a pace which proved too fast for Aouani.
Over the following kilometres, Katir and Cheptegei ran absolutely even, none of them ahead of the other and the tandem went through halfway in a brisk 13:16, still with Ramos for company. Ramos began to fade about 200 metres later and the race became a fascinating clash between Cheptegei and Katir.
The Ugandan, who holds the second ever quickest 10km performance of all time (26:38), tried to get rid of Katir after reaching 7km in 18:35, but the 24-year-old Spaniard remained in close attendance. The key move came with the clock reading 20:45, shortly before the 8km checkpoint, when Cheptegei finally managed to open up a gap of a few seconds over the Spaniard.
The Kapchorwa native progressively extended his lead over the ninth kilometre – the toughest of the race – and then cruised home in 27:09, the fifth quickest performance in Madrid, to finish 10 seconds ahead of Katir while Ramos managed to keep his chasing Spaniards at bay to finish third in 27:52.
"I knew Katir was going to be a tough rival since he has improved a lot over the last few seasons," said Cheptegei. "Today's race was my first competition in more than five months so my only target was to regain sensations. Of course I also wanted to win so I'm leaving Madrid delighted."
Chepetegi confirmed that he plans to defend his world cross-country title in Bathurst on 18 February and that he'll likely make his marathon debut after the Paris 2024 Olympic Games.
Following the last-minute withdrawal of pre-race favourite Tsehay Gemechu, the early stages of the women's race became a three-way battle between world U20 5000m bronze medallist Prisca Chesang, Burundi's Francine Niyonsaba and Kenya's world steeplechase record-holder Beatrice Chepkoech. That trio covered the opening kilometres at 2:56/km pace, reaching 3km in 8:44, then the Ugandan teenager broke away from her rivals. By midway (14:29) she was six seconds ahead of Chepkoech, herself another 11 seconds clear of Niyonsaba.
The leader maintained her rhythm over the following kilometres but her pursuers' pace decreased. With a quarter of the race to go, Chesang's advantage on Chepkoech had grown to 18 seconds.
At the tape, Chesang was timed at 30:19, the third quickest performance here, bettered only by Brigid Kosgei (29:54) and Hellen Obiri (29:59) in 2018. Further back, Niyonsaba overtook a fading Chepkpech on the last uphill section to take the runner-up place in 30:58 to Chepkoech's 31:06.
Emeterio Valiente for World Athletics
Leading results
Men
1 Joshua Cheptegei (UGA) 27:09
2 Mohamed Katir (ESP) 27:19
3 Jesús Ramos (ESP) 27:52
4 Sergio Paniagua (ESP) 28:00
5 Aaron Las Heras (ESP) 28:04
6 Carlos Mayo (ESP) 28:04
7 Ignacio Fontes (ESP) 28:06
8 Carlos Díaz (ESP) 28:08
9 Nassim Hassaous (ESP) 28:13
10 Juan Anronio Pérez (ESP) 28:18
Women
1 Prisca Chesang (UGA) 30:19
2 Francine Niyonsaba (BDI) 30:58
3 Beatrice Chepkoech (KEN) 31:06
4 Mahelet Mulugeta (ETH) 31:57
5 Naima Ait Alibou (ESP) 32:36
6 Laura Priego (ESP) 32:49
7 Nina Chydenius (FIN) 32:51
8 Laura Luengo (ESP) 32:53
9 Laura Méndez (ESP) 33:06
10 Clara Viñarás (ESP) 33:54


---
Chelimo and Seyaum end year with wins in Bolzano
Uganda's Oscar Chelimo and Ethiopia's Dawit Seyaum became two-time winners of the Boclassic, a World Athletics Label road race, in Bolzano, Italy, on Saturday (31).
In the men's 10km, a six-strong leading group featuring South Africa's Maxime Chaumeton, Uganda's Martin Kiprotich, Kenya's London Marathon winner Amos Kipruto, European 10,000m champion Yemaneberhan Crippa and Pietro Riva of Italy, and Chelimo was formed in the early stages. Racing on a 1.25km loop course, they went through the second lap mark in 6:56 and the third lap in 10:29. Chaumeton set the pace for most of the race and led at halfway, closely followed by Kiprotich, Kipruto, Crippa, Riva and Chelimo.
Kipruto was the first to lose ground during the fifth of the eight laps and the rest of the group remained together until the bell. Chelimo broke away from Crippa over the final lap to cross the finish line in 28:14, holding off Crippa by three seconds.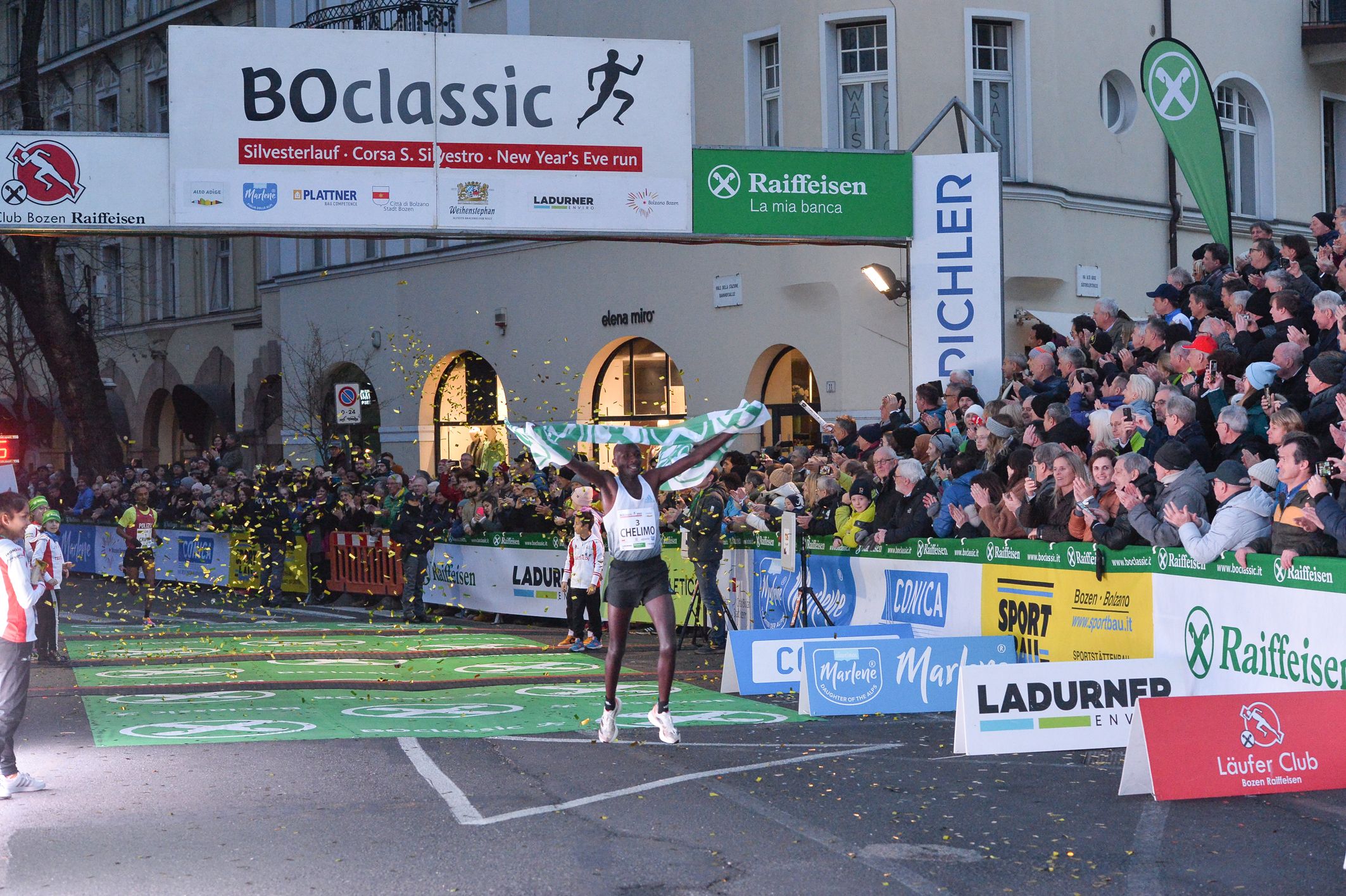 Oscar Chelimo takes the 2022 BOclassic in Bolzano (© Mosna)
Chelimo claimed Boclassic victory for the second time in his career, following his triumph in 2020 when he won the 5km at the Safety Park in Vadena. He crowned a successful season that was highlighted by the world 5000m bronze medal he claimed in Oregon.
"I decided to wait until the last lap and I knew that I could rely on my kick," said Chelimo, who will next race at the Campaccio cross country on 6 January. "I am happy that I could finish the year on a high note with my second win at the Boclassic. I thank the crowd for the support along the course."
Crippa took second place in 28:17, achieving the best result of his career in Bolzano after finishing fourth in 2017 and 2020.
"I ended a special year very well," he said. "We started too fast, but we had no other choice. In the final lap I hoped to take the win, but Chelimo was stronger than me."
Chaumeton crossed the finish line in third place in 28:19 ahead of Kiprotich (28:21) and Riva (28:23). Kipruto was sixth, three years after his third-place finish.
The women's 5km was won by world 5000m bronze medallist Seyaum for the second consecutive year. The Ethiopian crossed the finish line in 15:33 to triumph by eight seconds.
European 3000m steeplechase champion Luiza Gega from Albania was second in 15:41, edging two-time Boclassic winner and world 10,000m bronze medallist Margaret Chelimo Kipkemboi by three seconds.
A six-woman leading group of Gega, Seyaum, Kipkemboi, Croatia's European marathon silver medallist Matea Kostro Parlov and Italy's Anna Arnaudo and Federica Del Buono went through the first of the four laps in 4:03. European cross country mixed relay gold medallist Del Buono was the first athlete to lose touch, as Seyaum pushed the pace during the second lap.
Seyaum, Kipkemboi and Gega pulled away from Parlov during the third lap before Seyaum launched her kick on the final lap to take the win.
Gega overhauled Kipkemboi in a sprint for second place to become the first Albanian athlete to reach the top three in Bolzano.
Diego Sampaolo for World Athletics
Leading results
Women (5km)
1 Dawit Seyaum (ETH) 15:33
2 Luiza Gega (ALB) 15:41
3 Margaret Chelimo Kipkemboi (KEN) 15:44
4 Matea Parlov Kostro (CRO) 16:04
5 Anna Arnaudo (ITA) 16:05
Men (10km)
1 Oscar Chelimo (UGA) 28:14
2 Yemaneberhan Crippa (ITA) 28:17
3 Maxime Chaumeton (RSA) 28:19
4 Martin Kiprotich (UGA) 28:21
5 Pietro Riva (ITA) 28:23