Sabastian Sawe pips Rodrigue Kwizera to the men's title at the TCS World 10K Bengaluru (© Procam International)
In what will go down as a classic in Indian road running history, Kenya's Sabastian Sawe took the men's title and Ethiopia's Tsehay Gemechu the women's crown at the 15th edition of the TCS World 10K Bengaluru, a World Athletics Gold Label road race, on Sunday (21).
Sawe, who moved to fifth on the world 10km all-time list with his PB of 26:49 in Herzogenaurach last month, ran a superbly-paced race to win in a close contest and Gemechu was equally impressive in the way she kicked on at the end. Sawe's winning time was 27:58, while Gemechu ran 31:38.
It was an Ethiopian top three in the women's race, with Fotyen Tesfay finishing four seconds behind Gemechu and the experienced Dera Dida only seven seconds shy of the winner.
It all came down to the final kilometre after the trio ran together, but a strong finish by Gemechu secured this year's Tokyo Marathon runner-up the 10km crown.
In her previous visit to Bengaluru in 2019, Gemechu had finished sixth.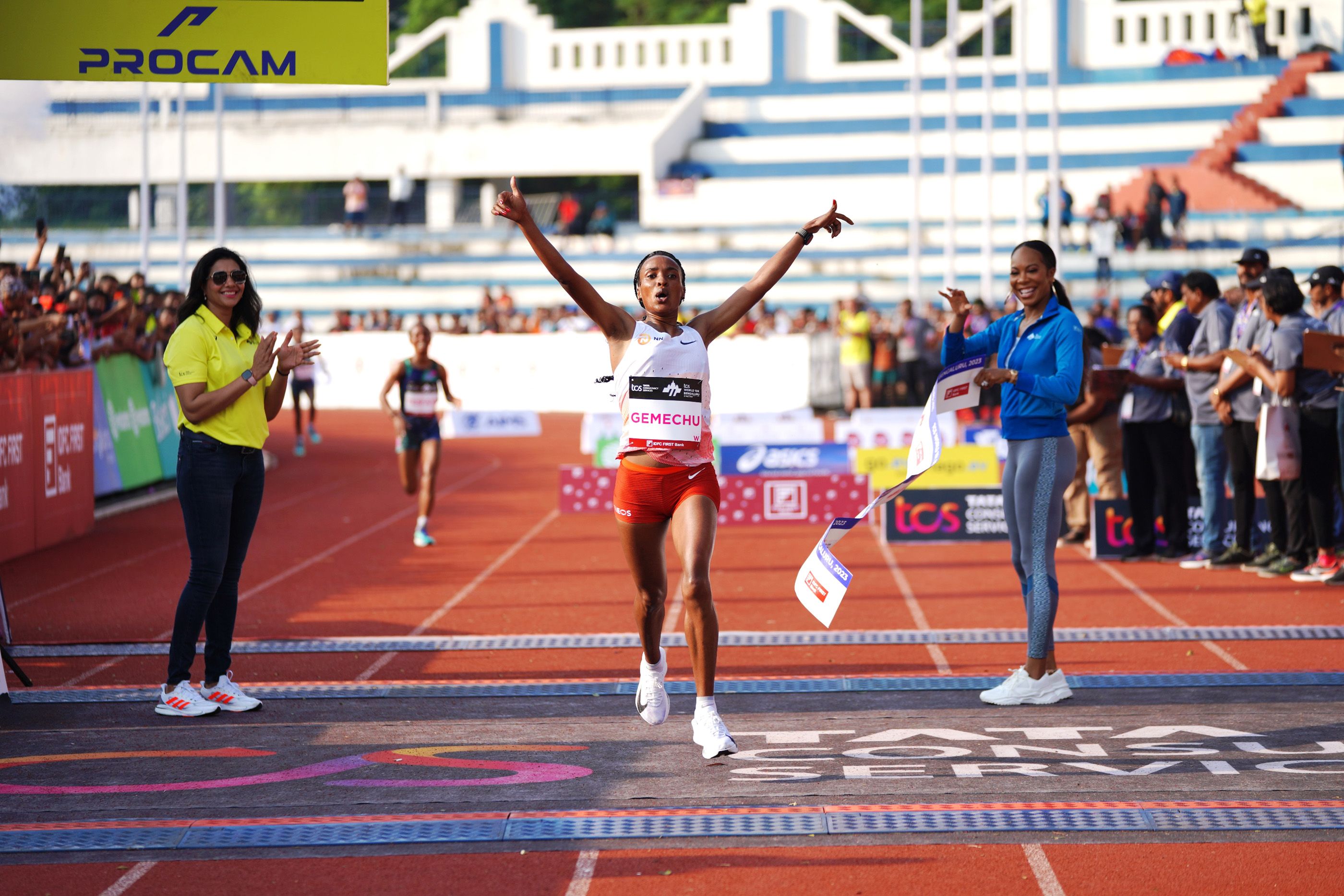 Tsehay Gemechu wins the women's race at the TCS World 10K Bengaluru (© Procam International)
"I was determined to get this victory," she said. "In 2019, I had made one mistake, this time I had the experience so this was an easier race. I think my track experience came in handy today."
Three Kenyan athletes finished in the top four in a men's race that saw last year's winner and course record-holder Nicholas Kipkorir Kimeli come fourth, as his compatriot Sawe won in spectacular style after kicking on at the finish.
Sawe won milliseconds ahead of Rodrigue Kwizera of Burundi, after the pair traded the lead towards the end of a gripping race.
"It's my first time here. I was feeling confident coming into the run because I'm coming off a victory in Germany," said Sawe. "The last two kilometres were really tough. I told myself I have to push really hard, even the last 500m was very challenging."
Kwizera matched the winning time in second place, while Hillary Chepkwony was third in 27:59.
Among the Indian elite, Murli Gavit, making his second appearance at the race, won the Indian men's title in 29:58, while debutant Tamshi Singh won the women's category in 34:12.
Organisers for World Athletics
Leading results
Women
1 Tsehay Gemechu (ETH) 31:38
2 Fotyen Tesfay (ETH) 31:42
3 Dera Dida (ETH) 31:45
4 Jesca Chelangat (KEN) 31:58
5 Yalemget Yaregal (ETH) 31:59
Men
1 Sabastian Sawe (KEN) 27:58
2 Rodrigue Kwizera (BDI) 27:58
3 Hillary Chepkwony (KEN) 27:59
4 Nicholas Kipkorir Kimeli (KEN) 28:05
5 Nibret Melak (ETH) 28:13
10km triumph for Obiri and Ghebrehiwet in Manchester
Hellen Obiri and Eyob Ghebrehiwet both won from the front to take 10km titles in the sunshine at the AJ Bell Great Manchester Run on Sunday (21).
Kenya's Obiri stretched away by 3km (8:53) and won comfortably with halves of 15:08 and 16:06. "This is my second home," declared Obiri, who won in Manchester, UK, for the third time.
Olympic marathon champion Peres Jepchirchir was an isolated second.
Ghebrehiwet's clearcut win was a big surprise, given the larger group of close contenders among the elite men. The Italian raced away in the first kilometre and was surprised he was let go, so pushed on. At 3km (8:07), he had 12 seconds on the pack and maintained that for most of the rest of the race, though Marc Scott made inroads in the closing stages.
The Brition ran his second half 11 seconds quicker than the winner, but never looked like he would close the gap.
In eighth place Mohamed Farah (40) ran one of his final races. Earlier in the day, his three youngest children and wife Tania also competed in supporting races at this festival of running.
Mark Butler for World Athletics
Leading results
Women
1 Helen Obiri (KEN) 31:14
2 Peres Jepchirchir (KEN) 31:59
3 Calli Thackery (GBR) 32:51
4 Stephanie Twell (GBR) 32:54
5 Rose Harvey (GBR) 32:59
Men
1 Eyob Ghebrehiwet (ITA) 28:27
2 Marc Scott (GBR) 28:31
3 Stewart McSweyn (AUS) 28:35
4 Jack Rayner (AUS) 28:41
5 Reid Buchanan (USA) 28:44