Almaz Ayana wins the TCS Amsterdam Marathon (© NN Running Team)
Ethiopia's Almaz Ayana ran 2:17:20 to achieve the fastest ever women's marathon debut and win a high-quality clash at the TCS Amsterdam Marathon, a World Athletics Elite Platinum Label road race, on Sunday (16).
Setting a Dutch all-comers' record, Ayana won the head-to-head against her fellow global track gold medallist and compatriot Genzebe Dibaba, who was also making her marathon debut, while Tsegaye Getachew made it an Ethiopian double, winning the men's race in a PB of 2:04:49.
The women's race in Amsterdam featured a trio of notable debutants and despite going up against some more experienced opponents when it comes to marathon running, the spotlight was on Ayana, Dibaba and their compatriot Tsehay Gemechu.
Ayana won world 5000m gold in 2015 and the world 10,000m title in 2017 as well as Olympic 10,000m gold in a world record in 2016, while Dibaba set the world 1500m record in 2015, going on to win the world title in that event later that year. Gemechu, meanwhile, finished fourth in the 5000m at the 2019 World Championships and they all formed part of the lead women's group that followed male pacemakers through 5km in 16:13 and 10km in 32:43. They remained to the fore through the halfway point, passed in 1:09:26, and then started to break away from the group, going through 25km in 1:22:06 and 30km in 1:38:04.
Gemechu managed to hold on until 33km but was dropped by Ayana and Dibaba a short while later, Ayana a stride ahead as she reached 35km in 1:54:01.
Looking untroubled, Ayana eased away from Dibaba and was half a minute clear at 40km, passed in 2:10:07. She continued to push on and grew her advantage to 45 seconds by the finish, clocking 2:17:20 to beat the previous fastest ever women's marathon debut time of 2:17:23 achieved by Yalemzerf Yehualaw in Hamburg in April.
The performance puts Ayana seventh on the women's world marathon all-time list, while Dibaba is now in the world marathon all-time top 20 thanks to her 2:18:05 run for second place.
Gemechu also dipped under 2:19, clocking 2:18:59 to finish third, while Eritrea's Nasnet Amanuel ran 2:22:45 to finish fourth on her debut. Bahrain's 2017 world champion Rose Chelimo finished fifth in 2:23:12.
"I have no words for this. This is very special and I am very happy," said Ayana. "It was very tough after my Olympic title in 2016 with injuries and pain. I am grateful for my husband, son and management for all the support."
While Ayana broke away over the final 5km of the women's race, Getachew waited until the last 2km to make his move.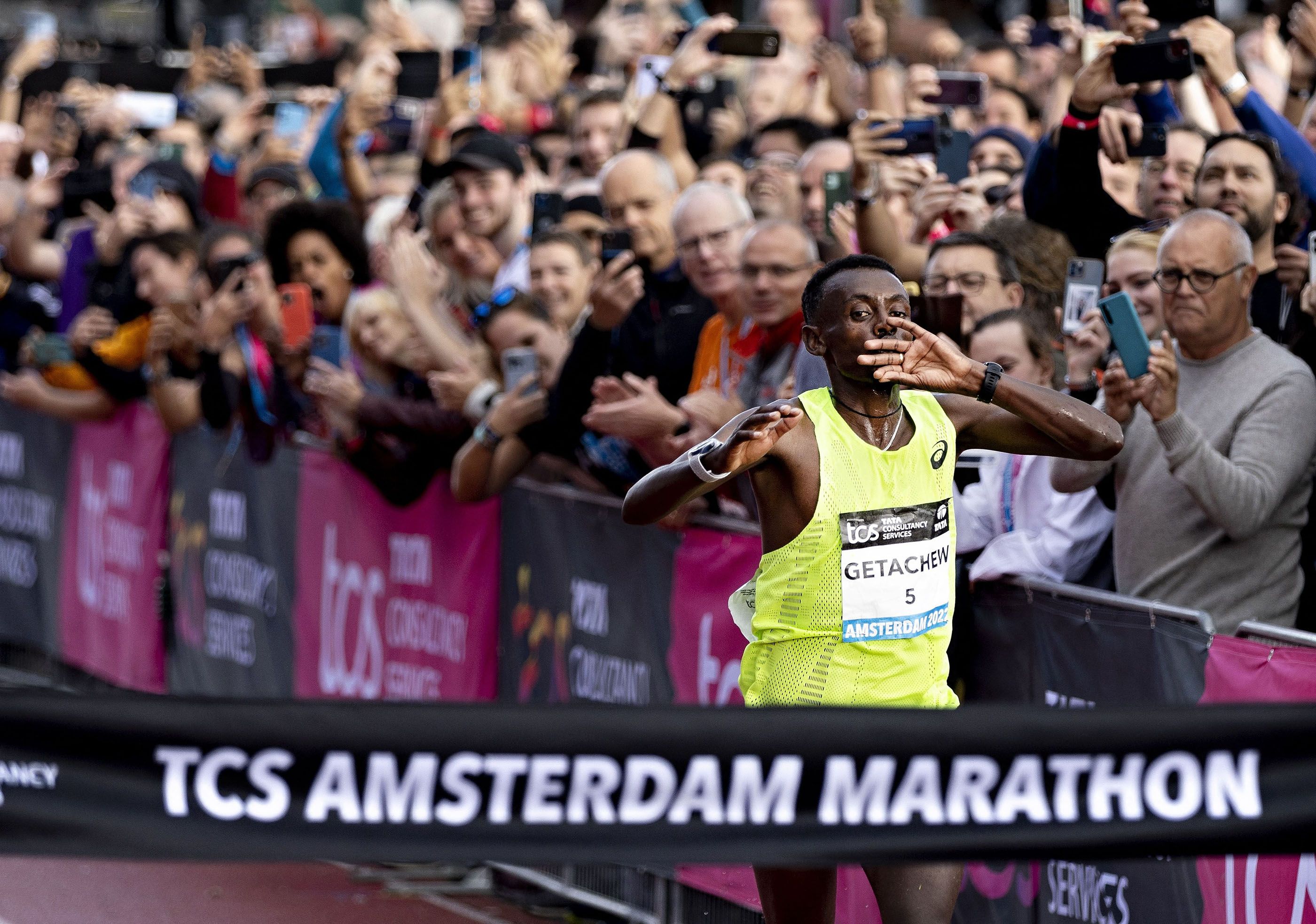 Tsegaye Getachew celebrates his TCS Amsterdam Marathon win (© AFP / Getty Images)
Content to sit back in the lead pack, the 25-year-old passed 5km in 14:33 and 10km in 29:12 before reaching half way in 1:01:54. It was Kenya's Josphat Boit who took over at the front when the pacemakers stepped aside at 30km, that point passed in 1:28:06, and 35km was reached in 1:43:09. But the pace soon proved too much for Boit, as Ethiopia's Bazezew Asmare pushed ahead to lead a breakaway group of five.
Still feeling good as they reached 40km in 1:58:23, Getachew kicked and no one could challenge him. Kenya's Titus Kipruto gave chase, with Asmare just behind them, but Getachew had the strength to stride clear, celebrating on his way to the finish line, which he crossed in 2:04:49. Kipruto held on for second place, five seconds back, while Asmare was a further three seconds behind him, finishing third in 2:04:57.
Kenya's Abraham Kiptoo was fourth in 2:05:04 and Ethiopia's Huseydin Mohamed fifth on his marathon debut in 2:05:05 as the top nine all finished under 2:06.
"The competition was very good, the spectators were great and there was a great atmosphere out on the course," said Getachew after the biggest marathon win of his career so far, following previous victories in Riyadh, Izmir and Dalian.
"I was just very pleased. I felt very good in the last 5km as we went into the park, and especially as we left the park with 2km to go."
Leading results
Women
1 Almaz Ayana (ETH) 2:17:20
2 Genzebe Dibaba (ETH) 2:18:05
3 Tsehay Gemechu (ETH) 2:18:59
4 Natsnet Amanuel (ERI) 2:22:45
5 Rose Chelimo (BRN) 2:23:12
6 Zinash Gerado (ETH) 2:24:21
7 Celestine Chepchirchir (KEN) 2:26:50
8 Gebeyanesh Ayele (ETH) 2:27:36
9 Nora Szabo (HUN) 2:30:31
10 Leonie Balter (NED) 2:37:41
Men
1 Tsegaye Getachew (ETH) 2:04:49
2 Titus Kipruto (KEN) 2:04:54
3 Bazezew Asmare (ETH) 2:04:57
4 Abraham Kiptoo (KEN) 2:05:04
5 Huseydin Mohamed (ETH) 2:05:05
6 Cybrian Kotut (KEN) 2:05:15
7 Nobert Kigen (KEN) 2:05:32
8 Laban Korir (KEN) 2:05:41
9 Adeledelew Mamo (ETH) 2:05:45
10 Josphat Boit (KEN) 2:06:34