Mondo Duplantis in action at the ISTAF Indoor meeting in Berlin (© ISTAF INDOOR / Camera 4)

REPORTS: Duplantis clears 6.03m and Jacobs returns with a win in Berlin | Nilsen clears 6.02m at Perche en Or | Woo wins top-quality high jump in Hustopece | Perez and Martinot-Lagarde among winners in Miramas | Spain win DNA meeting in Glasgow | Wins for McWhorter and Sahlman at Dr. Sander Invitational | Ofili runs record in New Mexico | Vuleta leaps world lead in Belgrade


Olympic champions Mondo Duplantis and Marcell Jacobs shone at the ISTAF Indoor – a World Athletics Indoor Tour Silver meeting – in Berlin on Friday (4).
Sweden's pole vault star Duplantis added a centimetre to his own world lead, clearing 6.03m to also break the meeting record before a good attempt at a world record, while Italy's Jacobs ran 6.51 to win the men's 60m final in his first event since claiming Olympic 100m and 4x100m gold in Tokyo.
It was a bit of a bumpy road for Duplantis to get into position to attack his own world record of 6.18m, but once there he had two good attempts. While USA's KC Lightfoot sailed over 5.92m at his first attempt, Duplantis needed all three tries to clear it. After another failed attempt at 6.03m, he then returned to more familiar form and cleared the height well, improving the world lead of 6.02m he had set in Karlsruhe the week before and the meeting record of the same height which had been set by Renaud Lavillenie in 2015.
Duplantis then attempted 6.19m, with his second and third attempts at the world record height being very close.
"These attempts felt good and I realised that it is possible," he said. "I am now at a point in my career where I make small improvements. One week I change my run-up, in the next week I am jumping a bit more aggressively. That way I can improve step by step. I know what to do and that I am in a position to jump higher."
Lightfoot finished second with 5.92m and Germany's Oleg Zernikel cleared a personal best of 5.81m to take third place.
Leading from the start, there was no catching Jacobs in the 60m. He first ran 6.57 to win his heat and then improved to 6.51 in the final – his second-quickest time behind his national record of 6.47 set when winning the European indoor title in Torun last year.
He finished ahead of Arthur Cisse of the Ivory Coast who clocked 6.60 and France's Jimmy Vicaut with 6.61.
"Last year I started my season here and it was the beginning of an unforgettable year. So, it was good to start in Berlin again," said Jacobs.
"I had a very long time with no competitions after Tokyo but I really needed to recover mentally and physically. The indoor season will be very intense and will peak with the World Indoor Championships."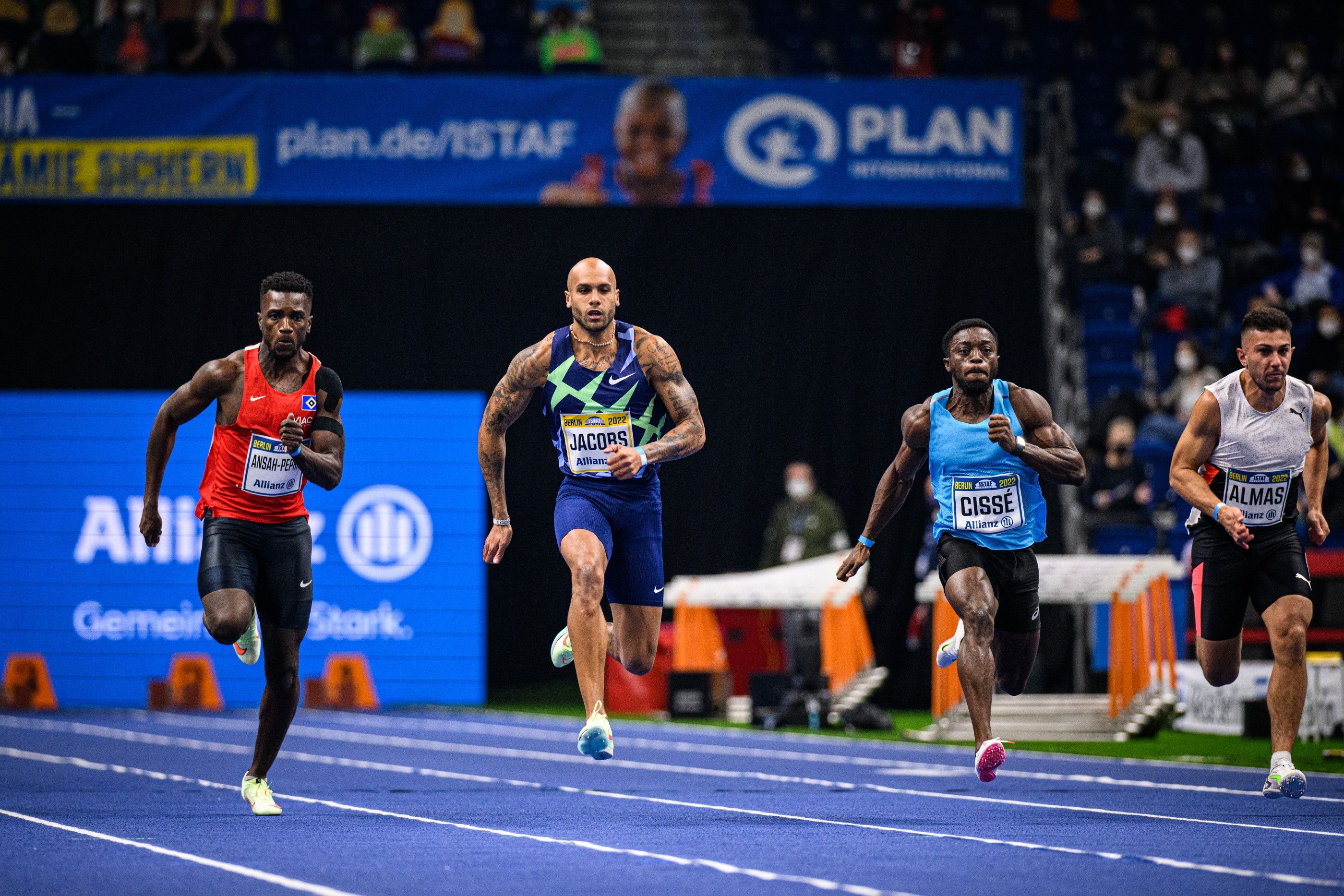 The women's 60m was dominated by Britain's Daryll Neita, who could hardly have made a better start in her first race of the season. Storming away from her challengers in the first round, she qualified for the final with a PB of 7.18. Her previous best had been the 7.21 she set last year.
The Olympic 100m finalist improved again in the final, running 7.15 to win ahead of Italy's Zaynab Dosso and Germany's Sophia Junk, who ran respective PBs of 7.28 and 7.29.
Finland's Reetta Hurske took the women's 60m hurdles with a strong finish in 7.99 from Zoe Sedney of the Netherlands with 8.05, while the men's event was won by France's Aurel Manga in 7.62 from Koen Smet of the Netherlands and Brazil's Rafael Pereira, who were both timed at 7.68.
Earlier in the heats, Pereira had broken the South American record when clocking 7.58 to improve his PB by 0.18 and better an 18-year-old area mark.
Sweden's Khaddi Sagnia won the long jump with a fifth-round leap of 6.68m. Until that round, Germany's Merle Homeier had been the leader with 6.59m. She then jumped a PB of 6.66m in the final round, which was enough to secure second place in the competition on countback ahead of her compatriot Malaika Mihambo, the Olympic champion, who had problems with her run-up during her season debut in her specialist event. Mihambo also contested the 60m and ran 7.48 in the heats.
Organisers for World Athletics
Nilsen clears 6.02m at Perche en Or
USA's Olympic pole vault silver medallist Chris Nilsen soared over six metres for the first time in his career, achieving an area indoor record mark of 6.02m at the Perche en Or in Tourcoing, France, on Saturday (5).
Nilsen cleared his winning height on his first attempt, also making 5.54m, 5.64m, 5.74m, 5.81m and 5.92m on his first tries. He now sits second on this season's top list behind world record-holder Mondo Duplantis with 6.03m.


💯 Énorme Christopher Nilsen !

🤩 Il s'offre un 100% au Perche en Or ! Record des USA en salle, un sans faute et la meilleure perf du meeting égalée avec une barre à 6,02m !

📺 Suivez le #CréditMutuelAthléTour en REPLAY sur https://t.co/63xdTVLhtA et https://t.co/3hOZH6HW10 pic.twitter.com/Vqqb9oP3Wj

— FFAthlétisme (@FFAthletisme) February 5, 2022

France's former world record-holder Renaud Lavillenie opened his season with a 5.81m clearance to finish second and has now cleared 5.81m or higher in 14 consecutive years, while USA's Matt Ludwig achieved the same height and placed third.
Iryna Zhuk of Belarus won the women's contest with an outright national record and world lead of 4.77m. Margot Chevrier of France was second with a 4.54m PB, finishing ahead of China's Xu Huiqin on countback.
Woo wins top-quality high jump in Hustopece
Korea's Woo Sanghyeok cleared a world-leading national record of 2.36m to win a top-quality high jump contest at the Skakani Hustopece – a World Athletics Indoor Tour Bronze event – on Saturday (5).
The performance adds a centimetre to his previous outright national record, set outdoors last year during his fourth-place finish at the Olympic Games in Tokyo, and moves him to second on the Asian indoor all-time list behind Qatar's Olympic champion Mutaz Barshim, who has cleared 2.41m indoors.
Woo had improved the national indoor record with his clearances of 2.28m, 2.32m and 2.34m earlier in the competition.
USA's double NCAA champion JuVaughn Harrison finished second with an indoor PB of 2.34m, while Cuba's Luis Zayas cleared 2.30m to place third, with five men having achieved 2.28m or higher and nine having gone clear at 2.24m.
After clearing 2.36m, Woo decided to call it a day and did not attempt any higher bars.
The women's event was also competitive, with Britain's Emily Borthwick clearing a world-leading PB of 1.95m to win on countback ahead of Marija Vukovic, whose 1.95m clearance improved her own Montenegro record.
Ukraine's Olympic bronze medallist Yaroslava Mahuchikh and Iryna Gerashchenko plus Safina Sadullayeva of Uzbekistan each cleared 1.92m, with Mahuchikh claiming third place on countback.
Perez and Martinot-Lagarde among winners in Miramas
Cuban triple jumper Leyanis Perez leapt 14.47m to triumph in her first ever indoor competition, while Pascal Martinot-Lagarde was also among the winners at the Meeting Elite de Miramas – a World Athletics Indoor Tour Bronze meeting – in France on Friday (4).
With her winning leap, 20-year-old Perez was just six centimetres off her overall best – the area U20 record of 14.53m she set outdoors last June. It secured her victory ahead of Olympic medallists Patricia Mamona of Portugal (14.17m) and Spain's Ana Peleteiro (14.15m).


FEATURE: Rising triple jump talent Perez turns Tokyo disappointment into major motivation

Home favourite Martinot-Lagarde claimed a second success this season after his winning opener in Karlsruhe a week earlier, clocking 7.63 to win the men's 60m hurdles, while the women's final was won by USA's Evonne Britton in 8.15.
After running 23.36 in Norway last month, Denmark's Ida Karstoft again improved her national indoor 200m record, this time to 23.25 to win the second of the finals.
Kenya's Ferdinand Omanyala ran national records of 6.65 and 6.63 to win his 60m heat and the final, while Belgium's Julien Watrin went quickest in the 400m with 46.77.
Albanian record-holder Luiza Gega won the 3000m in 8:50.08, while Italy's Ossama Meslek won the 1500m in 3:40.04.
Switzerland's Loic Gasch cleared 2.22m to win the high jump and Finland's Simo Lipsanen soared 16.52m for triple jump triumph.
Meeting Elite de Miramas results
Spain win DNA meeting in Glasgow
The Spanish team claimed overall victory at the Dynamic New Athletics (DNA) meeting – a World Athletics Indoor Tour Bronze event – in Glasgow on Saturday (5).
The competition saw six teams – England, Ireland, Portugal, Scotland, Spain and Wales – battle for points in a range of disciplines before the final mixed medley relay decided the overall winner.


🇪🇸 Campeones! 🏆#DNAGlasgow#AthleticsWithAttitude

(@atletismorfea) pic.twitter.com/cVwgqM3r7u

— European Athletics (@EuroAthletics) February 5, 2022

Individual performances included a 60m victory by the winning nation's Maria Isabel Perez, who clocked 7.22 to miss her recently-set Spanish record by just 0.01, plus 60m hurdles wins by her teammates Teresa Errandonea and Enrique Llopis in respective times of 8.22 and 7.67. The first event of the day had been the mixed 4x400m, won by Spain in a national indoor record of 3:18.90.
England's Andrew Robertson won the men's 60m in 6.62, while Portugal's Francisco Belo threw 20.36m for the best mark of the day in the men's shot put which, like all the field events at the meeting, put emphasis on head-to-head clashes.
Scotland's Jenny Selman took the 800m in 2:04.73 after winning a pre-programme race in a PB of 2:00.72.
In the long jump, Portugal's Evelise Veiga added six centimetres to her indoor PB with 6.58m in one of the preliminary head-to-heads.
Lorena Martin, Alvaro de Arriba, Laura Bueno and Sergio Juarez then combined to win 'The Hunt' – the final mixed medley relay featuring legs of 800m, 600m 400m and 200m.
Wins for McWhorter and Sahlman at Dr. Sander Invitational
At the Dr. Sander Invitational Columbia Challenge – a World Athletics Indoor Tour Bronze meeting in New York's Armory – on Friday (4), USA's Zach McWhorter improved his pole vault PB to 5.85m, adding three centimetres to his previous best. Sondre Guttormsen was second with a 5.75m clearance.
On Saturday (5), Colin Sahlman broke four minutes to win the mile during his first indoor competition, the US 18-year-old clocking 3:58.81. It was close for the runner-up spot, with Eric Holt getting the nod with 4:00.01 ahead of Jonah Koech's 4:00.24 and Ryan Hill's 4:00.39. Dan Schaffer won the 3000m in a personal best of 7:53.74.
USA's 2016 world indoor long jump champion Marquis Dendy leapt 8.10m to start his season with a win, also jumping 8.03m in an earlier round, while Tori Franklin won the triple jump by leaping 13.96m. Sarah Mitton set a Canadian indoor shot put record with a throw of 19.16m.
Dr. Sander Invitational results
Ofili runs record in New Mexico
In the United States at the New Mexico Collegiate Classic on Friday (4), Nigeria's three-time world U20 medallist Favour Ofili set an African indoor 200m record of 22.71, a time which puts the 19-year-old second on this season's top list behind Olympic 100m hurdles champion Jasmine Camacho-Quinn, who ran 22.68 last month. It improves on the 22.75 area U20 record Ofili had recorded in Fayetteville a year ago. In another race, USA's Kynnedy Flannel ran 22.80.
The men's race was won by USA's Robert Gregory in a PB of 20.60. Behind him, runner-up Tinotenda Matiyenga improved his own Zimbabwe indoor record with 20.69.
In the men's 600m, Jonathan Jones ran a world-leading 1:15.12 to win and improve the Barbados national best. The mark puts him joint seventh on the world indoor all-time list.
On Saturday (5), USA's Adrian Piperi threw a world lead in the shot put of 21.45m.
Alia Armstrong ran 7.16 in the women's 60m final to win by 0.01 ahead of Ofili, whose mark was another PB after her 200m performance the day before.
At the Camel City Invitational in North Carolina on Saturday (5), USA's multiple world medallist Ajee Wilson won the elite 800m in 2:01.39, just 0.01 off the time she ran the week before to win at the Millrose Games, while Britain's Charlie Da'Vall Grice won the men's mile in 3:57.22.
USA's Elly Henes achieved the 3000m and mile double, first winning the 3000m in 8:57.83 and then taking the mile in 4:38.66, while Britain's Sam Atkin started his season by winning the men's 3000m in 7:46.79.
In only his second ever race on a 200m indoor track, Jesus Tonatiu Lopez improved the Mexican indoor 800m record to 1:47.90 to win and add to his national outdoor record of 1:43.44 set last year.


FEATURE: National record-holder Lopez, on track and making history for Mexico
Vuleta leaps world lead in Belgrade
World indoor long jump champion Ivana Vuleta soared out to a world lead of 6.85m on the first day of the Serbian Indoor Championships on Saturday (5), backing it up with a 6.83m jump.
Making her season debut, she achieved her 6.83m in the first round and her 6.85m in the last, also jumping 6.62m, 6.63m and 6.75m.
Elsewhere, world-leading shot put performances were achieved by Portugal's European indoor champion Auriol Dongmo and Poland's Konrad Bukowiecki, before the men's world lead was improved later that day in New Mexico. Dongmo threw 19.61m in Pombal, while Bukowiecki threw 21.37m in Spala. Also in Spala, Natalia Kaczmarek ran a Polish indoor 300m record of 36.20.