US hammer thrower Brooke Andersen (© Getty Images)
USA's world champion Brooke Andersen became the third athlete in history to surpass 80 metres in the women's hammer, throwing 80.17m to win at the USATF Throws Festival, a World Athletics Continental Tour Silver meeting, in Tucson, USA, on Saturday (20).
With that performance the 27-year-old, who threw her previous best of 79.80m exactly a month prior, consolidates her place at No.3 on the world all-time list behind only Anita Wlodarczyk and USA's DeAnna Price. Poland's Wlodarczyk holds the world record with the 82.98m she threw in 2016, while USA's Price recorded 80.31m in 2021.
Andersen won by more than three-and-a-half metres in Tucson, where Janee' Kassanavoid threw 76.60m for the runner-up spot and Annette Echikunwoke recorded 75.00m for third.
Their US compatriot Rudy Winkler also achieved an 80m-plus throw in the men's event, as he launched the implement 80.88m. Mexican record-holder Diego del Real was second with 78.05m and Denzel Comenentia third with a Dutch record of 78.01m.
There were wins for New Zealand's Tom Walsh (21.86m) and Canada's Sarah Mitton (19.58m) in the shot put, Samoa's Alex Rose (67.73m) and Cuba's Yaime Perez (65.88m) in the discus, and USA's Curtis Thompson (79.34m) and Maggie Malone (62.28m) in the javelin.
USA's Chase Ealey was among the winners at the HALPLUS – Westerfage, a World Athletics Continental Tour Challenger meeting, in Halle, Germany, on Saturday (20).
The world shot put champion threw a world-leading 20.06m to beat Portugal's world indoor champion Auriol Dongmo (19.16m).
Italy's Zane Weir led an Italian top two in the men's event, throwing 21.74m to Leonardo Fabbri's 20.75m.
China's Feng Bin was another world champion to secure success as she threw 66.70m to win the women's discus contest ahead of Germany's Olympic silver medallist Kristin Pudenz (66.34m).
Alem impresses with sub-30:00 10,000m
A barrier was also broken at the Night of the 10,000m PBs, another World Athletics Continental Tour Silver event, at Parliament Hill Fields Athletics Track in London, UK, on Saturday (20), as Ethiopia's Mizan Alem Adane ran 29:59.03 to become the 12th woman to ever go sub-30:00 in the discipline.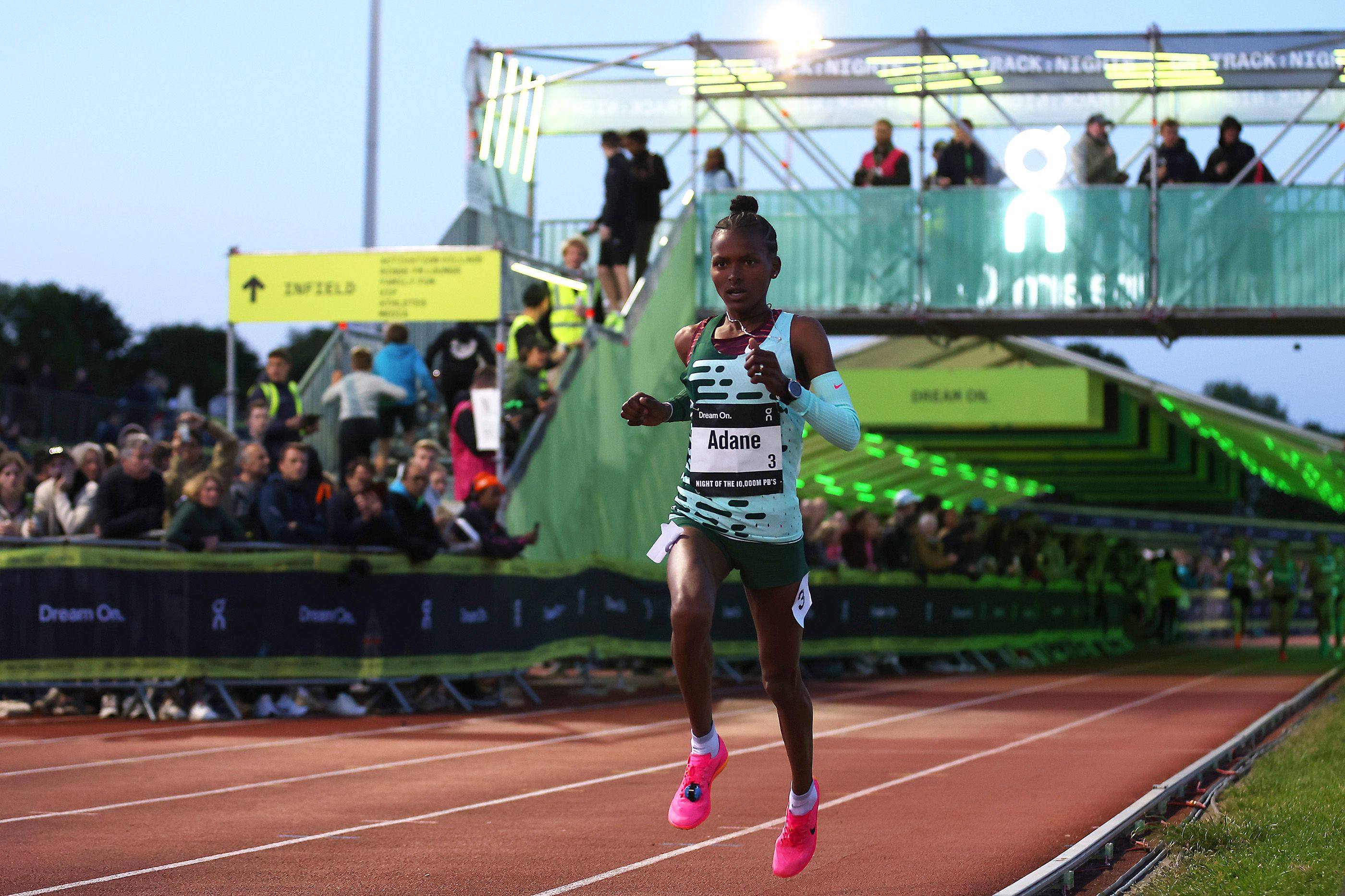 Mizan Alem Adane on her way to 10,000m triumph at the Night of the 10,000m PBs in London (© Getty Images)
The 21-year-old, who won the world U20 5000m title in 2021, stayed true to the meeting's name as she took almost three minutes off her previous 10,000m PB, set during her only other race over the distance in 2019.
She won by more than a minute and was followed over the finish line by USA's Weini Kelati (31:04.16) and Italy's Nadia Battocletti (31:06.42), who both also set PBs, while Britain's Jessica Warner-Judd finished fourth (31:09.28) and Ethiopia's Hawi Feysa placed fifth (31:09.85).
The men's race was won by USA's Olympic and world 5000m medallist Paul Chelimo, who ran a PB of 27:12.73 in the third 10,000m race of his career.
He claimed a clear victory, with the runner-up spot secured by Kenya's Vincent Kiprotich Mutai in a PB of 27:31.31.
Israel's Tadesse Getahon was third (27:33.99 PB), Burundi's Egide Ntakarutimana fourth (27:37.09) and Japan's Ren Tazawa fifth (27:40.40).