Hammer winner Brooke Andersen in Bydgoszcz (© Adam Nurkiewicz)
Brooke Andersen, Erriyon Knighton, Tom Walsh and Alaysha Johnson each made a statement with meeting record-breaking performances at the Irena Szewinska Memorial, this season's eighth World Athletics Continental Tour Gold event, in Bydgoszcz, Poland, on Tuesday (6).
Competing on a warm and sunny evening at the Zdzislaw Krzyszkowiak Stadium, USA's Andersen led a repeat of the World Athletics Championships Oregon22 podium in the women's hammer.
The 27-year-old launched herself to third on the world all-time list with 80.17m in Tucson last month and she achieved another impressive performance in Bydgoszcz, throwing 78.79m to improve a meeting record set by home star Anita Wlodarczyk in 2010.
The women's hammer was the first elite event on the programme and Andersen ensured it started on a high note, throwing 78.79m in the opening round to add 49cm to the meeting record that world record-holder and seven-time global gold medallist Wlodarczyk achieved 13 years ago. She backed it up with throws of 78.39m, 77.96m, 77.54m and 76.66m.
It meant that Andersen turned the tables on Canada's world silver medallist Camryn Rogers, who beat her US rival at the USATF Los Angeles Grand Prix at the end of last month with a Canadian record of 78.62m. This time Rogers threw 77.62m to finish second as USA's world bronze medallist Janee' Kassanavoid placed third with 75.10m.
Wlodarczyk continued her comeback by throwing 69.54m for seventh place.
"I feel really good about today," said Andersen. "I wasn't sure about my body state, coming off of such a big performance a few weeks ago. I've been a little bit down in training, so I was just trying to feel it out today and go with the flow.
"It was kind of like a mini World Championships, in a way. There was such a stacked field today and it helped a lot with the atmosphere here."
On breaking a meeting record held by Wlodarczyk, Andersen added: "It's pretty special. To come and compete in Poland with her; I've looked up to her since I started out throwing. It's fun throwing against her and all these other great competitors."
Rudy Winkler of the US and Wojciech Nowicki of Poland went into the meeting as the leading two athletes on this season's men's hammer top list and that's the way the competition in Bydgoszcz went too, with Winkler – the world leader with 80.88m – throwing 79.70m to triumph ahead of Olympic champion Nowicki with 79.52m. Canada's Ethan Katzberg was third with 76.83m.
In the men's shot put, New Zealand's 2017 world champion Walsh surpassed 22 metres for the second time this year, improving his season's best and the meeting record to 22.22m following his victory in Chorzow on Sunday. That mark came in the fourth round, and he also threw 21.94m in the third. USA's Adrian Piperi improved his outdoor PB to 21.61m for second place, while Nigeria's Chuk Enekwechi was third with 21.32m.
USA's Olympic and world silver medallist Chris Nilsen won a battle with home favourite Piotr Lisek in the men's pole vault, clearing 5.92m before attempting a meeting record of 6.02m. Multiple world medallist Lisek had won in Chorzow but Nilsen got his revenge, as Lisek cleared a best of 5.82m to finish second. USA's two-time world champion Sam Kendricks and Philippines' world bronze medallist Ernest John Obiena finished joint third on 5.72m.
There was a Ukrainian top two in the men's high jump, world bronze medallist Andrii Protsenko and 2013 world champion Bogdan Bondarenko both clearing a best of 2.21m but with Protsenko winning on countback.
Over on the track, USA's Knighton looked in cruise control in the men's 200m.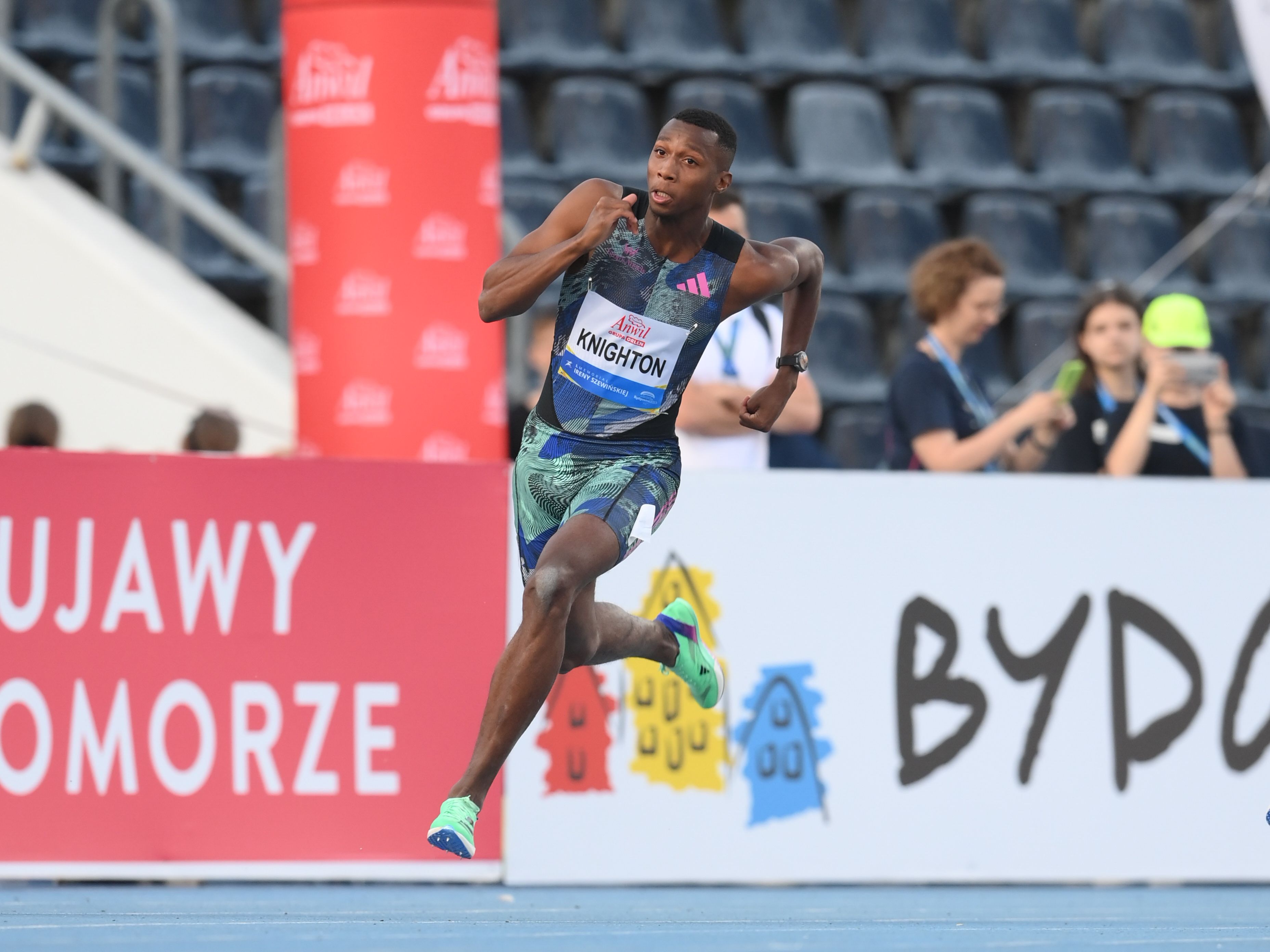 Erriyon Knighton on his way to a 200m win in Bydgoszcz (© Adam Nurkiewicz)
The world bronze medallist didn't get the fastest start but he had the quickest finish, and after powering ahead in the second half of the race the 19-year-old was able to ease up at the end, still dipping under 20 seconds with a meeting record of 19.95 (0.7m/s).
Dominican Republic's world fifth-place finisher Alexander Ogando gave chase and finished second in 20.18, one place ahead of Poland's Albert Komanski in a PB of 20.49.
"It shows you that if I don't get a good start, I'm always going to make it up," said Knighton. "Today was about winning the race. Win the race and on to the next."
The women's 200m was also won in a meeting record, Britain's Daryll Neita taking her PB from 22.61 to 22.23 (0.8m/s) to win ahead of USA's Anavia Battle (22.47) and Cambrea Sturgis (22.99).
"I have not been known as a 200m specialist, but it is about to change," said Neita. "I felt this could be my best distance; this year me and my coach have worked on getting me ready for it."
Sturgis had earlier won the 100m in 11.24 (-0.8m/s), powering ahead in lane eight and dipping for victory ahead of Krystsina Tsimanouskaya (11.29) and Battle (11.34).
USA's Johnson might have been contesting her fourth race in two days but it didn't show as she blazed away in the women's 100m hurdles final to win in 12.41 (1.9m/s) – the joint third-fastest performance of her career.
The NACAC champion ran two races in Chorzow on Sunday, winning the B race and tying for victory in the A race. In Bydgoszcz she won her heat in 12.94 and returned an hour and a half later to complete a successful trip to Poland, taking the final ahead of Bahamian world indoor 60m hurdles silver medallist Devynne Charlton, who matched her season's best of 12.64. Ireland's Sarah Lavin was third in 12.86.
"We don't get a lot of meets back-to-back in the US," said Johnson. "We had rounds in both (meetings in Poland) and it's the closest thing to replicate having three rounds at the World Championships. It was best for me to get somewhere, where I can see how my body reacts when the pressure is on the line.
"I knew I was always better with rounds, but it's different feeling like you can do it, versus actually going out there and putting it together."
It was close in the men's 110m hurdles. USA's Daniel Roberts, making his season debut in his specialist discipline, got a strong start but his compatriot Jamal Britt and Cuba's Roger Iribarne fought back in the closing stages. Although Roberts knocked a few barriers earlier on, Britt hit the last one and that seemed to make the difference as Roberts won in 13.24 (1.1m/s) to Britt's 13.31. Iribarne was third in 13.34.
Italy's Pietro Arese was understandably delighted with his 1500m win in 3:33.56 – a PB that puts him second on the Italian all-time list and took two seconds off the meeting record. Kicking down the back straight, the European Championships fourth-place finisher moved into the lead and couldn't be caught, leading Ireland's Andrew Coscoran to a PB of 3:33.87 for the runner-up spot. Britain's Matthew Stonier was third in 3:34.43.
A world lead was set in the first track event of the meeting as Kenya's Edinah Jebitok surged to victory in the women's mile in 4:22.85. Ahead at the bell, the 21-year-old eased away over the final lap to rebound after her ninth place in the Hengelo 1500m and triumph ahead of Ethiopia's Ksanet Alem (4:24.29) and Spain's Marta Perez (4:25.78).
"I did not expect to run so fast today, but I fight in every race," said Jebitok, who placed eighth at the World Cross Country Championships in Bathurst in February. "The conditions today are good, so it was possible to achieve a good performance."
Britain's Ben Pattison clinched a win in the men's 800m, running 1:45.80 to beat a fast-finishing Elias Ngeny of Kenya (1:45.99). Jamaica's Adelle Tracey took the women's race in 2:01.26 as she held off Poland's Adrianna Topolnicka (2:01.63) and Britain's Ellie Baker (2:01.64).
Jess Whittington for World Athletics