Ryan Crouser at the World Athletics Continental Tour Gold meeting in Zagreb (© Zagreb Meeting)
Ryan Crouser took top spot in a repeat of the World Athletics Championships podium as shot put took the spotlight at the World Athletics Continental Tour Gold meeting in Zagreb, Croatia, on Saturday (10).
Throwing 22.19m at the Ivan Ivancic Memorial, a city centre event held as part of the Boris Hanzekovic Memorial, world record-holder Crouser returned to winning ways to beat his US compatriots Joe Kovacs and Josh Awotunde, who respectively secured silver and bronze behind Crouser in Oregon in July.
It was tight at the top through the first four rounds, two-time world gold medallist Kovacs – fresh from his 23.23m to go No.2 all-time in Zurich – opening with 21.97m and Crouser throwing 21.95m from his first attempt. Awotunde moved up to third with his fourth-round 21.73m, pushing New Zealand's 2017 world champion Tom Walsh down a place.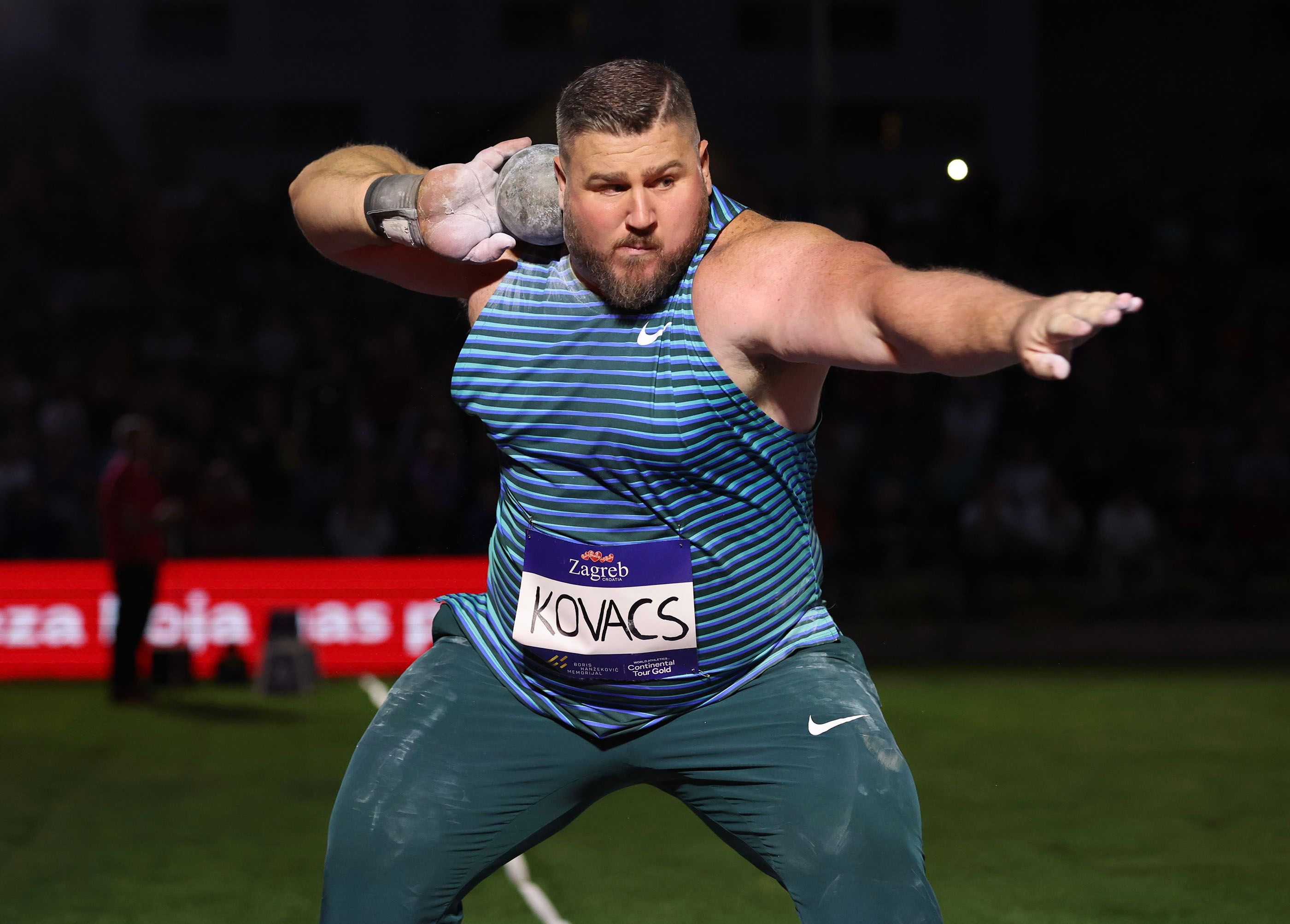 Joe Kovacs competes at the World Athletics Continental Tour Gold meeting in Zagreb (© Zagreb Meeting)
Determined to rebound after his recent defeats to Kovacs, Crouser took to the circle for his fifth attempt, each athlete throwing to their own song choice, with the city fountains as a backdrop and pyrotechnics adding to the atmosphere. Launching the shot 22.19m, he took the lead, and Kovacs asked for quiet as he prepared for his penultimate throw. The 33-year-old, who handed Crouser his first outdoor defeat since 2019 in Lausanne and also beat him at the Wanda Diamond League final in Zurich, was unable to respond but his performance maintained his consistency of having finished in the top two in each of his 14 competitions this year. Crouser, who set the meeting record of 22.84m last year, has also finished first or second in all of his contests in 2022, despite having long covid in the lead up to Lausanne.
With the competition finishing just as a storm rolled in, Walsh finished fourth with 21.32m, while Italy's Nick Ponzio was fifth and USA's Roger Steen sixth. Home favourite Filip Mihaljevic, the European champion, was seventh.
"It was a slow start for me tonight, technically I had some struggles," said Crouser. "I connected with one throw but unfortunately in the latter rounds and that was too late to build on it.
"The main thing right now is to get the win as the field is so talented and deep, as every year in Zagreb, so to walk away with a win from this meet is always an honour.
"That was an amazing competition in Zurich. Joe has been on the edge of such a big throw for so many years and we knew he could do it. We have been travelling together for seven years now so to see him to do such a big throw was just awesome. It is excellent to have such strong opponents because it makes me train harder and want to throw further. It can be difficult at times – to throw 22.74m in the Diamond League final and finish second – but it is great for the sport."
Disappointed with his own performance, Kovacs said: "I think it was a pretty bad meet for me. I had a delayed flight yesterday, lost my bags and had just one meal today so I think I lost my energy pretty quickly. But at the end of the day, it is OK.
"This is a great venue in Zagreb, I just wish that it all went better. My family from Hungary came down here to support me – they come to all my meets locally."
Crouser and Kovacs will clash again as they bring their seasons to a close at the Continental Tour Silver meeting in Bellinzona on Monday.
Sutej and Frayne shine in street jumps
The women's pole vault kicked off the Continental Tour Gold action on Friday evening, Slovenia's Tina Sutej getting things started in style. The world indoor and European bronze medallist went into the event targeting the meeting record of 4.50m set by Fabiana Murer in 2015 and ended up adding 11cm to that mark.
Clearing 4.21m, 4.31m, 4.41m and 4.51m on her first attempts, she then passed at 4.56m and had the bar moved to 4.61m, which she also managed on her first try. In damp conditions she then tried 4.71m and although she was unable to achieve it this time, she won with a mark 20cm higher than her nearest rival, Germany's Anjuli Knasche.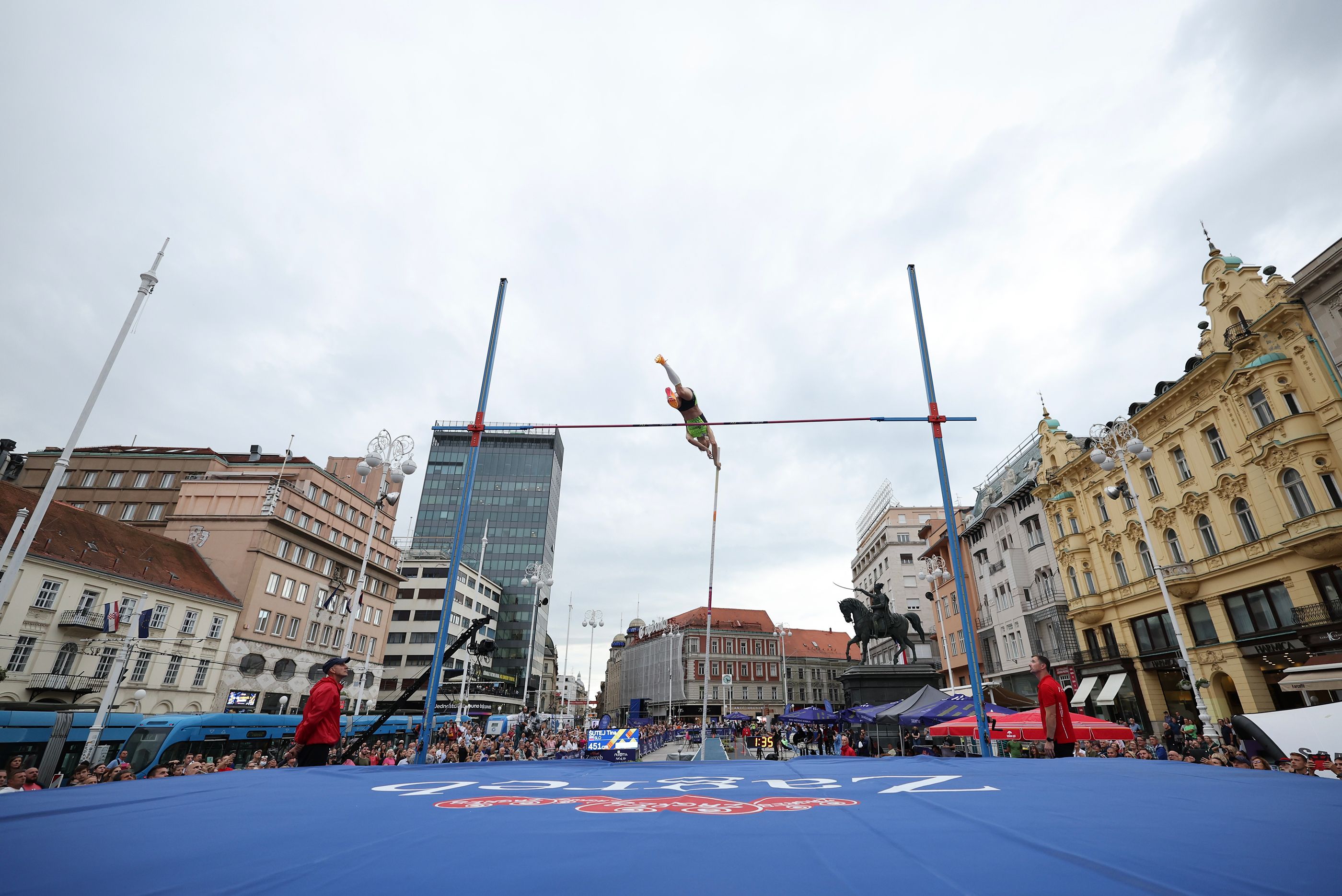 Tina Sutej competes in the city centre pole vault at the World Athletics Continental Tour Gold meeting in Zagreb (© Zagreb Meeting)
The men's long jump took place in the same temporary Zagreb City Challenge arena in the Ban Jelacic Square, the earlier rain having eased in time for the competition.
National champion Filip Pravdica received great support from the home city centre crowd and was cheered to a PB of 8.03m to take an early lead. It was a Croatian 1-2 by the end of the second round, Pravdica's compatriot Marko Ceko leaping a wind assisted 8.00m (2.6m/s). But Australia's 2012 world indoor silver medallist Henry Frayne unleashed a winning response in round five, jumping a season's best of 8.11m to end his busiest ever year in the long jump – which started in Sydney in March – on a high note.
Pravdica finished second and Ceko third, while Jamaica's 2019 world champion Tajay Gayle finished fourth with a best of 7.99m as he continues his comeback after injury.
The action continues on Sunday when the main Boris Hanzekovic Memorial meeting takes place at Sports Park Mladost.
Jess Whittington for World Athletics