Niklas Kaul in 100m action in Ratingen (© DLV / Benjamin Heller)
Niklas Kaul achieved the Olympic standard with 8484 points to claim his first Stadtwerke Ratingen Mehrkampf-Meeting decathlon victory, while Carolin Schafer scored 6369 to win the heptathlon for the third time at the World Athletics Combined Events Tour Gold event on Saturday and Sunday (17-18).
Germany's 2019 world champion Kaul surpassed the World Championships qualification standard of 8460 points for Budapest when winning his European title last year and in Ratingen he bettered that mark again to beat the standard for the Olympic Games in Paris.
He did so by 24 points, scoring his fourth-best ever tally and winning by 103 ahead of Spain's Jorge Urena (8381) and Netherlands' Rik Taam (8326), who both achieved PBs.
In the heptathlon, Schafer added another victory to her wins from 2017 and 2018, taking top spot ahead of her compatriot and the 2022 winner in Ratingen, Sophie Weissenberg (6247), and Netherlands' Emma Oosterwegel (6209).
The decathlon was close throughout the first day of action. Dutch indoor champion Sven Jansons was the surprise early leader after setting a PB of 10.65 in the 100m and following it with a windy 7.53m in the long jump and 13.63m in the shot put. But soon after, the 21-year-old was forced to withdraw from the competition due to adductor issues.
A 2.04m leap from Urena propelled the Spaniard into the overall lead, just ahead of German duo Nico Beckers and Felix Wolter. Of that lead trio, Wolter had performed best in the 100m (10.72) and long jump (7.69m), while Beckers excelled in the shot put (15.86m).
Wolter closed the gap on Urena in the 400m, running 47.59, but Urena's 48.39 clocking was just enough to ensure he held on to the lead at the end of the first day with a score of 4292, five points ahead of Wolter. Beckers ran 48.60 in the 400m, while Taam produced the fastest time of the day (47.18), moving him from sixth to fourth overall.
Kaul was in fifth place after a solid first day, highlighted by his second-best ever long jump (7.34m) and his third-best ever 400m (48.21). He also ran 11.50 (-1.7m/s) in the 100m, threw 14.66m in the shot put and cleared 2.04m in the high jump and was just 135 points shy of leader Urena with several strong events to come on day two.
Urena picked up from where he left off on Sunday, recording the fastest time in the 110m hurdles of 14.00. Wolter retained his No.2 spot with a 14.28 PB, while Kaul got close to his PB with 14.31.
A throw of 48.57m in the discus – his second-best ever mark – launched Kaul from fifth to first and although he dropped down to third behind Taam and Urena after this 4.80m clearance in the pole vault, his 67.44m in the javelin – more than 11 metres below his best, in an event in which he was trying a new technique – put him back on top and his winning time of 4:14.19 in the 1500m ensured he stayed there.
Urena held on to his second place, throwing 39.37m in the discus and then clearing 4.90m in the pole vault and throwing 64.00m – just 2cm off his 2015 PB – in the javelin, before running a 1500m PB of 4:24.04 to add 59 points to his previous decathlon best achieved at the Olympics in Tokyo.
Taam also achieved a 1500m PB, running 4:20.99, which came after a 14.47 110m hurdles performance, 47.29m discus throw, 5.00m pole vault clearance and 57.63m javelin throw. He also leapt a long jump PB of 7.33m on day one to help him to a decathlon lifetime best of 8326, taking him above 8300 points for the first time.
Belgium's Thomas Van der Plaetsen finished the first day in sixth place but a javelin throw of 68.94m – a PB by more than three metres – moved him up to third and he eventually finished fourth after a 4:45.91 1500m, taking him to a 8233 tally. Wolter finished fifth on 8118 points as a total of seven decathletes surpassed 8000 points, Germany's Tim Nowak scoring 8075 and his compatriot Jannis Wolff 8033 to achieve a 8000 point-plus score for the first time following a performance that featured PBs in four disciplines, including 46.00m in the discus to add almost five metres to his previous best.
On the hunt for her third win in Ratingen, Schafer led the heptathlon with 3812 points at the end of the first day, 68 ahead of Weissenberg.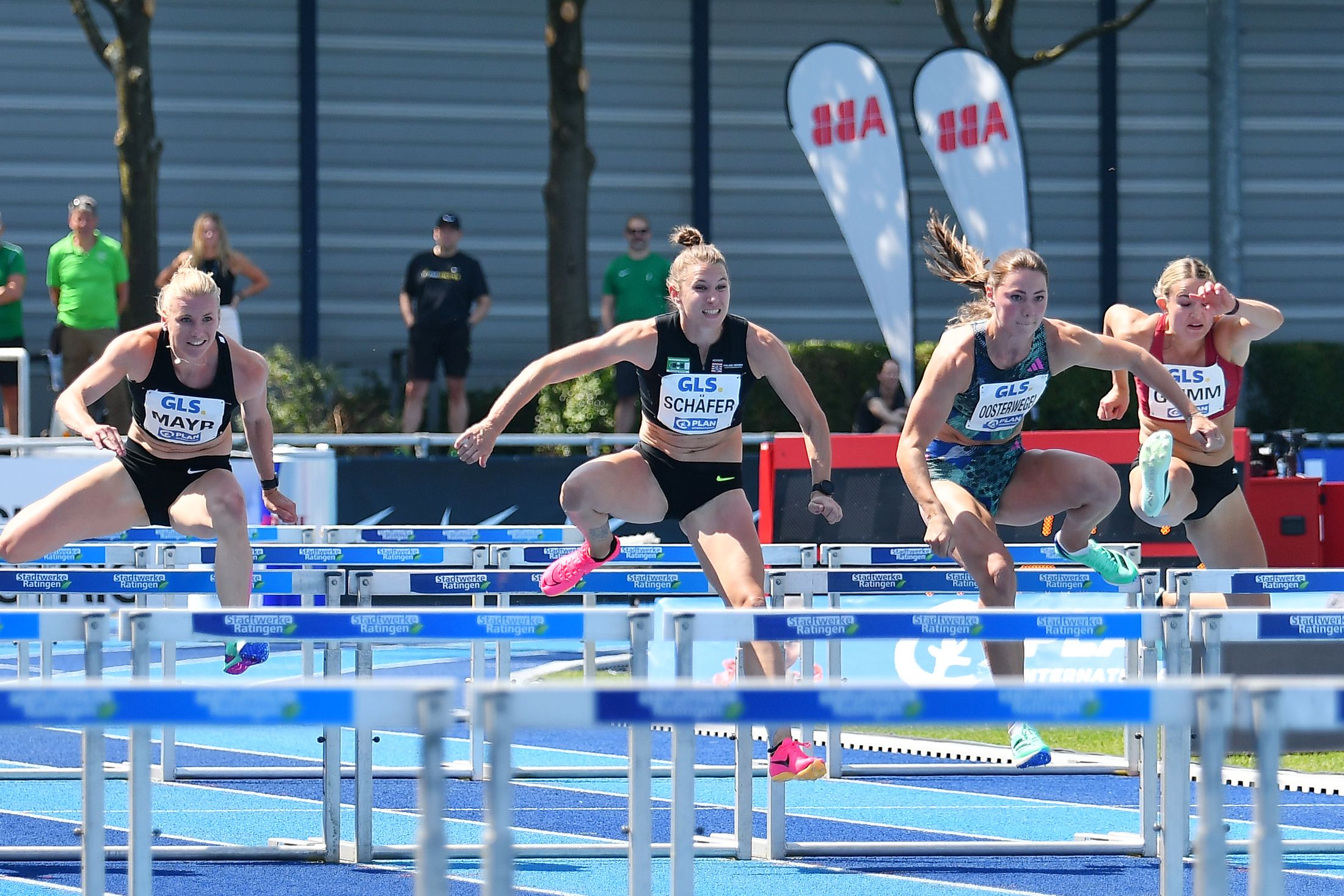 Carolin Schafer in the heptathlon 100m hurdles in Ratingen (© DLV / Benjamin Heller)
Belgium's world and Olympic champion Nafi Thiam, who was contesting just a few selected disciplines in Ratingen instead of the full heptathlon, posted the fastest time of the day in the 100m hurdles with 13.38, but Schafer was close behind (13.43), giving her an early advantage over Weissenberg (13.67).
But Weissenberg responded with 1.81m in the high jump, six centimetres higher than Schafer's best, to take the overall lead.
The standings changed again after the shot put, where Schafer threw 14.75m – her best mark since 2017, the year in which she earned world heptathlon silver. Weissenberg managed 13.33m to slip to third in the overall standings behind USA's Shaina Burns, who threw 13.56m.
Schafer's momentum continued in the 200m as she finished ahead of her compatriot once more, 23.88 to 24.03. It gave Schafer an overall leading tally of 3812 – her best day-one score since the 2018 European Championships.
Weissenberg ended day one with a score of 3744, about 100 points shy of the first-day score she achieved last month in Götzis where she finished fifth with 6375.
Thiam skipped the high jump, but threw 15.20m in the shot put and ran 24.45 in the 200m.
Weissenberg leapt into the lead at the start of day two with 6.31m in the long jump, the second-farthest mark of the day behind Thiam's 6.59m, as Schafer recorded 5.83m and moved into second spot.
Schafer was No.1 again after the javelin, however, as she threw 50.23m in a discipline topped by Thiam's 52.61m. Schafer then clocked 2:14.94 to triumph by 122 points, as Weissenberg ran 2:22.24 to hold on to her runner-up place.
Olympic bronze medallist Oosterwegel jumped from sixth to third with a 52.04m javelin throw after long jumping 5.83m and that is where she would stay as she won the 800m in 2:12.60 for an overall score of 6209 points.
Ireland's Kate O'Connor and Austria's 2019 world bronze medallist Verena Mayr, contesting her first heptathlon since the Olympic Games in Tokyo and following thigh problems, also surpassed 6000 points, scoring 6125 and 6023, respectively.