Stephanie Spence, Cr. Murray Emerson, The Hon. Jaala Pulford, Neil Blizzard and Joanne Pafumi (© World Athletics)
At the 139th Powercor Stawell Gift Carnival on Easter Monday (5), the World Athletics Heritage Plaque was unveiled jointly by The Hon. Jaala Pulford, Minister for Western Victoria, and Neil Blizzard, president of Stawell Athletic Club.
The Plaque, which is awarded for "an outstanding contribution to the worldwide history and development of the sport of track & field athletics" was conferred on the Stawell Gift on 10 May 2019. The Gift was one of eleven recipients of the plaque around the world announced that day by World Athletics president Sebastian Coe.
Also present at the unveiling were Stephanie Spence, president of the Victorian Athletic League and chair of Stawell Gift Event Management Limited, Cr. Murray Emerson, Mayor of Northern Grampians Shire Council, and Joanne Pafumi, general manager of corporate affairs, Powercor.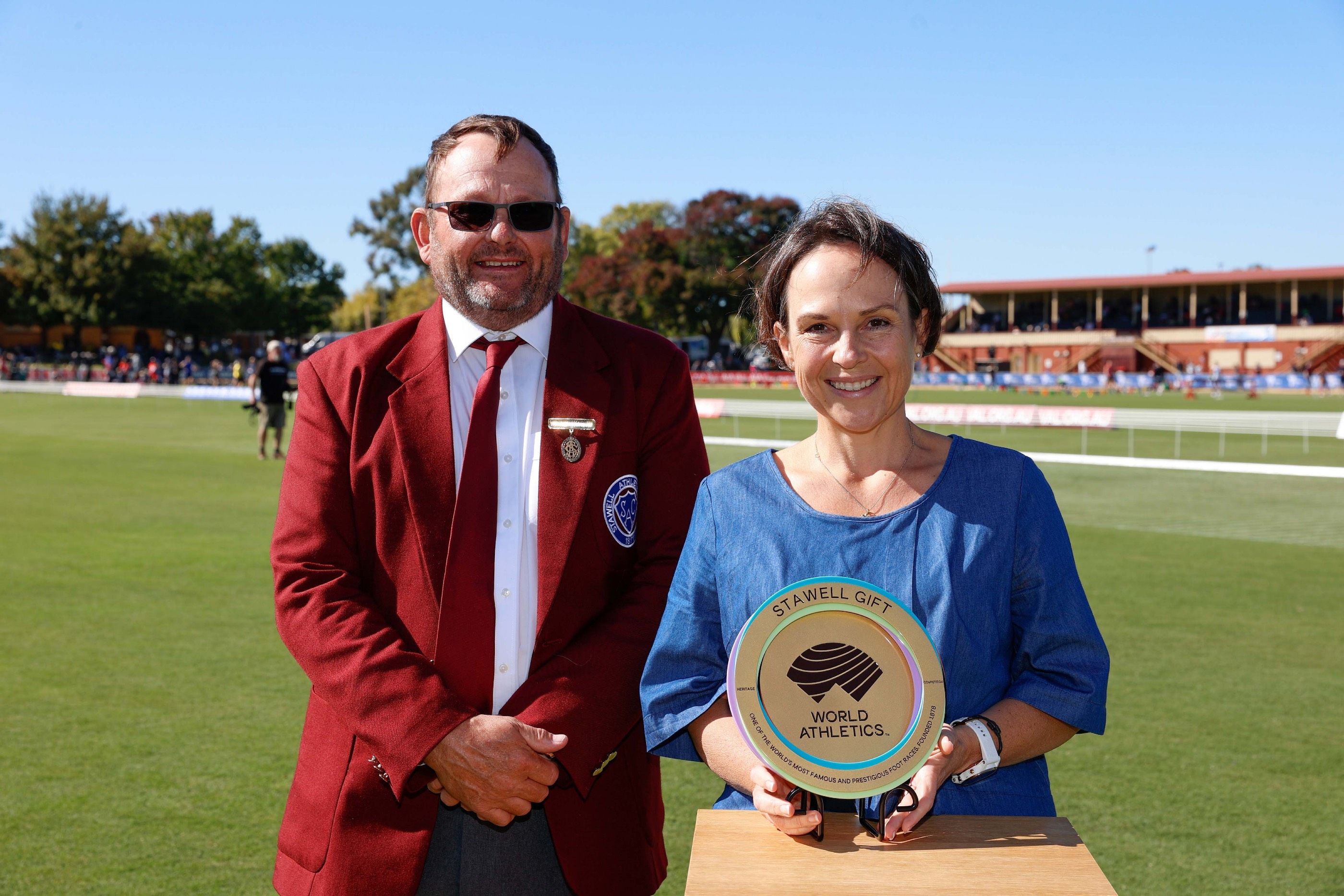 Neil Blizzard, president of Stawell Athletic Club, and The Hon. Jaala Pulford, Minister for Western Victoria

The plaque is being transferred to the Stawell Gift Hall of Fame where it will be on permanent public display.
The Stawell Athletic Club was founded in 1877, with the first Stawell Gift being run in 1878. The Stawell Gift has been held in all but five years since 1878 and is one of the world's most famous and prestigious foot races.
Run on grass, athletes are handicapped according to form and ability, and start off varying marks accordingly. Runners race for glory and prize money with many more dollars working their way through the bookies ring.
The main race is the Stawell Gift which is run over 120m up a slight gradient, and the final is traditionally held on Easter Monday.
This year's winners were Edward Ware and Hayley Orman. Ware from Mitcham in Melbourne won the Powercor Stawell Gift in 12.188 off a mark of 9.75m and Orman from Flagstaff Hill in Adelaide won the Change Our Game Women's Gift in 13.876 also with a handicap of 9.75m.
Chris Turner for World Athletics Heritage