Mondo Duplantis, winner of the pole vault at the Wanda Diamond League meeting in Stockholm (© Getty Images)
On a night of surprises in Stockholm's historic Olympic Stadium, the pinnacle of the final Wanda Diamond League meeting ahead of the World Athletics Championships Oregon22 proved to be a not-entirely unexpected new height for Mondo Duplantis.
Global champions Yaroslava Mahuchick and Malaika Mihambo were beaten into fifth place in their respective events, while the injury-troubled Marcell Jacobs was a no-show in the men's 100m, but Sweden's biggest athletics star lived up to expectations on home soil at the Bauhaus Galan.
The young Swede who has recalibrated the limits of the pole vault did not attempt to improve on the absolute 6.20m world record he set indoors at the World Athletics Indoor Championships Belgrade 22 in March, but in clearing 6.16m at the second time of asking, he added one centimetre to the highest ever outdoor vault in history.
Two years after scaling 6.15m in Rome, bettering Sergey Bubka's 6.14m from 1994, Duplantis would have lifted the roof in the 1912 Olympic arena had there been one – such was the mighty roar from the crowd of fellow Stockholmers as he secured what was also a Wanda Diamond League record, a stadium record and an outdoor world lead.
Having been followed around the outdoor circuit by inclement weather, the Olympic and world indoor champion took full advantage of near-ideal conditions – and the inspiring home-town setting – to raise his game a significant notch ahead of his quest for a first outdoor world title in Eugene.
"It is extra special," said Duplantis whose previous season's best and world lead was the 6.02m he cleared in Oslo on 16 June. "I wanted to come here today and do something special.
"I felt in shape and I have great support here in Stockholm where I live now. It's my home, so it means extra more."
For Duplantis, who is now unbeaten in 12 contests indoors and out in 2022, it was a first competition in the hallowed 1912 Olympic Stadium since he became a resident of Sweden's capital city, after moving into an apartment with his partner Desire on Kungsholmen, the island that forms part of central Stockholm
"It's a really special, kind of a home turf feeling to compete here," said Duplantis, who won from Olympic silver medallist Chris Nilsen of the US and Brazil's 2016 Olympic champion Thiago Braz, second and third respectively with 5.93m.
"I've got a special tie to the stadium. It's a really beautiful place and it's a really solid place to jump.
"This is the time I wanted to be in my best shape. I feel like I am definitely in shape to win the title and maybe do something special in Eugene."
We have been warned.
Duplantis sailed over 5.63m, 5.83m, 5.93m and 6.03m before taking his two attempts at 6.16m.
Asked to reflect on his second-time success, he said: "It's hard to describe it, really. You kind of black out when you're out there.
"I just remember I was trying to focus really hard on not hitting the bar. When I got over it, I just started to run like an idiot."
Hurdles records for Dos Santos and Bol
It was an understandably crazy reaction on a something of a crazy evening, one that yielded three other world leads (notably Alison dos Santos' 46.80 in the 400m hurdles), another Wanda Diamond League record (Femke Bol's 52.27 in the women's equivalent) and six meeting records in all, among them Anderson Peters' 90.31m in the javelin and Kristjan Ceh's 70.20m in the discus.
The dashing Dos Santos got tantalisingly close to the 46.72 South American record he set behind Karsten Warholm and Rai Bemjamin at the Tokyo Olympics, registering the first sub-47-second performance of the year as he finished way ahead of CJ Allen of the USA, a distant runner up in 48.28.
The 22-year-old Brazilian missed Warholm's Wanda Diamond League record by just 0.02 but had the satisfaction of bettering the Norwegian's two-year-old meeting record, 46.87.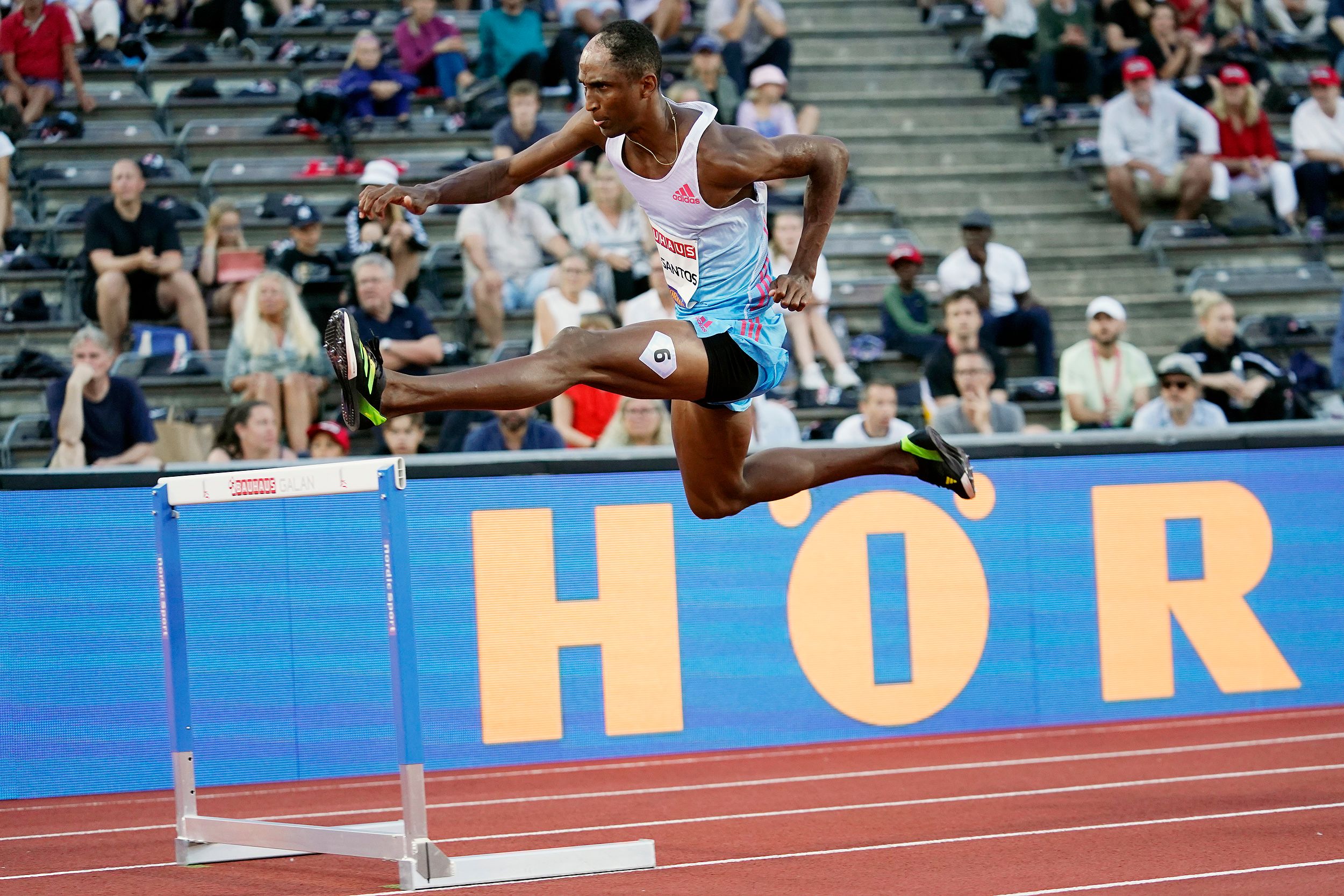 Alison Dos Santos on his way to winning the 400m hurdles at the Wanda Diamond League meeting in Stockholm (© Matthew Quine)
"I am so proud about this performance," dos Santos reflected. "Now I am excited for Eugene."
It was not quite in the Sydney McLaughlin class, but Bol's response to the Olympic champion's 51.41 world record at the US Championships last Saturday was a record-breaking 400m hurdles performance of her own.
The Dutch hurdler was asleep in bed when McLaughlin was busy tearing round the Hayward Field track. "It was an amazing race when I watched it back," she said. "She's a great athlete and runs it in a really nice way, so it's always inspirational. I just have to concentrate on myself and do a little bit better."
Bol's response on the track in Stockholm was an exhibition run of her own, a clear victory in 52.27, despite a slight stumble over the final flight. That represented an improvement on the Wanda Diamond League and meeting record figures of 52.37 that she set here on the way to Tokyo twelve months ago.
It was also a significant step up from the 52.61 season's best the 22-year-old clocked in Oslo on 16 June. McLaughlin might be on an upward curve but so is the flying young Dutch woman, whose European record from the Olympics stands at 52.03.
"It was a good race but not perfect," Bol said, mindful of her far from clean final clearance. "I am still hoping to do something very special in Eugene.
"I'm excited about the World Championships when you see the results from the US Championships in Eugene. I am excited to go there. I have some great competitors out there."
Finishing in Bol's wake in the Swedish capital were Jamaica's Rushell Clayton, the runner up in 53.90, and Ukraine's Anna Ryzykova, third in 54.33.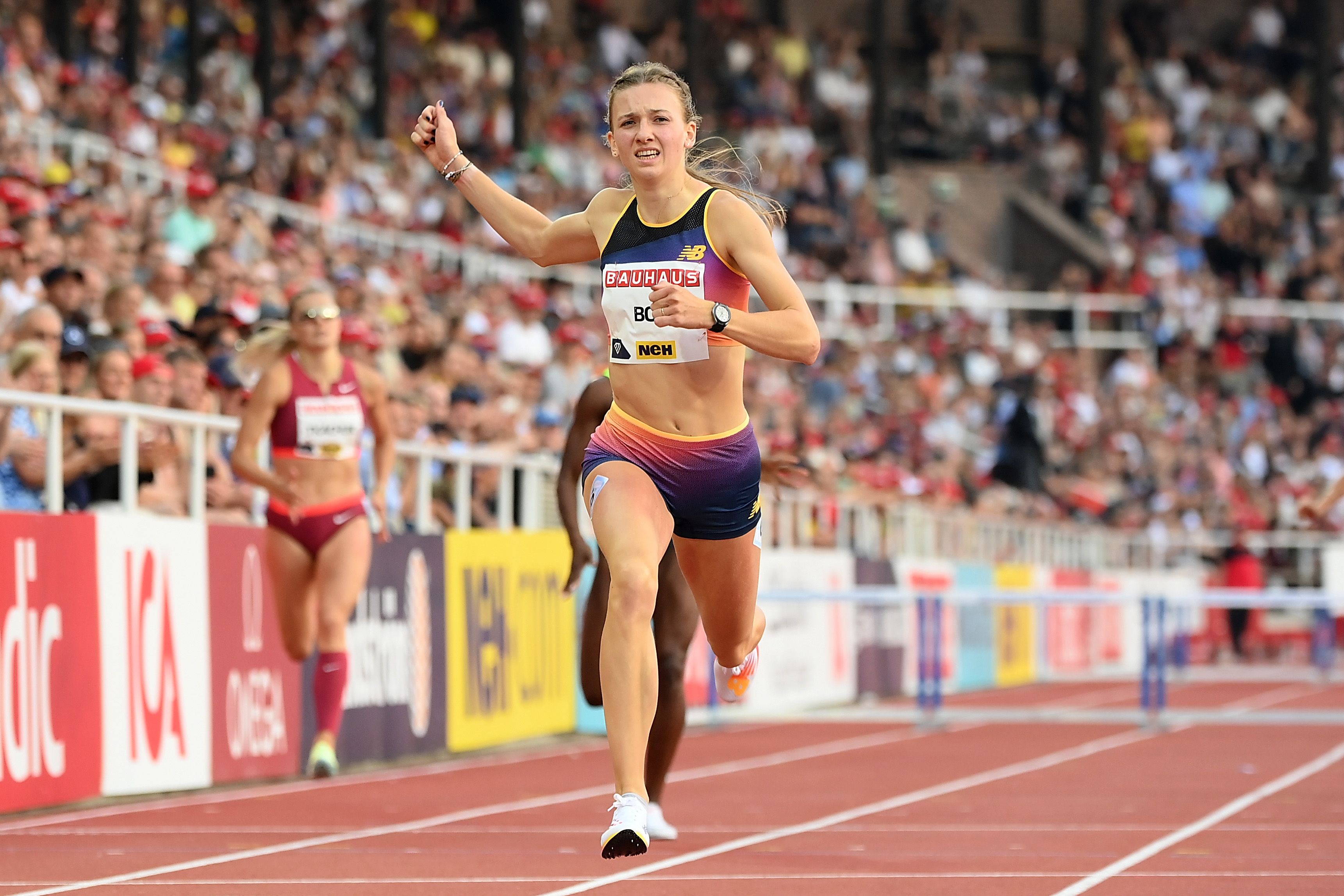 Femke Bol wins the 400m hurdles at the Wanda Diamond League meeting in Stockholm (© Getty Images)

There were fireworks from the off in the men's javelin.
Competing in his first Wanda Diamond League meeting for four years, Neeraj Chopra opened proceedings with the longest throw of his life. The Indian's mighty effort drew an awe-struck gasp from the crowd as it landed at 89.94m – eclipsing the 89.30m lifetime best and national record he set at the World Athletics Continental Tour Gold meeting in Turku on 14 June.
It also wiped out the 89.78m stadium record established by Norway's Andreas Thorkildsen back in the mists of 2006. Not that it had much chance of standing for very long.
Jakub Vadlejch, the Czech thrower who took Olympic silver behind Chopra in Tokyo, threatened it with his opening throw, 88.59m.
Then, in round four, Anderson Peters ventured beyond the 90-metre line. The world champion from Grenada, who leads the world list with his 93.07m from the opening Wanda Diamond League meeting of the season in Doha, took ownership of the meeting record with 90.31m.
There the record and the top two places stayed, Germany's Julian Weber snatching third with 89.08m in the fifth round.
"I'm not really in great shape," Anderson said. "I have suffered a back injury. It is still getting better but I hope to be back in a really good shape soon. When I'm 100%, I want to see what the result will be."
Anderson confessed he had been motivated by Chopra's opening salvo. The Olympic champion himself reflected: "I felt good after the first throw. I thought I could even throw over 90 metres today but it is ok.
"I have more competitions coming: the World Championships and Commonwealth Games. I am close to 90 metres. I can throw it this year."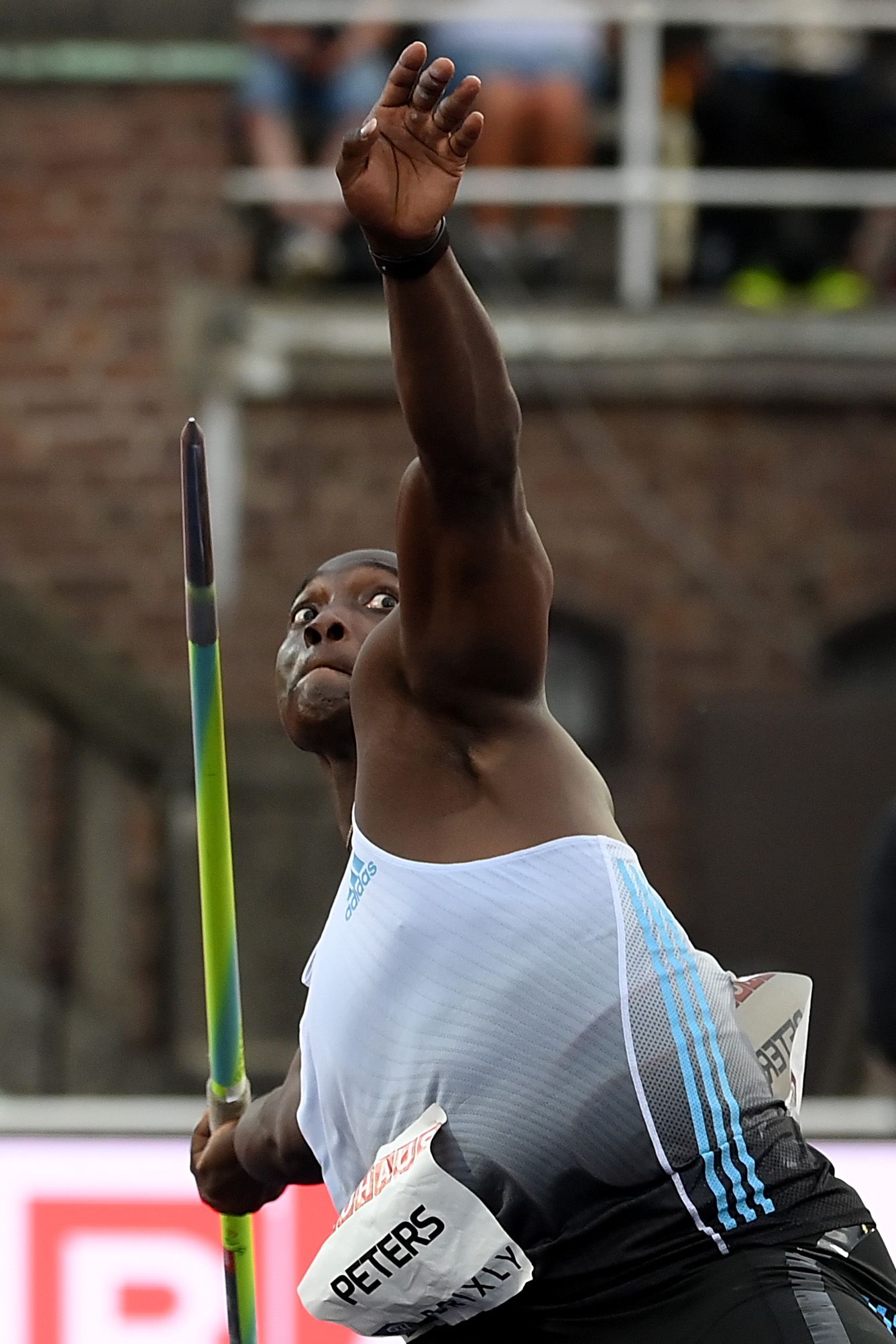 Anderson Peters in the javelin at the Wanda Diamond League meeting in Stockholm (© Getty Images)

The burgeoning Mykolas Alekna must be confident of crossing the 70-metre Rubicon in the discus, having improved the PB he set at the Lithuanian Championships last Saturday (25) to 69.81m here.
But the stunning performance by the 19-year-old son of former world and Olympic champion Virgilijus Alenkna was not quite good enough to topple the mighty 6ft 9in Kristjan Ceh.
The giant Slovenian fouled three of his four attempts before uncorking what proved to be a winning 70.02m in round five. Sweden's world and Olympic champion Daniel Stahl had to settle for third with 67.57m – 20 centimetres ahead of fourth-placed European champion Andrius Gudzius of Lithunaina.
"This is the first time I've competed against Alekna," said Ceh. "The kid is young and talented. At his age I was throwing 63m. I'm impressed."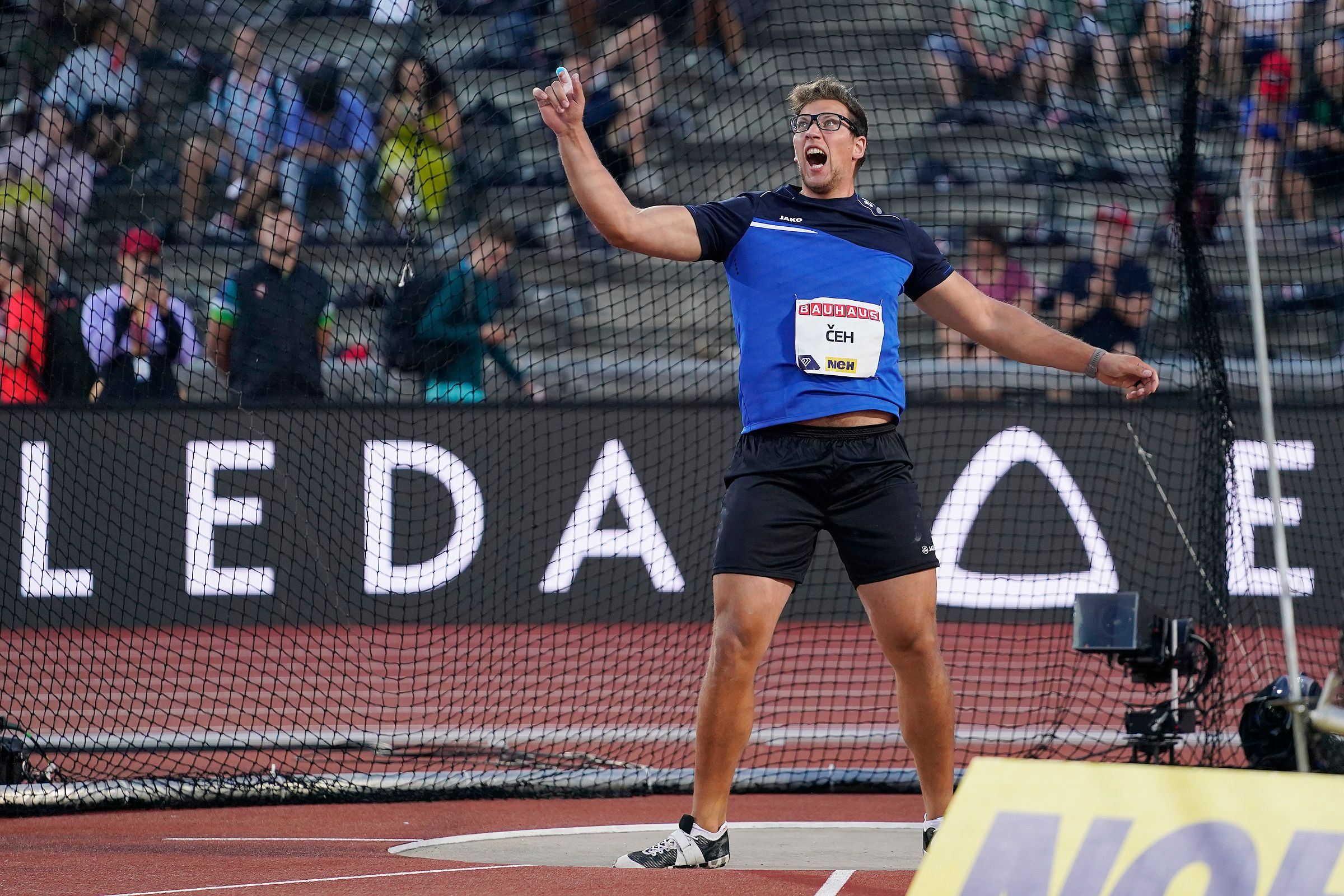 Kristjan Ceh, winner of the discus at the Wanda Diamond League meeting in Stockholm (© Matthew Quine)

It was not the best of nights for Ukraine's world indoor high jump champion Mahuchikh. On the back of world-leading clearances of 2.01m in Paris and 2.03m in Brno, the 20-year-old only registered one clearance – a modest 1.89m – before crashing out with three failures at 1.96m.
That was only good enough for fifth place as Australian's world indoor silver medallist Eleanor Patterson took the victory with a season's best 1.96m, with 1.93m clearances by Mahuchikh's compatriots Yuliya Levchenko and Iryna Geraschenko in second and third and Nadezhda Dubovitskaya of Kazakhstan in fourth.
Germany's world and Olympic long jump champion Mihambo also suffered an off night, finishing down in fifth with 6.72m.
Her one defeat came at the Wanda Diamond League meeting in Rome on 9 June, when she finished runner-up to Maryna Bekh-Romanchukh, the Ukrainian she beat to world gold with a mighty 7.30m in Doha two years ago.
Bekh-Romanchukh had to settle for second here with 6.74m, Briatin's Lorraine Ugen snatching victory with 6.81m (-0.8m/s) in the penultimate round. Sweden's European indoor bronze medallist Khaddi Sagnia took third with 6.74m.
In the opening event of the evening, Chase Ealey maintained her shield of invincibility, stretching her unbeaten shot record for the season to a seventh competition.
The world indoor silver medallist from the United States came tantalisingly close to Valerie Adams's 11-year-old stadium record, 20.57m. She threw 20.30m in round two and finished with the bang of a 20.48m effort – just three centimetres shy of the world lead and lifetime best she posted at the US Championships at Hayward Field last weekend.
Sarah Mitton, who moved to third on the 2022 world list with her 20.33m national record at the Canadian Championships last Saturday, took second place with 19.90m and Portugal's world indoor champion Auriol Dongmo third with 19.30m.
"I had two good throws today," said Ealey, who shifted her training base from Arizona to Loughborough in the UK after missing out on Olympic selection last year. "I only arrived from the US last night but I feel really amazing. The World Championships are coming up and I feel that I am building my self-confidence more and more by throwing over 20 metres regularly.
"When I keep doing that and winning competitions, it is easier to relax and focus on what to do next. I want to get a medal, preferably gold, when I get to the World Championships."
Invincible in the indoor season save for one false start, Marcell Jacobs' troubled preparations for Eugene continued when the Italian Olympic and world indoor champion was forced to withdraw from the field for the 100m.
A statement issued by the organisers announced: "After feeling some pain yesterday during the training session, and after the supervision of his personal medical staff, they have taken the decision not to let him take any risk."
Just the afternoon before, at the pre-event press conference, Jacobs said he was recovering from the muscle injury that ruled him out of Wanda Diamond League meetings in Eugene, Rome and Oslo.
"I'm doing much better," said the former long jumper, who returned to action with a 10.12 victory at the Italian Championships in Rieti last weekend. "I was anxious to come back to the track after being out for a long time.
"The injury came in a crucial part of season. It ruined our plans. Now it's important to compete, to get the competition feeling back."
It remains to be seen whether the latest setback will rule out a shot at an outdoor world title. "We are flying straight from here to a training camp in Oregon," he said at the press conference. We will decide when I am there whether I need another competition."
In Jacobs' absence, Akani Simbine, the South African who finished fourth behind him in the Olympic final, took the victory in10.02 (-0.5m/s) ahead of Britain's Reece Prescod (10.15) and Jimmy Vicaut (10.19).
Unbeaten over two laps in the 2022 outdoor season, Britain's Keely Hodgkinson found herself being overshadowed by an emerging new rival.
The Olympic silver medallist looked poised to strike off the final bend after tracking Mary Moraa's charge down the back straight but had nothing left in the tank as the 22-year-old Kenyan found another gear.
Moraa surged clear to victory in 1:57.68 – proving her 1:57.45 success in her national championships in Nairobi last Friday was no fluke. A world U18 silver medallist at 400m in 2017, she edged past Hodgkinson into third place on the 2022 world list with that performance and, backed up by this impressive evidence, will be a medal-contending force with which to be reckoned in Eugene.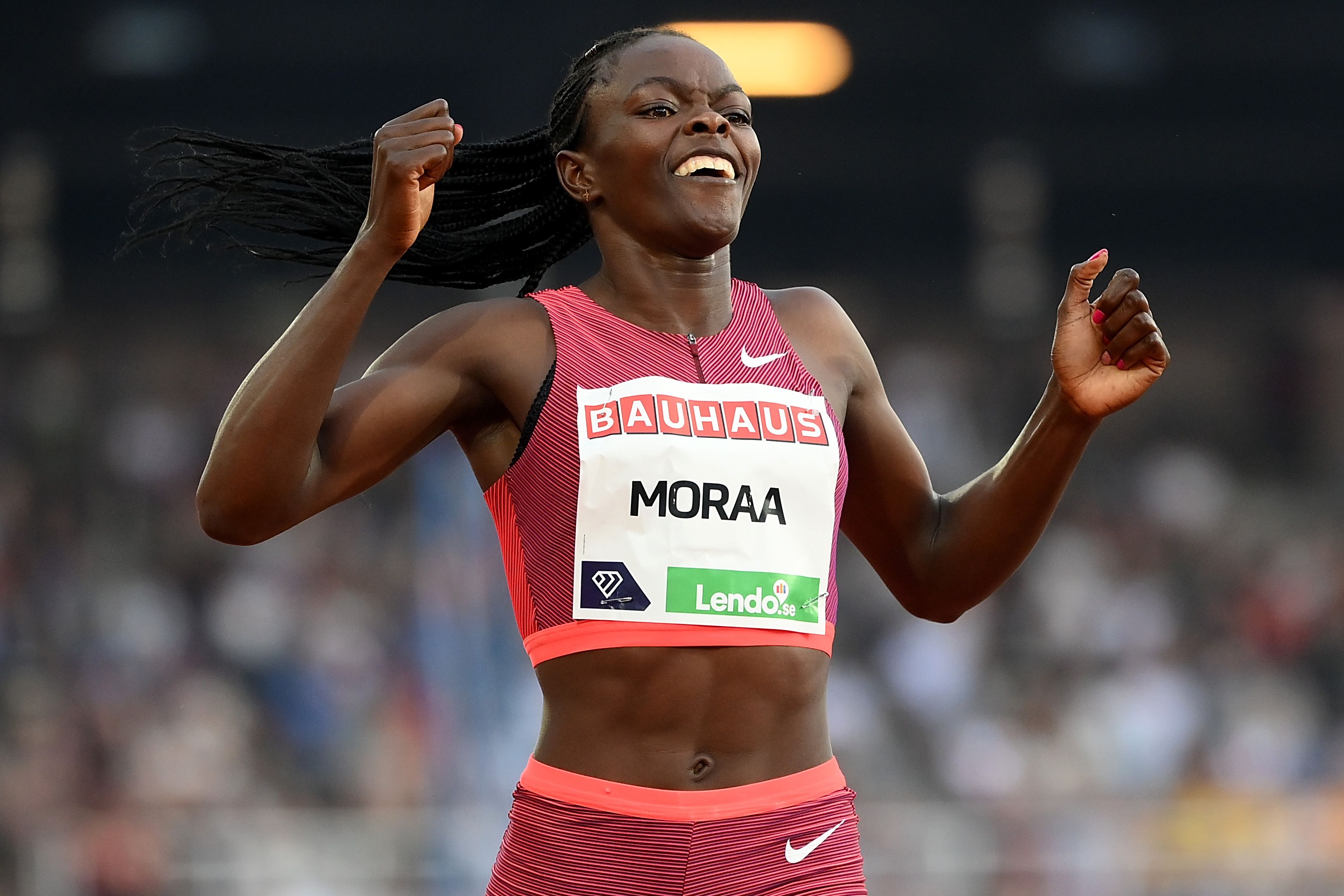 Mary Moraa wins the 800m at the Wanda Diamond League meeting in Stockholm (© Getty Images)

Nobody will be more aware of that than Hodgkinson, who finished runner up in 1:58.18 – ahead of Australia's Catriona Bisset, who clocked a season's best 1:58.54 in third, and fast finishing world champion Halimah Nakaayi of Uganda, fourth in 1:58.85.
"I obviously don't like losing but it is all good experience," said Hodgkinson. "The race was a bit messy and Mary got the better of me. I couldn't quite get it together today."
Moraa, an officer in the Kenyan police force, said: "I'm happy with the win and the way I ran. I am looking forward to running with medallists at the World Championships
"I qualified for both the 400m and 800m. I have to discuss with my coach whether I will double or not. It's only my second season at 800m."
An even fresher talent emerged in the men's 3000m. In his first race on the international circuit, Dominic Lobalu – a refugee from South Sudan now living in Switzerland – finished strongly to post a world lead of 7:29.48 – ahead of Uganda's Olympic 10,000m bronze medallist Jacob Kiplimo, the runner-up in 7:29.55.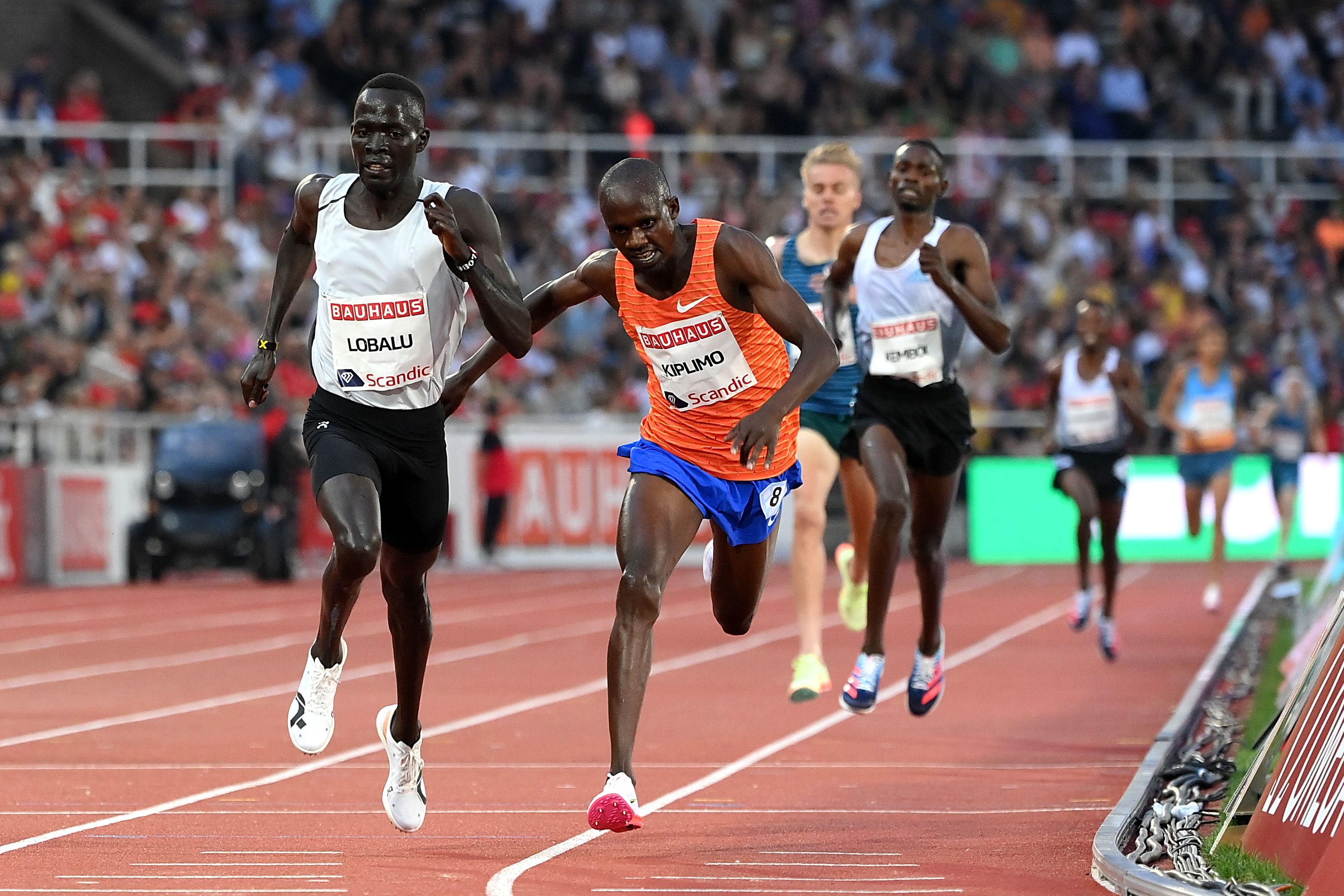 Dominic Lokinyomo Lobalu wins the 3000m in Stockholm (© Getty Images)

"At the start I was a little scared," said Lobalu, "but towards at the end I started to pick up the athletes and in the last 100m I thought I could win. I am very happy with the victory.
"I want to motivate other refugees too because I had to fight to be here. I landed in Geneva, where I met my coach. I am grateful that I can work with him."
Puerto Rico's Olympic 100m hurdles champion Jasmine Camacho-Quinn came out on top in a tight battle with the in-form Tobi Amusan. The Nigerian scorched to victory in an African record 12.41 at the Wanda Diamond League meeting in Paris but could not close the gap on Camacho-Quinn who prevailed by 0.04 in 12.46 (-0.5m/s).
Having enjoyed a pass from the US Trials courtesy of her gold medal performance in Doha three years ago, world champion Nia Ali took third in 12.53.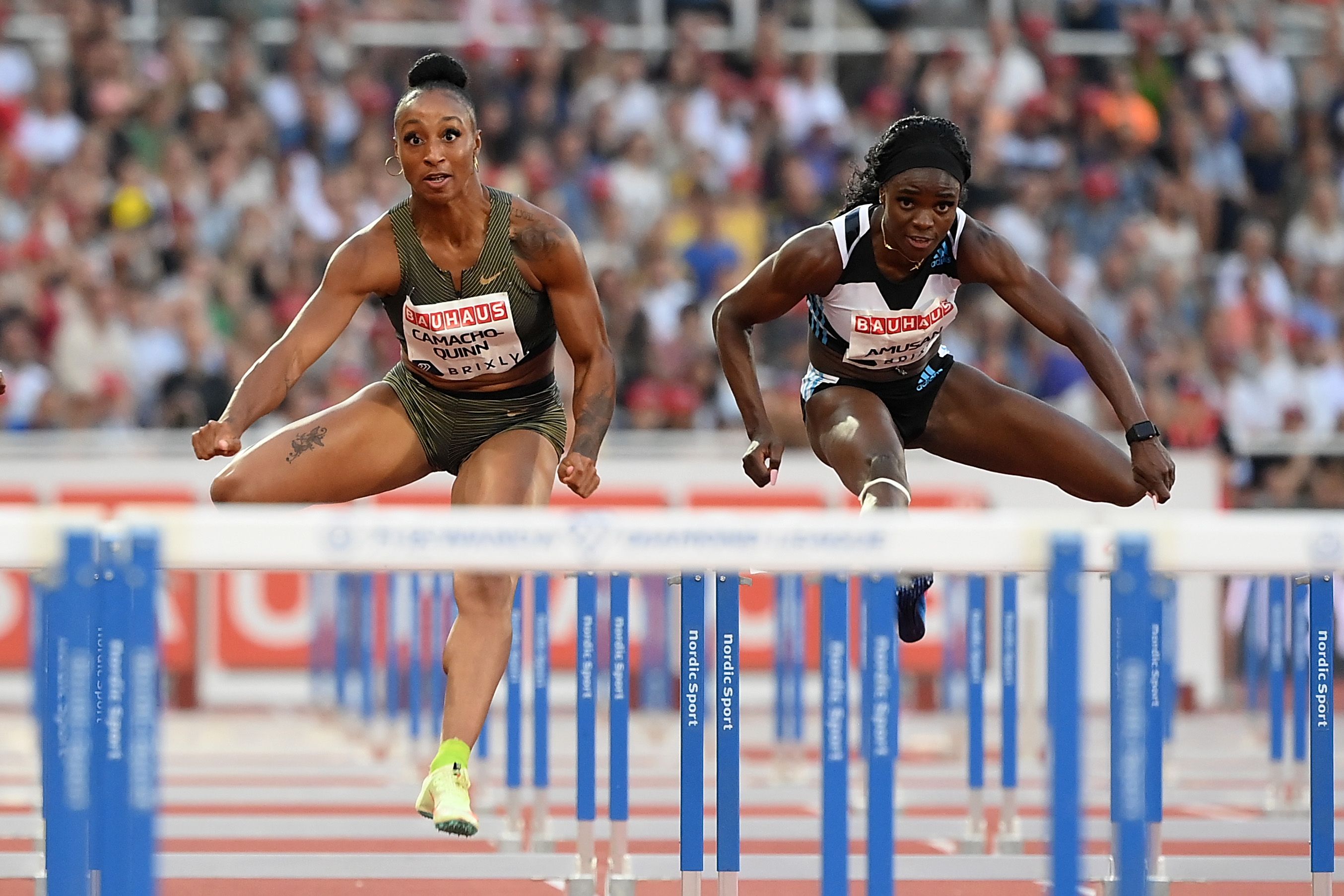 Jasmine Camacho-Quinn on her way to winning the 100m hurdles in Stockholm (© Getty Images)

The closest finish of the night came in the women's 200m, Britain's world champion Dina Asher-Smith running a storming bend – only for Switzerland's world indoor 60m champion Majinga Kambundji to close her down in the last 20 metres.
The pair dipped across the line together, both clocking 22.37. Asher-Smith got the photo finish verdict by 0.003 from Kambundji, who had earlier been on second leg duty for a Swiss 4x100m quartet who set a meeting record and world lead, 42.13.
The men's long jump didn't feature on the Diamond League programme but produced a cracking contest, resulting in an 8.31m victory for Olympic champion Militadis Tentoglou.
Kazakhstan's Daisy Jepkemei won the women's 3000m steeplechase in 9:15.77, Alice Finot clocking a French record in second, 9:19.59. In the men's 800m Finot's compatriots Benjamin Robert and Gabriel Tual took second and third behind the fast-finishing Algerian Silamine Moula, the clear winner in 1:44.60.
Simon Turnbull for World Athletics