Soufiane El Bakkali on his way to winning the steeplechase in Rabat (© Matthew Quine)
World and Olympic champion Soufiane El Bakkali brought the Meeting International Mohammed VI d'Athletisme de Rabat to an exciting climax, winning the steeplechase in a PB of 7:56.68 at the Wanda Diamond League meeting on Sunday (28).
It was a world-leading mark and meeting record – feats that were also achieved by Ethiopia's Gudaf Tsegay, who won the 1500m in 3:54.03, and Ukraine's Yaroslava Mahuchikh, who won the high jump with 2.01m.
There were three more meeting records and one other world-leading mark at the Complexe Sportif Prince Moulay Abdellah in what was the second stop on the Wanda Diamond League circuit.
But El Bakkali's steeplechase triumph was undoubtedly the performance that inspired the biggest response from the crowd. The Moroccan latched on to the pacemaker who went through the first 1000m in 2:37.51, inside world record schedule. The pace settled slightly in the second kilometre as El Bakkali passed through 2000m in 5:20.25, but he still had Ethiopia's Getnet Wale and Kenya's Abraham Kibiwot for company just a few strides behind.
But from then on, El Bakkali continued to extend his lead with each lap, and it had grown to more than four seconds by the time he reached the bell. And as his leading margin grew, so did the volume from the crowd.
He hit top gear on the final lap, and despite letting his foot off the pedal with about 10 metres to go, he still crossed the line in a PB of 7:56.68 to break the meeting record he set last year. It's the fastest time in the world for 11 years and moves El Bakkali up to eighth on the world all-time list.
"I can't describe my happiness for achieving the meeting record, personal best, and world lead," he said. "My aim was to break the world record but I got tired on the last lap. Now I will rest to get ready for my next competitions and especially for the World Championships where my aim is to keep my title."
Wale held on to second place in a PB of 8:05.15 and Kibiwot was third in 8:05.51.
Tsegay was similarly dominant in the women's 1500m. The world 5000m champion went out hard, covering the first lap in 1:01.3 before reaching 800m in 2:03.6. Fellow Ethiopian Birke Haylom, aged 17, was close behind at this stage, but Tsegay gradually extended her lead in the second half.
By the time the world indoor record-holder entered the home straight, there was no doubt about the outcome of the race, and Tsegay went on to win in 3:54.03, an African all-comers' record.
She led an Ethiopian 1-2-3-4 with Freweyni Hailu claiming second place in 3:57.65, just 0.01 ahead of Birke Haylom, who set an African U18 best. Worknesh Mesele was fourth (4:01.81).
"This was my first outdoor competition of the season, so I'm more than happy with the time and the victory," said Tsegay. "I'm already in great shape and injury free. So far, all is perfect."
World indoor champion Yaroslava Mahuchikh maintained her unbeaten streak in 2023, winning her ninth high jump competition of the year. She did so with a world-leading leap of 2.01m, which she cleared on her first try. Fellow Ukrainian Iryna Gerashchenko was second with 1.91m.
The fourth world-leading mark night of the night came in the women's triple jump, which was won by Cuba's Leyanis Perez Hernandez. One week after setting a PB of 14.80m on home soil in Havana, the 21-year-old extended it to 14.84m in Rabat. She backed it up with a 14.66m leap in round three, while Ukraine's Maryna Bekh-Romanchuk took second place with 14.65m.
Meeting records tumble in sprints
Meeting records were broken in three of the shorter disciplines on the programme.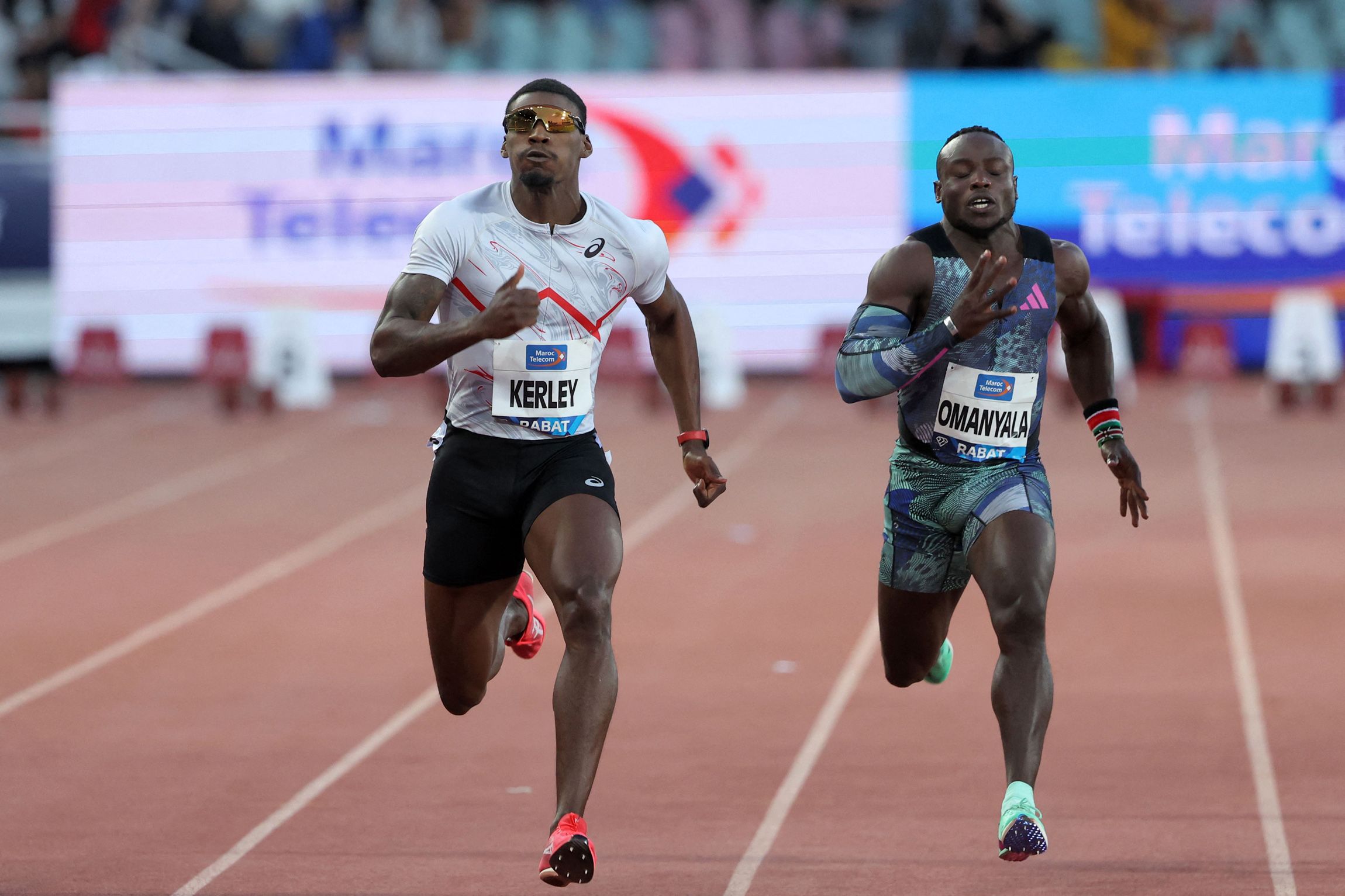 Fred Kerley wins the 100m at the Wanda Diamond League meeting in Rabat (© AFP / Getty Images)
Despite the recent withdrawal of Olympic champion Marcell Jacobs, the men's 100m didn't lack excitement. World champion Fred Kerley was put under pressure first by the fast-starting Trayvon Bromell, and then by South Africa's Akani Simbine, but the US sprinter emerged victorious in a meeting record of 9.94. Simbine was second in 9.99 and Ferdinand Omanyala was third (10.05).
Jamaica's Shericka Jackson contested her first 200m of the year – the distance at which she is world champion – and won comfortably in a meeting record of 21.98. But the biggest surprise came from Bahamian Anthonique Strachan, who broke her 10-year-old PB with 22.15 to take second place.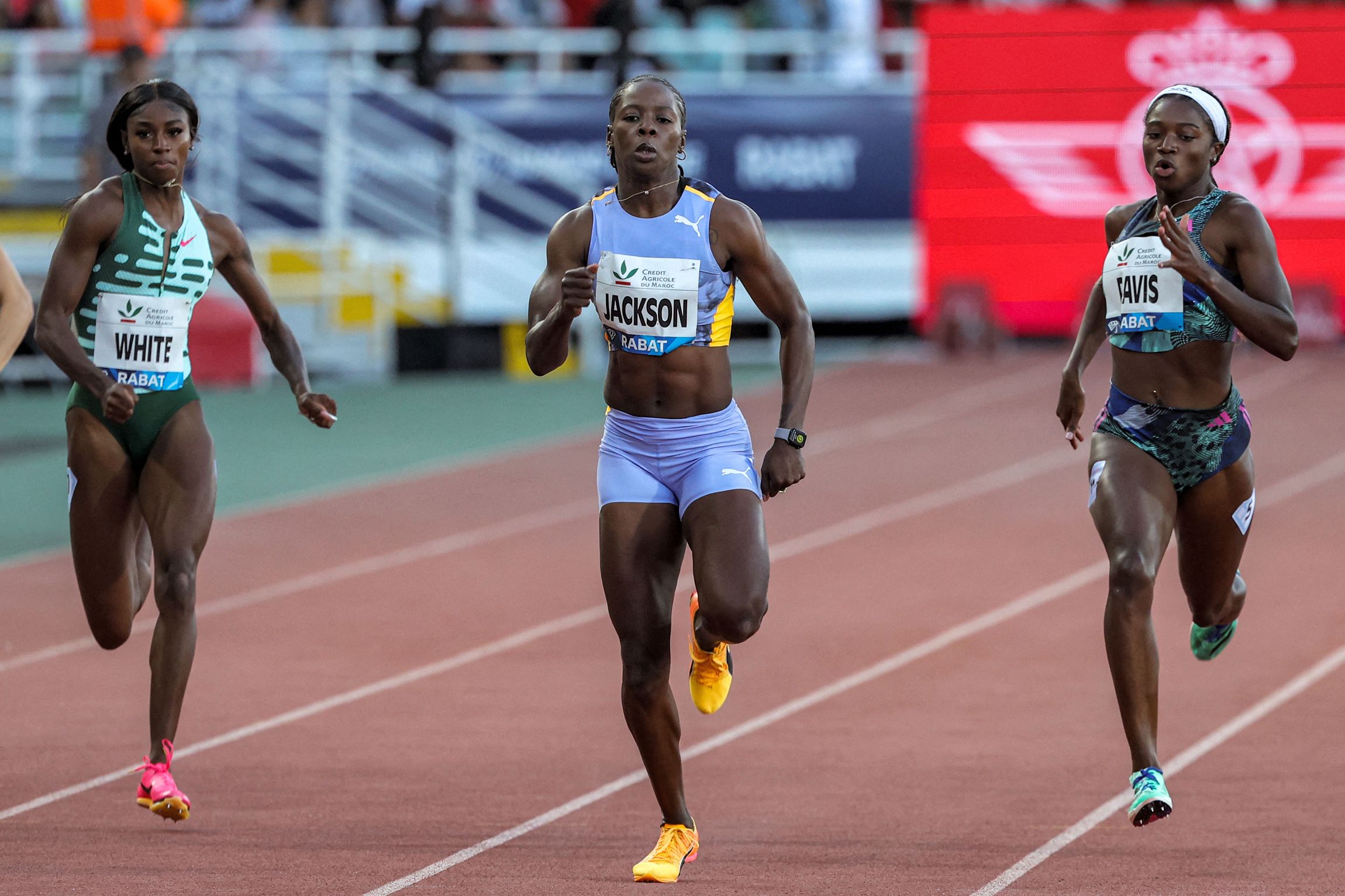 Shericka Jackson, the 200m winner in Rabat (© AFP / Getty Images)
Commonwealth champion Rasheed Broadbell came from behind to win the men's 110m hurdles in 13.08, overtaking world champion Grant Holloway (13.12) off the final hurdle. The world indoor record-holder got a fantastic start and led for most of the way, but fast-finishing Broadbell had the better momentum at the end.
Ceh surpasses 70 again
In yet another incredibly consistent series, world champion Kristjan Ceh won the men's discus with a throw beyond 70 metres.
In fact, the Slovenian produced two efforts beyond that line, plus three more beyond 69 metres. He opened with 70.07m, but Olympic champion Daniel Stahl applied the pressure in the fourth round with a 69.21m throw. Ceh then responded with 70.32m in round five, which remained the best of the day.
In the other throwing event of the evening, world indoor champion Auriol Dongmo won the women's shot put with 19.28m from Netherlands' Jessica Schilder (18.85m).
World and Olympic champion Jakob Ingebrigtsen got his outdoor campaign under way in the 1500m. The Norwegian was less focused on times and more on winning and he did more than enough to hold off USA's Yared Nuguse and Australia's Oliver Hoare.
Ingebrigtsen crossed the line in 3:32.59 with Nuguse and Hoare following a few strides behind in 3:33.02 and 3:33.39 respectively.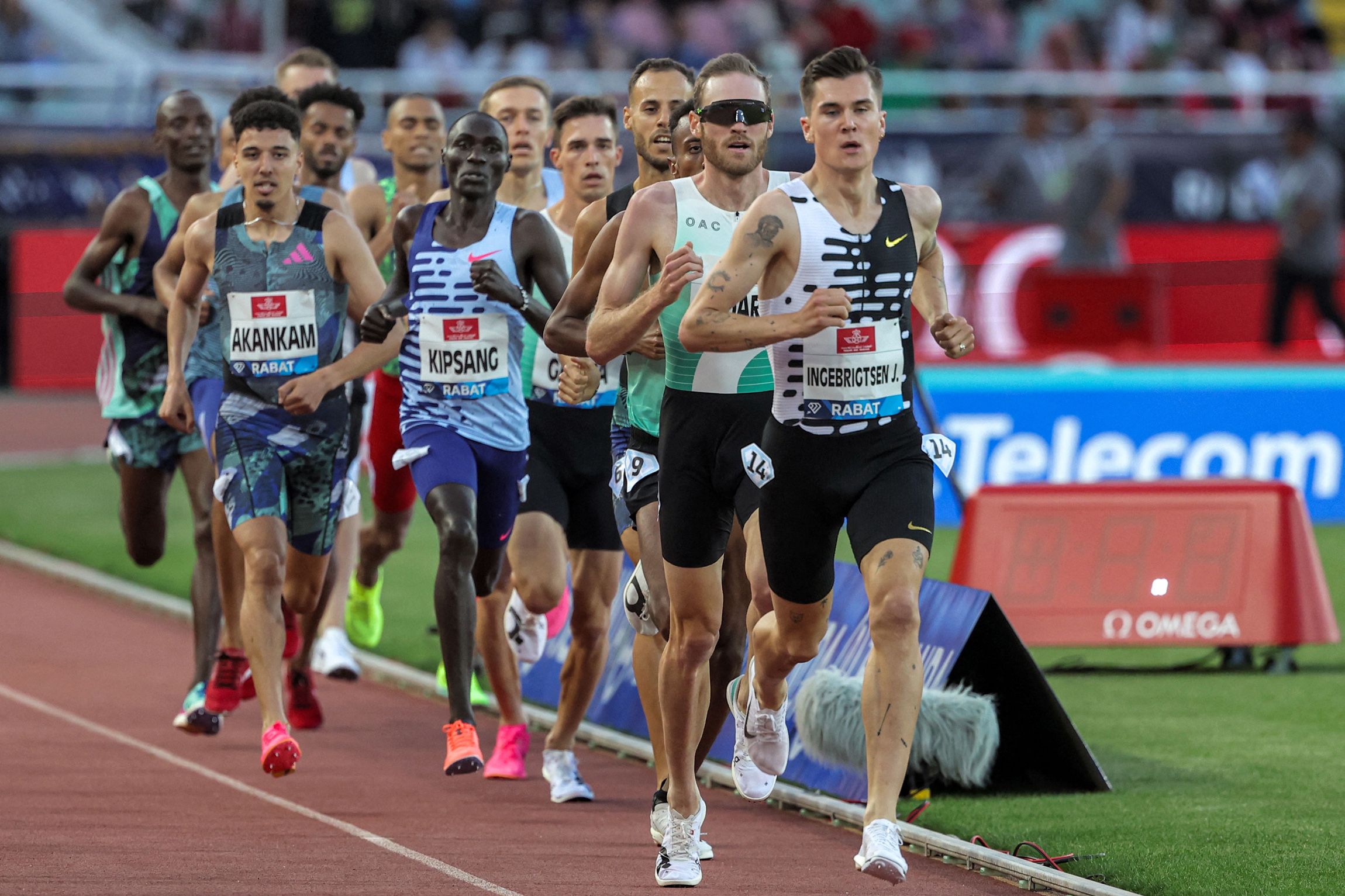 Jakob Ingebrigtsen leads the 1500m in Rabat (© AFP / Getty Images)
Mary Moraa employed similarly effective finishing speed to win the women's 800m in a season's best of 1:58.72 from Australia's Catriona Bisset (2:00.11).
It was the second Kenyan 800m victory of the evening, as Emmanuel Wanyonyi had won the men's event in 1:44.36 from compatriot Wycliffe Kinyamal (1:44.73).
USA's Shamier Little won a competitive women's 400m hurdles in a season's best of 53.95, holding off a three-pronged Jamaican challenge from Rushell Clayton (54.15), Shiann Salmon (54.42) and Janieve Russell (55.41). Former world record-holder Dalilah Muhammad was fifth in 55.72.
In his first ever race in Africa, Olympic champion Steven Gardiner won the men's 400m comfortably in 44.70, finishing 0.41 ahead of USA's Vernon Norwood.
Jon Mulkeen for World Athletics