Faith Kipyegon breaks the world 5000m record in Paris (© Getty Images)
It will go down in history as one of the greatest nights in athletics.
Between them, Faith Kipyegon, Lamecha Girma and Jakob Ingebrigtsen broke two world records* and one world best at the Meeting de Paris on Friday (9), providing the standout moments at a highly memorable Wanda Diamond League meeting in the French capital.
A week after breaking the 1500m world record in Florence, Kipyegon etched her name into the record books for 5000m, winning in 14:05.20.
Ahead of the race, the world and Olympic champion hadn't made too much noise about a possible world record attempt in tonight's 5000m. It was, after all, just her third ever race at the distance, and her first 5000m outing in eight years.
But, as is always the case with Kipyegon, the 29-year-old Kenyan showed no fear as she navigated her way through the race, the early pace – 2:52.31 at 1000m and 5:42.04 at 2000m – seemingly no bother for the two-time world U20 cross-country champion.
Steeplechase world record-holder Beatrice Chepkoech was the third and final pacemaker, leading the field through 3000m in 8:31.91. At this point, world record-holder Letesenbet Gidey led from Kipyegon with Ethiopia's Ejgayehu Taye, the world 5km record-holder, a few strides behind.
Kipyegon took the lead with about 600 metres to go, but Gidey kept close contact. They were about six seconds outside of world record pace, but Gidey also knew what Kipyegon is capable of. The world 10,000m champion knew that Kipyegon had the finishing speed to break Gidey's world record.
Kipyegon – now speeding up with each and every stride – hit the bell in 13:04.1, needing a final lap of about 62 seconds to break Gidey's record. She did exactly that, covering the last 400m in 61.1 seconds to cross the line in 14:05.20 – a 1.42-second improvement on Gidey's mark.
Gidey, competing for the first time since her unfortunate episode at the World Cross Country Championships in Bathurst, finished second in 14:07.94, the third-fastest time in history. Taye was third in 14:13.31, while the next three women – Lilian Kasait Rengerek, Freweyni Hailu and Margaret Chelimo Kipkemboi – all finished inside 14:24.
"I didn't think about the world record, I don't know how I made it," said a delighted and surprised Kipyegon. "I just focused on the green light and tried to stay relaxed and enjoy the race. When I saw that it was a world record, I was so surprised – I just wanted to improve on my PB, the world record was not my plan. I just ran after Gidey – she is an amazing lady.
"I do not know what will be next – I'll have to discuss it with my coach and my management," she added. "If my body is healthy, anything is possible."
Girma had requested an ambitious pace for the men's 3000m steeplechase – one that would result in a finishing time of about 7:52. The world and Olympic silver medallist almost got a bit carried away mid-race, though, and ran well ahead of the wavelights through the middle section of the race.
With two laps to go, the lights almost caught up with the Ethiopian – who by now was well ahead of the rest of the field. But the sound of the bell and the reaction of the crowd seemingly gave him added impetus on the final lap as he moved clear of the lights once more.
He sped around the final lap in about 64 seconds, crossing the line in 7:52.11, taking 1.52 seconds off the world record set 19 years ago by Said Saeed Shaheen.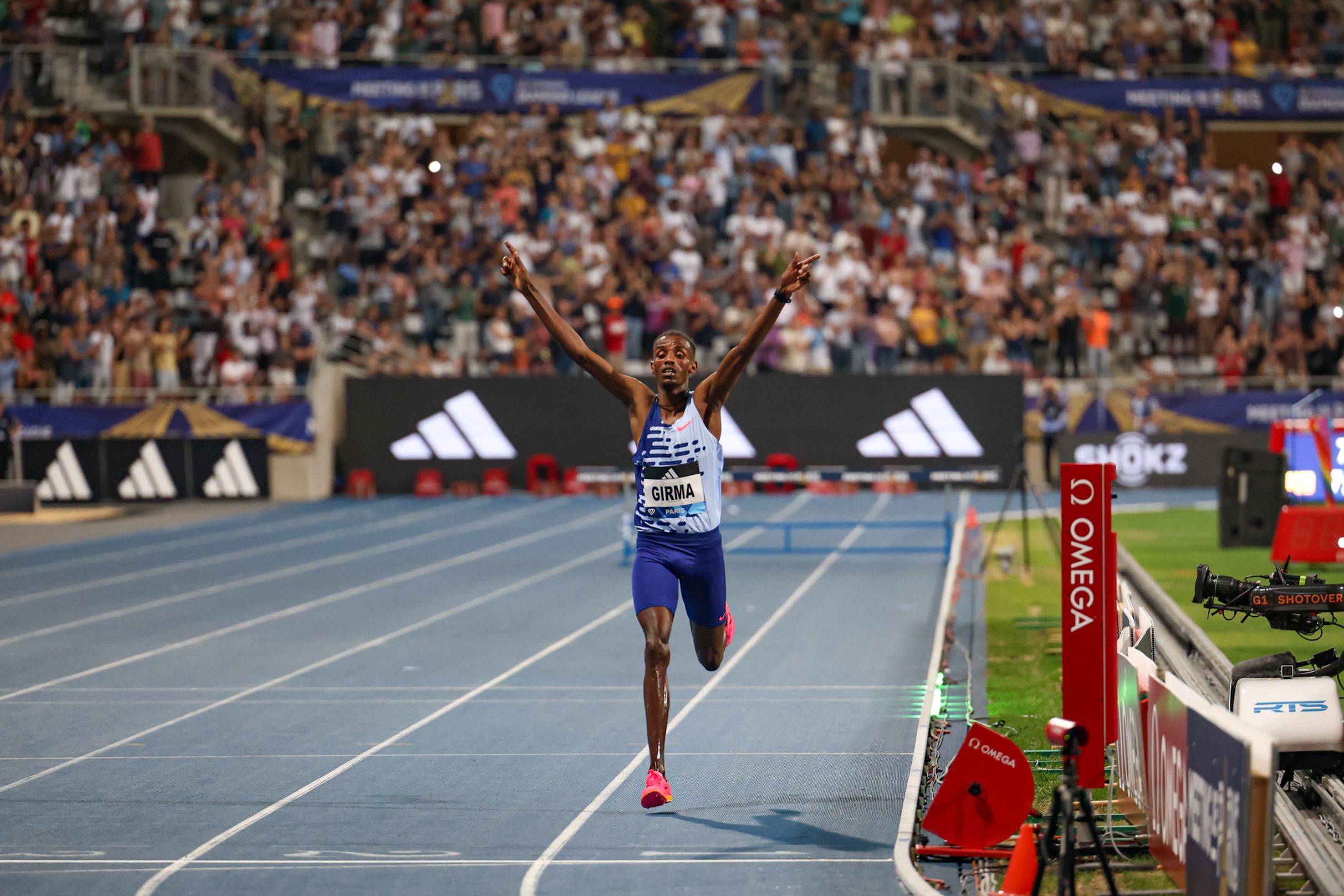 Lamecha Girma breaks the world 3000m steeplechase record in Paris (© Marta Gorczynska)
"I feel so happy," said Girma, who started his year with a world indoor record over 3000m. "I'm happy and very proud. I felt so fast during the race, so confident. The world record is not a surprise; it was my plan to beat it tonight in Paris. It's the result of my full determination."
Two miles might not be an official world record distance, but that mattered not to Jakob Ingebrigtsen – or indeed the sell-out crowd at the Stade Charlety – as the Norwegian won the event in a world best of 7:54.10.
The race wasn't a scoring discipline on this occasion, and as such was held outside of the main broadcast window. But that didn't deter the world and Olympic champion, who stuck to the pacemakers throughout, passing through 1000m in 2:29.07 and then moving closer to the second pacemaker – and, significantly, ahead of the green wavelights.
Once the pacemakers had done their job, Ingebrigtsen maintained his tempo and breezed through 3000m in an official split of 7:24.00 – a European record and the third-fastest performance of all time for that distance. At this point he had a 13.5-second lead over Ethiopia's Kuma Girma. Victory was Ingebrigtsen's; his next target was Daniel Komen's world best.
He charged through the final 218 metres, roared on by the crowd, and crossed the finish line in 7:54.10, winning by 15 seconds.
"Being able to break this mark feels amazing," he said. "It is my first world best outdoors. The pace felt very smooth for me, coming out of the 1500m. The public was amazing; without their help, it would have been more difficult. I was a bit surprised by the time in the end."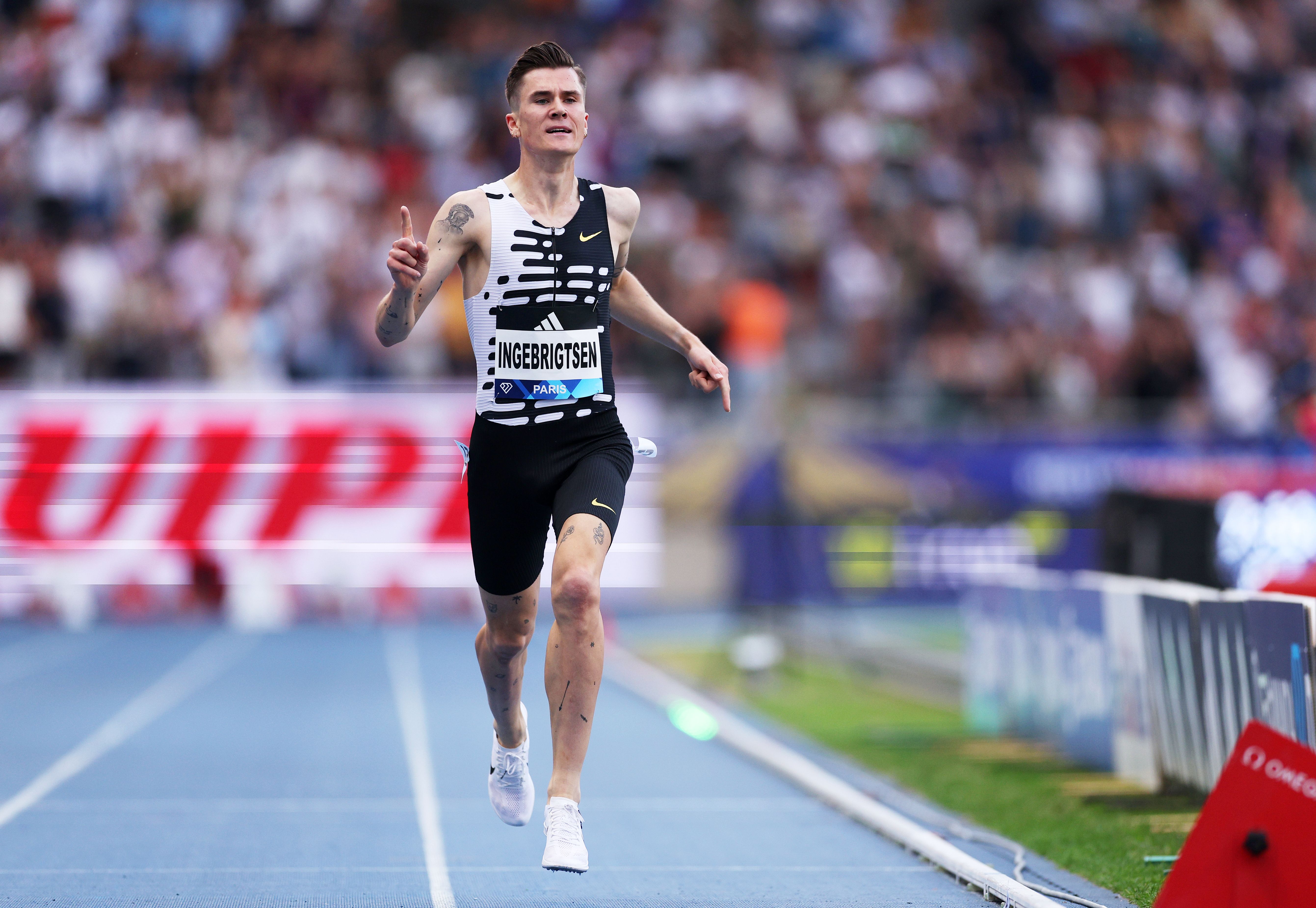 Jakob Ingebrigtsen sets a world best for two miles at the Wanda Diamond League meeting in Paris (© Getty Images)
World leads for Hodgkinson, Wanyonyi and Holloway
World and Olympic silver medallist Keely Hodgkinson opened her outdoor season in stunning fashion in the women's 800m, winning by more than two seconds in a world-leading national record of 1:55.77.
The European champion stuck to the pacemaker and covered the first lap in 57.7 seconds, already a stride or two ahead of the rest of the field. With 200 metres to go, there was clear daylight between Hodgkinson and Jamaica's Natoya Goule, who was being pursued by world indoor champion Ajee Wilson.
But none of them could get near Hodgkinson, who eased down the home straight to cross the line in 1:55.77, taking 0.11 off the British record she set two years ago in Tokyo. Wilson finished second in 1:58.16 and Goule was third in 1:58.23.
In complete contrast to the women's race, the men's 800m – the final race of the night – was extremely close with less than 0.30 separating the top six finishers.
Canada's Marco Arop led for most of the way, the pace a healthy 50.20 through the first lap. But as the field entered the home straight, Kenya's Emmanuel Wanyonyi proved to have the strongest finish and came around the outside to get to the finish first in a PB of 1:43.27, taking 0.05 off the world-leading mark he set in Nairobi last month.
Arop held on for second in 1:43.30 with Algerian dup Slimane Moula (1:43.38) and Djamel Sedjati (1:43.40) setting PBs to claim third and fourth respectively. For the first time since the 2016 edition of this meeting, seven men finished inside 1:44.
Two-time world champion Grant Holloway continued his remarkable consistency in the 110m hurdles, winning in a world-leading 12.98.
He was almost beaten in the heats, clocking 13.20 to finish just 0.01 ahead of Jamal Britt. But his victory in the final was much more comfortable as he notched up the fifth sub-13-second run of his career. Much to the delight of the home crowd, France's Just Kwao-Mathey was second in a lifetime best of 13.09.
Paulino and Allman break meeting records
The highly anticipated one-lap clash between world and Olympic silver medallist Marileidy Paulino and world and Olympic 400m hurdles champion Sydney McLaughlin-Levrone ultimately ended in a decisive victory for the former, but it was still exciting to witness unfold.
McLaughlin-Levrone went out hard and was up on the Dominican Republic sprinter within the first 100 metres. McLaughlin-Levrone reached half way in 22.66, half a second ahead of Salwa Eid Naser with Paulino further back. The world athlete of the year still led at 300m (34.94) but Paulino was starting to come back.
With 50 metres to go, Paulino strode past a struggling McLaughlin-Levrone and powered on to the finish in 49.12, taking 0.03 off the meeting record set 19 years ago by Tonique Williams-Darling. McLaughlin-Levrone was second in a PB of 49.71 and Naser placed third in 49.95.
The meeting record also fell in the women's discus, as Valarie Allman improved on her own mark from last year.
She trailed Sandra Perkovic in the first round, 65.12m to the Croatian's 65.18m, but then sent her disc out to a meeting record of 68.74m in round three. She added 30 centimetres to the mark in the next round, throwing 69.04m, and rounded out her series with 68.39m.
Thomas, Lyles and Allen take US sweep of sprints
Gabby Thomas's early celebration in the women's 200m spoke volumes about how delighted she was to achieve her first Diamond League victory in more than a year.
The US sprinter trailed Marie-Josee Ta Lou for the first 100m, but Thomas's speed endurance proved superior as she came through to win in a season's best of 22.05. Abby Steiner got the verdict over Ta Lou in a photofinish, both clocking 22.34, and Dina Asher-Smith was fourth (22.57).
Noah Lyles was another US sprinter who used his strong finish to great effect. The two-time world 200m champion, competing here over 100m, overtook Kenya's Ferdinand Omanyala in the closing stages to win by 0.01 in 9.97. Olympic champion Marcell Jacobs was in contention at half way, but faded to seventh in 10.21.
CJ Allen set the tone for US athletes at the start of the evening, notching up yet another win in the men's 400m hurdles in 47.92. Abderrahman Samba started the race, but pulled up at the first hurdle.
Australian jumps double for Olyslagers and Kennedy
Nicola Olyslagers produced her best leap for almost two years to win the high jump with 2.00m, maintaining her unbeaten record in 2023.
After a brief blip at 1.94m, she got over 1.97m on her first try, as did 2016 world indoor champion Vashti Cunningham. Rising star Angelina Topic also got over that bar on her third attempt. But after the bar moved to 2.00m, Olyslagers was the only athlete to go clear, doing so on her third try.
Fellow Australian Nina Kennedy made it an Australian vertical jumps double, taking the women's pole vault with 4.77m. Margot Chevrier finished ahead of world and Olympic champion Katie Moon on countback to take second place with 4.71m.
Elsewhere, world indoor champion Auriol Dongmo of Portugal won the women's shot put with a season's best of 19.72m from US duo Chase Ealey (19.43m) and Maggie Ewen (19.26m). Japan's Haruka Kitaguchi won the women's javelin with 65.09m from world champion Kelsey-Lee Barber (62.54m). And Olympic champion Miltiadis Tentoglou won the men's long jump with 8.13m.
In the non-scoring mixed hammer, Canada's Ethan Katzberg finished ahead of the USA's leading throwers. The Commonwealth silver medallist threw a best of 77.93m with Rudy Winkler finishing second (77.63m). World champion Brooke Andersen was third overall in the mixed format but the top woman, throwing a best of 77.13m.
Jon Mulkeen for World Athletics
*Subject to the usual ratification procedure