Trayvon Bromell wins the 100m at the Wanda Diamond League meeting in Gateshead (© Matt Quine)
Bouncing back from his first 100m defeat since 2019, Trayvon Bromell won the 100m at the Wanda Diamond League meeting in Gateshead on Tuesday evening (13) to re-establish himself as the favourite for gold at the upcoming Tokyo Olympics.
Bromell's victory in 9.98 was among the highlights of the British Muller Grand Prix that also featured a meeting and Spanish record in the men's 3000m by Mohamed Katir and wins by Jamaican sprinter Elaine Thompson-Herah, Dutch hurdles star Femke Bol and German javelin thrower Johannes Vetter.
The seventh Wanda Diamond League meeting of the season came just 10 days before the 23 July opening of the Tokyo Games and 17 days before the start of the athletics competition on 30 July.
Bromell, who clocked a world-leading 9.77 in June and won the 100m in 9.80 at the US Olympic Trials last month, had finished a disappointing fifth in 10.01 at last Friday's Herculis EBS Diamond League meeting in Monaco.
In cool conditions in northeast England, Bromell regained much of the form that has made him the world's top 100m sprinter over the past two years. He burst quickly out of the blocks in lane five, surged to the front and led the rest of the way.
British runners CJ Ujah and Zharnel Hughes finished second and third in 10.10 and 10.13, respectively. Canada's Andre de Grasse, the Olympic and world 100m bronze medallist, settled for fourth, and Fred Kerley, third at the US Trials, was fifth – both also timed in 10.13.
"I'll take that win and I really want to get back into training, get my body under wraps, recover and get ready for Tokyo," Bromell said. "I want to be healthy and I'm blessed for that."
Tokyo will be the second Olympics for Bromell, who was carried off the track after injuring his achilles in the sprint relay at the 2016 Rio Games.
"I just hope I'm making everybody proud and not just in chasing medals but in the sense of teaching people to keep fighting even when things are rough," he said.
The final event of the evening produced the meet's top performance when Katir clocked 7:27.64 to move to third on the European all-time list and 15th on the world all-time list, one place ahead of Eliud Kipchoge. It came just two months after Katir won the 5000m on the same track in Gateshead. And last week in Monaco, he set a national 1500m record of 3:28.76.
Now Katir heads to Tokyo on an exceptional run of form.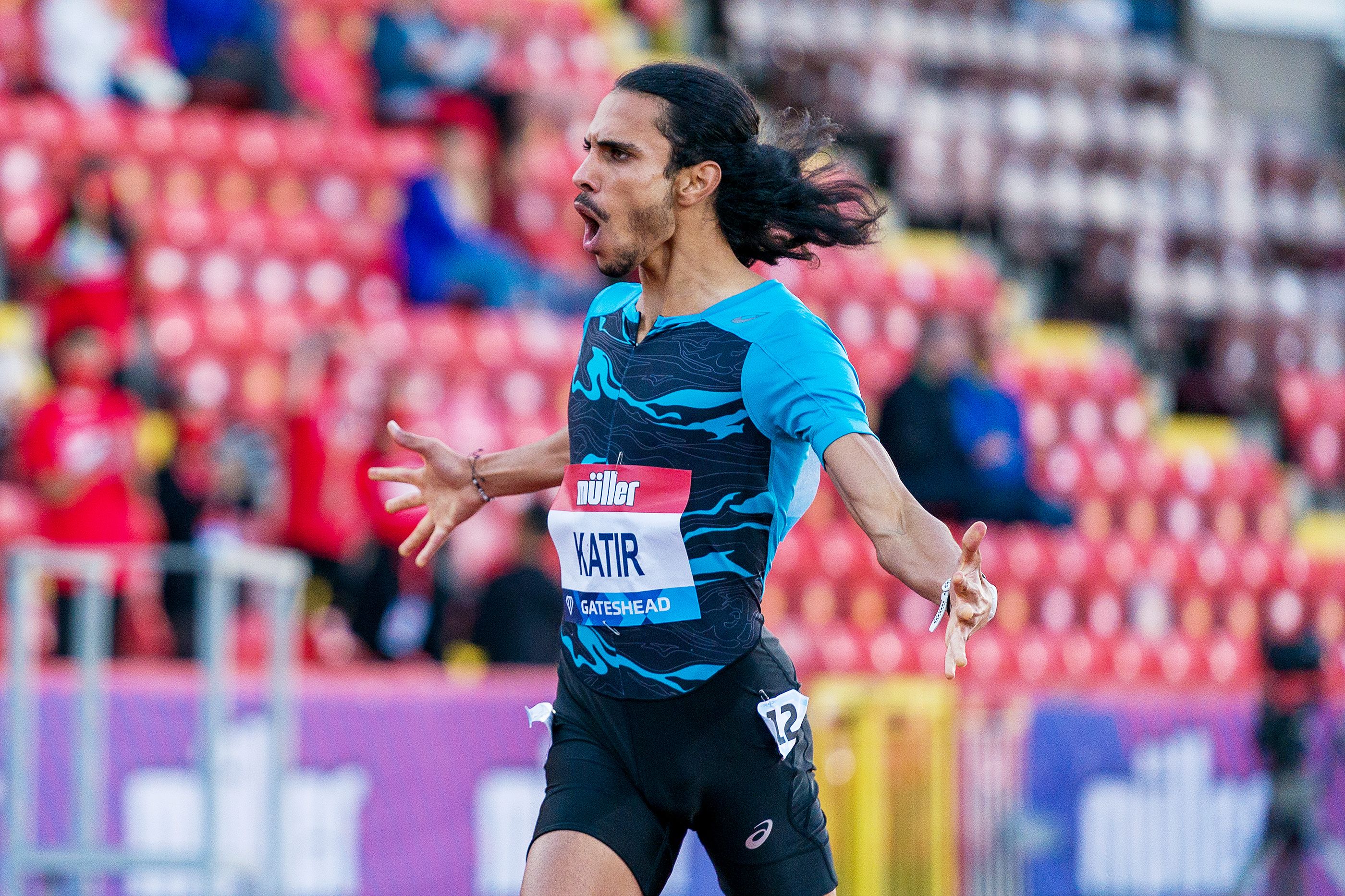 "I had a dream to be part of the Olympic Games," he said. "I've worked very hard to achieve this goal and this performance is the consequence of working hard and training in the mountains. The first time I won in Gateshead it gave me a lot of confidence and positive energy and I thought, 'Hey, I can make it'."
Thompson-Herah, the Olympic 100m and 200m champion, won the 200m on Tuesday in 22.43, ahead of Britain's Jodie Williams in 22.60 and Nigeria's Blessing Okagbare in 22.61.
The Jamaican had been scheduled to face world 200m champion Dina Asher-Smith, but the British star withdrew ahead of the meet with a tight hamstring.
"It helps me to build my confidence to get that win on the board," Thompson-Herah said. "It may not be my fastest time but I'm still pleased with that. I need to get the work in to get that curve as quick as possible and keep pushing forward."
"Tokyo will be my second Olympics and I'm pretty excited now," she added. "I've been there and I know what it feels like and, even though there are no crowds, I will hope to put on a show."
In the women's 400m hurdles, 21-year-old Bol extended her unbeaten run this season to six races with a third consecutive victory over US rival Shamier Little – and this time it wasn't close.
Bol pulled away down the homestretch to win going away by 10 metres in 53.24, while Little finished second in 54.53. Jamaica's Janieve Russell was third in 54.66.
The race lacked the tight finish and blistering times of the previous two meetings between Bol and Little. Bol edged Little at the Diamond League meeting in Stockholm on 4 July, clocking 52.37 to move to fourth on the world all-time list. Little, who finished fourth at the US Trials and failed to qualify for Tokyo, ran 52.39 for fifth on the world all-time list.
The two faced off again two days later in Szekesfehervar, with Bol fending off Little to win in 52.81 to the US hurdler's 52.85.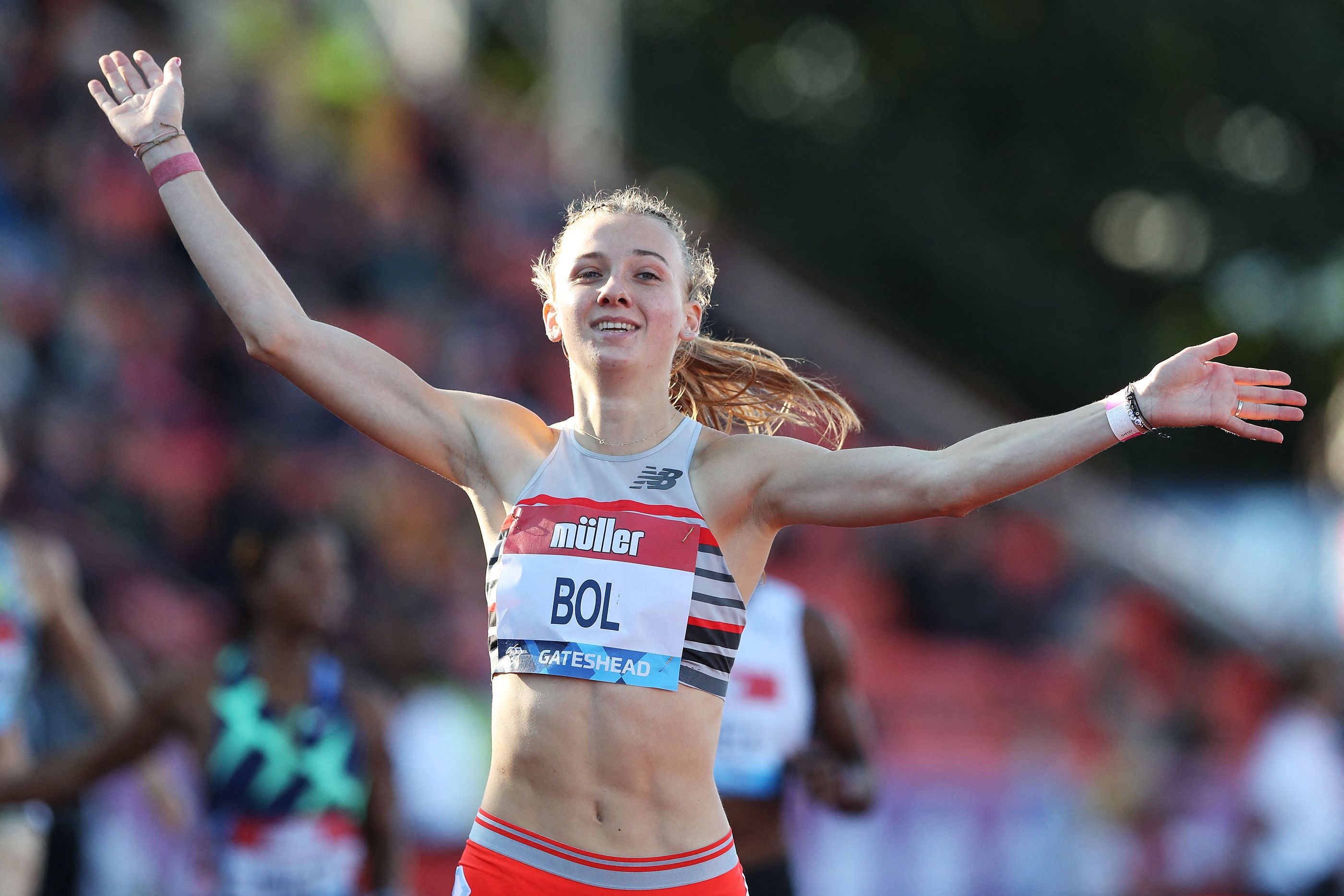 "It was nice that this time I was out in front of Shamier so it was mentally different because the other two times I have been chasing," Bol said. "So that was a really good exercise especially with Tokyo on my mind.
"I couldn't have had a better preparation for Tokyo and I cannot wait now. I am so excited I can finally go."
Bol will be a medal contender in Tokyo in a star-studded event that also features the two US athletes with the two fastest times on the world all-time list – Sydney McLaughlin and Dalilah Muhammad. McLaughlin won the US Olympic Trials last month in 51.90, smashing Muhammad's world record by more than a quarter of a second with the first sub-52 time in history.
Vetter came to Gateshead with hopes of challenging Jan Zelezny's 25-year-old javelin world record of 98.48m, or at least Steve Backley's meeting record of 90.81m. The German came close to the world record last year with a throw of 97.76m and threw 96.29m to win his event at the European Team Championships in May.
But the conditions were not ideal on Tuesday and Vetter sealed victory with 85.25m on his sixth and final throw. Fellow German Julian Weber was second with 81.07m.
"The world record is possible in Tokyo," Vetter said. "You can't plan throws though and if it happens, it happens. The first goal is staying healthy, getting the gold medal and then I think about the world record."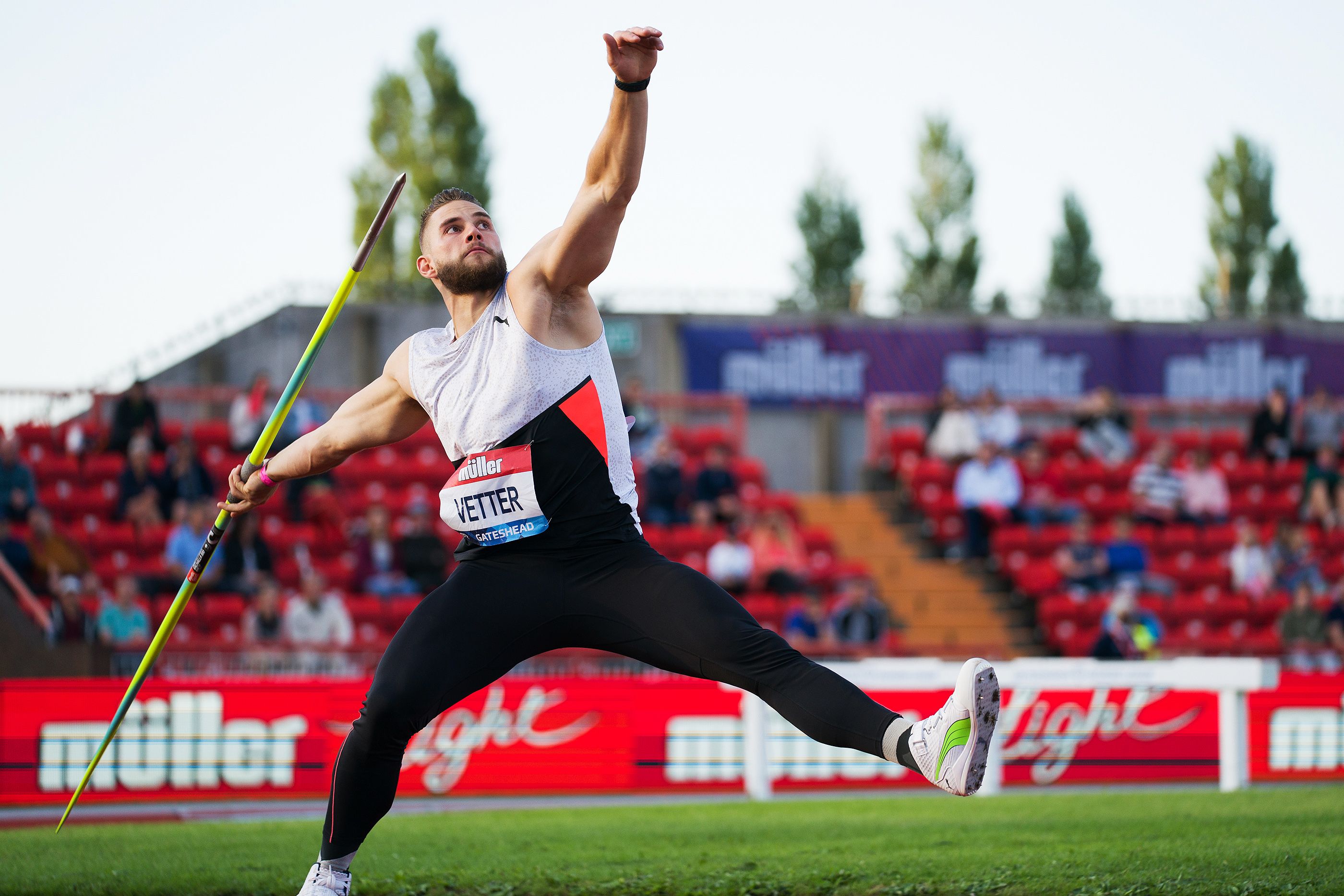 Isaiah Harris, fourth at the US Trials, took the men's 800m in 1:44.76, with Wycliffe Kinyamal of Kenya second in 1:44.91 and Peter Bol of Australia third in 1:45.22. Clayton Murphy, winner at the US Trials, lagged in sixth place in 1:45.72.
"I was happy with that," Harris said. "I kind of wanted to PR but to get a win is just as good."
Jamaicans finished 1-2 in the 110m hurdles, with Tokyo-bound national champion Ronald Levy triumphing in 13.22 ahead of 2016 Olympic champion Omar McLeod in 13.42.
"I just came out here to execute," Levy said. "I fell short at the start but I picked it up at the end."
McLeod, who missed out on a place in Tokyo after finishing last at the Jamaican Olympic Trials, felt a measure of satisfaction after his improved performance in Gateshead.
"I am a bit out of it but happy to finish healthy," he said. "Now I'm just going to try and finish the season well and keep putting in the performances. I've got to get some quality work in and then we can see where we go from there."
Ukraine's Maryna Bekh-Romanchuk won the women's long jump with a best jump of 6.77m, beating world champion Malaika Mihambo of Germany with 6.65m.
World heptathlon champion Katarina Johnson-Thompson, making a comeback after tearing her achilles last December, was satisfied with her leap of 6.10m.
"I didn't know what to expect. It was all about the feeling, I was about trying to get on to the board, it was about getting back to my 19-stride run-up," she said. "I only got one no-jump. It's proved I've made big strides and that I can come out and do the full five jumps off my full approach."
World indoor champion Sandi Morris of the US won the pole vault in 4.76m, with British record-holder Holly Bradshaw second with 4.71m and Wilma Murto of Finland third with 4.61m.
"I've had a really tough time this last month," Morris said. "I've had a couple of bad meets and my confidence was lacking a bit so I really needed today. I decided that I'd have no expectations and just have fun and any time I jump for fun I always jump high. It's amazing how you can have five bad meets and one good meet and your world flips back to normal."
Britain's Cindy Sember won the 100m hurdles in 12.69 ahead of Payton Chadwick of the US in 12.75 and Nadine Visser of the Netherlands in 12.78.
In the men's mile, Elliot Giles held off fellow British athlete Jake Heyward in a photo finish to win in a personal best 3:52.49. Heyward clocked a PB of 3:52.50.
Katie Grace of the US took the women's mile in a world-leading 4:27.20, and Jamaica's Stephenie Ann McPherson won the women's 400m in 50.44.
Portugal's Pedro Pablo Pichardo, a two-time world silver medallist, won the men's triple jump with a best leap of 17.50m. Donald Thomas of The Bahamas won the men's high jump with a best of 2.25m.
Steve Wilson for World Athletics