Joshua Cheptegei and Sifan Hassan
We continue our countdown to the World Athletics Awards 2021 on 1 December by taking a closer look at the achievements of the five women and five men who have this week been confirmed as the finalists for the Athlete of the Year awards.
Sifan Hassan
"If you do long distance," said Sifan Hassan after claiming her third Olympic medal in Tokyo, "it's like building a house." If that's the case, then the Dutch distance running star has produced a palace in 2021.
Hassan was replying to a comment about her having been seen running in the Olympic Village in between her nine-day schedule of six races in Japan. "It's not only about talent," she added. "You can have two or three talents, but you have to work hard also."
So there she was, building hard towards her unprecedented medal treble. It paid off, as she left Japan with two golds, in the 5000m and 10,000m, plus bronze in the 1500m. Eleventh on the medals table – that's where Hassan would have placed had she formed her own one-woman team.
"Many people doubted that it would happen," she said. "Is it possible, is it not possible? When I think about it, it feels like a dream. But it has happened.
"This Olympics is one of the best feelings I've ever had in my life. It's something special. I'll never forget it."
Hassan's season had started with wins over 5000m and 800m in the USA in May, but she took things to another level a couple of weeks later. Running 29:06.82 at the FBK Games in Hengelo, the 28-year-old took more than 10 seconds off the world 10,000m record that had been set by Ethiopia's Almaz Ayana at the 2016 Olympic Games in Rio.



"I am so happy to share this record in front of my Dutch fans," said Hassan, who had previously broken world records in the mile, one hour event and road 5km.
Incredibly, the 10,000m mark stood just two days, as back on the same Hengelo track, Letesenbet Gidey improved it by a further five seconds to 29:01.03 to win the Ethiopian Trials.
But rather than that world record being the pinnacle of her season, Hassan was only just getting started. Four days after her Hengelo run, she ran 3:53.63 for a 1500m win at the Wanda Diamond League meeting in Florence. The following month she clocked 3:53.60 to place second in Monaco – behind Kenya's Faith Kipyegon, who would go on to retain her Olympic title – and then it was time for Tokyo.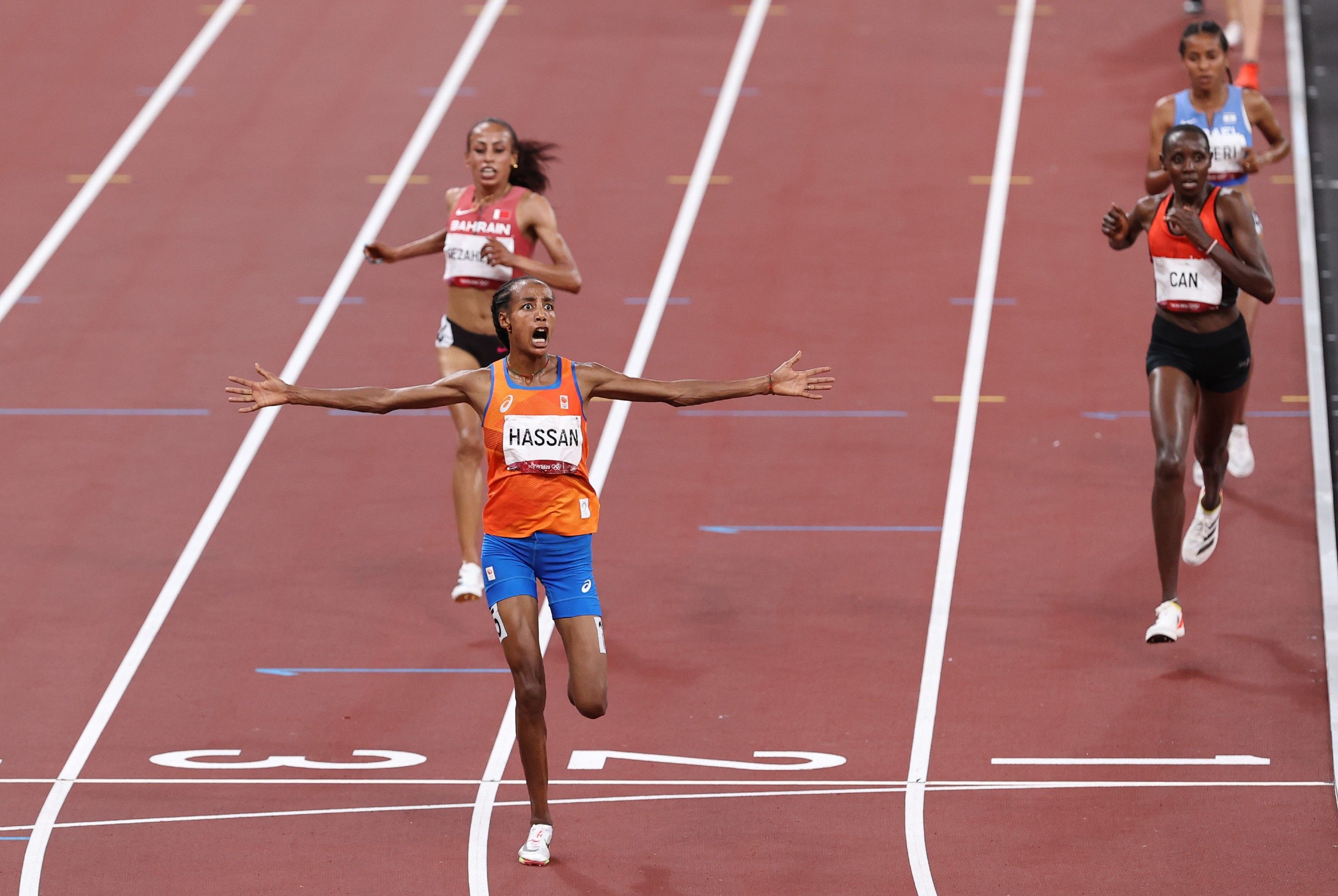 First came 5000m gold. Despite running, and falling, in the 1500m heats earlier on in the day, Hassan returned to the track 12 hours later to clock 14:36.79 after timing her winning kick to perfection.
Four days later she secured bronze in the 1500m behind Kipyegon and Britain's Laura Muir and she was back on the track less than 24 hours after that, seeking to become only the second woman after Ethiopia's Tirunesh Dibaba in 2008 to complete the Olympic 5000m and 10,000m double.
She achieved it. Unleashing her trademark kick, she covered the final 100m in 13.6, clocking 29:55.32 to get gold.
"I am so happy and I cried during the medal ceremony," said Hassan. "I actually realised that I am done, the Games are over."
Joshua Cheptegei
The world 5000m record-breaker became the Olympic champion in 2021. Despite wondering whether he should even race the event at all in Tokyo, Joshua Cheptegei rebounded to get 5000m gold, running the second-fastest ever Olympic time of 12:58.15 one week after securing silver in the 10,000m.
"I have learned the most important things are achieved no matter the difficulties or challenges," Cheptegei told NN Running Team when reflecting on his year. "Of course, I don't look at my medal every day, but when I do it acts as a reminder that, wow, I can fight back, and I know in the future I can get better and better."
That's an exciting prospect, given that the Ugandan 25-year-old is already a treble world record-holder, a world champion and now an Olympic champion.
After the high of setting world records at 5000m, 10,000m and 5km on the road in 2020, Cheptegei started this year on a winning note, claiming victory at the Monaco Run – the same event at which he broke the world record with 12:51 12 months earlier.



But then an infection affected his preparations for the Olympic Games and after a 3000m win at the World Athletics Continental Tour Gold meeting in Ostrava, he was disappointed to place sixth at the Wanda Diamond League meeting in Florence. "I was not really healthy at the time with an infection. It shattered my body," he said.
After winning the world 10,000m title in Doha in 2019, Cheptegei was determined to add another global title to his CV, so he refocused ahead of the Olympics. Lining up for his sole 10,000m race of the year, he was slightly ahead with four laps to go and followed Ethiopia's Selemon Barega as he led at the bell, crossing the finish line in 27:43.63 for his first Olympic medal.
Four days later he was back in action for the 5000m heats, before he took his place in the final a week after his 10,000m silver medal performance.
"Part of me thought it was not a wise decision to race," he said, "but the other part said, no, you've prepared for this."
This time, only a win would do.



With 600m remaining, he made his move and surged away untroubled, gaining victory in 12:58.15 – a winning time only bettered at the Olympics by Kenenisa Bekele's Games record of 12:57.82 from 2008.
"It's really a great moment," he said afterwards. "I made a small mistake and I was regretting (having) to become a silver medallist (in the 10,000m).
"I came here to become an Olympic champion and my dream has been fulfilled today on a beautiful evening."
After Tokyo, he had one more race left to run – the two miles at the Wanda Diamond League meeting in Eugene. Clocking a world-leading 8:09.55, he ended his year on a high.
"It really means a lot to me to win here in Oregon," he said, fresh from racing on the track that will host next year's World Athletics Championships, "and it will always be in my heart."