Karsten Warholm and Elaine Thompson-Herah
We continue our countdown to the World Athletics Awards 2021 on 1 December by taking a closer look at the achievements of the five women and five men who have this week been confirmed as the finalists for the Athlete of the Year awards.
Elaine Thompson-Herah
In an outstanding year for sprinting, Elaine Thompson-Herah was the top performer in the world and became the first woman in history to win back-to-back Olympic sprint doubles.
The Jamaican got her 2021 season off to a strong start, speeding to a wind-assisted 10.76 and a wind-legal 10.78 in early May. She was surprisingly beaten in both disciplines in high-quality races at the Jamaican Championships, but her third-place finishes in 10.84 and 22.02 were more than sufficient to earn her places on the team for the Olympic Games.
Job done at the national championships, Thompson-Herah then headed to Europe to continue her preparation for the Games and showed she was rounding into top form with victory over 100m at the Continental Tour Gold meeting in Szekesfehervar. She stopped the clock at 10.71, a Hungarian all-comers' record and just one hundredth shy of her PB – but, more significantly, finishing comfortably ahead of compatriot and world champion Shelly-Ann Fraser-Pryce.



In her final outing before heading to Tokyo, Thompson-Herah claimed a confidence-boosting victory over 200m at the Wanda Diamond League meeting in Gateshead, confirming she was ready to defend her Olympic titles in the Japanese capital.
Her Olympic campaign began with an incredibly easy looking 10.82 100m heat win – faster than the gold medal-winning times at all but four editions of the Games. And she then went even quicker in the semifinals, winning her race in 10.76.
But even then, her margin of supremacy and winning time in the final still came as a shock. Despite running into a -0.6m/s headwind, she claimed gold in an Olympic record of 10.61 to win by 0.13 – which, in sprinting terms, is significant.
Following one rest day to reflect on a Jamaican podium sweep in the shorter sprint, Thompson-Herah was back on track for the 200m. She ran a comfortable – though borderline risky – 22.86 to advance from her heat, but then looked imperious in the semifinals as she stopped the clock at an equal PB of 21.66, despite slamming on the proverbial brakes before the finish line.
After promising more, she delivered more in the final. She claimed 200m gold in 21.53, breaking the long-standing Jamaican record that had previously been held by sprint icon Merlene Ottey, and moving to second on the world all-time list.
"The ups and downs (since the 2016 Olympics) have been so many," she said after her 200m victory. "To come here five years later and to win two events is just amazing."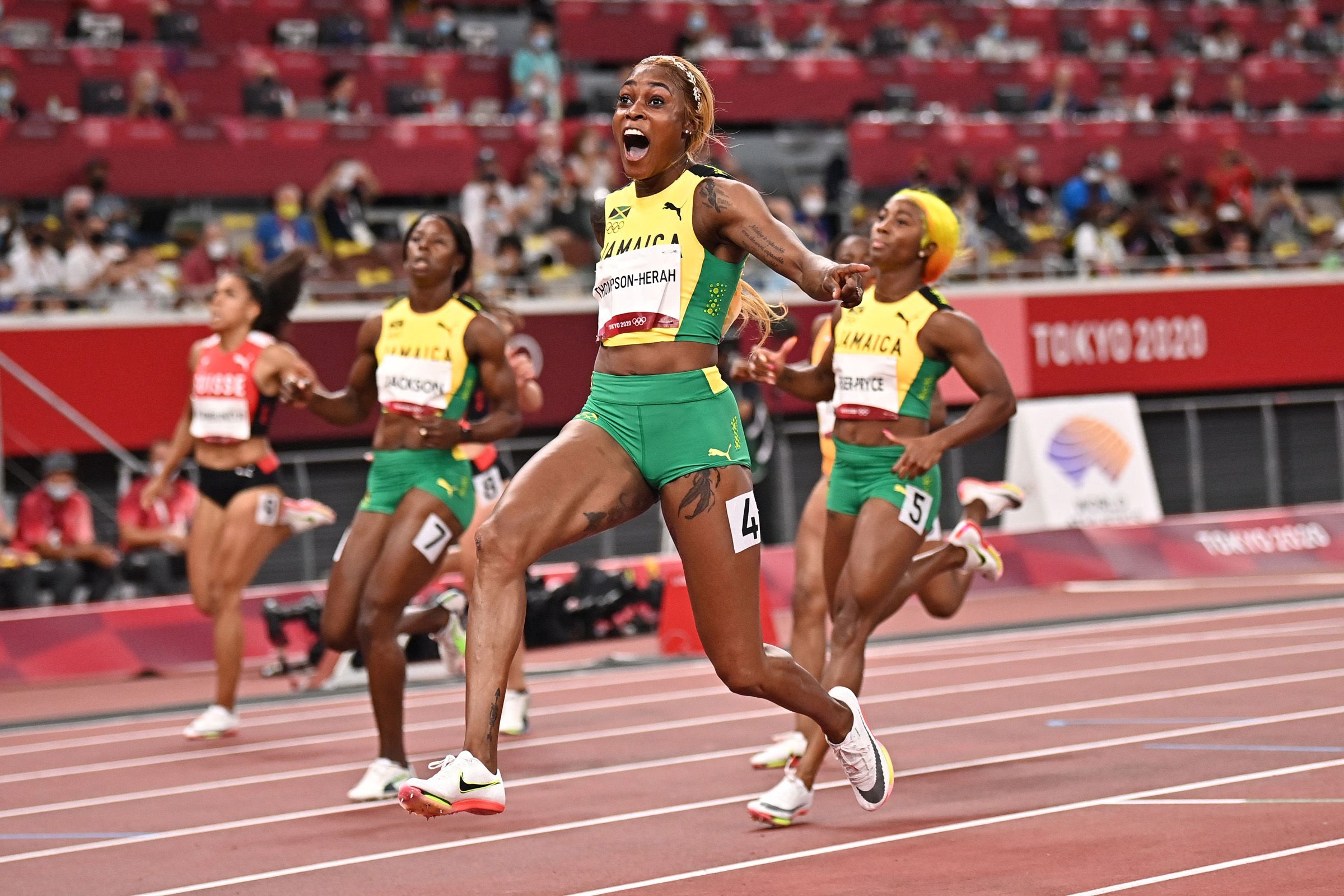 She wasn't done there, though. She capped her Olympic campaign three days later when teaming up with her Jamaican teammates to claim gold in the 4x100m, setting another national record with 41.02.
"The feeling is surreal to capture three golds and we got a national record," she said. "We are grateful."
Many would have forgiven Thompson-Herah for taking her foot off the gas after the euphoria of her Olympic triple triumph, but she stunned the world yet again in her first race after the Games. Up against another high-quality 100m field at the Wanda Diamond League meeting in Eugene, she stormed to victory in 10.54, consolidating her position as the second-fastest woman in history for the event.
She rounded out her season with a 10.64 run in Lausanne, finishing a close second to Fraser-Pryce, and victories in Paris (10.72) and at the Wanda Diamond League final in Zurich (10.65) – her 15th sub-11-second performance of the year.
"It was a long season with ups and downs," said the 29-year-old. "But next year, the world record is definitely on my mind."
Karsten Warholm
The men's 400m hurdles final in Tokyo was, without doubt, a defining moment for the sport.
The World Championships final in 2019 provided just a small taste of what to expect when Norway's Karsten Warholm held off USA's Rai Benjamin to retain his title. And while the pandemic forced the postponement of the Olympics, it also increased the anticipation for the most hotly contested discipline of the No.1 sport at the Games.
Benjamin was the first to show his cards in 2021. The talented all-round sprinter clocked a world-leading 47.13 in early May and followed it with victory at the Wanda Diamond League meeting in Doha. Warholm, meanwhile, opened his outdoor campaign by breaking his own world best in the 300m hurdles with 33.26.
Benjamin then responded with a 46.83 run to win the US Olympic Trials, displacing Warholm in the No.2 spot on the world all-time list and coming within 0.05 of the long-standing world record. But Warholm, in his first 400m hurdles race of the year, finally accomplished what he'd been threatening to do for the past few years and broke Kevin Young's world record with a 46.70 run at the Wanda Diamond League meeting in Oslo.



"It has been really tough sitting at home and doing hard work and knowing that people are taking a shot at that world record for a long time, and seeing how Rai ran at the Trials," said Warholm. "All respect to my competitors but it's very special and nice for me to be able to be the first to break that world record. It was important to me. It's also very special to do it here in Bislett in front of a great crowd, and I really think there is more in the tank."
He wasn't wrong. He won in Monaco eight days later with 47.08, improving on his own meeting record set 12 months prior, confirming all was on track for the Olympics later that month.
Warholm breezed through the rounds in Tokyo, winning his heat in 48.65 and his semifinal in 47.30 – faster than his gold medal-winning times at the past two World Championships and the 2018 European Championships. All the big contenders, Benjamin included, also safely advanced to the final, setting the scene for a mouth-watering showdown.
It didn't disappoint. The duo pushed one another the entire way, but Warholm ultimately proved the strongest, edging ahead in the closing stages to cross the line victorious.
Then people looked to the clock, and for a brief moment it appeared as though the figures may be incorrect. Surely it wasn't possible for a human to break 46 seconds for the event? But then, Warholm has always seemed borderline superhuman. And soon his winning time was confirmed at a staggering 45.94.
In what will go down as not only the best ever 400m hurdles race but one of the greatest moments in athletics history, the rest of the field produced stunning times too. Benjamin finished second in 46.17 – well inside the previous world record – and Brazilian youngster Alison dos Santos claimed bronze in 46.72, faster than Young's pre-2021 world record time. The athletes in fourth, fifth and sixth all finished comfortably inside 48 seconds.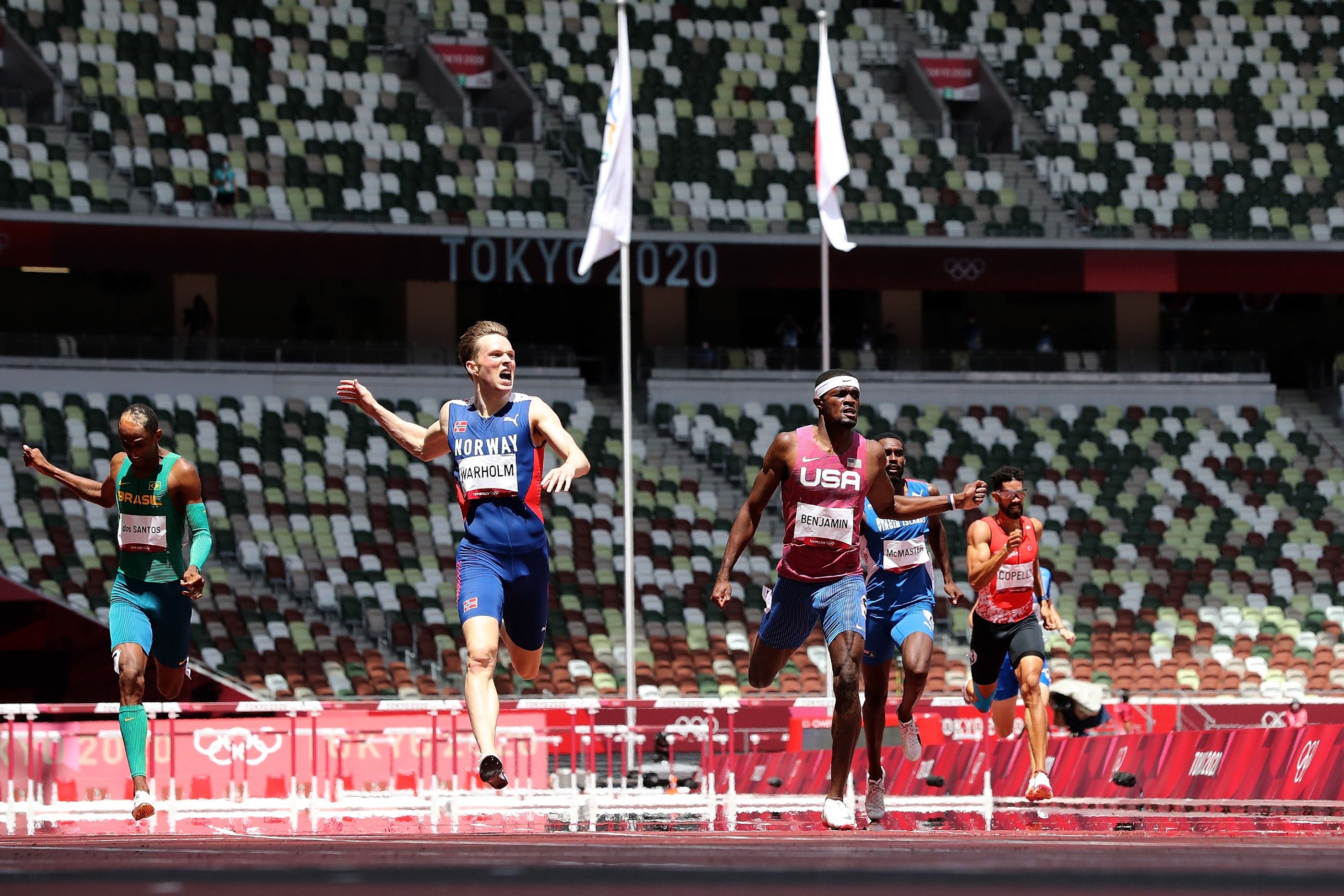 "This is by far the biggest moment of my life," said Warholm. "Last night I had this special feeling in my chest when I'm nervous. It's the feeling I had as a six-year-old on Christmas Eve. It's a feeling you don't think you'll ever have again. But I had it last night.
"It's just so big," he added. "I had a world championships (gold). I had European championships. I had the world record, the European record. The Olympic gold medal is what everybody talks about. I knew this race was going to be the toughest of my life, but I was ready."
He maintained his 400m hurdles winning streak after the Olympics, claiming the Wanda Diamond League crown in Zurich in 47.35 before wrapping up his season with victory at the ISTAF meeting in Berlin.
Even then, almost six weeks after his triumph at the Games, few had managed to contextualise what Warholm had achieved in Tokyo. But perhaps his arch-rival Benjamin put it best when, in the aftermath of the Olympic final, he said: "I don't think Usain Bolt's 9.5 was better than this."
And not many would disagree.