Rahel Daniel Ghebreneyohannes wins the Cross Internacional de Atapuerca (© Ricardo Ordonez)
As the year draws to a close, we look back at the key moments of 2022 in each area of the sport.
The series continues with a review of cross country and will be followed over the coming days by reviews of other event groups.
Women's cross country
2021-2022 World Athletics Cross Country Tour standings
| | | |
| --- | --- | --- |
| 1 | Rahel Daniel 🇪🇷 ERI | 3820 |
| 2 | Lucy Mawia 🇰🇪 KEN | 3780 |
| 3 | Beatrice Chebet 🇰🇪 KEN | 3780 |
| 3 | Likina Amebaw 🇪🇹 ETH | 3780 |
| 5 | Margaret Chelimo Kipkemboi 🇰🇪 KEN | 3760 |
Season at a glance
As is always the case when reviewing cross country in a calendar year, it's a story of two seasons.
The World Athletics Cross Country Tour always straddles two years, as it usually starts in October and then finishes in February or March of the following year. There were seven Gold level meetings left in the 2021-2022 tour at the start of the year, and all seven elite women's races produced different winners.
Kenyan athletes won three of the seven races, with Edinah Jebitok winning in Elgoibar, Teresiah Muthoni Gateri taking the spoils at Cinque Mulini, and Joyce Chepkemoi Tele victorious in Eldoret. But ultimately it was Eritrea's Rahel Daniel who won the overall women's series, thanks to her victory in Albufeira in late February, as well as her strong performances earlier in the tour.
The 21-year-old went on to enjoy a successful track campaign but hasn't raced since the 2022-2023 World Cross Country Tour began in October.
Instead it has been Kenya's Lucy Mawia – runner-up in the 2021-2022 tour – who has dominated the current season. She has already racked up three victories (Bydgoszcz in October, and Soria and Alcobendas in November) meaning she is guaranteed at least a share of the top prize. But there is still potential for someone to join her at the top of the leaderboard by the end of the season as there are eight more Gold meetings due to take place in January and February.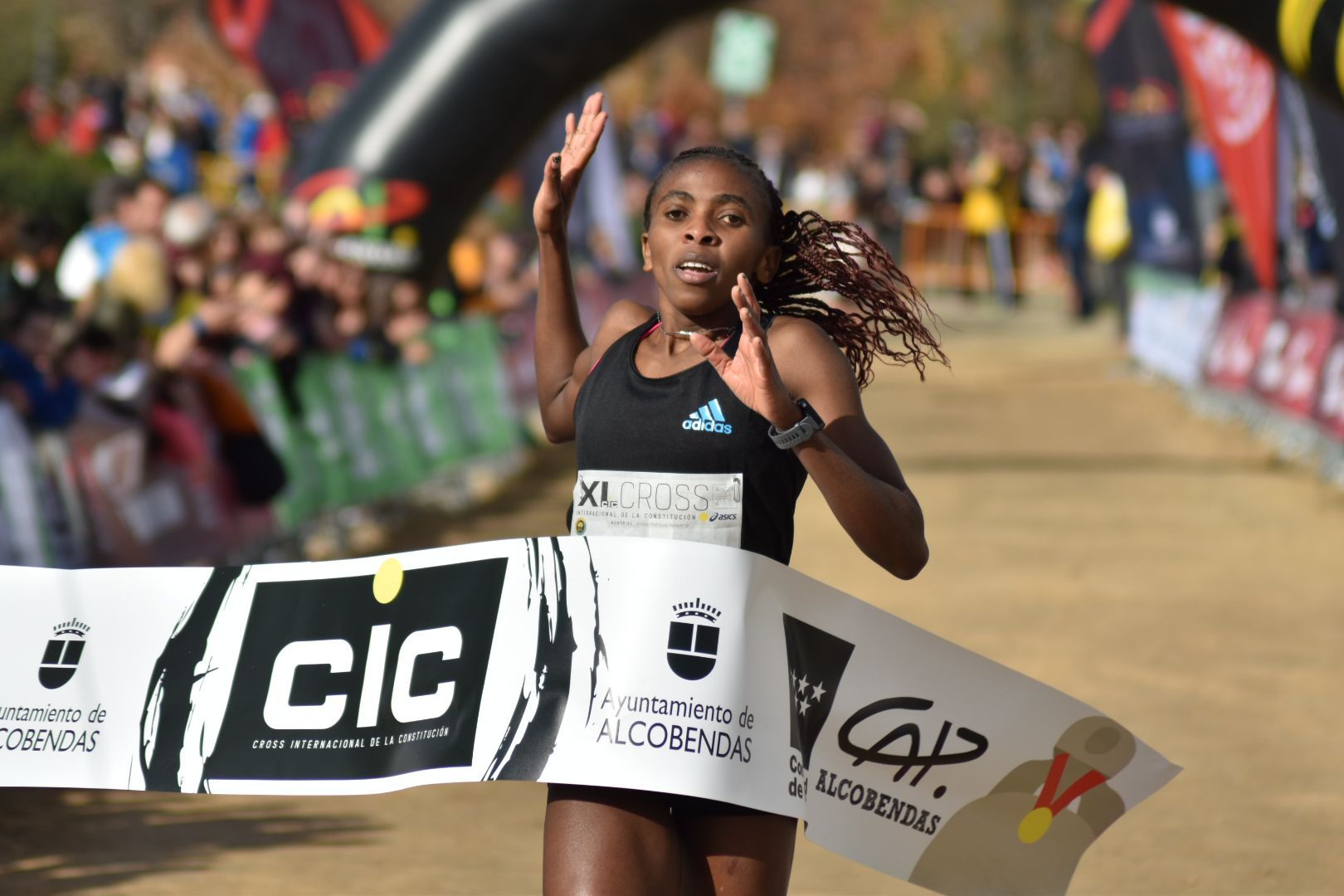 Lucy Mawia wins at the 40th Cross Internacional de la Constitucion Alcobendas (© Asociación ADOC)
Other notable victories earlier this year came from Ethiopia's Dawit Seyaum, who won the Campaccio meeting in early January, Olympic steeplechase champion Peruth Chemutai of Uganda, who won in Hannut, and Turkey's Yasemin Can, who was triumphant in Serradilla in March.
Perhaps the biggest international race this year was the European Cross Country Championships in Turin, where Norway's Karoline Bjerkeli Grovdal successfully defended her title, finishing four seconds ahead of Konstanze Klosterhalfen.
More recently, in the current tour, Can was victorious in Seville. World silver medallist Beatrice Chebet impressed with her win in Atapuerca, USA's Alicia Monson won a competitive race in Austin, while Francine Niyonsaba made a triumphant return to action in Venta de Banos.
The series will no doubt heat up even more over the next two months as athletes gear up for the World Athletics Cross Country Championships Bathurst 23 on 18 February.


Men's cross country
2021-2022 World Athletics Cross Country Tour standings
| | | |
| --- | --- | --- |
| 1 | Rodrigue Kwizera 🇧🇮 BDI | 3840 |
| 2 | Nibret Melak 🇪🇹 ETH | 3780 |
| 3 | Aron Kifle 🇪🇷 ERI | 3760 |
| 4 | Rogers Kibet 🇺🇬 UGA | 3740 |
| 5 | Thomas Ayeko 🇺🇬 UGA | 3720 |
Season at a glance
As was the case in the women's series, the first seven Gold level meetings of the year in the 2021-2022 World Cross Country Tour were won by seven different men.
Kenya, Ethiopia and Burundi had two wins apiece but, surprisingly, only one Kenyan athlete – Nicholas Kipkorir, winner in Elgoibar in January – made it into the top 10 in the final standings. Burundi's Rodrigue Kwizera topped the leaderboard at the end of the 2021-2022 tour, thanks mainly to his wins at the tail end of 2021 but also his victory in Albufeira at the end of February.
Kwizera had a comfortable 60-point lead, but it was much closer behind him as just 60 points separated the next four men.
Ethiopia's Nibret Melak, who won the Cinque Mulini at the end of January, finished second in the overall standings, just 20 points ahead of Eritrea's Aron Kifle. Uganda's Rogers Kibet was fourth with compatriot Thomas Ayeko a further 20 points in arrears.
The 2022-2023 tour began in October and it's already close at the top after nine Gold meetings.
Kwizera notched up victories in Amorebieta, Alcobendas and Venta de Banos. As an athlete's top three performances count towards the standings, he already has a perfect score of 3840.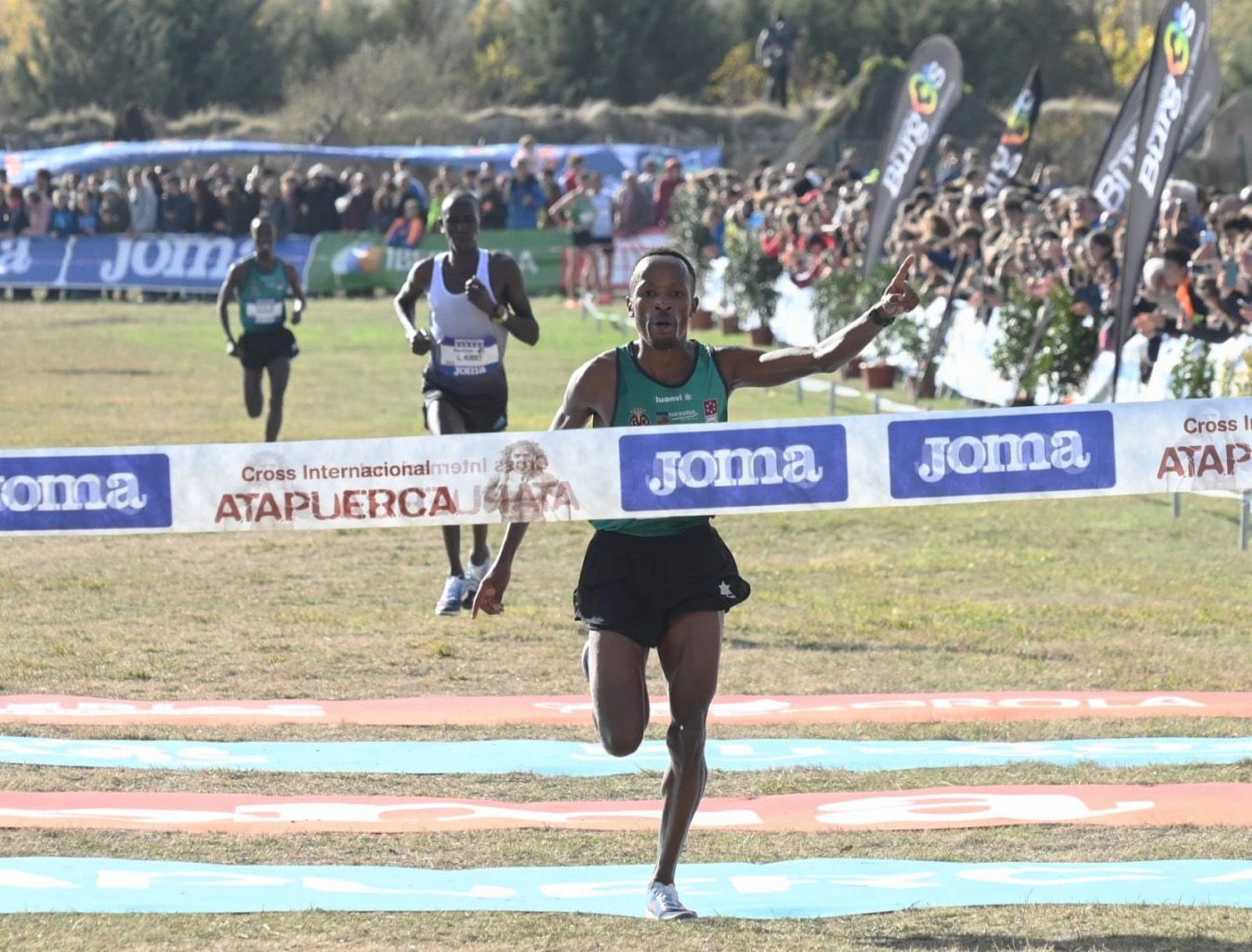 Thierry Ndikumwenayo celebrates his win at the 18th Cross Internacional de Atapuerca (© Ricardo Ordonez)
But so too does compatriot Thierry Ndikumwenayo, the winner in Soria, Atapuerca and Seville. The Burundian duo will no doubt have more clashes in the eight remaining meetings on the 2022-2023 tour early next year, and they will also have an eye on individual and team honours at the World Cross Country Championships in Bathurst.
Between them, Kwizera and Ndikumwenayo have claimed six of the nine Gold level races in the current tour so far. The other three titles went to Kenya's Edward Zakayo (Cardiff), Levy Kibet (Bydgoszcz) and Edwin Kurgat (Austin).
Earlier this month, Norway's Jakob Ingebrigtsen successfully defending his European cross-country title in Turin, winning relatively comfortably from Britain's Emile Cairess.
World Athletics