Jasmine Camacho-Quinn wins the 100m hurdles at the Continental Tour Gold meeting in Hamilton, Bermuda (© USATF)
Some of the most startling numbers to come from the USATF Bermuda Games on Saturday (9) may have been the wind gauge readings, but that made the contests no less exciting at the first World Athletics Continental Tour Gold meeting of 2022.
On a day where strong winds and rain battered the Bermudan capital of Hamilton, some of the world's best athletes lined up against one another to begin their season in earnest. Olympic champions Jasmine Camacho-Quinn and Steven Gardiner were among the winners and their victories weren't unexpected, but there were several surprise winners in other disciplines.
Camacho-Quinn, who so far this year has impressed with some over-distance work in flat sprints, including a 22.27 PB over 200m, was contesting her first race of the year in her specialist discipline, the 100m hurdles. Fortunately for the Puerto Rican athlete, her event was held earlier in the programme when the winds weren't quite so strong and before the rain started to fall.
Nevertheless, she still had a -2.5m/s headwind to contend with – not that you'd have been able to tell, given her margin of victory. USA's 2018 world indoor silver medallist Christina Clemons matched Camacho-Quinn over the first few barriers, but the 25-year-old pulled away in the second half and went on to win by almost half a second in 12.67, the fastest time in the world this year at this very early stage of the season. USA's Chanel Brissett was a distant runner-up in 13.06.
"This was my first hurdles race of the year, so I'm still trying to adjust," said Camacho-Quinn. "I'm happy with what I did, especially in a -2.5m/s wind. I'll take it.
"After winning in Tokyo, I knew it meant I'd have a target on my back, and now people expect a lot from me," she added. "Going into training this year was a little bit more intense. I know what I want to do this year; I want to accomplish a good couple of things."



By the time of the 100m finals at the end of the programme, the headwinds had more than doubled. It may explain why, in the men's race at least, the 200m specialists – with their superior speed endurance and strength – thrived in such conditions.
Brandon Carnes got out best, but in the second half it was Canada's Jerome Blake, world 200m champion Noah Lyles and rising sprint star Erriyon Knighton who came to the fore. Somewhat surprisingly, Blake managed to edge ahead of the US duo just before the line to claim victory in 10.38 (-5.6m/s). Knighton and Lyles, finishing second and third respectively, both recorded 10.39.
Given the strong winds, it's perhaps safe to assume that the winning time would have been sub 10 seconds in more favourable conditions.
"In training we have been working a lot on my last 20 metres," said Blake, who missed out on an individual berth at last year's Olympics but went on to record PBs of 10.06 and 20.20 for 100m and 200m at the end of the season. "I just trusted my technique, trusted my coach, and the result was the result."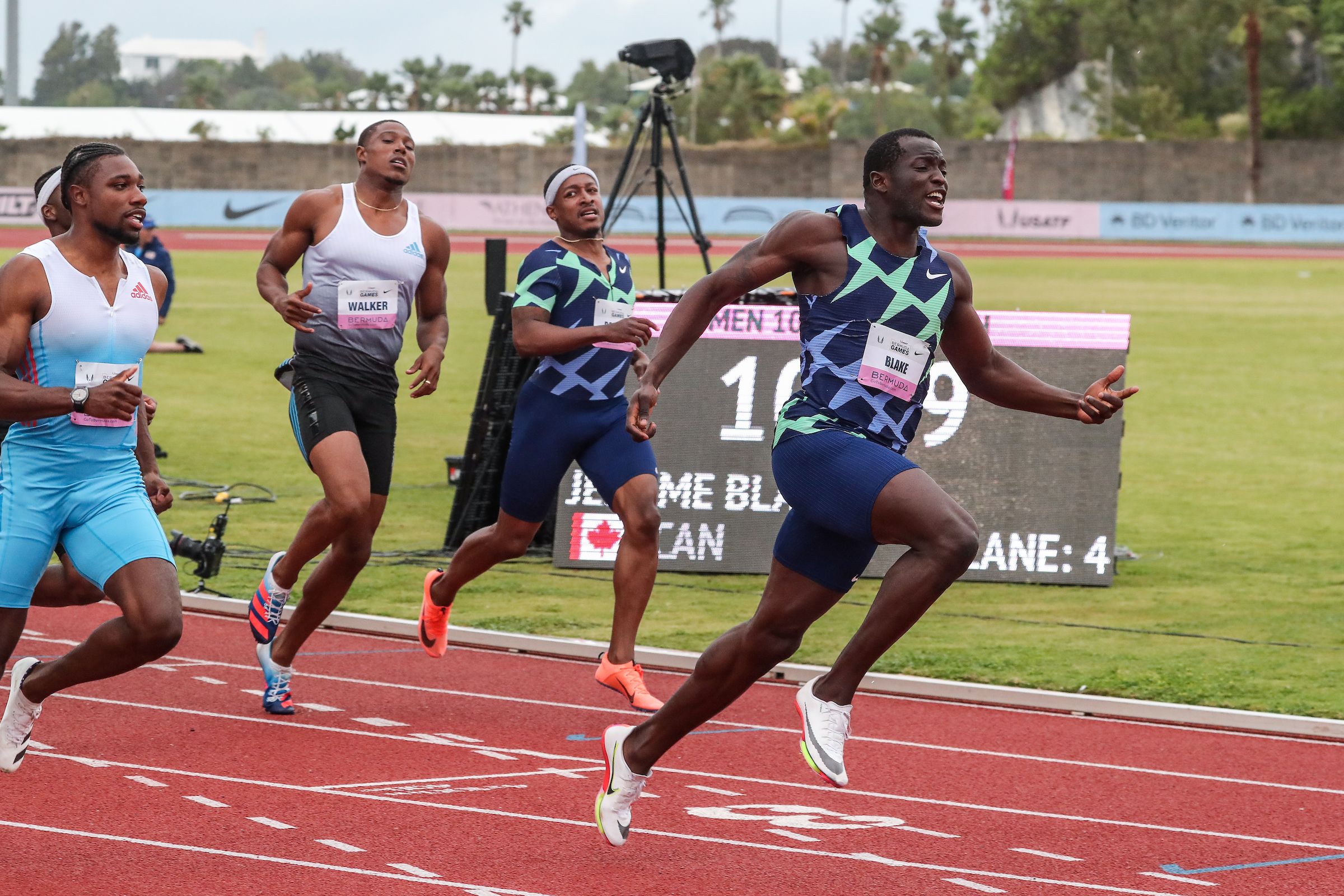 Teahna Daniels, the only US athlete to reach the women's Olympic 100m final last year, came out on top in the women's event. Olympic 200m silver medallist Gabby Thomas had impressed in the heats and started well in the final, but Daniels reeled her in and went on to open up a slight gap before the finish, stopping the clock at 11.45 (-5.2m/s). Thomas was second in 11.49.
"I wanted to have fun with it," said Daniels. "I'm happy to come out with a win. It's an experience, and it helps me to get ready for the rest of the season."
Jackson returns to 400m, Gardiner steps down
After spending most of her time in recent years with shorter sprint events, Olympic 100m bronze medallist Shericka Jackson returned to her original specialism, the 400m, and led a Jamaican 1-2.
USA's Jaide Stepter-Baynes led into the home straight, but Candice McLeod then moved into the lead before Jackson came through in the closing stages to win in 51.40. Jackson's compatriot McLeod finished second in 51.57.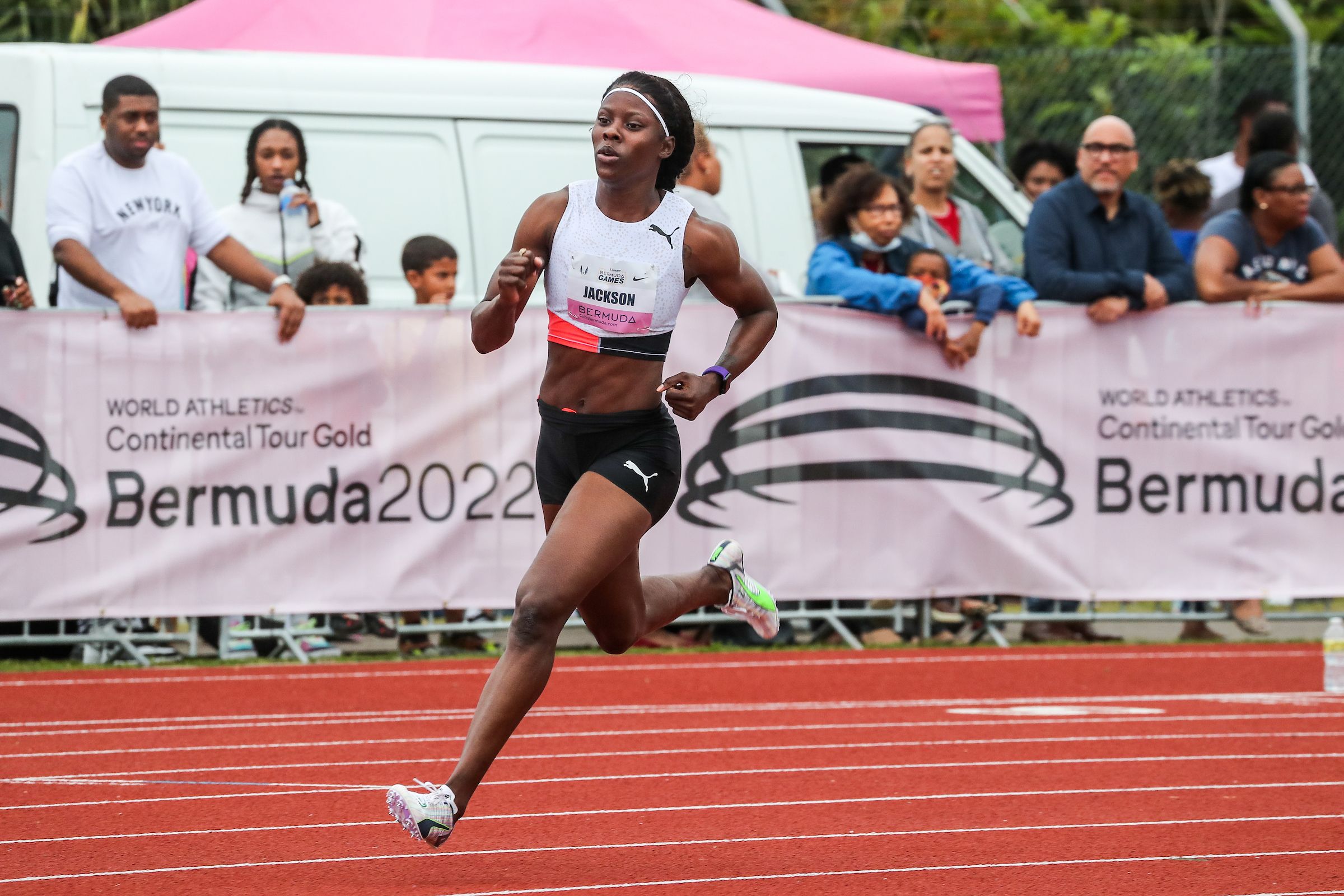 Jamaican athletes fared even better in the women's 400m hurdles, where Shiann Salmon produced a strong finish to win in 55.35 from fellow Jamaicans Rushell Clayton (55.89) and Janieve Russell (56.56).
While Jamaican athletes dominated the women's one-lap events, Bahamian athletes commanded the spotlight in the half-lap sprint races.
The men's 200m had been one of the most highly anticipated clashes of the meeting, featuring a showdown between two global 400m champions: Olympic gold medallist Steven Gardiner of The Bahamas and world indoor champion Jereem Richards of Trinidad and Tobago.
Neither of them seemed to be in contention at half way as Liberia's Emmanuel Matadi held a clear lead. But Richards and then Gardiner came on strong in the latter stages with Gardiner forging ahead at the end. The world and Olympic 400m champion won in 20.79 (-4.7m/s) from Richards' 20.86.
"The wind was crazy, but I had to fight," said Gardiner. "I didn't get that good of a start, but I just did what I could to get to the line."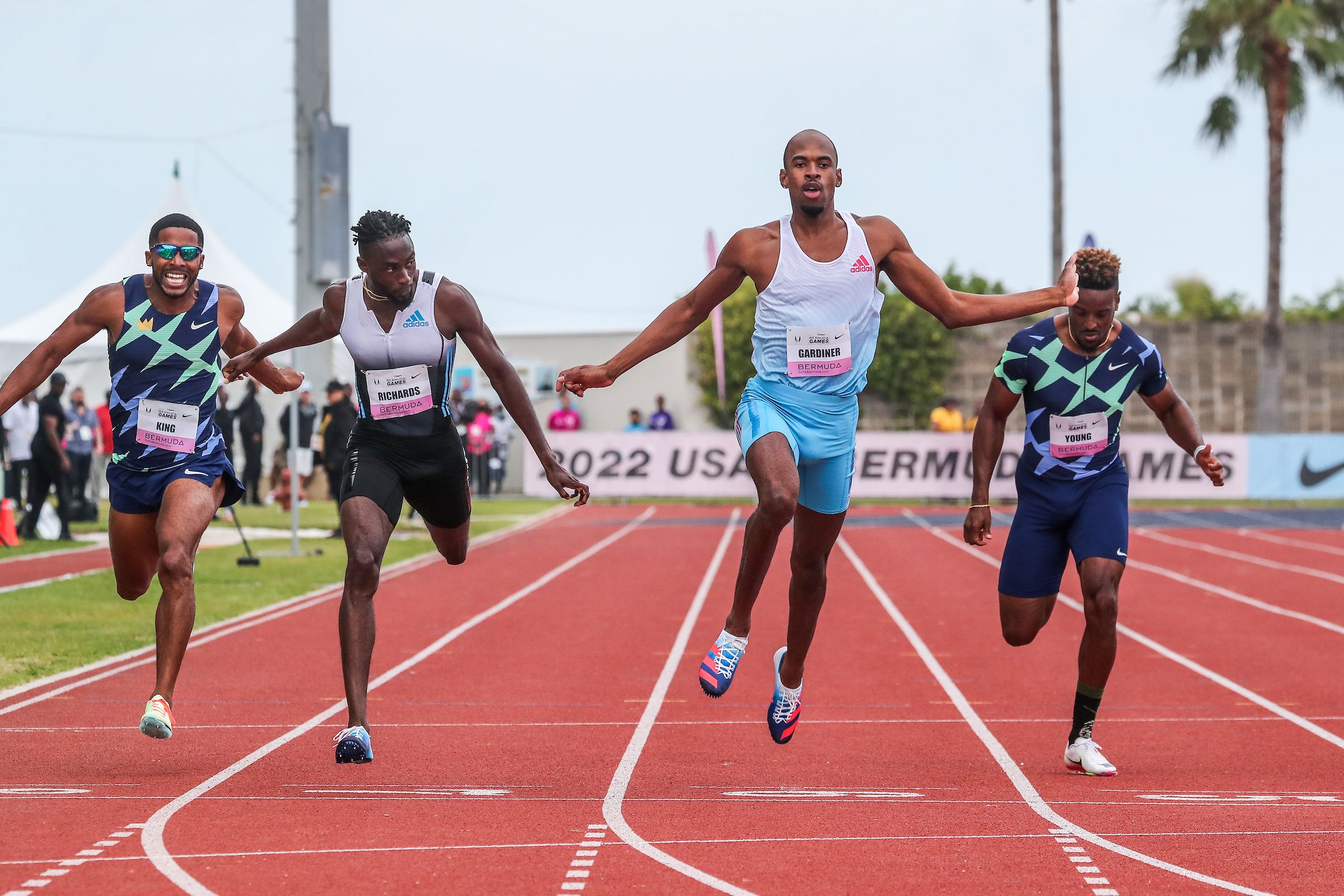 Gardiner's compatriot Anthonique Strachan also produced an impressive late-race surge to win the women's 200m in 23.24 (-5.0m/s), finishing almost half a second clear of Dezerea Bryant (23.72). Strachan, double world U20 sprint champion back in 2012, has already set PBs of 7.17 for 60m and 10.99 for 100m this year, and looks set for something of a breakthrough season.
Elsewhere in the longer sprints, 2012 Olympic champion Kirani James fought off a strong challenge from younger competitors to take the men's 400m in 45.63. Britain's Alex Haydock-Wilson, a surprising leader off the final bend, held on to take second place in 46.05.
Almost every leap in the women's long jump was wind assisted, but it was a competitive event nonetheless. USA's Quanesha Burks coped well with the conditions and landed a best of 6.77m (3.6m/s) to overtake Jamaica's early leader Chanice Porter, who had opened her series with 6.70m (2.8m/s).
The conditions were slightly kinder earlier in the programme when the women's triple jump took place. World silver medallist Shanieka Ricketts recorded a wind-legal leap of 14.15m to win from Britain's Naomi Metzger (14.00m).
Elsewhere, world indoor champion Ajee Wilson ran a controlled race to take the women's 800m in 2:03.09, winning by more than a second from Jamaica's former 400m specialist Chrisann Gordon-Powell (2:04.19).
Kenyan teenager Kamar Etiang, contesting his first race outside of Africa, doggedly held on to take victory in the men's 1500m. With one lap to go, he had built up a lead of almost three seconds. His opponents made good inroads into that leading margin on the final lap, but Etiang did just enough to hold off Amos Bartelsmeyer, winning in 3:45.26 to the German's 3:45.35. To the delight of the home crowd, Bermuda's Dage Minors was third in 3:46.82 – little more than a second outside his lifetime best, but certainly worth much more in better conditions.
Jon Mulkeen for World Athletics