Fred Kerley in action in the 100m at the US Championships (© Getty Images)
Fred Kerley blazed to a world-leading 9.76 in the 100m semifinals of the US Championships on Friday (24), posting the fastest ever time by a US sprinter on home soil.
Kerley, who moved into a tie for sixth on the all-time world list, then clocked an impressive 9.77 about 90 minutes later to win the final at Hayward Field in Eugene, Oregon. He'll hold the stadium record as the World Athletics Championships Oregon22 comes to the United States for the first time next month.
Kerley, the Olympic silver medallist, qualified for his third outdoor World Championships, but at a different distance than he did in 2017 and 2019. Kerley earned bronze in the 400m at the 2019 World Championships in Doha along with a gold in the 4x400m.
Marvin Bracy-Williams, who pulled up with a cramp in the semifinals of the US Olympic Trials last year, qualified for his first world team by equalling his personal best of 9.85 for second place.
Olympian Trayvon Bromell was third in the final with a time of 9.88 after posting a season's best of 9.81 in the semifinals. All seven starters in the final broke 10 seconds.
Kerley, who opened the meeting a night earlier with a PB of 9.83 in the first round, did not have a great start. He and had to catch Bromell midway through the race, then showed his power in the last 40 meters for the victory.
"I continue to do what I got to do," Kerley said.
Melissa Jefferson rebounded from a disappointing eighth-place finish at the NCAA Championships to win the women's 100m in a wind-assisted 10.69 (2.9m/s). Aleia Hobbs was second in 10.72 followed by Twanisha Terry in 10.74.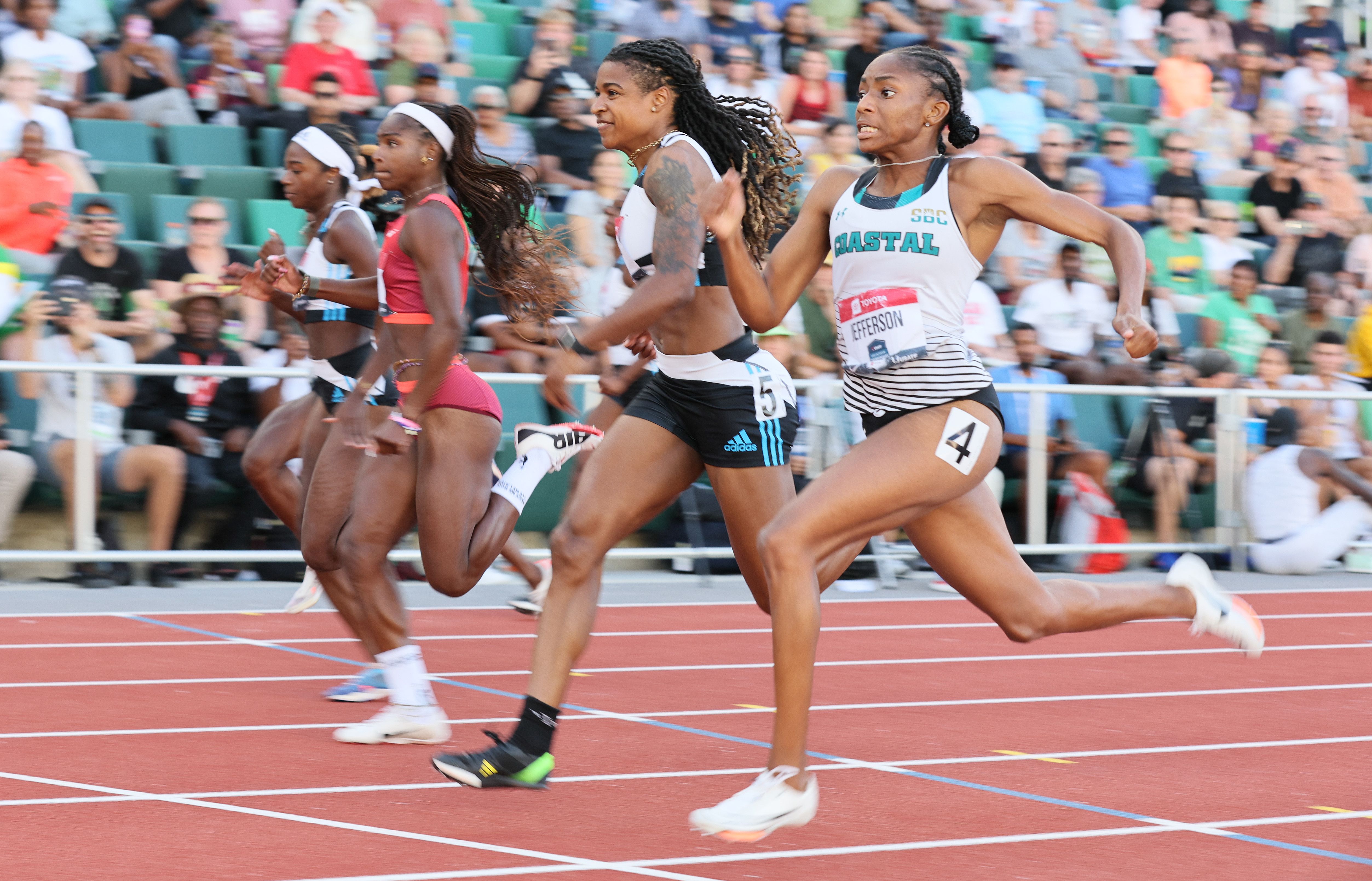 Melissa Jefferson (right) wins the 100m at the US Championships (© Getty Images)

All three made their first senior World Championships team. With Tamari Davis finishing fourth in 10.78, the race was the first in which four women broke 10.80. It was also the first in which six women bettered 10.90.
"Two weeks ago I knew the biggest thing I had to work on was just staying relaxed and focusing on my lane and focusing on my race and trusting what I'd been doing," Jefferson said. "Today I just came out here and had a clear mind and just ran."
In the semis, Hobbs held off Jefferson, 10.81 to 10.82, with both posting PBs.
One off the biggest shockers of the meeting occurred on the first day as Sha'Carri Richardson did not advance to the semifinal. The flamboyant sprinter placed fifth in her heat with a time of 11.31, just 11 days after running 10.85 at the World Athletics Continental Tour Gold meeting in New York.
Teahna Daniels, the only US finalist at the Tokyo Olympics and the 2019 World Championships, missed the final by one-thousandth of a second as Brittany Brown had a PB of 10.955 to Daniels' 10.956.
Crouser powers to victory, Morris soars to success
Olympic champion Ryan Crouser, who has achieved every major honour save a world title, won his fifth national title with a world-leading heave of 23.12m in the men's shot put. On his third attempt, Crouser surpassed world champion and long-time rival Joe Kovacs, who had opened with an almighty 22.87m – the second-best mark of his career – and repeated that mark in the second round.
Once in the lead, Crouser maintained an incredibly high level of performance, throwing 23.01m, 23.11m and 22.98m with his remaining attempts. It's the first time the 23-metre barrier has been broken more than once in a series.
Josh Awotunde was third with 21.51m.
Crouser said he felt "strong and powerful," but lacked his usual finesse.
"It took me a couple off rounds to catch up to (Joe)," Crouser said, "but that pressure helped me to pop off a few big throws."


Ryan Crouser, winner of the shot put at the US Championships (© Getty Images)

Two-time world indoor champion Sandi Morris won the women's pole vault by clearing a world-leading height of 4.82m. Alina McDonald was second with a vault of 4.65m, a height she shared with Olympic champion Katie Nageotte.
Olympic champion Valarie Allman characteristically started strong with a big first throw in the discus of 65.61m. She surpassed that on her third throw with a 66.92m, which held up for her fourth national crown. Laulauga Tausaga-Collins was second (64.49m) followed by Rachel Dincoff (62.14m).
Anderson earns first US title
On Thursday (23), the first day of competition, Olympic finalist Brooke Andersen won the women's hammer with a toss of 77.96m, followed by Janee Kassanavoid (76.04m) and Annette Echikunwoke with a throw of 73.76m.
"I would have not liked to not foul my first one and have that added stress," Andersen said, "but I've thrown enough times and believed in myself enough times to get the job done."
World champion DeAnna Price fourth with a season's best of 73.07m as she returns to form after an injury.
Quanesha Burks won the women's long jump with a wind-aided leap of 7.06m, followed by Jasmine Moore (6.80m) and Tiffany Flynn (6.69m). Olympic finalist Tara Davis fouled three times and did not advance to the final.
Burks said she knew she could excel in her event once she stepped up her mental game to match her physical ability.
"With Brittney Reese paving the way for us young jumpers — ooh, I'm so happy she's gone," Burks said with a laugh in reference to the retired Olympic and world champion, "and with her being a great mentor and guiding us, I knew I could do it."
Olympian Vashti Cunningham, who has not lost to a competitor from the US since August 2017, won her fourth straight US outdoor title with a height of 1.93m. Rachel Glenn jumped 1.90m for second and Rachel McCoy was third, also at 1.90m.
Rayvon Grey won the men's long jump with a PB of 8.19m on his third attempt. Steffin McCarter moved into second place on his fifth attempt with a leap of 8.15m to edge Jeremiah Davis. Olympian JuVaughn Harrison, who was attempting to make the US team in the long jump and high jump, equalled his season best with 7.86m, but placed 11th.
Felix still in the running
Twenty-one years after Allyson Felix made her debut at the US Championships on this same track, she advanced to the final in the women's 400m. This all but assures Felix of making the US team in the relay pool. However, the Olympic bronze medallist will be seeking another individual race at the World Championships in her farewell season.
Felix was last in her semi as she rounded the turn onto the straightaway, but fought hard to finish fourth and qualified on time with a 51.32.
Talitha Diggs, the 19-year-old daughter of four-time Olympian Joetta Clark, was the top qualifier in the 400m with a time of 50.88.
Olympian Michael Norman smoothly made his way around the final turn to lead all qualifiers into the men's 400m final with a time of 44.28, followed by Randolph Ross. Diamond League champion Michael Cherry has a bye and is not competing.
Also in the rounds, Olympic champion and world record holder Sydney McLaughlin coasted to a 52.90 in the semis of the women's 400m hurdles for the second-fastest semifinal run in history. Dalilah Muhammad, the reigning world champion, has a bye and is not competing.
Olympic silver medallist Rai Benjamin posted the top time in the first round of the men's 400m hurdles by running 48.41.
Athing Mu looked relaxed as she cruised to a time of 1:57.55 in the semis of the women's 800m while collegiate runner Brandon Miller had the top time in the men's 800m semi of 1:46.20, followed by Olympians Bryce Hoppel and Clayton Murphy. World champion Donavan Brazier, who ran a season's best of 1:46.49 to lead all qualifiers in the first round, did not contest the semi since he has a wildcard entry to the World Championships.
In the first round of the 100m hurdles, Alaysha Johnson clocked 12.41 and world record-holder Keni Harrison posted a time of 12.47.
Karen Rosen for World Athletics