Ryan Crouser in the shot put at the Tokyo Olympic Games (© AFP / Getty Images)
The seventh morning of athletics action at the Tokyo Olympics produced one of the most dominant performances of the Games as well as one of the most surprising.
Ryan Crouser lived up to – and exceeded – expectations in the shot put to successfully defend his title. With the greatest series in shot put history, Crouser equalled or bettered his own existing Olympic record (22.54m) with all six throws.
His first effort went out to 22.83m, then he improved to 22.93m in round two. That remained his best of the day (though he followed it with 22.86, 22.74m and 22.54m) until the final round when he uncorked a stupendous 23.30m, just seven centimetres shy of his own world record.
In a repeat of the 1-2 finish from the Rio Olympics, world champion Joe Kovacs took silver with 22.65m, while New Zealand's 2017 world champion Tom Walsh secured bronze with 22.47m, matching the medal colour earned by his compatriot Valerie Adams in the women's event.
Brazil's Darlan Romani, who was fifth at the last Olympics and fourth at the last World Indoors and World Championships, once again ended up outside of the medals, throwing 21.88m for fourth place.
With all three medallists throwing well beyond 22 metres, the top six throwing 21.00m or better and the top nine throwing beyond 20.70m, it was the deepest shot put final in Olympic history.
The triple jump final was of a similarly high standard as Pedro Pablo Pichardo won gold with a Portuguese record of 17.98m, the second-best winning jump in Olympic history.
The multiple world medallist was a non-starter in Rio five years ago due to injury, but today in Tokyo he was unbeatable. Pichardo recorded three valid jumps, all of which were the longest marks of the competition.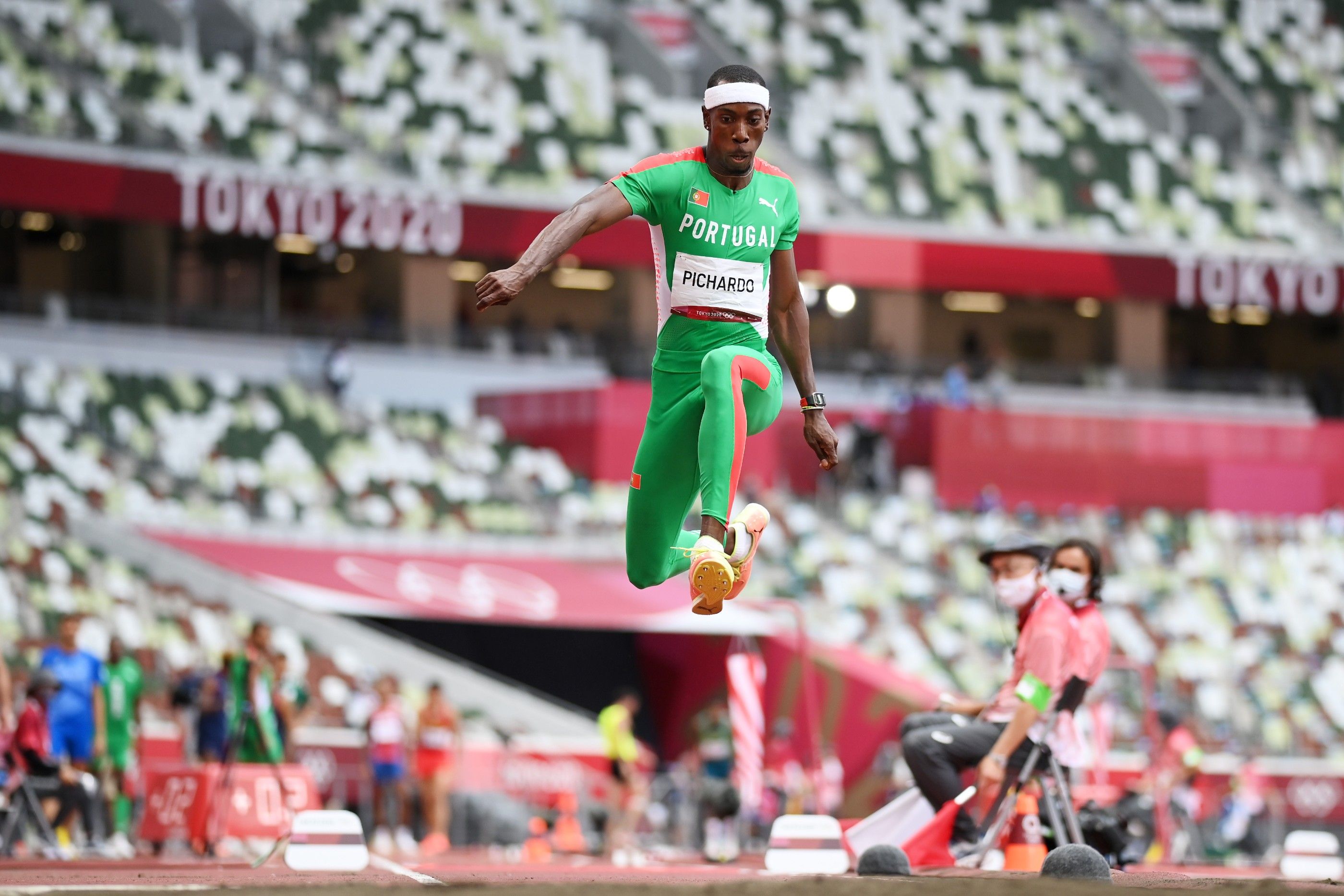 He opened with 17.61m and then matched that distance in the second round. In round three he went much farther, though, sailing out to 17.98m (0.0m/s).
World indoor record-holder Hugues Fabrice Zango had modest jumps in the first two rounds but then nailed a 17.47m leap in round three to move into second place, just ahead of world and Olympic medallist Will Claye (17.44m).
Those positions remained the same until the fifth round when China's Zhu Yaming produced a lifetime best of 17.57m to move into second, bumping Zango down to bronze and Claye out of the medals.
Claye and Zango responded with decent marks of 17.36m and 17.43m respectively in the final round but it didn't alter the standings as Pichardo was confirmed champion.
The biggest shock of the day – and perhaps of the Games as far as athletics is concerned – came in the men's 110m hurdles final as Jamaica's Hansle Parchment came through to take a surprise victory from pre-event favourite Grant Holloway.
Holloway, the world champion, had been undefeated all year and looked great through the rounds. He ran well in the final, too, and had a clear leading margin up until the last two hurdles when his momentum seemed to stall slightly and his hips started to drop.
The rest of the field came back at him and it was Parchment – who had finished just third at the Jamaican Championships in June – who came off the last hurdle best before charging to the line, winning in 13.04.
Holloway held on for silver in 13.09, while Ronald Levy made it two medals for Jamaica, taking bronze in 13.10.


Relay surprises
There were some big shocks in the first round of the men's 4x100m.
Sprint powerhouse USA finished sixth in their heat in 38.10, missing out on a place in the final. China won that race in 37.92, holding off a Canadian team that had 200m champion Andre De Grasse on anchor. Italy, helped by 100m champion Marcell Jacobs, clocked a national record of 37.95 to take the third automatic qualifying spot, while Germany (38.06) and Ghana (38.08 national record) advanced by time.
Jamaica won the first heat in 37.82, finishing comfortably ahead of Great Britain (38.02) and Japan (38.16), the other automatic qualifiers. But South Africa and Brazil, the 4x100m winners at the 2021 and 2019 World Relays respectively, both missed out.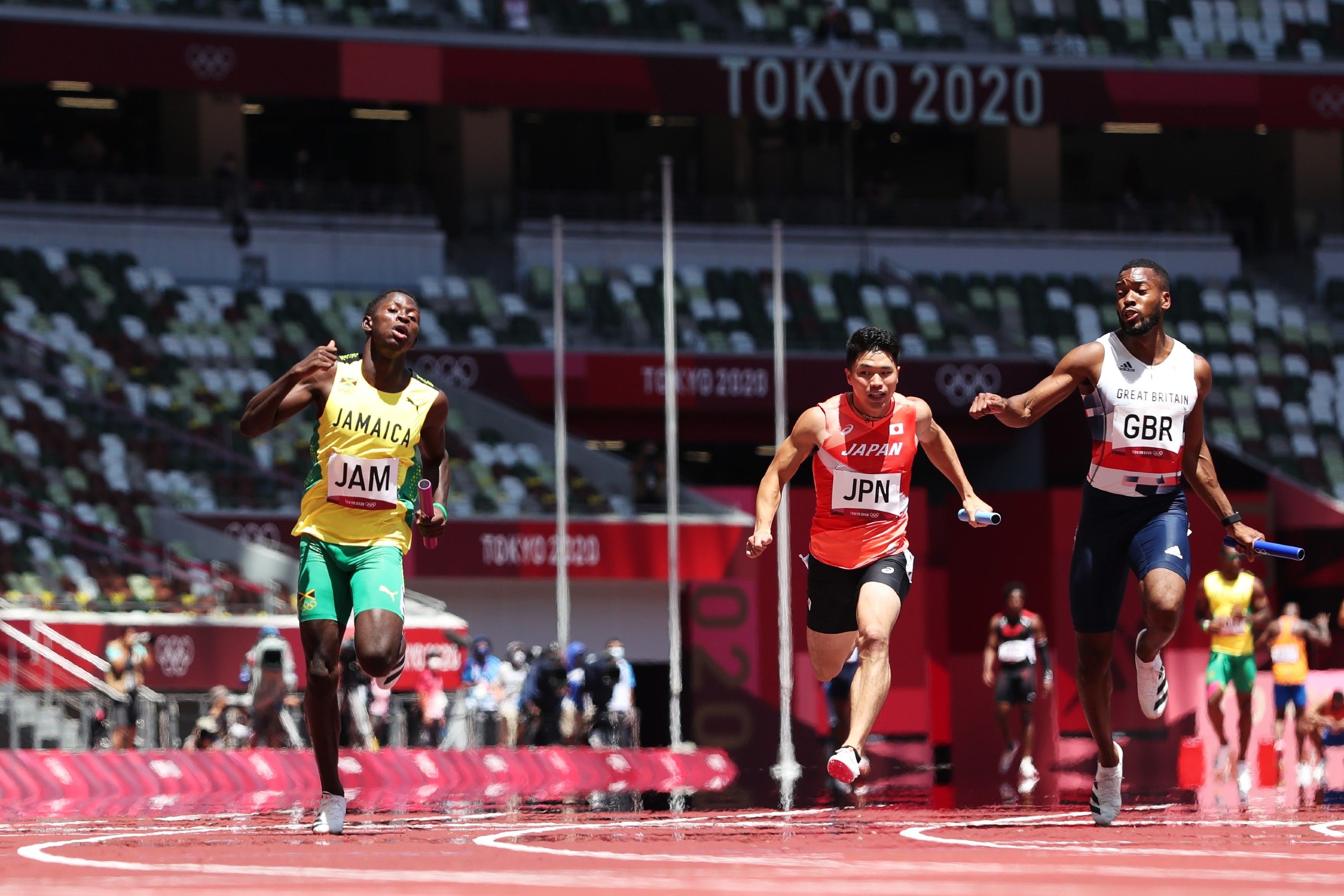 In the women's 4x100m heats, world 200m champion Dina Asher-Smith returned to action and ran the third leg for Great Britain, who won the first heat in a national record of 41.55 – the fastest ever heat time at the Olympics.
In a loaded heat, USA finished second in 41.90 and Jamaica – minus Elaine Thompson-Herah and Shelly-Ann Fraser-Pryce – finished third in 42.15.
Germany won the second heat in 42.00, overtaking Switzerland, who set a national record of 42.05 to qualify for the final.


Warner and Thiam on track for gold
In the combined events, Damian Warner and Nafissatou Thiam have strengthened their chances of taking gold.
Warner, the overnight leader, extended his lead after clocking an Olympic decathlon best of 13.46 in the 110m hurdles. He followed it with a 48.67m heave in the discus and a 4.90m clearance in the pole vault, putting him on PB pace with two disciplines to go. He could even potentially score 9000 points, though his main target will be to win his first global title.
World record-holder Kevin Mayer has had a solid second day so far, but he'll need to perform to par in the last two disciplines to overtake current runner-up Ashley Moloney and Canada's third-placed Pierce LePage.
Thiam, meanwhile, moved into second place overall after topping the long jump with 6.60m. She then produced the best mark of the day in the javelin, throwing 54.68m, to move into the lead with one discipline to go.
Overnight leader Anouk Vetter remains Thiam's toughest opponent. Following a 6.47m long jump and a 51.20m javelin throw, the Dutch heptathlete is just 64 points adrift of the Belgian going into the 800m, which translates to 3.5 seconds.
USA's Kendell Williams, Emma Oosterwegel of the Netherlands and Belgium's Noor Vidts are all in the battle for bronze.
In other action this morning, all the big contenders in the high jump – including world medallists Maria Lasitskene, Yaroslava Mahuchikh and Vashti Cunningham – are through to the final after clearing 1.95m in qualifying.
Jon Mulkeen for World Athletics