Antonella Palmisano wins the women's 20km race walk at the Tokyo 2020 Olympic Games (© Getty Images)
For the second time in as many days in Sapporo, the Olympic 20km race walk title was claimed by Italy, this time courtesy of Antonella Palmisano, whose dominating racing in the second half secured the nation's fourth gold medal at the Tokyo 2020 Olympic Games.
Palmisano, who finished fourth in Rio, was a presence from the start, but it wasn't until she approached the 17 kilometre mark that she made her intentions clear. After making her decisive move, she was alone by the time she reached the bell and completed much of the final lap with an occasional smile before reaching the finish line in 1:29:12 – a most appropriate present for her 30th birthday.
"Today is my day – a perfect way to celebrate my birthday," said Palmisano, a regular fixture on Italian race walk squads for the better part of the last decade, but until this morning, without a major title to her name.
It was a similar situation in yesterday's men's 20km race when Massimo Stano, Palmisano's training partner, won his first major title.
"Massimo's gold medal gave me a lot of extra power," she said. "In the countdown to the Olympics we both believed very much we could do it. We (both) come from very small towns in the south of Italy. We wanted to do something big."
With the start time temperature hovering at a balmy 34C, the field got off to a cautious start, with Brazil's Erica de Sena bringing the tight massive pack through the first kilometre in 4:50 and the second in 9:25. Palmisano led the field through the third kilometre in 14:00, a tempo that didn't do much to string out the pack.
By six kilometres (27:37) a distinct lead group of 16 emerged, with the Chinese trio of Yang Jiayu, Qieyang Shenjie and defending champion Liu Hong looming large, making their ambitions fairly clear: the first medal sweep in the event at an Olympic Games. But Palmisano was also racing comfortably, along with Colombian Sandra Arenas and de Sena.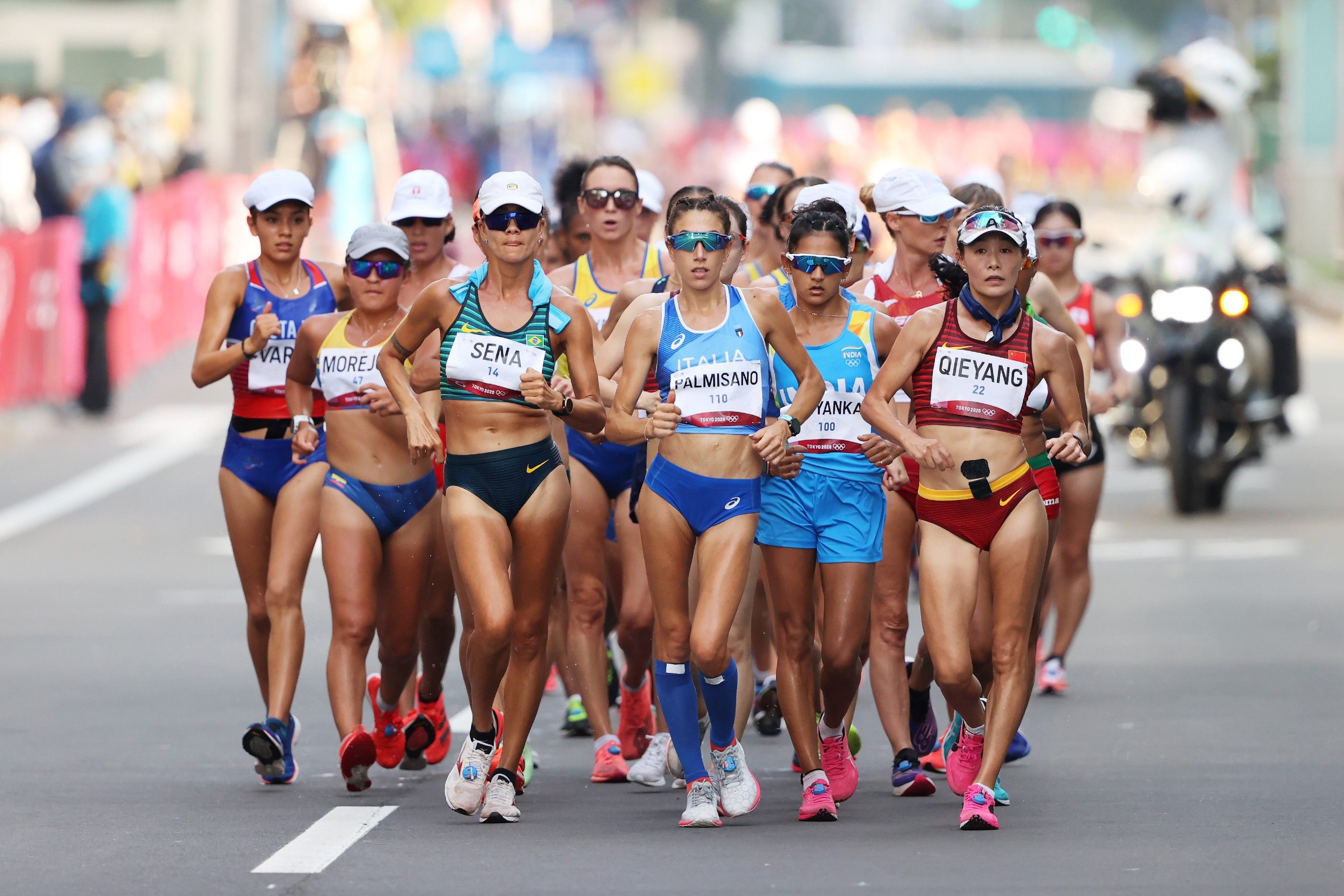 The situation was similar at eight kilometres (36:49), but with the pack reduced to 11, and another group of six following another second behind.
Palmisano was at the head of the race at the midway point, reaching 10 kilometres in 45:57, and maintained a front row spot at 12 kilometres (55:01) and again at 14 (1:04:04).
Two kilometres later the lead pack was reduced to seven, with Qieyang the first of the Chinese athletes to drift back. Her teammate Yang remained even with Palmisano - but not for long.
The Italian decided to make her move as she approached the 17th kilometre, quickly forging a four-second lead on Yang, de Sena and Arenas.
But Yang's sails were soon deflated by a visit to the penalty box. Meanwhile, Arenas made a late race charge, moving into second, six seconds behind Palmisano at 18km (1:21:00).
But there would be no catching the Italian. She was alone at the bell (1:25:05), with the final one-kilometre loop serving as a victory lap, half of which she covered draped in an Italian flag.
"I think that it will take me a few days to realise that I'm the Olympic champion," she said.
Arenas held on to take silver in 1:29:37, the first Olympic race walk medal for Colombia, and, after de Sena was pulled into the penalty box in the waning stages, Liu found the energy to move up and secure bronze in 1:29:57.
"I always thought that I could achieve this," said Arenas, the 2019 Pan-American champion. "I worked very hard. And today I did."
"This is my fourth Olympic Games and I'm very happy to win another medal," said Liu, who also took bronze in 2012 and finished fourth in 2008. "I'm very proud of what I achieved here today."
Further back, Spain's Maria Perez was fourth in 1:30:05, ahead of Mexico's Alegna Gonzalez (1:30:33) and Jemima Montag (1:30:39), who finished fifth and sixth. Qieyang was seventh in 1:31:04.
Bob Ramsak for World Athletics
WOMEN'S 20km RACE WALK MEDALLISTS
🥇
Antonella Palmisano 🇮🇹 ITA
1:29:12
🥈
Sandra Arenas 🇨🇴 COL
1:29:37
🥉
Liu Hong 🇨🇳 CHN
1:29:57
Full results