Amdework Walelegn wins the Seoul Marathon (© AFP / Getty Images)
Ethiopia's Amedework Walelegn was a comfortable winner of the Seoul International Marathon on Sunday (19), crossing the finish line of the World Athletics Platinum Label road race in a PB of 2:05:27.
It was his second victory in the Korean capital, having won there just four months ago in 2:06:59 at the JTBC Seoul Marathon. On this occasion, the 2020 world half marathon bronze medallist went much quicker in what was just the third marathon of his career.
He ran as part of a pack for most of the way, passing through 5km in 14:51 and 10km in 29:33 before reaching the half-way mark in about 1:02:30, putting them on course for a finishing time of about 2:05 – just outside the course record of 2:04:43 set last year by Mosinet Geremew.
The pace dropped slightly leading up to 30km, which was reached in 1:29:31 with eight men still in the lead pack. Walelegn then put in a bit of a surge and covered the next 5km segment in 14:34 – the quickest of the race. It was enough to break away from compatriots Shifera Tamru, Haftu Teklu and Olika Adugna Bikila, who formed a three-man chase pack.
With a seven-second lead at 35km and a 27-second lead at 40km, Walelegn continued to pull away from his opponents, and went on to cross the line in 2:05:27.
The three chasers broke up in the final two kilometres. Tamru – a former winner in Seoul (2019) and Daegu (2022) missed out on adding another Korean marathon victory to his collection, taking second place in 2:05:41. Teklu, who was contesting just the second marathon of his career, was third in 2:05:53, finishing comfortably ahead of Bikila (2:06:29).
Only the men's race had been granted a World Athletics label. The women's race, entirely a domestic field, was won by Jeong Da-Eun.
Leading results
Men
1 Amedework Walelegn (ETH) 2:05:27
2 Shifera Tamru (ETH) 2:05:41
3 Haftu Teklu (ETH) 2:05:53
4 Olika Adugna Bikila (ETH) 2:06:29
5 Ashenafi Moges (ETH) 2:06:59
6 Hicham Laqouahi (MAR) 2:07:02


Kejelcha threatens world 5km record in Lille
Ethiopia's Yomif Kejelcha crept even closer to the world 5km record in Lille on Sunday (19), clocking 12:50 in the French city.
The two-time world indoor champion came close to Berihu Aregawi's world record of 12:49 in Herzogenaurach last year, setting a PB of 12:53. One year on from that, Kejelcha took another crack at the mark and fell just one second shy of the record, but was still rewarded with a PB.
Compatriots Telahun Haile Bekele and Yasin Haji, as well as Kenya's Jacob Krop, ran alongside Kejelcha as they passed through the first kilometre in 2:32. But Kejelcha soon started to make an early break, and by the time he reached 3km in 7:40, he had a seven-second lead over Bekele, Tesfaye Kidanu and world U20 1500m champion Reynold Kipkorir.
Kejelcha continued to pull away in the final two kilometres in a bid to finish inside the existing world record, but he stopped the clock at 12:50. Nevertheless, he now moves up to second on the world all-time list – one place above Joshua Cheptegei – after winning the race by 14 seconds.
Kipkorir finished second in 13:04 from Bekele (13:07).
The women's race was even closer with Caroline Nyaga just getting the better of world steeplechase bronze medallist Mekides Abebe at the finish, both athletes clocking 14:35.
Seven women ran together through the first kilometre (2:53), but the field became strung out in the second half with Nyaga leading through 3km (8:47), just ahead of Abebe and Doris Cherop. In the closing stages, Cherop faded slightly while Nyaga and Abebe duelled for victory, Nyaga eventually getting the verdict. Cherop was third in 14:40.
In other races in Lille, Gemechu Dida won the men's 10km in a tight race with Emmanuel Kiprop, 27:12 to 27:13. The women's race was similarly close as Dorcas Kimeli finished two seconds ahead of fellow Kenyan Mercyline Cherono in 30:48.
The men's half marathon was also close, Patrick Mosin claiming victory in 59:31 from Alfred Barkach's 59:32. Two-time world cross-country champion Emily Chebet won the women's race in 1:07:52.


Obiri breaks event record, Kiplimo gets the better of Cheptegei in New York
Two-time world 5000m champion Hellen Obiri and world cross-country champion Jacob Kiplimo produced dominant performances at the United Airlines NYC Half on Sunday (19).
Obiri was locked in a duel with Ethiopia's 2015 world silver medallist Senbere Teferi for much of the race, but broke away from the defending champion just before 15km to win in an event record of 1:07:21. Kiplimo, meanwhile, waited until just after 15km to make his move, and once he dropped Joshua Cheptegei he didn't look back, going on to win in 1:01:31.
Obiri and Teferi made an early break from the rest of the field. By the time they reached 5km (15:50), they already had a 22-second margin over Diane van Es of the Netherlands, who led a small chase pack.
Teferi was tucked in right behind Obiri for a large part of the race with the Kenyan leading the duo through 10km (31:29). But as they started to approach the 15km marker, Teferi's challenge began to fade. Obiri forged on ahead and crossed the line in 1:07:21 to take 14 seconds off the event record Teferi set last year.
Teferi had to settle for second place on this occasion, clocking 1:07:55. European cross-country champion Karoline Bjerkeli Grovdal came through for third place (1:09:53).
"I'm so grateful to have won this race," said Obiri, the 2019 world cross-country champion. "There was a lot of wind, but I tried to push the pace after 15km.
"My mind was just on winning and not the time, because it is a hard course. I still wanted to run sub-70, so I'm happy to have done that and to have won today."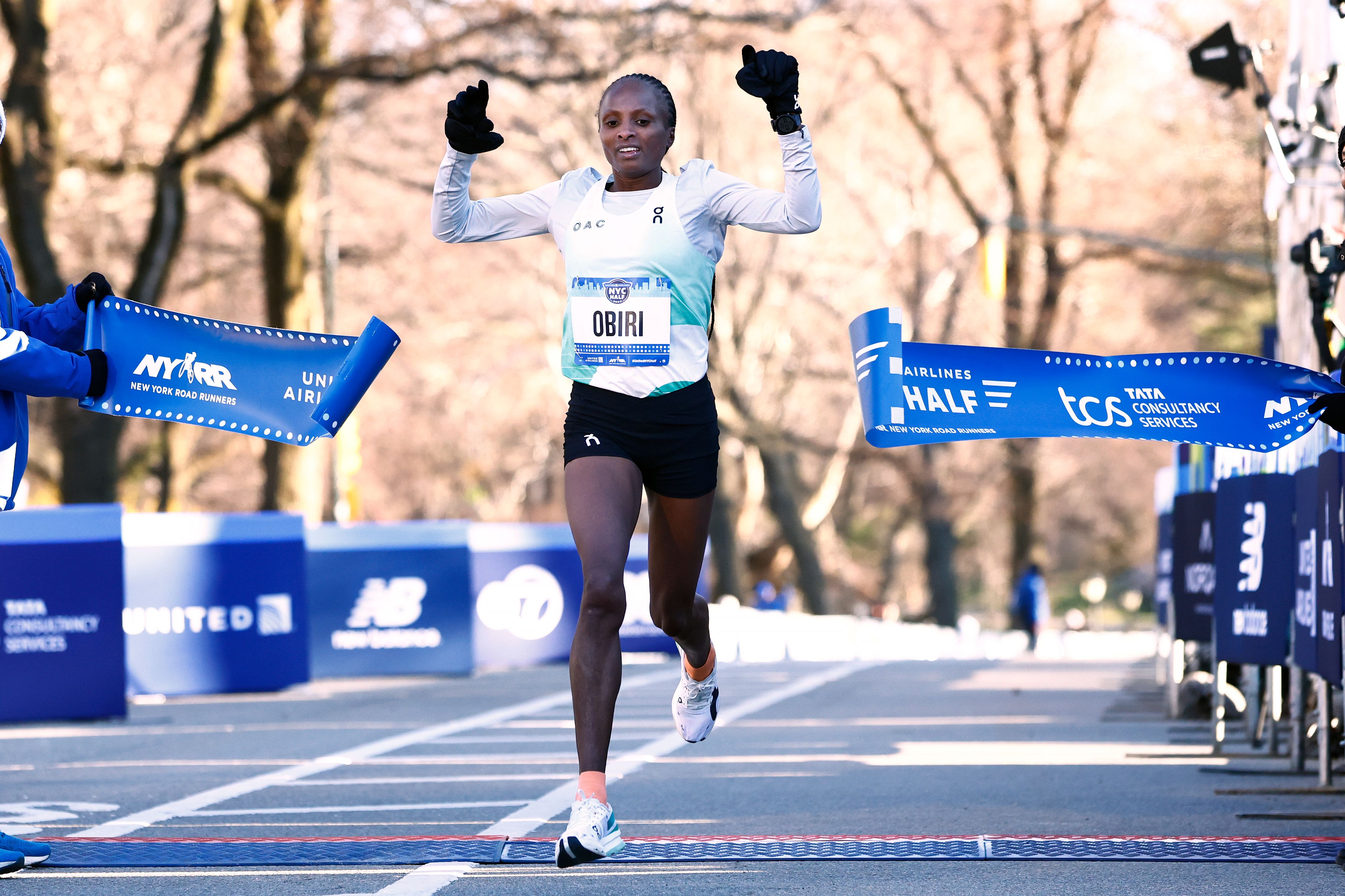 Hellen Obiri wins the New York Half Marathon (© Getty Images)
Britain's Chris Thompson was a surprise early leader of the men's race, opening up a significant gap on the rest of the field in the first 5km, covered in 15:00. He just about held on to the lead until 10km (30:10), by which point the large chase pack was just a few strides behind.
Once Thompson had inevitably been reeled in, Morocco's Zouhair Talbi led what was now a lead pack of about 15 runners. The group soon became strung out with Talbi leading at 15km (44:35), just ahead of Kiplimo and Cheptegei.
Just a minute or two later, Kiplimo – contesting his first race since winning the world cross-country title in Bathurst last month – finally took charge and started to pull away from Cheptegei and Talbi.
Over the course of the final five kilometres, Kiplimo opened up a gap of 38 seconds on two-time world 10,000m champion Cheptegei, winning in 1:01:31. Cheptegei was second in 1:02:09, finishing nine seconds ahead of Talbi.
"I'm very excited to win this race, my first half marathon of 2023," said Kiplimo. "Even though it was cold, I did my best. For the past few months I have been preparing for cross-country, and that helped me a lot for this race."
Leading results
Women
1 Hellen Obiri (KEN) 1:07:21
2 Senbere Teferi (ETH) 1:07:55
3 Karoline Bjerkeli Grovdal (NOR) 1:09:53
4 Diane van Es (NED) 1:10:43
5 Desiree Linden (USA) 1:12:21
6 Dakotah Lindwurm (USA) 1:12:25
Men
1 Jacob Kiplimo (UGA) 1:01:31
2 Joshua Cheptegei (UGA) 1:02:09
3 Zouhair Talbi (MAR) 1:02:18
4 Ben True (USA) 1:02:57
5 Edward Cheserek (KEN) 1:02:58
6 Andrew Butchart (GBR) 1:02:58


Chepkwony and Allam smash PBs to win at Rome Marathon
Betty Chepkwony and Taoufik Allam were the victors at the Acea Run Rome the Marathon, smashing their PBs by seven and four minutes respectively to win at the World Athletics Elite Label road race on Sunday (19).
Chepkwony took the women's title in 2:23:02, while Allam triumphed in 2:07:43.
Ethiopia's Zinash Getachew, Mulugojam Ambi, Jemila Shure, Fozya Amid and Kenya's Brenda Kiprono went to the front in the early stages, reaching 10km in 33:28 while Chepkwony was 27 seconds behind.
Ambi, Getachew and Shure reached halfway in 1:11:07, inside course record pace (2:22:52), while Chepkwony had reduced the gap on the leading group to 17 seconds.
After going through 30km in 1:41:32, Ambi and Shure struggled in the final 10km. Chepkowny, meanwhile, reeled in the leaders and soon started to pull away. She crossed the finish line in 2:23:02, smashing her previous PB (2:30:28) with the third-fastest winning time ever in Rome.
Amid finished second in 2:25:08, improving her previous PB by three minutes.
"I am very happy with the win," said Chepkwony. "I really enjoyed running in this beautiful city. I ran a smart race in the first half. I know that I can run faster, but I am happy with my performance on a difficult course."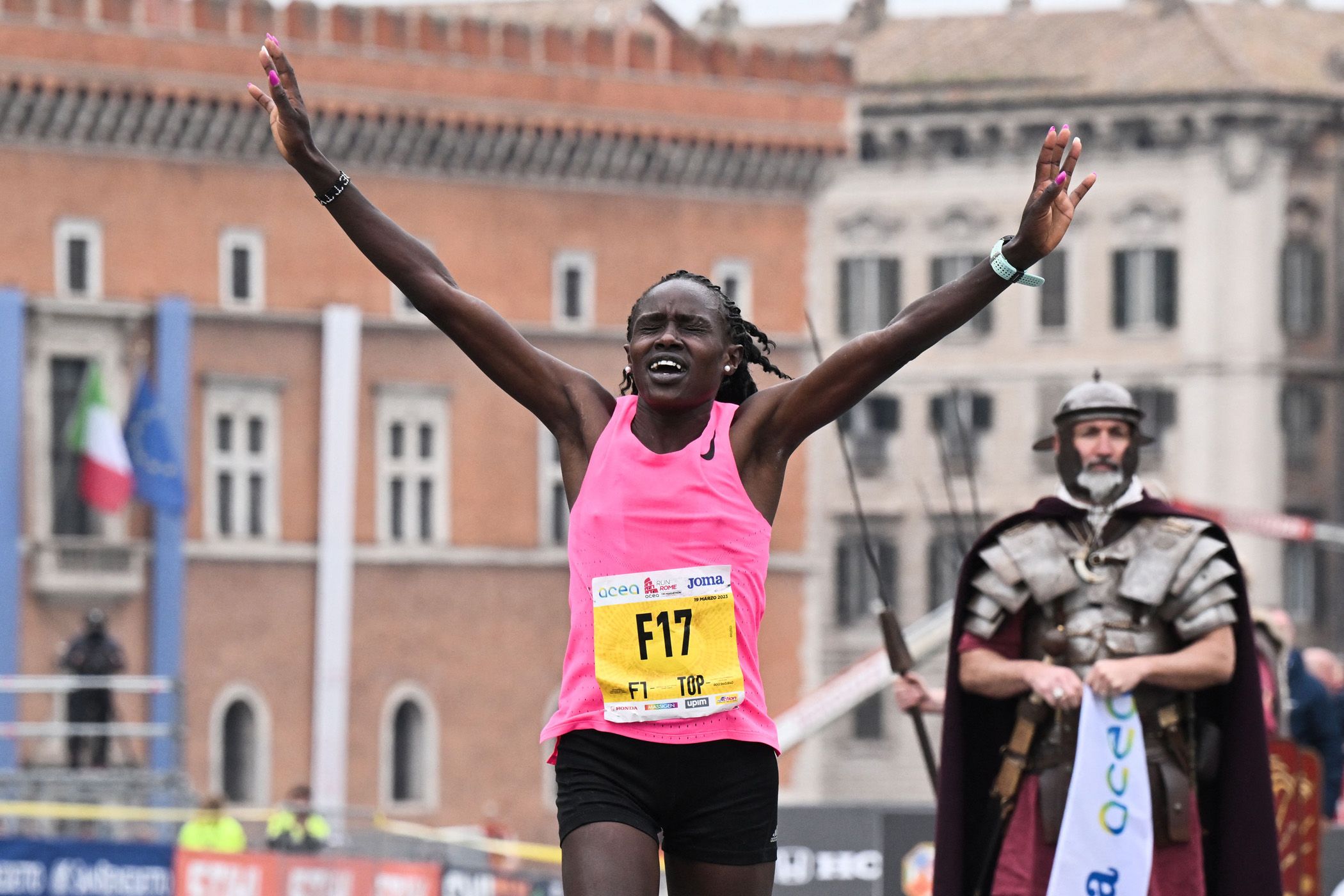 Betty Chepkwony wins the Rome Marathon (© AFP / Getty Images)
In the men's race, a ten-man pack went through 5km in 15:00, 10km in 29:56, and 15km in 44:58. Five of those – Allam, Wilfred Kigen, Rogers Keror, Felix Kirui and Berhanu Heye – stuck with the pacemakers through the half-way mark (1:03:28), which was just outside course record pace.
Kigen, Heye, Keror and Allam reached 30km in 1:30:51 as the pace started to drop. Just a couple of kilometres later, Kigen and Allam pulled away from the rest of the field and had opened up a gap of 19 seconds on Keror by 35km.
Allam finally broke away from Kigen at 39km and went on to win in 2:07:43, becoming the first Moroccan winner of the Rome Marathon. Wilfred Kigen finished second, improving his PB to 2:08:45.
"I was determined to win the race," said the 33-year-old, who set his previous PB of 2:11:30 in Dublin last year. "The pacemakers did a good job in the first half of the race. The final part was challenging because of the cobblestones.
In the days leading up to the race, World Athletics delivered a Race Emergency Medicine Course.
Diego Sampaolo for World Athletics
Leading results
Women
1 Betty Chepkwony (KEN) 2:23:02
2 Fozya Amid (ETH) 2:25:09
3 Zinash Debebe Getachew (ETH) 2:25:59
Men
1 Taoufik Allam (MAR) 2:07:43
2 Wilfred Kigen (KEN) 2:08:45
3 Rogers Keror (KEN) 2:10:50