Patrick Kipngeno on his way to victory at the Montemuro Vertical Run (© corsainmontagna.it / Marco Gulberti)
Joyce Muthoni Njeru and Patrick Kipngeno claimed a Kenyan double at the Montemuro Vertical Run – the first Gold Label World Mountain Running Association (WMRA) World Cup race of the year – in Portugal, on Sunday (19).
The promised rain stayed away on race morning, and an overcast sky provided near perfect race conditions. The route – 10.2km with 980m of ascent – started in a small village just outside of Castro Daire. First came a reasonably flat kilometre loop around the streets, before the course made its way up to the summit at 1200m, with one downhill kilometre in the first half. The track was mainly wide and runnable, with just one steep, technical section right at the end.
The women set off first and Njeru set the pace, with Finland's Susanna Saapunki right on her heels, leading the chasing pack. Those chasing athletes included Italy's Camilla Magliano, Lorenza Beccaria and Vivien Bonzi, plus Spain's Maria Ordonez Marina, Charlotte Cotton of Belgium and talented Portuguese athletes including Rosa Madureira and Joana Soares.
Njeru was in the lead by the halfway point, but she wasn't running away with it. Saapunki was chasing hard and was going to make her fight. Around a minute separated the two, with Magliano just under a minute further behind. It was still anybody's race, with Madureira, Soares and Beccaria not far back.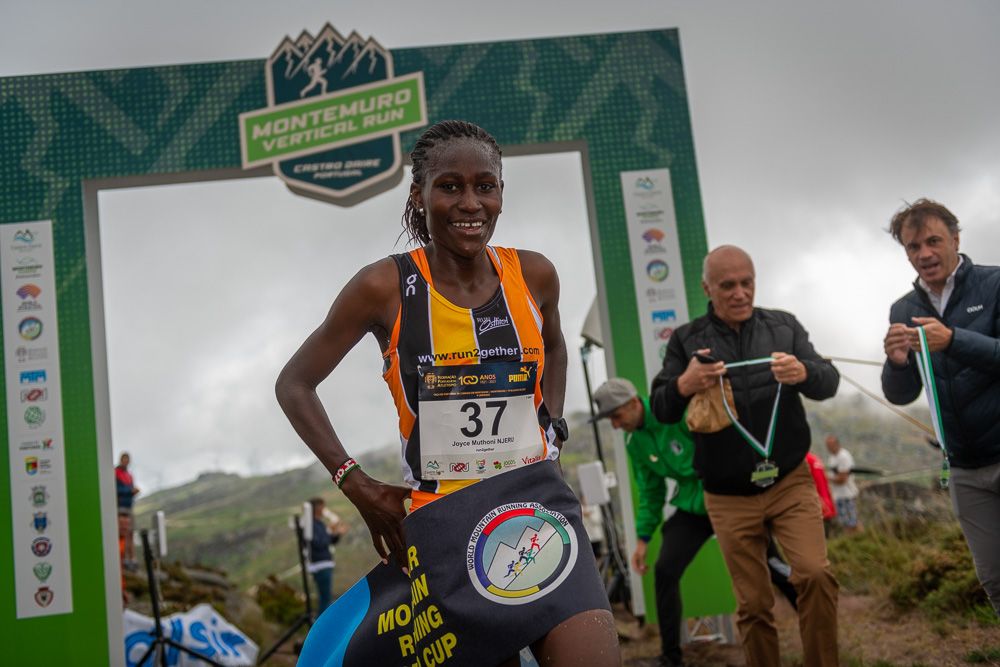 Joyce Muthoni Njeru celebrates her win at the Montemuro Vertical Run (© corsainmontagna.it / Marco Gulberti)
The men set off 10 minutes after the women and it was a fast kilometre loop to start out with. With no Henri Aymonod due to injury, it may have been expected that Geoffrey Ndungu, who had some great results last year to finish third in the overall World Cup standings, would take the race on. But it was his fellow Kenyan Kipngeno, new to the WMRA World Cup races, who led from the start.
However, with a field including Ireland's Zak Hanna, Marek Chrascina of the Czech Republic, and Italy's Andrea Rostan, as well as Paulo Gomes, Cesar Costa and several other strong runners from Portugal, it wasn't going to be plain sailing.
With a 10km PB of 29:22 and a half marathon best of 1:02:42, it was clear Kipngeno was capable of setting the pace, but could he sustain it and beat runners with much more experience in the mountains?
At half way he was looking comfortable, with no let up on the pace. Hanna kept him in his sights, though, and continually tried to close the gap. Rostan, Chrascina and Ndungu were also chasing hard for third at this point.
As the races neared their conclusion, Njeru and Kipngeno actually looked like they may finish together. But in the final metres Kipngeno overtook his compatriot, taking the men's race win in 50:45.
Njeru crossed the finish line moments later to win the women's race in 1:00:33.
Saapunki was just under a minute behind Njeru (1:01:19), showing what an exciting prospect she is for the women's World Cup this year. Magliano completed the women's podium in 1:04:23.
For the men, Hanna held on to second, finishing in 52:37. Afterwards he explained how he could see Kipngeno ahead of him at many points of the course, but when Kipngeno surged he just wasn't able to match his pace.
Rostan rounded out the men's podium with a strong run, finishing in 53:02.
Kirsty Reade (WMRA) for World Athletics