Henri Aymonod celebrates his win at Chiavenna-Lagunc (© Marco Gulberti)
Italy's Henri Aymonod and Joyce Muthoni Njeru of Kenya have been crowned the overall World Mountain Running Association (WMRA) World Cup champions following the final race of the 2021 series at Chiavenna-Lagunc on Sunday (10).
The Kilometro Verticale Chiavenna-Lagunc was a fitting setting to decide the winners of the overall World Cup as well as the short uphill category, with the winners of Sunday's race – Aymonod and Austria's Andrea Mayr – also claiming those category titles.
The start lists featured a mix of short uphill specialists and athletes more comfortable with longer races, but committed to adding to their World Cup points totals.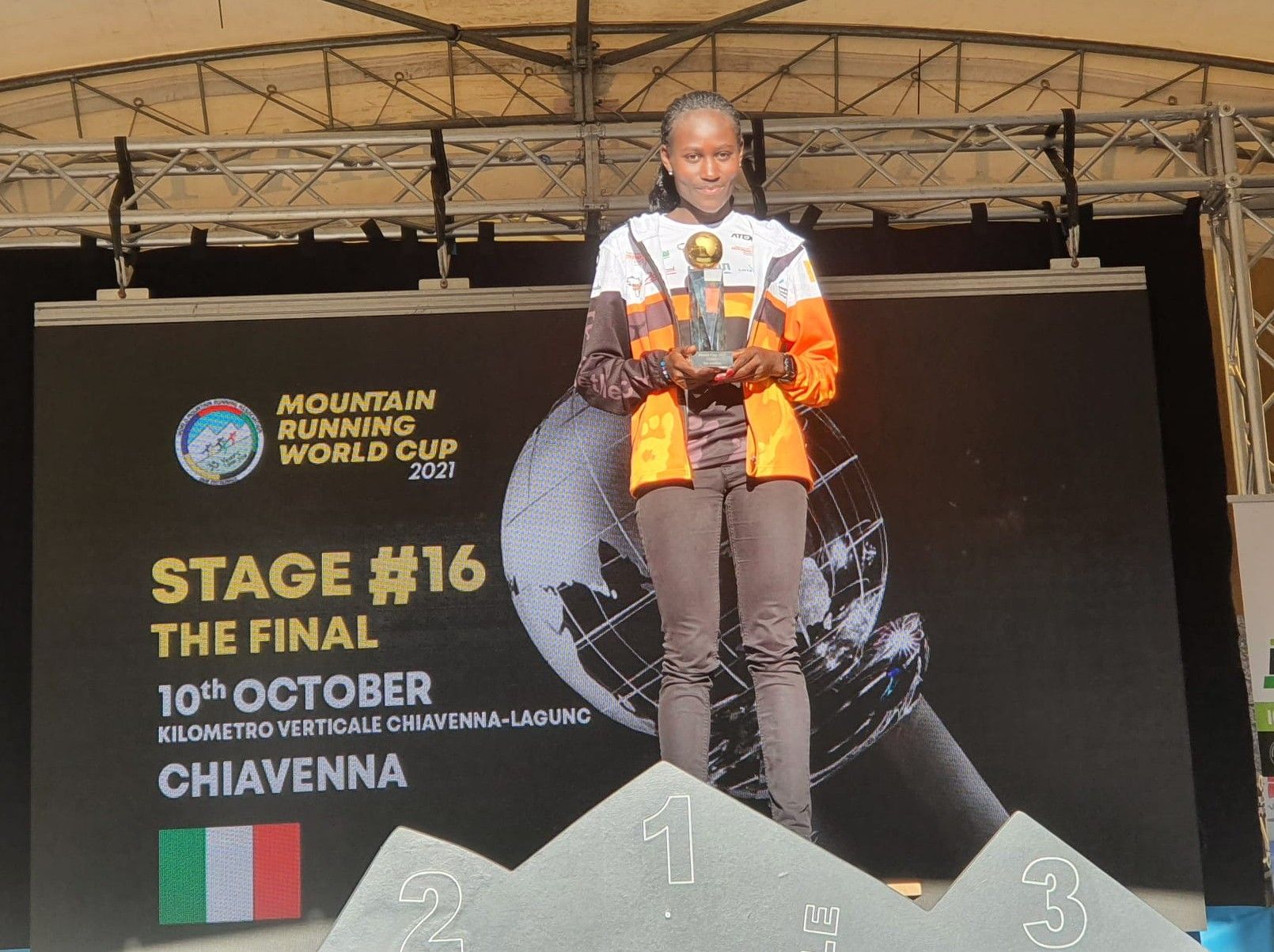 Kenya's 2021 WMRA World Cup winner Joyce Muthoni Njeru (© Luca Coluccia)

The women set off for the historic vertical kilometre race first, at 20 seconds intervals, with the top ranked athletes going last.
It was an exciting morning, seeing the top three change as the competition progressed. Eventually it was Mayr who won by a huge margin, but an agonising one second outside of her own course record in 35:41.
In second place it was Italy's Francesca Ghelfi in 39:16 and in third was last year's winner, Ireland's Sarah McCormack, in 39:56.
Then it was time for the men, also setting off at 20 second intervals. It was an incredibly close race, with the top six all finishing within 90 seconds of each other.
It was no surprise to find Aymonod coming out on top – his third victory here in a row – in 31:40.
Italy's Tiziano Moia was second in 32:18 and Nadir Maguet completed the Italian clean sweep in 32:40.
Finishing behind Aymonod and Mayr in the overall short uphill category at the end of the series are Njeru and Slovenia's Mojca Koligar in the women's standings and Moia and his fellow Italian Andrea Rostan in the men's standings.
In the overall World Cup, Britain's Charlotte Morgan and Hungary's Sandor Szabo claim the runner-up spots, with Italy's Alice Gaggi and Kenya's Geoffrey Gikuni Ndungu placing third.
Kirsty Reade (WMRA) for World Athletics


WMRA World Cup results
Overall World Cup
Women
1 Joyce Muthoni Njeru (KEN)
2 Charlotte Morgan (GBR)
3 Alice Gaggi (ITA)
Men
1 Henri Aymonod (GBR)
2 Sandor Szabo (HUN)
3 Geoffrey Gikuni Ndungu (KEN)


Short uphill category
Women
1 Andrea Mayr (AUT)
2 Joyce Muthoni Njeru (KEN)
3 Mojca Koligar (SLO)
Men
1 Henri Aymonod (ITA)
2 Tiziano Moia (ITA)
3 Andrea Rostan (ITA)


Classic mountain category
Women
1 Joyce Muthoni Njeru (KEN)
2 Lucy Wambui Murigi (KEN)
3 Alice Gaggi (ITA)
Men
1 Geoffrey Gikuni Ndungu (KEN)
2 Sandor Szabo (HUN)
3 Henri Aymonod (ITA)


Long mountain category
Women
1 Charlotte Morgan (GBR)
2 Marcela Vasinova (CZE)
3 Belen Perez (ESP)
Men
1 Raul Criado (ESP)
2 Peter Frano (SVK)
3 Kamil Lesniak (POL)