Shericka Jackson at the Jamaican Championships (© Athelstan Bellamy)
On a busy weekend of national championship action, world 200m champion Shericka Jackson provided an early highlight of the Jamaican Championships in Kingston when speeding to a world-leading PB of 10.65 to win the 100m. She later completed a sprint double, winning the 200m in 21.71.
Olympic champion Karsten Warholm, meanwhile, won the 400m hurdles at the Norwegian Championships in Jessheim in 46.76 – the fourth-fastest time of his career.
Jackson began her Jamaican Championships campaign with a comfortable 10.99 heat win on Thursday (6). On Friday she won her semifinal, but the unhelpful -3.9m/s headwind affected performances, and her winning time was 11.31.
Thankfully the wind changed direction for the final later that evening, and Jackson blazed to victory in 10.65 (1.0m/s), moving her to equal fifth on the world all-time list and consolidating her position as the third-fastest Jamaican woman in history.
Shashalee Forbes was second in 10.96, just ahead of Natasha Morrison (10.98) and Briana Williams (11.01). Double Olympic champion Elaine Thompson-Herah was fifth in 11.06.
Jamaica will be able to send four women to the World Championships in the 100m, as Shelly-Ann Fraser-Pryce has a wildcard entry as defending champion. The same applies in the 200m, as Jackson is the defending champion in that event.
Jackson said afterwards that her winning time did not come as a surprise and was one of her predictions for the season. "I wrote down this time in my phone from June when I ran 10.78 at the Racers Grand Prix," Jackson explained. "I was supposed to run 10.6 in Oslo but so many things happened when I arrived, including my luggage going missing. I made a promise then that once the time didn't happen in Oslo, it would definitely be at the Jamaican Championships and tonight I'm grateful to do it in front of the people I love the most."
Jackson returned to complete the sprint double on Sunday, winning the 200m in 21.71 (-0.5m/s) – a time that was the fastest in the world this season, improving Gabby Thomas' 21.86 semifinal at the US Championships, until Thomas also improved to 21.60 to win the US final later that day.
Fraser-Pryce was second behind Jackson in 22.26.
Rasheed Broadbell was another athlete to impress, the Commonwealth Games champion producing a scintillating world lead and personal best run of 12.94 (0.7m/s) to supplant Hansle Parchment as 110m hurdles champion. Olympic champion Parchment, whose PB is also 12.94 - recorded in 2014 - was second in 13.12.
There was a surprise winner of the men's 100m in Kingston. Rohan Watson – whose lifetime best before this year stood at 10.41 – smashed his PB to finish second in his heat in 9.98 behind Kadrian Goldson, whose 9.94 clocking was also his first ever sub-10-second run.
Watson was second again in his semifinal (10.22), but then produced the race of his life to win the final in a lifetime best of 9.91 (1.1m/s). Ryiem Forde – another man who had never broken 10 seconds before this competition – was second in 9.96 from world finalist Oblique Seville (10.00).
Kishane Thompson, who won his heat on Thursday in 9.91 – another new member of the sub-10 club – was a non-starter for the semifinals.
"I'm feeling good at this moment after getting a big personal best and I'm looking forward to the World Championships," said Watson.
There was an even bigger surprise in the men's 400m hurdles final as 19-year-old Roshawn Clarke – the youngest in the field – smashed his PB to win in 47.85, equalling the world U20 record.
He won by 0.6 from Jaheel Hyde (48.45) with Assinie Wilson finishing a close third (48.50).
"Going sub-48 is not a simple task for anyone, I put in the hard work and I'm proud of myself," Clarke said. "My event is very exciting and I'm definitely looking forward to going up against the big guys in Budapest."
Andrew Hudson, who switched allegiance from USA to Jamaica in July last year, comfortably retained his 200m title in 20.11 (-0.2m/s) ahead of Rasheed Dwyer in 20.26. Antonio Watson ran a personal best of 44.54 but saw his unbeaten streak come to an end in the men's 400m after narrowly losing to Sean Bailey (44.48).
In a competitive women's 400m hurdles final, Janieve Russell took the title from Andrenette Knight, 53.75 to 53.78. Rushell Clayton (53.81) and Shiann Salmon (53.97) also finished inside 54 seconds.
Olympic 100m hurdles bronze medallist Megan Tapper, who registered a personal best of 12.44 to win her semifinal, produced a flawless display to win a close final ahead of world U20 and NCAA champion Ackera Nugent, 12.64 to 12.67 (-1.9m/s)
Among the field event highlights on Saturday, two-time world triple jump silver medallist Shanieka Ricketts claimed her fifth consecutive national title, leaping a wind-aided 14.79m (2.6m/s) to beat Ackelia Smith with 14.26m (0.9m/s). Wayne Pinnock won the men's long jump ahead of 2019 world champion Tajay Gayle, 8.32m to 8.27m, while 2019 world silver medallist Danniel Thomas-Dodd won the shot put with a throw of 19.08m.
On Sunday, world leader, world U20 champion and record-holder Jaydon Hibbert continued his purple patch this season, taking top honours in the men's triple jump with a 17.68m leap.
With thanks to Noel Francis
Warholm smashes 47 at Norwegian Championships
Olympic champion Karsten Warholm continued to show he is back to his best with what was essentially an exhibition run in the 400m hurdles at the Norwegian Championships.
He already had a clear lead by the time he negotiated the second hurdle, and he continued to run away from the rest of the field, racing as though he was in a major championships final.
He crossed the finish line almost five seconds clear of his nearest opponent, clocking 46.76 – the fastest time ever recorded at any national championships in history. It's just 0.24 shy of the season's best Warholm ran to win at the Wanda Diamond League meeting in Oslo last month, and 0.02 faster than Kevin Young's world record that stood from 1992 until 2021.
A week after turning 20, Henriette Jaeger won the women's 400m title in 51.65, shaving 0.01 off her PB.
It has been a busy but successful competition for national decathlon record-holder Sander Skotheim. He won the 110m hurdles in a PB of 13.97, took the high jump title with an outdoor PB of 2.18m, placed third in the long jump (7.43m) and eighth in the discus (43.66m).
In the men's hammer, 2021 NCAA champion Thomas Mardal beat world and Olympic medallist Eivind Henriksen, 76.92m to 76.17m.
Throwers shine at Hungarian Championships, official test event for WCH Budapest 23
Hungary's leading athletes got to sample the state-of-the-art National Athletics Centre in Budapest on Friday and Saturday (7-8) when they competed at the Hungarian Championships, the official test event for the World Athletics Championships Budapest 23.
No doubt inspired by competing at the facility, several athletes produced their best marks of the season so far.
Bence Halasz, the 2019 world bronze medallist in the hammer, was one such example. He added almost a metre to his season's best to win the hammer with 77.52m from Donat Varga (75.26m).
Anita Marton, the 2018 world indoor champion, won the women's shot put with her best throw for three years, throwing 18.40m. 24 hours prior, she won the discus title with 54.73m.
The highlight of the track action came in the women's 100m hurdles, where European silver medallist Luca Kozak came within 0.03 of her own national record. In a competitive final, Kozak won in 12.72 from Anna Toth (12.84) and Greta Kerekes (12.93).
Hughes, Asher-Smith and Caudery defy conditions at British Championships
A torrential downpour broke out on the first day of the British Championships in Manchester at the time of the men's 100m final, but world leader Zharnel Hughes powered through the puddle-covered track to take the title in 10.03 (0.0m/s).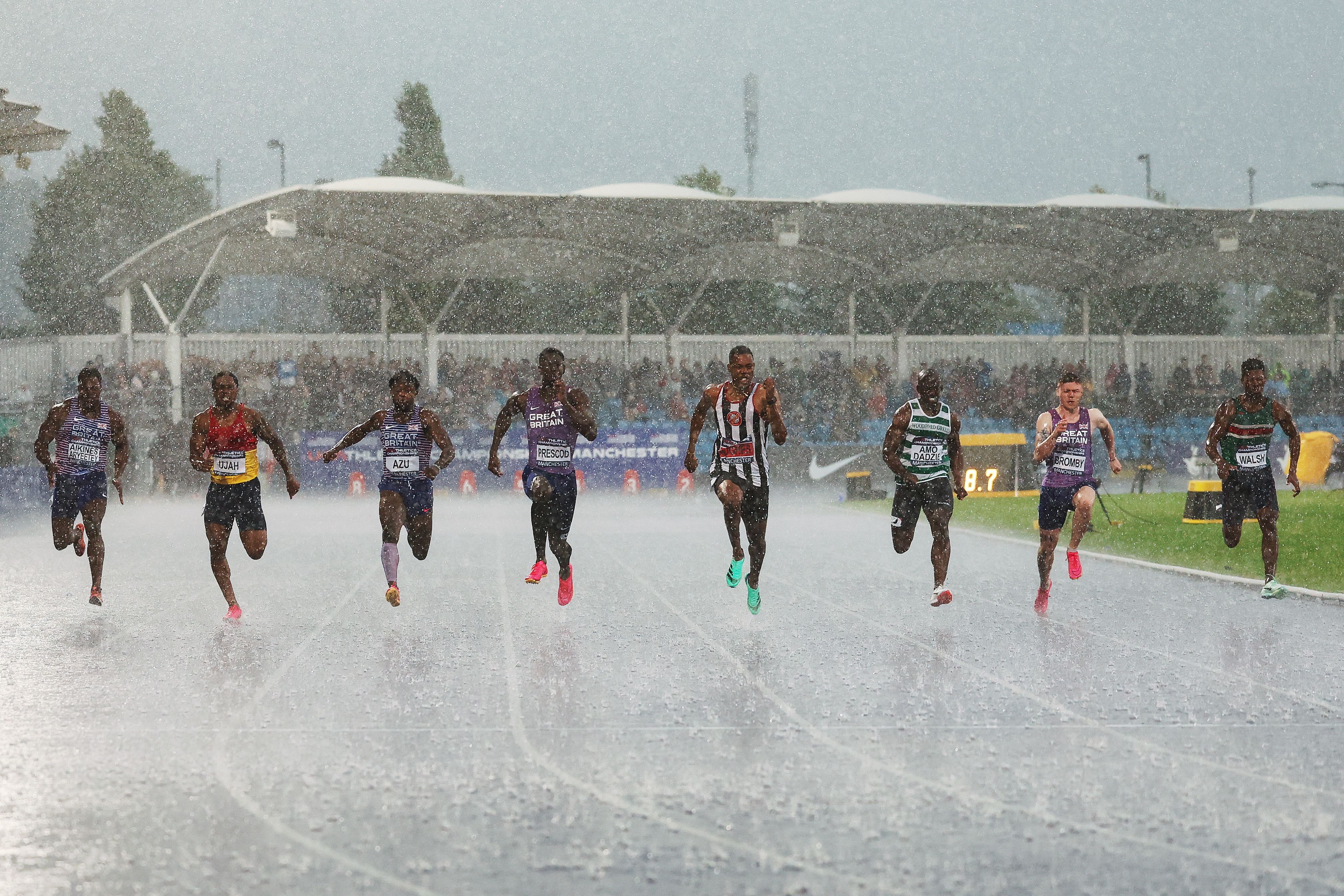 Zharnel Hughes on his way to winning the 100m at the UK Championships (© Getty Images)
In the semifinals earlier in the day, he left himself too much work to do after a conservative start and only narrowly won his heat in 10.06 from Jeremiah Azu (10.08). But Hughes' form was far more convincing in the final and he won by a clear 0.11 margin from Reece Prescod (10.14). Eugene Amo-Dadzie was third (10.18).
The rain eased in time for the women's 100m final just moments later, which was won by Dina Asher-Smith in 11.06 (0.2m/s). She finished 0.2 ahead of Imani Lansiquot.
One of the biggest surprises of the day came in the pole vault, where Molly Caudery added 11 centimetres to her PB to take the title with 4.71m, moving her to second on the UK all-time list. Olympic bronze medallist Holly Bradshaw was second with 4.61m.
Hughes completed a sprint double on Sunday, storming to the 200m title in 19.77 but with a tailwind slightly above the legal limit at 2.3m/s. In the women's final, Daryll Neita was just 0.02 off her PB with a championship record of 22.25 to retain the title. Bianca Williams was second in 22.59.
World and Olympic silver medallist Keely Hodgkinson held off a challenge from Jemma Reekie to win the 800m, clocking 1:58.26 to Reekie's 1:58.93. While that race went to the form book, European fourth-place finisher Katie Snowden looked shocked to have won the 1500m as she outsprinted Olympic silver medallist Laura Muir in the closing stages and took the title in 4:09.86 to Muir's 4:10.24.
There was also an exiciting finish to the men's 1500m – European indoor silver medallist Neil Gourley finding space on the inside to move past his rivals down the home straight and win in the pouring rain in 3:46.16. Elliot Giles was second in 3:46.48 and George Mills third in 3:46.57. In a dramatic end to the men's 800m, Daniel Rowden came through for the win in 1:45.13 ahead of Ben Pattison and Max Burgin.
European indoor champion Jazmin Sawyers won the women's long jump with a wind-assisted leap of 6.86m (2.5m/s).
Weber throws 88.72m, Tentoglou leaps 8.38m
Over in Kassel on Saturday, Olympic and world fourth-place finisher Julian Weber achieved the third-best mark of his career, throwing 88.72m to win the javelin title at the German Championships. That puts Weber second on this season's top list behind Olympic silver medallist Jakub Vadlejch.
Olympic silver medallist Kristin Pudenz claimed the women's discus title with a throw of 65.98m to beat Shanice Craft with 64.05m, while Gina Luckenkemper won the women's 100m in 11.03 (0.3m/s).
Sunday's performances included a dominant long jump win for world and Olympic champion Malaika Mihambo but her competition came to an early end as, after an opening leap of 6.93m, she withdrew from the competition in the fourth round due to injury.
On the track, a 20.02 run by Joshua Hartmann saw him break the 18-year-old national 200m record of 20.20 and improve his PB by 0.31.
After winning the women's 5000m on Saturday, European silver medallist Lea Meyer returned to the track on Sunday to retain her 3000m steeplechase title in 9:33.19.
In Velenje, world champion Kristjan Ceh claimed the men's discus title at the Slovenian Championships with a mark of 70.54m - the seventh-best winning mark of his career.
World indoor bronze medallist Tina Sutej cleared 4.73m to win the pole vault before attempting a national record and world-leading height of 4.83m.
At the Greek Championships in Volos, Olympic champion Miltiadis Tentoglou won the long jump with a season's best of 8.38m in the sixth round. All four of his valid attempts were 8.10m or farther, his winning jump backed up by 8.26m in the fourth round. Katerina Stefanidi cleared 4.61m to win the women's pole vault.