Karsten Warholm on his way to winning the 400m hurdles in Berlin (© AFP / Getty Images)
Olympic champions Karsten Warholm and Valarie Allman returned to Berlin's ISTAF meeting – a World Athletics Continental Tour Silver competition – and produced dominant performances in their respective events on Sunday (4).
Warholm has competed sparingly this year due to injury. The Norwegian 400m hurdler wasn't quite at his best at the World Championships, where he finished seventh, but he rebounded by winning the European title in Munich in a championship record of 47.12.
The 26-year-old was making his third appearance at the ISTAF meeting, having set a meeting record of 47.08 in the German capital two years ago. He came close to that and won by more than a second in 47.24 with France's Ludy Vaillant finishing second in 48.26 and Germany's Joshua Abuaku also setting a lifetime best in third (48.55).
"I'm satisfied that I'm able to run these fast times at the end of the season," said Warholm after his first complete race of the year outside of major championships. "It also shows that I am back and I'll be running strong again next year."
Warholm's fellow Olympic champion Allman was pleased to return to winning ways in what was her first competition since finishing third at the World Championships.
The US discus thrower took an early lead with 63.46m, then improved to 69.14m in the third round before ending her series with 70.06m – just 1.10m shy of the meeting record she set in Berlin last year.
"After the World Championships there was this bittersweet feeling with my bronze medal," said Allman. "I'm excited to have this chance to show that I can throw better, and 70 metres in the discus is a big barrier."
Germany's European and Olympic silver medallist Kristin Pudenz was second with 65.20m. The competition also marked the end of Nadine Muller's career. The 36-year-old threw 55.73m, wrapping up an international career that has spanned 20 years and has included world silver and bronze medals.
It was a good day for world champions, as Tobi Amusan, Grant Holloway, Malaika Mihambo and Noah Lyles were all triumphant in their disciplines.
Amusan, the world record-holder in the 100m hurdles, sped to a 12.45 victory in her event to win from USA's Tia Jones (12.58).
The men's sprint hurdles was much closer as just 0.02 separated two-time world champion Holloway from NACAC champion Freddie Crittenden, 13.05 to 13.07. Daniel Roberts made it a US 1-2-3, taking third place in 13.25.
Mihambo managed just one valid leap in the long jump, but her 6.92m was enough to win from Commonwealth champion Ese Brume (6.78m).
Lyles, the two-time world 200m champion, stepped down in distance and won the 100m convincingly in a season's best of 9.95 from African record-holder Ferdinand Omanyala (10.11). European silver medallist Daryll Neita won the women's event in 11.00 from USA's Celera Barnes (11.10).
Elsewhere, world silver medallist Beatrice Chebet won the 5000m in 14:44.25, and Menno Vloon set an outdoor Dutch record of 5.88m to win the pole vault.
Muhammad, Ta Lou and Nuguse break meeting records in Padua
Former world record-holder Dalilah Muhammad smashed a meeting record that had stood since 2005 when winning the 400m hurdles at the Meeting Citta Di Padova – a Continental Tour Bronze competition – in Padua on Sunday (4).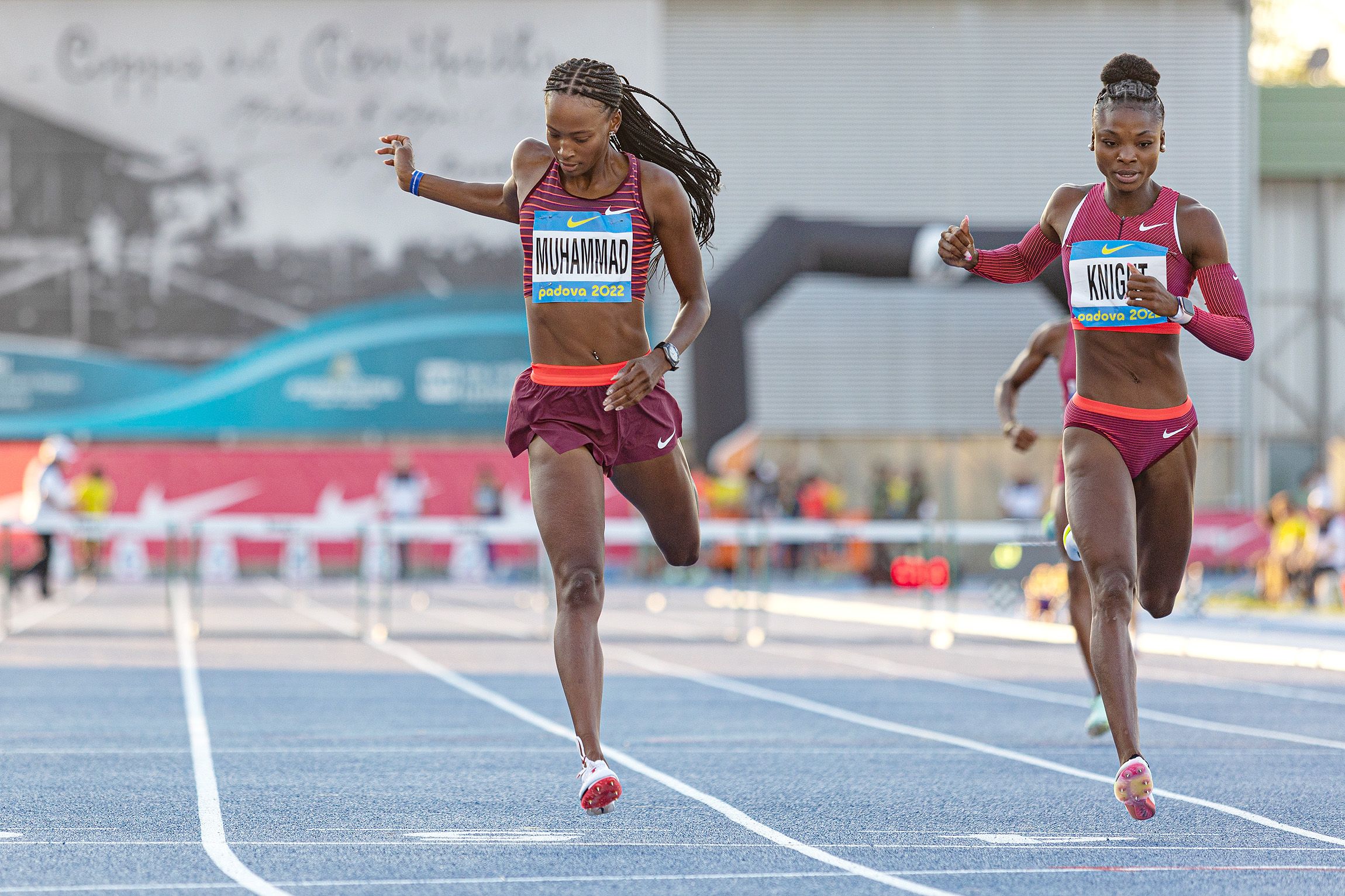 Dalilah Muhammad wins the 400m hurdles in Padua (© Chiara Montesano)

The world bronze medallist was pushed all the way by Jamaican breakthrough performer Andrenette Knight, but Muhammad held on to win in 53.84. Knight (53.95) was also well inside the previous meeting record of 54.32.
African record-holder Marie-Josee Ta Lou continued her strong finish to the season by winning the women's 100m in 10.94. Despite the -1.2m/s headwind, the Ivorian sprinter still managed to take 0.04 off Shelly-Ann Fraser-Pryce's meeting record from 2015.
USA's Yared Nuguse was similarly dominant in the men's 1500m. The 2019 NCAA champion won by almost two seconds from compatriot Cole Hocker, and his winning time of 3:33.26 took 0.23 off Stewart McSweyn's meeting record from last year. Hocker clocked 3:35.18.
A fourth meeting record was set in the men's 400m, where there was another US 1-2 finish. Bryce Deadmon won in 44.76, finishing almost half a second ahead of Michael Cherry (45.23).
The women's triple jump was extremely close as just one centimetre separated world silver medallist Shanieka Ricketts from Thea LaFond. Ricketts leaped a wind-legal 14.72m (1.5m/s) to finish ahead of LaFond's wind-assisted 14.71m (2.7m/s).
The men's 110m hurdles was also close, with world silver medallist Trey Cunningham winning in 13.21 from US compatriot Jamal Britt (13.27).
Elsewhere, USA's Allie Wilson got the better of Olympic finalist Jemma Reekie in the 800m, 1:58.37 to the Briton's 1:58.71.