Jakob Ingebrigtsen wins the senior men's race at the European Cross Country Championships (© Getty Images)
Jakob Ingebrigtsen and Karoline Bjerkeli Grovdal made it a memorable day for Norway at the SPAR European Cross Country Championships in Fingal-Dublin on Sunday (12), the pair powering to their first ever titles in the senior races at the event.
Both champions at U20 level in the past, they stamped their superiority at senior level in the Irish capital. For Ingebrigtsen, victory here crowned the perfect year for the 21-year-old, who won two European Indoor titles in March along with the Olympic 1500m title in Tokyo in August.
Ingebrigtsen bided his time in the 10,000m event, patiently stalking the pace of early leaders Aras Kaya of Turkey and Jimmy Gressier of France. Midway through the race the leading contenders had been whittled to four, with the above trio joined by Yemaneberhan Crippa of Italy. But with just over 2km to run, Crippa suddenly came to a stop, the Italian record-holder at 5000m and 10,000m stepping off the course in visible distress.
That left Kaya, the defending champion, pushing the pace up front ahead of Ingebrigtsen, the pair soon pulling away from Gressier approaching the bell. Soon after, Ingebrigtsen coasted to the front and began to move through the gears, dropping Kaya midway through the lap and extending his advantage until the finish, which he crossed in 30:15, 14 seconds clear of runner-up Kaya and 19 seconds clear of bronze medallist Gressier. With three athletes in the top six – and four in the top eight – France were easy winners of the team event.
"It felt really good, but I have to admit 10km is not the best distance for me," said Ingebrigtsen. "We do a lot of similar training to these sort of races in our normal weeks, but you are always thinking worst-case scenario. There is a lot of mud here, it is a tough race, but I felt good and felt quite sure of the win the whole race."
Ingebrigtsen paid tribute to the local fans, which was one of the biggest crowds in the event's history and saw approximately 7000 fans in attendance. "The crowd was crazy and they really help us, so I'm really happy there were lots of spectators."
The senior men's race featured an Athlete Refugee Team for the first time, with the team led to a 10th place finish by Olympian Jamal Abdelmaji Eisa Mohammed, who was 31st in 31:38.
A little later, Grovdal unleashed a similarly classy – and typically courageous – performance to win the women's title. The 31-year-old had won the U20 race when Dublin last hosted the event in 2009 but after four consecutive bronze medals between 2015 and 2018 at senior level and a silver in 2019, she must have wondered if her time would ever come.
When four-time champion Yasemin Can of Turkey faded from the front well before the halfway point it became clear a new winner would join the roll of honour and for a long time, Germany's Konstanze Klosterhalfen and Sweden's Meraf Bahta looked most likely to do so.
But Klosterhalfen got dropped on the penultimate lap, leaving Grovdal battling Bahta for the title. Given the Swede's superior 1500m speed Grovdal knew she would have to move early and she did, surging ahead on the uphill run with 600 metres to go and extending her advantage to the finish, crossing in 26:34. Bahta took second in 26:44 with former U23 champion Alina Reh of Germany third in 26:53. Britain's Jess Judd was next in ahead of Klosterhalfen, with team honours going to Great Britain and Northern Ireland.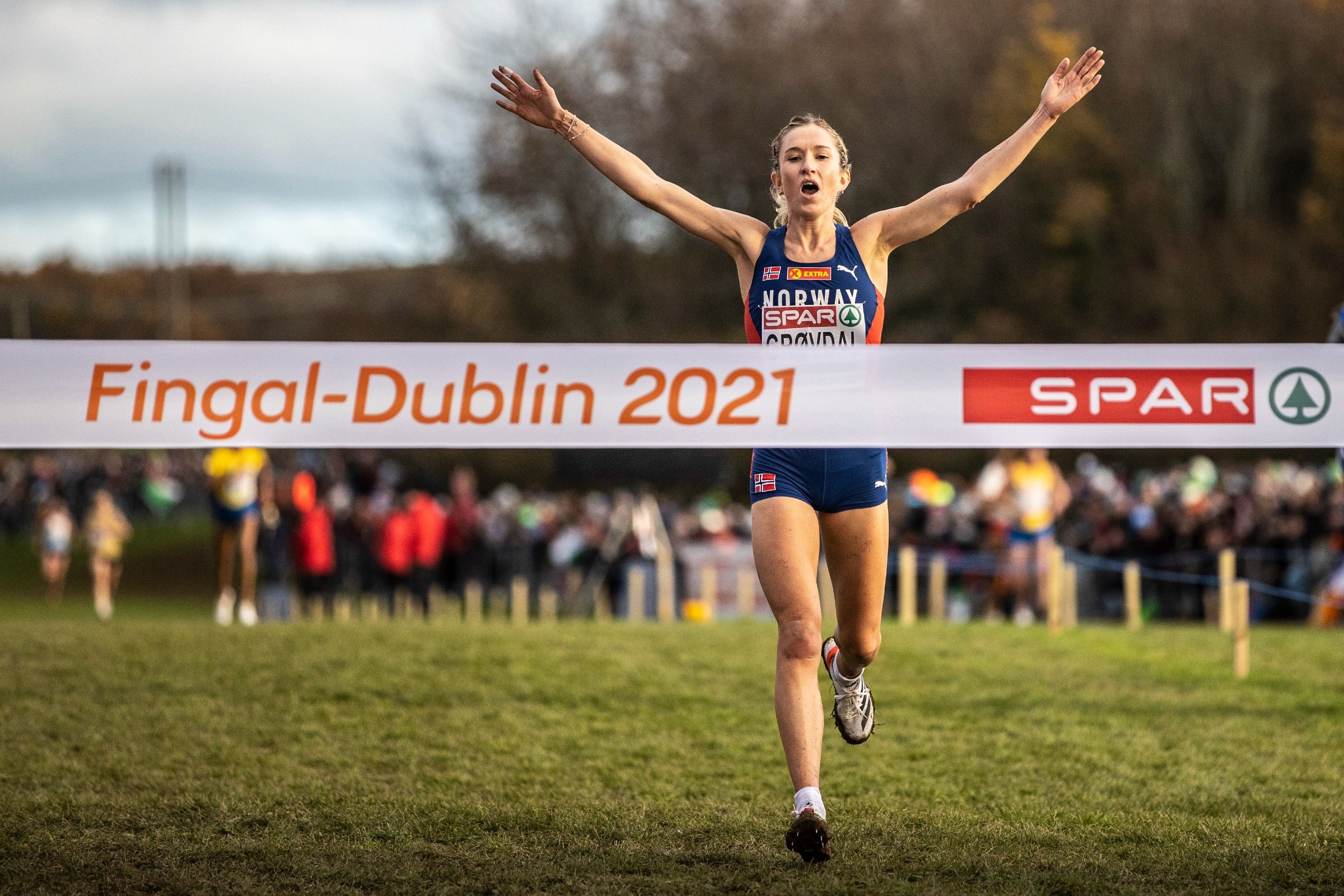 "I have won so many bronze and silver medals at European level – both on the track and in cross country – so for me to take the gold today means a lot," said Grovdal. "I am so happy for having been able to do that. I am 31 now, and 12 years ago I took gold here in Dublin in the U20 race, so after so many silver and bronze medals, today it felt very special. Clearly, Dublin has been good to me, and perhaps I should leave it like that."
In the men's U23 race British athlete Charles Hicks shook off any lingering fatigue from his recent fourth-place finish in the NCAA Cross Country Championships and fended off a spirited challenge from Irish favourite Darragh McElhinney to take gold.
Hicks led for much of the race but had to dig deep when McElhinney, and then Luxembourg's Ruben Querinjean, surged past on the final lap, the Briton taking victory in the end in 24:49, four seconds clear of McElhinney with Querinjean third – Luxembourg's first ever medal at the championships.
"When Darragh came back, I knew how much this race meant to him, but also how much it meant to me, so I went for it," said Hicks. "I tried so many surges and breaks, but he couldn't be broken."
McElhinney led Ireland to victory in the team event ahead of Great Britain and Northern Ireland with a tally of 21 points and there were emotional scenes as the Irish anthem played to delighted home fans. "We knew we were within a medal shot but that was just scandalous," said McElhinney. "To win team gold on home soil, you couldn't write it."
The women's U23 race saw Italy's Nadia Battocletti live up to her favourite's tag, though the Olympic 5000m finalist was made to work for her gold after a spirited challenge from silver medallist Klara Lukan of Slovenia and bronze medallist Mariana Machado of Portugal – the three finishing in the same order they had at the U20 race in Lisbon two years ago.
Battocletti noted she wasn't at full fitness before the race and the 21-year-old star waited until the final uphill run to the finish to sprint clear, hitting the line in 20:32 with four seconds to spare over Lukan. Battocletti led the Italian team to gold with a tally of 18 points.
"My team told me I could probably win easily, but in my head I know that when I step on the course, I don't know the shape of the other girls, don't know anything about them, so I need to come out here and do my race," said Battocletti. "I always try to run fast to get a win – it is not easy though."
The outstanding individual performance of the day came in the men's U20 race from 17-year-old Dane Axel Vang Christensen of Denmark, who turned the tables on Norwegian rival Abdullahi Dahir Rabi from their recent clash at the Nordic U20 Championships.
Christensen surged clear on the opening lap of the 6000m contest and ran the entire race in splendid isolation, and he had a whopping 25 seconds to spare at the finish – the widest margin of victory on the day. Rabi came through for second with Denmark's Joel Ibler Lilleso third, while Great Britain and Northern Ireland edged Ireland to victory in the team event by a single point – 34 to 35.
"I had a lot of confidence from my training sessions, I had a really good workout a few days ago, and I felt I was in really good shape," said Christensen. "Having competed with them before was definitely an advantage because I felt I had something to prove. I wanted to get that gold medal really bad."
Britain's Megan Keith timed her run to perfection to take victory in the U20 women's 4000m race, surging ahead on the penultimate straight to win in 13:41, three seconds clear of Norway's Ingeborg Ostgard. Germany's Emma Heckel took bronze and led a superb team performance with Germany's first four finishers all inside the top 10.
"I am in shock," said Keith. "My crazy dream was to be on a path that I might be in the mix for a medal, but didn't think I could win the whole thing. It is mental."
In the mixed relay, the hopes of an Irish gold were dashed after a stunning third leg by Britain's Alex Bell, an Olympic finalist over 800m. At the halfway point the Irish had a commanding lead after strong legs from Ciara Mageean and Luke McCann, but Siofra Cleirigh Buttner couldn't maintain the advantage on the third leg as Bell clocked a blazing 4:47 split – the fastest of any female athlete by 10 seconds – to hand over to Benjamin West with a four-second lead.
West made no mistake and held on to ensure Britain retained the title they won at the last edition in 2019, with France flying through to take silver ahead of Belgium, with Ireland fourth.
Bell spoke for many athletes at the venue when summing up the atmosphere as she made her way around the course. "I've not heard a stage and an audience like that in so long," she said. "It was unbelievable."
Cathal Dennehy for World Athletics