Renaud Lavillenie in Tourcoing (© Matthieu Tourault)
Renaud Lavillenie cleared a world-leading 6.02m in the pole vault at the Perche en Or de Tourcoing meeting in the northern French city on Sunday (31).
His clearance, which he topped on his first attempt, came just two days after his 5.95m victory at the World Indoor Athletics Tour Gold meeting in Karlsruhe, and less than a handful of hours after Mondo Duplantis topped 6.01m in Dusseldorf for a short-lived world lead.
Lavillenie's afternoon competition was short, sweet and efficient. Opening with a first attempt clearance at 5.63m, he passed to 5.80m and again to 5.91m, topping those with his first tries as well. His subsequent 6.02m clearance was the former world record-holder's first six-metre clearance since 17 March 2016, when he sailed over that same height to capture the world indoor title.
🔥 Renaud Lavillenie (@airlavillenie) qui passe 6m02 a son premier essai à Tourcoing et qui prend du même coup la meilleure performance mondiale de l'année ! 👑🇫🇷 Le roi de la perche est de retour ! 😍✊ pic.twitter.com/iBPZHzCZc3

— Clovis (@Sivolc) January 31, 2021
He continued, outdoing his young rival once again before the day was done, with an attempt at a would-be world record of 6.20m, one centimetre higher than Duplantis attempted in Dusseldorf earlier in the afternoon. He wasn't especially close, but that he even attempted it underscored that Lavillenie, at 34, has returned to his finest form in half a decade.
Ethan Cormont was a distant second at 5.72m, edging Valentin Lavillenie on countback.
Olympic champion Katerina Stefanidi cleared 4.61m on her third attempt to win the women's competition. Stefanidi, who bowed out with three misses at 4.71m, was competing for just the second time since the 2019 World Championships where she took bronze.
Femke Plium of the Netherlands was second at 4.52m.
Bob Ramsak for World Athletics
Hodgkinson smashes world U20 indoor 800m record in Vienna


European U18 champion Keely Hodgkinson opened her 2021 campaign in sensational style at the Indoor Track & Field Vienna meeting on Saturday (30), smashing the world U20 indoor 800m record with 1:59.03*.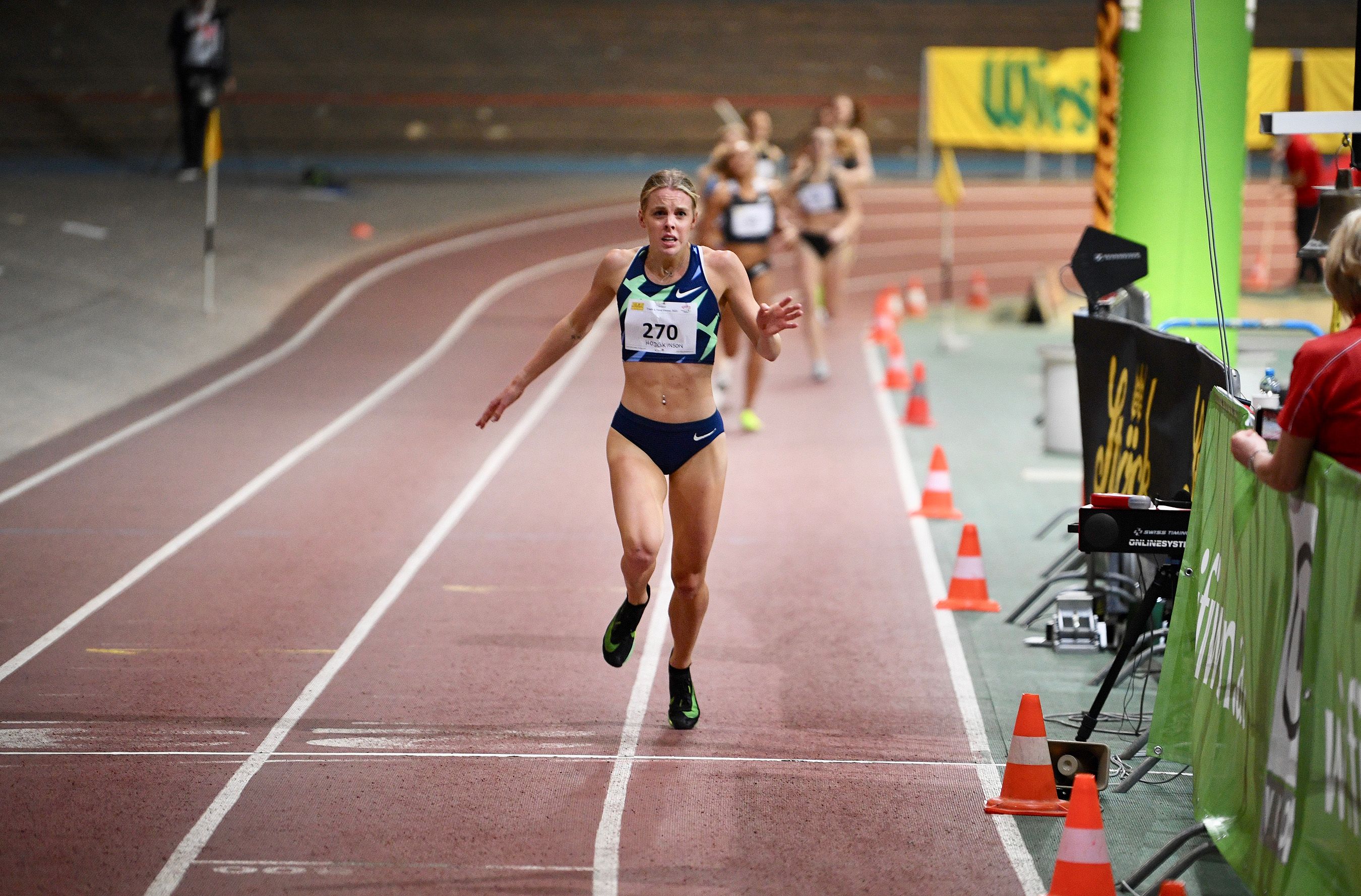 The 18-year-old Briton competed at this meeting last year and broke the European indoor U20 record with 2:01.16. Stronger and faster than she was 12 months ago, Hodgkinson returned to the Austrian capital with the world U20 mark of 2:01.03 as her goal.
She held back slightly from the swift opening pace and was in fourth place as the pacemaker led the field through half way in 57.56. Hodgkinson then moved into the lead with 300 metres to go. By the time the bell sounded, and with 1:28.83 on the clock, Hodgkinson had built up a comfortable lead.
She continued to pull away from the field and charged through the line in 1:59.03, taking exactly two seconds from the previous mark set by Ethiopia's Meskerem Legesse in 2004.
"The race was perfect," said Hodgkinson, who won the senior British 800m titles indoors and outdoors last year. "I've never gone through the bell that quickly before, but I tried not to panic. It couldn't have gone better, I'm really happy."
Earlier in the programme there were double Dutch records for training partners Femke Bol and Lieke Klaver.
They first took on the 400m and lined up in separate heats on Dusika Stadium's four-lane track. Klaver, drawn in the first heat, powered through the first lap in a swift 23.60 – faster than her indoor 200m PB – and held her sizeable lead to the end, stopping the clock at 51.48.
Her time took 0.34 off the Dutch indoor record set 23 years ago by Ester Goossens. But the new mark didn't last long.
Bol, who ran a world-leading 53.79 for the 400m hurdles last year, took to the track just a couple of minutes later. The 20-year-old's opening lap was a bit more controlled, timed at 24.67, and she maintained her even-paced effort in the second half, crossing the line in 50.96.
Not only did she break Klaver's three-minute-old national record, she also became just the second 20-year-old European woman to better 51 seconds indoors.
Later in the day, they were back on track for the 200m. This time Bol went first and notched a 23.52 victory, narrowly missing the Dutch record but smashing her PB. It was then Klaver's turn and, determined to end the day as a national record-holder, she powered around the track and stopped the clock at 23.17, taking 0.17 off the Dutch record that had stood to Els Vader since 1988.
"I am so happy to have broken this old, old record," said Klaver. "I remember learning about this record when I was a kid and it was a dream of mine to break it. I want to meet Els Vader as she is ill. I'm really looking forward to meeting her."
There were good performances in the men's middle-distances. Istvan Szogi took two seconds off the long-standing Hungarian indoor record to win the 1500m in a world-leading 3:37.55, while Britain's European indoor silver medallist Jamie Webb won the 800m in an indoor PB of 1:46.95.
Tamberi tops 2.32m


Italy's 2016 world indoor champion Gianmarco Tamberi also opened his 2021 account on Saturday (30), winning in Ancona with 2.32m.
The Italian record-holder needed all three attempts at 2.22m, 2.28m and 2.32m and rounded out his series with two unsuccessful tries at 2.35m. There was good reason for his slightly erratic series, though.
"Today I jumped for my grandfather, who died in November," said Tamberi. "I cried on the phone to my grandmother earlier today when she reminded me that grandfather Marcello never missed a single jump. Even during my run-up to 2.32m, I couldn't hold back the tears."



Although Tamberi had been hoping to jump higher, the last time he jumped higher than 2.32m was at the 2016 Monaco Diamond League meeting when he picked up a career-threatening injury. His next competition will be at the World Athletics Indoor Tour meeting in Banska Bystrica on 2 February.
Elsewhere in Europe, it was a good day for former 800m specialists stepping up in distance. 2014 world U20 800m bronze medallist Andreas Almgren set a Swedish indoor 3000m record of 7:41.6 in Sollentuna, while 2010 European 800m champion Marcin Lewandowski clocked an outright 3000m PB of 7:51.69 in Torun, just two seconds shy of the Polish record.
Lightfoot breaks collegiate pole vault record in Lubbock


Just two weeks after setting an indoor collegiate pole vault record of 5.94m, USA's KC Lightfoot added one centimetre to that mark at the Texas Tech Classic in Lubbock on Saturday (30).
The 21-year-old had first-time clearances at 5.65m, 5.75m and 5.85m, at which point he had the competition won. Zach Bradford, having cleared a best of 5.75m, bowed out at 5.85m. But Lightfoot went on to clear 5.95m on his second attempt before having three tries at 6.00m.
On the first day of action in Lubbock, Bryce Deadmon sped to an indoor PB of 45.29 to win the 400m, and Trinidad and Tobago's Tyra Gittens set a national pentathlon record of 4612, thanks in no small part to a 1.91m high jump and a 6.58m long jump.
Germany's 2017 world U18 bronze medallist Leo Neugebauer, a student at the University of Texas, won the men's heptathlon with a PB of 5960.
At the Razorback Invitational in Fayetteville, Matthew Boling set his third sprint PB of the year, winning the 200m in 20.53.
Teenager Anna Hall excelled in the pentathlon and won with a score of 4590, moving her into the top 10 on the US indoor all-time list.
At the Bob Pollock Invitational in Clemson, Isaac Grimes added 18 centimetres to his lifetime best to win the long jump, equalling the world-leading mark of 8.18m that had been set by Juan Miguel Echevarria just moments earlier in Karlsruhe.
Jon Mulkeen for World Athletics

*Pending the usual ratification procedure