Jakob Ingebrigtsen on his way to winning at the European Cross Country Championships (© Getty Images)
Jakob Ingebrigtsen and his Norwegian compatriot Karoline Bjerkli Grovdal retained their European Cross Country Championships titles but did so in contrasting fashion in La Mandria Park in Piemonte, just outside the Italian city of Turin, on Sunday (11).
Ingebrigtsen controlled the senior men's race over 9.7km from the front before moving through the gears with about 700 metres to go and leaving his last remaining rivals trailing in his wake, steadily increasing his lead to almost 60 metres before crossing the line in 29:33.
Behind Ingebrigtsen, Great Britain's Emile Cairess won the battle with Belgium's former U23 winner Isaac Kimeli, the pair taking silver and bronze respectively in 29:42 and 29:45.
The pair had valiantly tried to stay with Ingebrigtsen from the six-kilometre point, as local hope and European 10,000m champion Yemaneberhan Crippa started to lose contact with the leaders before eventually finishing fourth, but they had no answer to his decisive surge midway around the last of six long 1.4km laps.
"It was a tough race overall but in the last couple of weeks I have been doing some really good training so I knew I was in great shape coming here," said Ingebrigtsen, the Olympic 1500m champion. "But, then again, you don't know about the course, and don't know what shape your competitors are in so I think it was a great race for me, I had a lot of fun."
France managed to place their three scorers in the top 11 to take the team title with 24 points, beating hosts Italy by a single point.
Little more than half an hour before Ingebrigtsen secured his second senior European cross-country title, and his sixth consecutive individual continental gold medal overall after an unprecedented four U20 wins, Grovdal triumphed again 12 months after winning in Dublin.
Grovdal was engaged in a fascinating head-to-head duel with Germany's European 5000m champion Konstanze Klosterhalfen and only pulled away from Klosterhalfen on the final downhill stretch just 200 metres from the finish before crossing the line in 26:25 after 7.7km of running.
"I was tired going into the last lap, and I felt that in the last few metres, but I knew that going down the hill that I am good at that," said Grovdal. "The technical part is good for me, I felt quite strong going up the hills as well, and I think that is the reason I took the gold."
A tired Kloserhalfen finished four seconds in arrears in 26:29 with her teammate Alina Reh a distant third in 27:19 after narrowly holding off another German Hanna Klein – who was given the same time – after a four-way sprint for the bronze medal.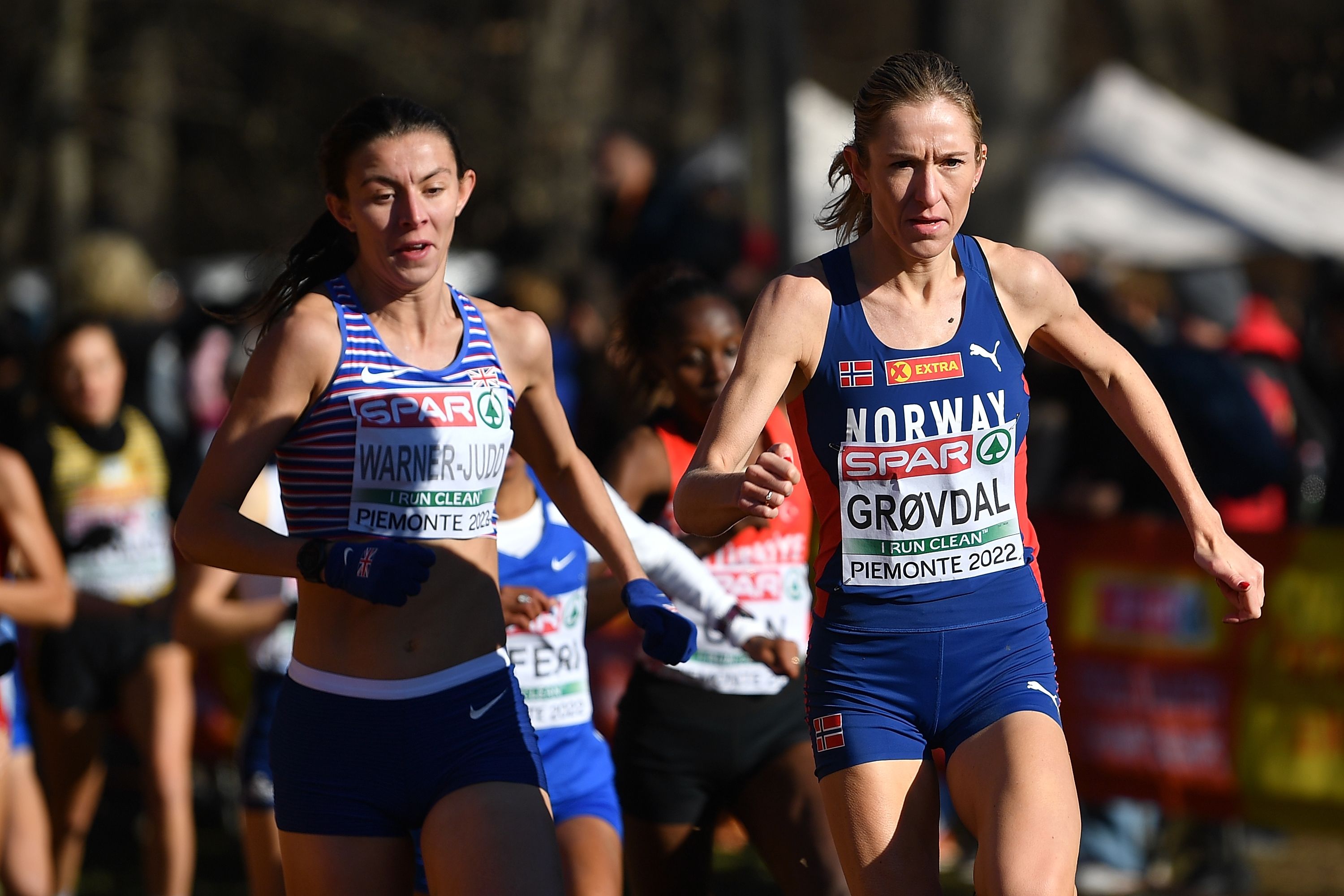 Karoline Bjerkeli Grovdal on her way to winning the European Cross Country Championships (© Getty Images)
With three runners in the top four, Germany ran out the most comfortable team winners on the day, taking the senior women's team title for the first time.
Behind Germany, two-time defending champions Great Britain had to settle for second on this occasion with a total of 30 points but continued their streak of getting a senior women's team medal at every championship since 2000.
Battocletti and Hicks successfully defend their U23 crowns
La Mandria Park had a certain sense of déjà vu as not only did Ingebrigtsen and Grovdal retain their titles but so too did both of the 2021 U23 champions.
Nadia Battocletti gave the host nation a win to savour as she emphatically defended her U23 title to make it four consecutive European cross-country titles after two previous wins in the U20 ranks.
The Italian fought with Great Britain's 2021 U20 champion Megan Keith from two-and-a-half kilometres into the 5.8km race before exerting her authority with just under a kilometre to go.
Battocletti crossed the line in 19:55 with Keith second in 20:08 and Britain's Alexandra Millard prevailing in a three-way battle for the bronze in 20:27.
With Grace Carson in fifth place, Great Britain was a comfortable winner of the team title with 10 points, well ahead of hosts Italy with 31 points.
Great Britain's Charles Hicks retained his men's U23 title in equally assured fashion, the NCAA winner just three weeks ago controlling proceedings from the front for almost all the 7.7km race, before pulling away from his compatriot Zakariya Mahamed as the pair negotiated the picturesque indoor section of the course through the Mandria Castle carriage house for the last time about 500 metres from the finish.
With Matthew Stonier finishing eighth, Great Britain took another men's team title to add to the U20 gold they had won earlier, taking the top spot for the first time since 2013 with 11 points.
France also packed well with three men in the top seven to finish second with 14 points.
Relay delight for hosts Italy
As a prelude to Battocletti's success, Italy won their first medal of the day when they came out on top of a thrilling mixed relay to act.
Pietro Arese gave the host nation a four-second advantage at the first changeover after the first of four long laps of just under 1.5km but Federica Del Buono was unable to keep the lead and Romania's Elena Panaet ran a superb second leg to just edge in front at the halfway point.
However, Yassin Bouih produced an excellent third leg to once again give Italy the lead, handing over a five-second advantage to last year's European U23 1500m champion Gaia Sabbatini.
Sabbatini, who has a 1500m best of 4:01.93 to her name, was running comfortably over the first half of the race but noticeably struggled up the testing steep hill on the circuit as Spain's Rosalia Tarraga clawed back the advantage and then took the lead.
However, Sabbatini's track speed proved to be the decisive factor and she found another gear in the short home straight to edge past the Spaniard and win in 17:23 before collapsing exhausted as she was surrounded by celebrating teammates.
Tarraga brought Spain home for silver, one second in arrears, while France, whose Anais Bourgoin also challenged for the lead on the last leg, finished third in 17:31.
Barnicoat and Forero take U20 titles
Great Britain's Ines Fitzgerald and Spain's Maria Forero duelled for much of the first three kilometres of the U20 women's race over 3.8km before the latter pushed hard and from that point there was little doubt who would take the gold.
Forero had the luxury of being able to sport a broad smile over the final 100 metres and raised her arms in the finishing straight before crossing the line in 13:04.
Behind her, Denmark's Ingeborg Ostgard and Finland Iiona Mononen closed on Fitzgerald before going past the flagging Briton with about 200 metres to go, taking silver and bronze respectively in 13:07 and 13:08.
In the team contest, Spain took a surprise team gold with 21 points, winning in this age group for the first time, four ahead of Turkey.
The U20 men's race provided possibly the most dramatic finish of the day as gold looked to be going to 17-year-old Nicolas Griggs after the Irishman sped away from Great Britain's Will Barnicoat with 300 metres go.
However, with barely 30 metres to go in the 5.8km race, Griggs started to stumble and over-stride on the rutted and frozen surface, while Barnicoat – Britain's first ever winner in this category – took his chance and dug deep to accelerated past his rival and snatch victory in 17:40 with Griggs, the European U20 3000m champion, second in 17:41.
With three men in the top five, Great Britain had no problems winning the men's U20 title for the third consecutive championships with 10 points while Ireland, with Dean Casey finishing just behind Griggs in third, took silver with 17 points.
Phil Minshull for World Athletics