Rodrigue Kwizera wins in Amorebieta (© Asociación ADOC)
Burundi's Rodrigue Kwizera was the overwhelming victor at the Cross Internacional Zornotza, the first Spanish Gold meeting of this season's World Athletics Cross Country Tour, while Spain's Isabel Barreiro was a surprise winner of the women's race on a sunny but windy Sunday (23).
Kwizera, the 2021/2022 Cross Country Tour winner, proved to be the strongest by far in the men's 8.7km contest. The race opened at a steady pace, just inside 3:00 per kilometre, with Kwizera heading a large group which included his compatriot Celestine Ndikumana, Italy's Illiass Aouani, Spain's Nassim Hassaous, Kenya's Peter Njeru and Uruguay's 1500m specialist Santiago Catrofe, among others.
The lead pack reached the bell together after successive 2km laps of 6:04, 6:05 and 6:03, but on the closing circuit Kwizera pushed the pace and none of his rivals were able to follow in his footsteps. Throughout the course of those final six minutes, Kwizera opened up an 11-second margin to win in 25:45. Aouani finished second, comfortably ahead of the Catofe and Hassaous.
"It was a nice race," said Kwizera, the first Burundian man to win in Amorebieta. "I ran very comfortably during the first laps and only decided to change my rhythm entering the last lap to secure the win.
"I have great expectations of this cross-country campaign and my main goal is the World Cross Country Championships in Bathurst in February," added Kwizera, whose next race will be in Soria on 6 November.
Rwanda's Clementine Mukandanga led during the early stages of the women's 6.7km event, followed by Burundi's Cavaline Nahimana, Britain's Aimee Pratt and Barreiro. After an opening kilometre of 3:16 – fairly brisk, given the tough circuit full of ups and downs – Mukandanga began to lose ground as Nahimana took command of the race, closely followed by Barreiro and Pratt.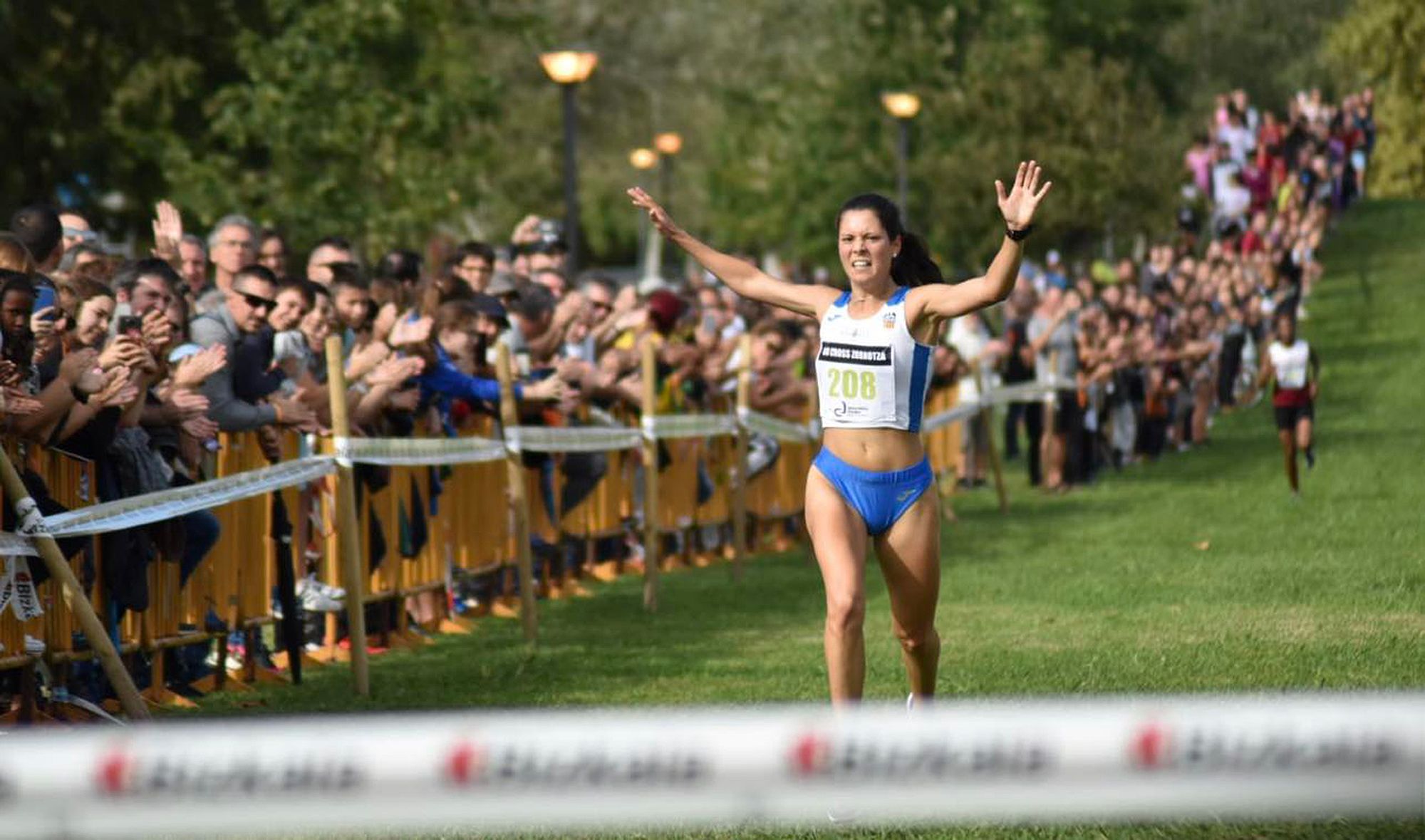 Isabel Barreiro wins in Amorebieta (© Asociación ADOC)

Following a 7:02 2km lap, Nahimana continued to lead with Barreiro at her shoulder while Pratt was caught by Spain's Rosalía Tárraga. By halfway, the leading tandem had built a sizeable 80-metre margin on Tárraga and another Spaniard, Cristina Espejo, while Pratt began to slip further behind.
The lead trio extended their margin on the penultimate 2km loop, which was covered in another 7:02 split. In a thrilling final lap, 23-year-old Barreiro – a 15:27.47 5000m runner – moved to the front for the first time to the delight of the crowd but Nihamana reacted and regained the lead.
The decisive move came with about 700 metres left when the Spaniard found another gear, launching a devastating kick to leave behind the Burundian. Barreiro won in 23:06, 14 seconds ahead of Nahimana, while Espejo broke away from Tárraga on the final kilometre to complete the podium.
"I knew I was in very good shape and came here to fight for everything," said a delighted Barreiro. "The Rwandan runner began quite fast but I felt great from the start and knew I could reach the lead soon.
"Winning a competition here in the Basque Country – where people are especially knowledgeable about cross-country running – is a proud moment for me," added Barreiro, who is able to train full time now since finishing her physiotherapy degree in May. Her next race will be in San Sebastian on 6 November and she'll then turn her attention to the European Cross Country Championships in Turin.
Emeterio Valiente for World Athletics
Leading results
Men (8.7km)
1 Rodrigue Kwizera (BDI) 25:45
2 Illiass Aouani (ITA) 25:56
3 Santiago Catrofe (URU) 26:01
4 Nassim Hassaous (ESP) 26:12
5 Celestine Ndikumana (BDI) 26:23
6 Yahya Aouina (MAR) 26:27
7 Peter Njeru (KEN) 26:29
8 Zakaria Boufaliat (ESP) 26:35
9 Roberto Alaiz (ESP) 26:42
10 Ibrahim Chakir (ESP) 27:06
Women (6.7km)
1 Isabel Barreiro (ESP) 23:06
2 Cavaline Nahimana (BDI) 23:20
3 Cristina Espejo (ESP) 23:46
4 Rosalía Tárraga (ESP) 23:54
5 Cristina Ruiz (ESP) 24:07
6 Ángela Viciosa (ESP) 24:11
7 Laura Priego (ESP) 24:19
8 Lia Lemos (POR) 24:30
9 Azucena Díaz (ESP) 24:33
10 Esther Navarrete (ESP) 24:34