Tadu Teshome wins the Copenhagen Half Marathon (© Organisers)
Ethiopian duo Milkesa Mengesha and Tadu Teshome took top honours at the Copenhagen Half Marathon on Sunday (18). And with 15 men finishing inside an hour at the World Athletics Elite Label road race, the event witnessed record depth.
Mengesha, the 2019 world U20 cross-country champion, beat a quality field to notch up his second half marathon victory of the year, winning in a PB of 58:58. Teshome, meanwhile, smashed her PB to lead an Ethiopian 1-2-3, winning in 1:06:13.
After a steady opening 5km of 14:02, the pace dropped slightly in the following few kilometres of the men's race as the large lead pack reached 10km in 28:10. The leading contenders – which included Mengesha and his compatriots Amedework Walelegn and Chala Regasa, Kenya's Felix Kipkoech, Vincent Kipkemoi and Edmund Kipngetich, and South Sudan's Dominic Lobalu – then started to increase the pace.
By the time of the 15km checkpoint, reached in 42:06, the lead pack was down to 12. They remained bunched together for a few more kilometres before Mengesha started to ease away, carving out a small lead before going on to win in 58:58. Compatriot Walelegn followed him home in 59:05, two seconds ahead of Kipkoech.
Lobalu, winner of the 3000m at the Wanda Diamond League meeting in Stockholm earlier this year, was fifth in a national record of 59:12. Further back, Switzerland's 40-year-old Tadesse Abraham became the oldest man in history to finish inside 60 minutes for a half marathon, clocking 59:53.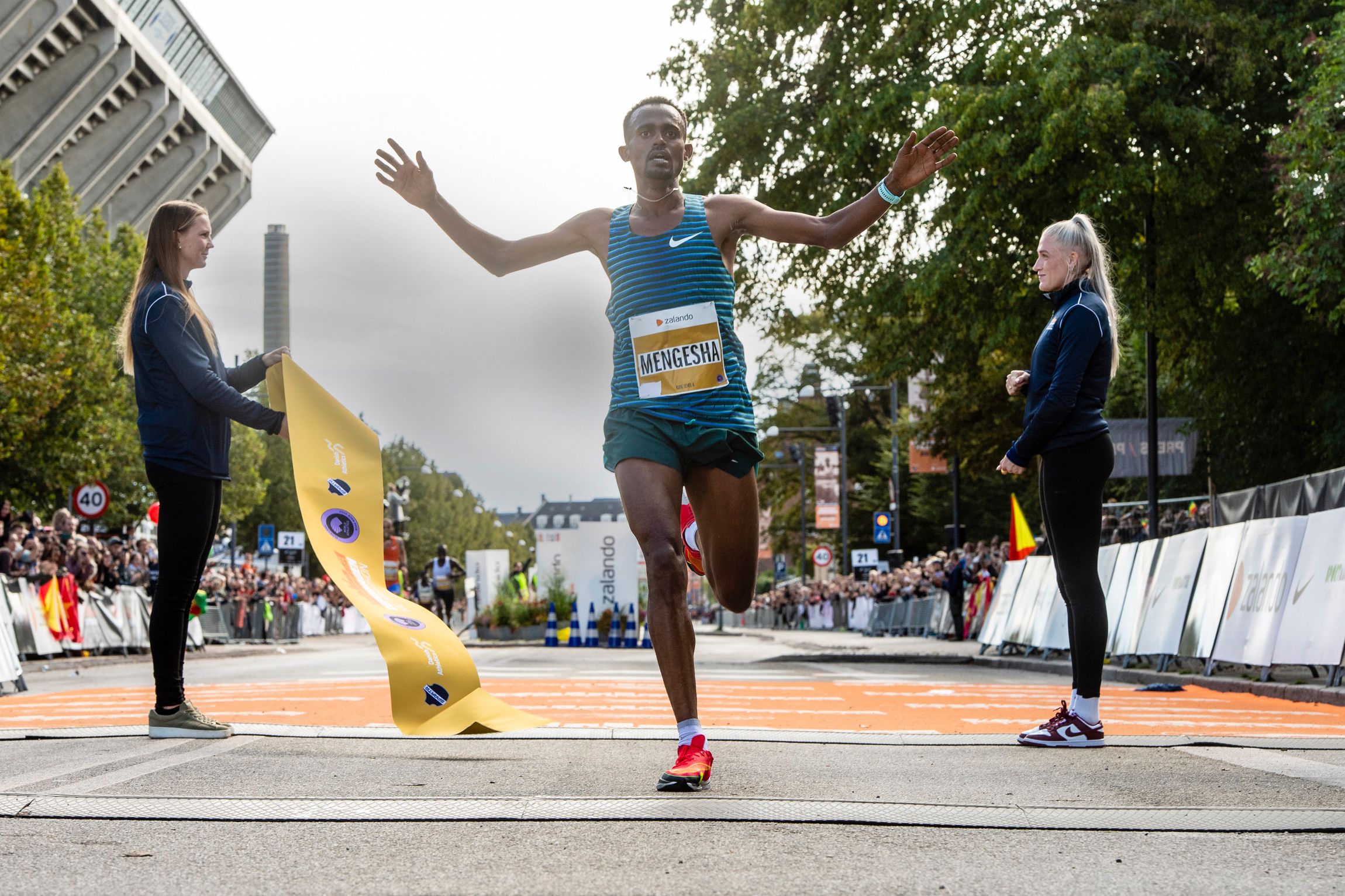 Milkesa Mengesha wins the Copenhagen Half Marathon (© Organisers)
In contrast to the men's race, which increased in pace as it went on, the women's race started off remarkably quick but soon became a war of attrition as athletes tried to hold on as best they could.
When the first 5km was covered in a swift 15:19, most of the lead pack decided to ease off the pace, but Teshome and Tsigie Gebreselama maintained that tempo for another 5km, reaching 10km in 30:40 – inside both of their PBs for 10km.
Gebreselama then broke away from Teshome and opened up a gap of 30 seconds by 15km, reached in 46:39, but it didn't last. Teshome came back over the next few kilometres and caught her compatriot with about two kilometres to go.
Once she was in the lead, Teshome continued to pull away and she went on to win in 1:06:13, 22 seconds ahead of Gebreselama, who was making her half marathon debut. Ethiopia's Tiruye Mesfin almost caught Gebreselama, eventually finishing third in 1:06:42.
Leading results
Women
1 Tadu Teshome (ETH) 1:06:13
2 Tsigie Gebreselama (ETH) 1:06:35
3 Tiruye Mesfin (ETH) 1:06:42
4 Magdalena Shauri (TAN) 1:06:52
5 Eunice Chumba (BRN) 1:07:34
6 Sintayehu Tilahun (ETH) 1:07:41
7 Janet Ruguru (KEN) 1:07:51
8 Anchalem Haymanot (ETH) 1:08:09
9 Vicoty Chepngeno (KEN) 1:08:22
10 Betelihem Afenigus (ETH) 1:08:35
Men
1 Milkesa Mengesha (ETH) 58:58
2 Amedework Walelegn (ETH) 59:05
3 Felix Kipkoech (KEN) 59:07
4 Vincent Kipkemoi (KEN) 59:09
5 Dominic Lobalu (SSD) 59:12
6 Chala Regasa (ETH) 59:13
7 Edmund Kipngetich (KEN) 59:25
8 Matthew Kimeli (KEN) 59:39
9 Titus Kimutai (KEN) 59:44
10 Ronald Kirui (KEN) 59:51