Ruth Chepngetich wins the Chicago Marathon (© AFP / Getty Images)
Ruth Chepngetich successfully defended her title at the Bank of America Chicago Marathon on Sunday (9), winning the World Athletics Elite Platinum Label road race in 2:14:18 – just 14 seconds shy of the world record.
Compatriot Benson Kipruto made it a Kenyan double, winning the men's race in 2:04:24, the third-fastest winning time on the streets of Chicago.
The two races could not have been more different.
Just as she did in last year's race, Chepngetich made an early break from the rest of the pack and set off at record pace. She breezed through the first 5km in 15:11 and reached 10km in 30:40 – blistering speed which suggested a finishing time inside 2:10.
Each of the checkpoints in the first half were all reached in unprecedented marks for marathon splits with Chepngetich passing through 15km in 46:19, 20km in 1:02:10 and half way in 1:05:44 – more than a minute quicker than Brigid Kosgei's half-way split when the existing world record of 2:14:04 was set on this same course three years ago.
By this point, Chepngetich was almost four minutes ahead of a six-woman chase pack, which was being led by USA's Emily Sisson.
Another sub-16-minute split (15:53) brought Chepngetich to 25km in 1:18:03, still more than two minutes inside world record pace. While her pace started to wane, her lead continued to grow and she was still comfortably inside world record pace through 30km (1:34:01) and 35km (1:50:25), by which point she was almost five minutes ahead of Sisson.
But the 2019 world champion started to show signs of fatigue in the closing stages and her 16:37 split between 35 and 40km started to put the record in jeopardy. Despite her best efforts in the final two kilometres, Chepngetich saw the world record figures tick by on the clock as she approached the finish line. She nevertheless held on to finish in 2:14:18, the second-fastest time in history.
Sisson maintained her tempo to finish second in 2:18:29, taking 43 seconds off the North American record. Vivian Kiplagat held on for third place in 2:20:52.
In contrast to the women's contest, the men's race started off more conservatively and at a relatively even pace, leading to a large group of 10 athletes reaching 10km in 29:35 and half way in 1:02:24. The pack included defending champion Seifu Tura, 2021 Boston champion Benson Kipruto, Ethiopia's Jemal Yimer and Ugandan record-holder Stephen Kissa.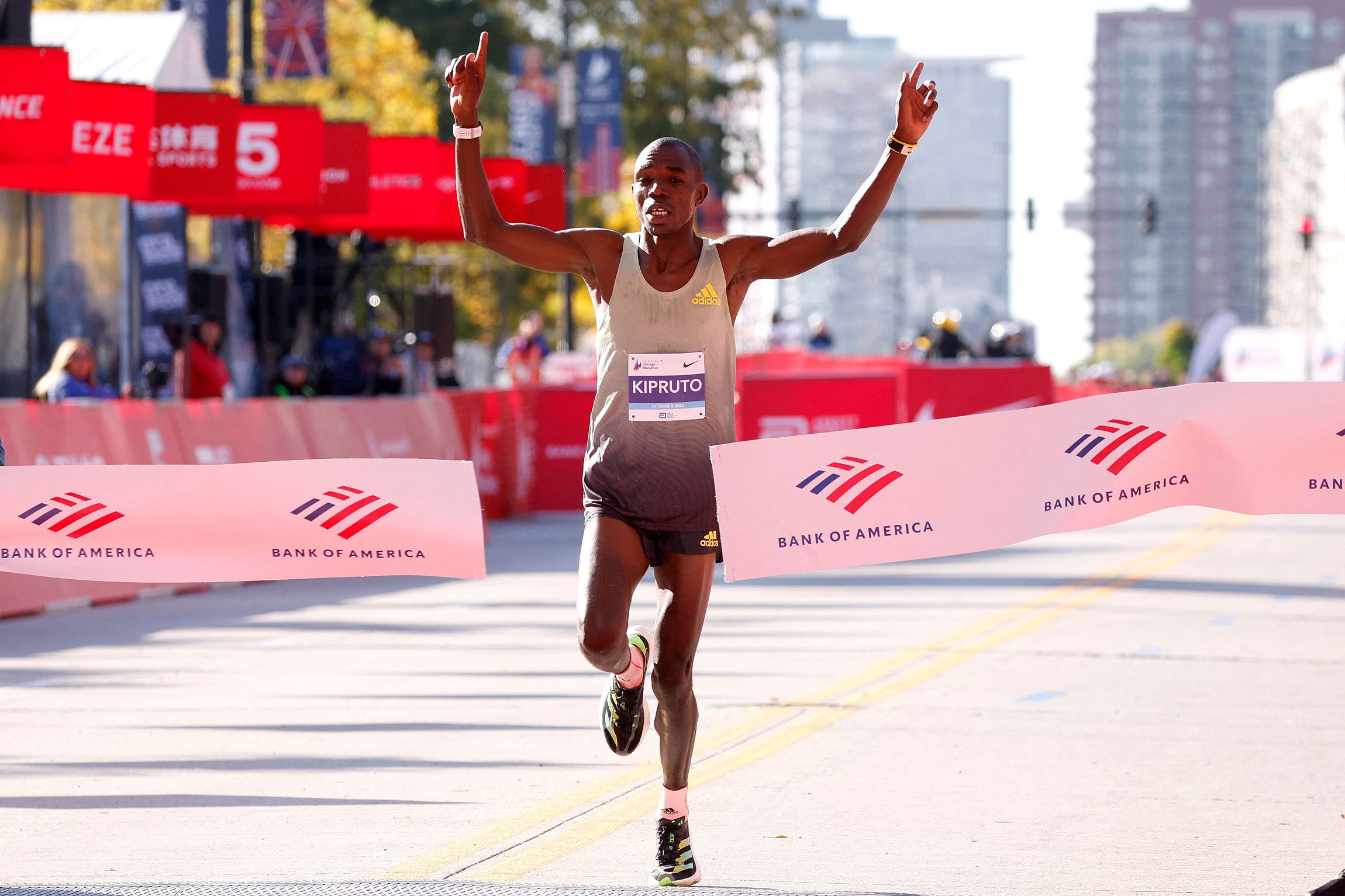 Benson Kipruto wins the Chicago Marathon (© AFP / Getty Images)

By 30km, reached in 1:28:31, the group was down to eight men with Kipruto still looking comfortable near the front of the pack. That tempo was maintained, but not everyone was able to live with it and the group had been whittled down to just four men by 35km (1:43:04) – Kipruto, Bernard Koech, Tura and John Korir.
Koech soon dropped off the pace, though, as did Korir. Tura then also relented as Kipruto pushed the pace one last time in the closing stages.
Kipruto went on to open a gap of 25 seconds on the defending champion, winning in 2:04:24, a PB by 49 seconds. Only Eliud Kipchoge and former world record-holder Dennis Kimetto have won in Chicago in faster times. It's also Kipruto's second victory in a US marathon in as many years, following on his Boston win last year.
Tura held on for second place in a season's best of 2:04:49. Korir, meanwhile, enjoyed a big breakthrough to take third place in 2:05:01, a PB by more than four minutes.
Leading results
Women
1 Ruth Chepngetich (KEN) 2:14:18
2 Emily Sisson (USA) 2:18:29
3 Vivian Kiplagat (KEN) 2:20:52
4 Ruti Aga (ETH) 2:21:41
5 Waganesh Mekasha (ETH) 2:23:41
6 Susanna Sullivan (USA) 2:25:14
7 Sara Vaughn (USA) 2:26:23
8 Maggie Montoya (USA) 2:28:07
9 Sarah Inglis (GBR) 2:29:37
10 Makena Morley (USA) 2:30:28
Men
1 Benson Kipruto (KEN) 2:04:24
2 Seifu Tura (ETH) 2:04:49
3 John Korir (KEN) 2:05:01
4 Bernard Koech (KEN) 2:07:15
5 Shifera Tamru (ETH) 2:07:53
6 Kyohei Hosoya (JPN) 2:08:05
7 Conner Mantz (USA) 2:08:16
8 Hamza Sahli (MAR) 2:08:22
9 Eric Kiptanui (KEN) 2:08:26
10 Dong Guojian (CHN) 2:08:53